Hibbett and City Gear released its latest installment of the Small-Town Sneakerhead (STSH) series celebrating sneaker culture in partnership with Nike and Nice Kicks. The newest episode features 24-year-old , a physical therapy tech whose father inspired her to collect sneakers.
"Small-Town Sneakerhead is an homage to unique and interesting sneaker collectors from unexpected small pockets of the country," states Sarah Sharp-Wangaard, VP Marketing, Hibbett, an 1,100-plus chain. "Hibbett was founded in the great state of Alabama and we enjoy featuring another sneaker fan with a passion for her hometown and hearing about why she loves Anniston."
"Growing up I always enjoyed streetwear and always wanted to own a pair of Jordan's," Fleming says. "When I got my first full time job, I was finally able to buy my own pair and now there are approximately 75 pairs in my collection." She adds, "What draws me to a pair of sneakers is the uniqueness of the design, how rare they are, a pair that will hold value, and something that I know not a lot of people have. The top three things a pair has to have are a story, a unique silhouette, and a color that pops."
In the latest Small-Town Sneakerhead episode, Fleming, who has a degree in Exercise Science and works as a physical therapy tech, says that she loves her small town because her father's family originated there. She is proud of Anniston's significant civil rights history, including that it was a stopping point in 1961 for the Freedom Riders. Some of Fleming's favorite spots in Anniston include; Quintard Mall, for movies and shopping, Crab Barrackfor seafood and Choccolocco Park for beautiful scenery, biking, hiking, and kayaking. Last but sure not least, is taking in games for the minor league baseball team, the Choccolocco Monsters.
"Being a sneakerhead means that not only do you enjoy collecting sneakers, but you also enjoy learning about the story and value behind the sneaker," Fleming says. "Wearing sneakers allows us to tell a story without even speaking. What's special about sneaker culture is just appreciating the story and value of a sneaker. It's interesting to see how sneakers appreciate in value, like jewelry or fine wine, collecting shoes is like enjoying and collecting art. In my collection I'm most proud that I was able to secure the Nike Concepts X Dunk Low Orange Lobsters and the Air Jordan 1Retro High OG Denim."
"It was a great pleasure to highlight Amari and her story—a homegrown sneakerhead in Alabama, where Hibbett was founded," says Matt Halfhill, Founder and CEO, Nice Kicks. "It was even more special to tell a story of Nike Air and its versatile and timeless style as a staple for everyone no matter your age or where you call home."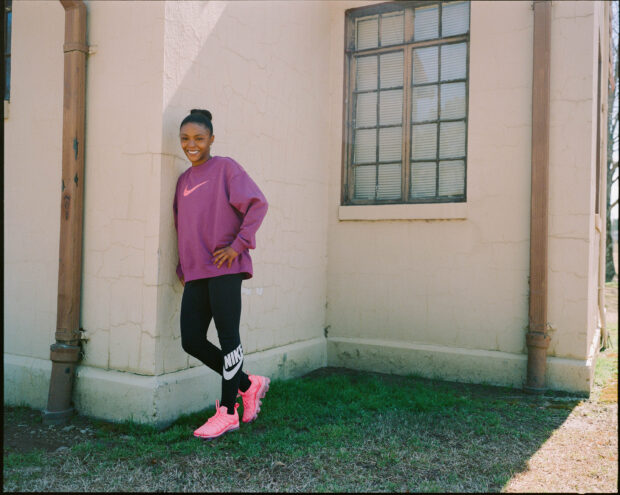 Alabama sneakerhead Amari Fleming strikes a pose.