Ruthie Davis makes shoes with a flair for the dramatic. Sky-high heels and platforms, super structural features and bright pops of color are signature details of the brand. Fall '15 honors these trademarks and brings in a kicky punch of super-heroine strength to the mix. Davis discusses her inspiration and what the collection is all about.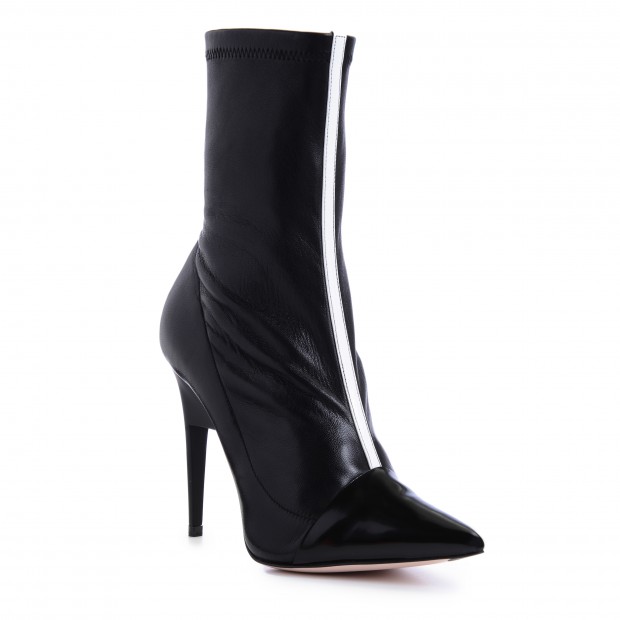 Q: What was it about '60s super heroes that inspired you for this collection? What drew you to them for inspiration?
A: I am fascinated and inspired by the '60s mod heroine: the Bond Girl, Barbarella, and Eva Kant from "Danger Diabolik".  I love their bold independence, competence, athleticism and of course their sexy, daring and glamorous style.  These women have always been my brand muse.  My Fall 2015 Collection has an even more concentrated super heroine-flavor as I am feeling more than ever the importance of shoes for women being strong, modern, edgy and innovative.  I imagine the woman who wears my shoes standing tall and powerful and conquering the world.
Q: How does the inspiration appear in the collection—can you point to specific details, features, etc?
A: All of my Fall 2015 silhouettes are sleek and minimal and there's a lot of black — it's very sexy and Bond Girl-esque.  I use modern and functional materials like stretch leather, neoprene, and tech mesh.  The shoes have names like: Spygirl, Danger, Jaguar, Thriller, Eva, Kant, Caper, etc.  Other details include sporty, racing stripes, cut-aways, and thick mod straps and oversized round buckles. Patterns have clean lines and avant-garde shapes like stretch over-the-knee boots and lace-up pumps and sandals…and my new architectural heels are worthy of their own action figure!
Q: What's new and fresh about this collection that makes it stand out from everything else out there?
A: This Ruthie Davis Collection is modern, techy, minimal, sexy, and feminine. Femininity, to me, is about embracing the woman and her form and celebrating it. As a woman designing for women, I know how to create shoes for women out there with a similar sensibility.  I love a high heel because it makes me feel powerful and beautiful. I wear my shoes and I understand what it takes to make a designer heel wearable and practical on a daily basis. I create my shoes with fantasy, but also with consideration and love for the ladies who wear them, my ultimate muses.