Floafers was out in full force to support the thousands who participated in the recent American Cancer Society's (ACS) annual "Making Strides Against Breast Cancer" walk in Pt. Pleasant Beach, NJ. The foam-based lifestyle brand introduced participants and spectators to its special-edition pink ribbon Posh Driver style, created to help provide much needed funds for breast cancer research and programs. The company will be donating $5 from the sale of each shoe, available on Floafers.com, to the ACS. In addition, the company took its partnership with ACS a step further with the creation of the Tracy Ali Screening Mission, a platform for Floafers to continue to fundraise through the sale of a wide range of products on its website.
"The walk was both emotional and gratifying, especially since we were also sponsoring the Tracy Ali Screening mission partnership with ACS," says Larry Paparo, president and CEO of Floafers. "We lost Tracy, my wife's best friend and my son Justin's godmother, 10 years ago to lung cancer. It was gratifying to see and feel the appreciation from all the cancer survivors as well as family members who have lost love ones." Paparo adds, "Floafers was born for more than just modernizing the footwear space; we're also looking to give back."
According to the ACS, an estimated 12,500 walkers participated in the walk and the organization is tracking to raise more than $800,000 by the end of the year. "This is truly incredible for our team," says Amanda Kellum Barrett, director, development for ACS, "especially coming out of the challenging 18 months we have all been experiencing."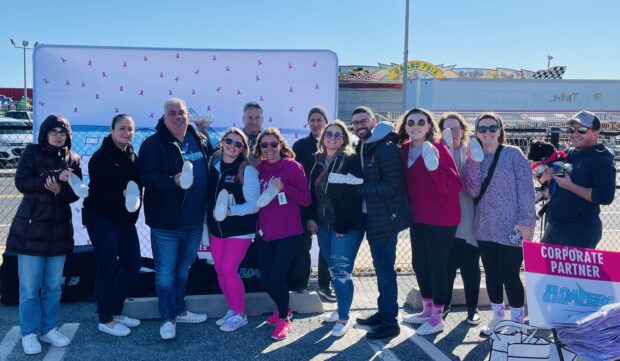 Floafers CEO Larry Paparo (third from left) helping put the company's best foot forward in Point Pleasant, NJ.