Flip Flop Shops celebrated National Flip Flop Day on June 14 in fitting style: giving away 1,000 pairs, as well as special offers and gifts, to those who visited its new flagship at PIER 39 on San Francisco's waterfront during the opening weekend.
"There are brands and styles for everyone who walks in the door, which is saying something, since we're now situated in the midst of the most-visited attraction in one of the most beautiful cities in the world," states Tom Rome, CEO. "The vibe at PIER 39 is electric, and we are super excited to tap into that energy."
Recently acquired by Bearpaw Holdings, LLC , Flip Flop Shops is known for curating the hottest brands and most current styles. Romeo says the new destination is, "the first of many sizeable additions," with more news to come. "The opening of each new destination is an opportunity to proliferate our culture and message of Free Your Vibe," he says. 
Flip Flop Shops currently oversees 54 franchisee-run stores across the U.S., Canada and the Caribbean. PIER 39 franchisees Josh and Christine Martin are excited to open  the doors to their first Flip Flop Shops and join the iconic PIER 39 retail family. "We are thankful for such an incredible opportunity for our family, staff and the Flip Flop Shops concept," says Christine Martin.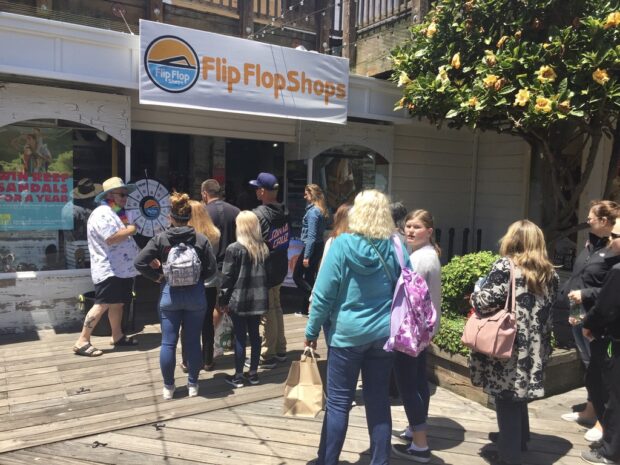 Did someone say FREE flip-flops? The crowd buzzes around the new Flip Flop Shops grand opening in San Francisco.