Apparently, it was good to make a fuss, write letters and campaign hard against the negative effect of additional duties on footwear imports because the Trump Administration didn't include shoes on the list of products subject to additional Section 301 tariffs.
"I'm so proud of the effort that footwear companies, executives, employees and FDRA staff put forward to help keep footwear off President Trump's new tariff target list," states Matt Priest, president and CEO, FDRA. "The Administration released a product list today of approximately $50 billion in goods that it plans to hit with additional 25 percent tariffs, but this list does not include any footwear tariff lines. Including footwear on the list was a very real and substantial threat to footwear workers and consumers across the country, and we are very pleased that we can take a deep sigh of relief."
While the list does included some imported machinery used to manufacture footwear, there are no additional tariff lines on imported shoes.
FDRA was one of the leading associations in Washington, D.C. making the case against tariffs, along with the National Retail Federation (NRF) and the U.S. Chamber of Commerce. Priest described it as a robust press and advocacy operation to tell the industry's story effectively, which was possible thanks to the many dues-paying members of FDRA who fought for the industry. "This is why membership with FDRA matters," he says.
"We made sure the 
letter sent to President Trump by 82 footwear companies
was circulated around the White House and with key policymakers, and we believe that made a strong impact. 
FDRA also wrote a powerful editorial in USA Today
 (circulated to 4 million) to help tell our story," Priest adds. "We also had dozens and dozens of calls and emails to Capitol Hill to get our footwear friends in Congress to help push back. FDRA will continue to stay engaged with the United States Trade Representative (USTR) and Congress, as the Administration starts the 30-day public comment period on the current product list."
Priest says, however, battles still lie ahead. "We should not be on our back foot, only talking about the need to stop new tariffs; we should be stressing the importance of lowering duties for all footwear consumers. We have been working to better tell our story in Washington and plan to launch new advocacy initiatives and outreach in the very near future."
Priest encourages industry members to attend FDRA's annual summit in Washington, D.C.
May 3rd
, featuring leaders and experts discussing the industry as well as policies impacting it. "We will have a lobby day on May 4th, where anyone can join us in congressional office meetings to discuss important footwear issues, especially as they relate to duties," he says, adding, "We encourage any company not an FDRA member to be a leader and join FDRA. No one can afford to be an island in these times—either in terms of the business or political changes we all face. Help the industry speak with a stronger voice, while getting the benefits of all our retail and business data and analysis each week and month."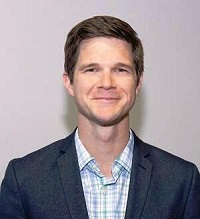 Matt Priest, president and CEO, FDRA