This Saturday Kenny Capps, an avid ultramarathon runner from Black Mountain, NC, will depart from Jockey's Ridge State Park near Nags Head, NC, on the Mountains-to-Sea Trail destined for Clingmans Dome, 1,175 miles away to the west, to raise awareness and funds for Myeloma research. It was three years ago when Capps was forced to stop running after being diagnosed with stage two Multiple Myeloma, which currently has no cure. After multiple rounds of chemotherapy and infusions, Capps underwent a mostly successful bone marrow transplant in August of that year. With his cancer in check, though not in remission, Capps began running again in 2017. But he sought to more than just run. In 2016, he hatched the idea to run the Mountains-to-Sea Trail and founded Throwing Bones for a Cure to help others with cancer and raise money to fund myeloma research.
"Kenny is an inspiration to us all," states Dave Petri, vice president of marketing for Farm to Feet, maker of wool socks that uses an all-American recipe of materials, manufacturing and workers. "He is facing down two intimidating foes, cancer and a thousand mile-plus trail run, and we look forward to running with him when he crosses into Surrey County."
Over the course of the 54-day run, Capps hopes to raise $117,500, or $100 per mile, for the foundation. One-third of funds will go directly to the Multiple Myeloma Research Foundation, one-third to future event planning and costs and final portion  to the establishment of the Throwing Bones Patient Relief Fund.
"Running has always been a way of coping for me," says Capps. "Through Throwing Bones, I'm hoping to use running as a tool to help other people dealing with myeloma."
Capps will be wearing Farm to Feet socks throughout his run, including several styles from its Mountain-to-Sea Trail collection that features styles made for and inspired by the trail, including the Elkin Valley and Clingmans Dome.
To donate to Throwing Bones, follow Capps run, and learn more about Multiple Myeloma visit www.throwingbonesrun.org.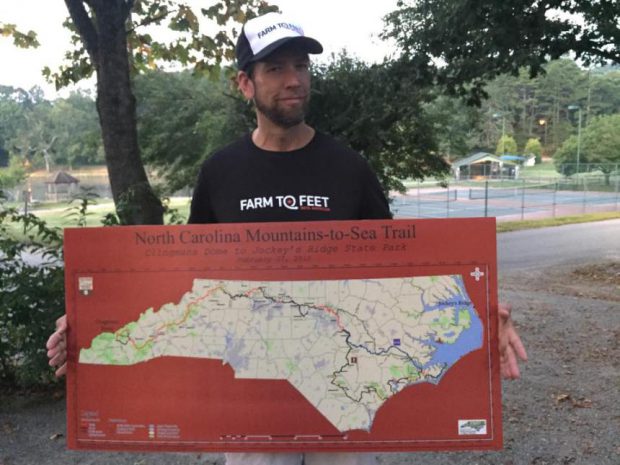 The run ahead for Kenny Caps.