A lot has changed over the course of the past year or so. How consumers work, play, dress, feel, shop and live has changed dramatically. There is a new normal, and brands are trying to meet those wants and needs with innovative products and designs.
Enter Ecco and the launch of its Ecco Leather Goods collection of bags and accessories that offers functional, futuristic and responsibly-made leather goods designed in-house and featuring high-quality leathers and craftsmanship from the company's gold-rated tannery and atelier. Ecco Leather Goods are designed for a progressive consumer who wants innovative bags that fit their hybrid, on-the-go lifestyles. Think pillow waist bags; bucket, bottle and crossbody bags; and backpacks, among other styles. Many of the bags are hands-free, giving the wearer greater freedom of movement while many small leather items (including pod, keys and pillow phone cases), can be attached to one another with D-rings to create eclectic and unique combinations. What's more, the collection is gender-fluid, meaning anyone can wear any piece—there are no men's or women's styles.
Ecco has dubbed this younger, more modern target consumer the New Utopians. "Our New Utopian consumer is constantly connected, and the right 'phygital' strategy is critical for success," says Stefano Pillepich, head of Ecco Leather Goods, noting that it's a holistic design approach. "From consumer to design, product to merchandising, we left no stone unturned with extensive research on all aspects. We built Ecco Leather Goods based on the following principles: consumer first, purpose-driven, innovation, sustainability and authenticity."
Like the Pot bag, which features a completely new shape inspired by a vintage ceramic watering can and can be worn necklace style or crossbody. Overall, the color palette delivers freshness with combinations of modern hues, such as marble lilac, marigold, aubergine, vetiver and electric blue. Little details are part of the recipe as well. For example, the collection is deeply inspired by the rebellious and soulful aesthetics of Ecco's founding years in the 1960s, thus lettering from the archives is reborn in an alphabet of eye-catching attachable charms that give a youthful and playful feel. In line with Ecco's purpose to act for people and planet, the collection also features pieces made with Ecco's DriTan leather, which uses zero water in the tanning process and produces no wastewater or solid waste. Other sustainability innovations include minimizing hardware; using certified sustainable textiles such as recycled cotton and recycled polyester on linings, webbing, mesh, zipper taping and thread fabrics, or no linings at all; and creating goods of high quality and craftsmanship that will last a lifetime.
All totaled, Pillepich is confidant the new Ecco Leather Goods collection is spot-on for today's changed consumer. "We think we have really good insights into what young, ethically-minded consumers want and what they're missing," he says. "We believe we can own that sweet spot where functionality, beautiful aesthetics and responsible production intersect."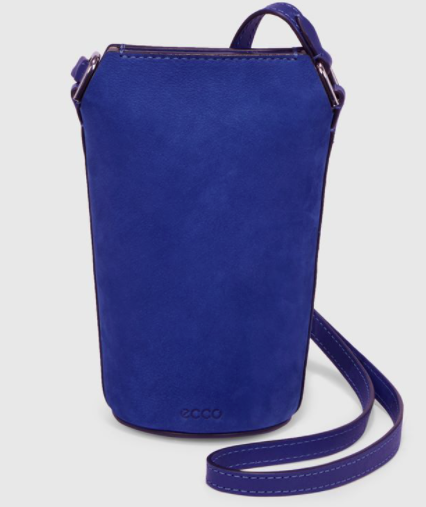 Ecco Hybrid Pot bag (SRP: $150) is lightweight and designed for minimalism, featuring a magnetic closure and space to fit a phone, keys and lip balm. The leather shoulder strap offers comfortable, hands-free wear.