Happier holidays! Lifestyle chain DTLR, with more than 240 stores in 19 states, has been giving (a lot) to people in need this holiday season in Baltimore, Washington, D.C., Chicago, and Charlotte and Raleigh, NC. The company along with New Balance donated $30,000 to young mothers and families to help purchase essential items and gifts for the holiday season, nearly 100 bikes for kids in partnership with Reebok, and surprised teachers via Zoom with Ugg boots and slides to honor their efforts educating their students amidst many challenges during the pandemic.
In Baltimore, DTLR presented a donation of $10,000 to The Movement Team to sponsor the wish lists of 10 families, which included groceries, furniture, clothing and gifts to ensure all children receive items this holiday season. In Washington, D.C., the retailer teamed with New Balance to donate $20,000 to sponsor 30 families through  nonprofit District Motherhued, an organization for millennial mothers of color, and Life Abundantly Coaching. DTLR and Reebok teamed to give away a total of 90 tricycles and bikes to children across Washington, D.C., Chicago and Raleigh. This giveaway coincided with Reebok's new Question Mid "Street Sleigh," a red patent leather sneaker inspired by the biker lifestyle and available at DTLR stores.
In Philadelphia, DTLR partnered with "GettingtheMAXoutoflife," the Philadelphia Police Department and others to provide a shopping spree at a DTLR store to 25 local children who have been victims of gun violence. And DTLR's Ugg partnership saw 15 teachers who have made an impact during this unique school year at three schools on the East Coast gifted a pair of boots or slides. A DTLR representative surprised winning teachers during a faculty Zoom meeting to honor them for their hard work during the pandemic. Participating schools were located in Baltimore, Charlotte and Pennsylvania.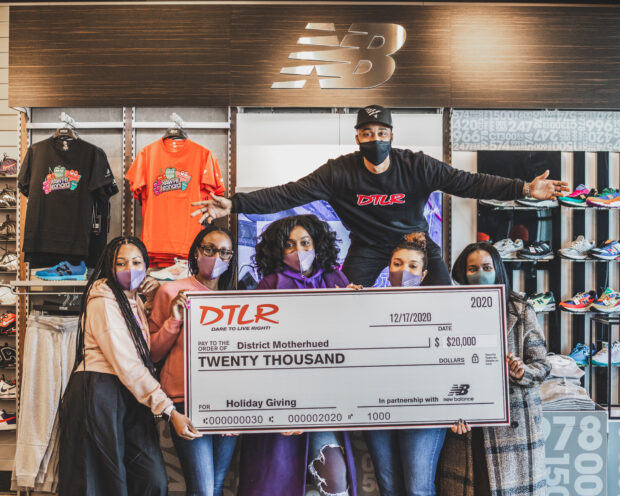 DTLR showing some holiday love  with a $20,000 donation to nonprofit District Motherhued, a nonprofit organization supporting millennial moms of color in Washington, D.C.