Lifestyle retailer DTLR, with more than 240 stores in 19 states, announced a series of community-focused initiatives that will take place in Cleveland during NBA All-Star Weekend, including a partnership to feed the homeless and less fortunate, unveiling of plans for a brand-new playground funded by DTLR at a local Boys & Girls Club, and hosting a youth basketball clinic.
The retailer has partnered with local nonprofit Random Acts of Kindness (R.A.K.E.) to launch a weekend-long effort to distribute 1,500 hot meals and thousands of clothing items to shelters and the homeless community in downtown Cleveland. R.A.K.E was founded by Cleveland native and comedian Ricky Smith, who wants to inspire others by giving through random acts of kindness in his hometown.
Yesterday, kids from the Boys & Girls Clubs of Northeast Ohio helped unveil plans for a new $100,000 playground at the Broadway Club, funded by DTLR. The new playground, which was designed by kids, will feature new equipment, a rope challenge, rubber mulch padding and an expanded playground area. And tomorrow DTLR will host a basketball clinic for 75 local kids, run by NBA champion Dahntay Jones. The clinic, which will be held at John Adams High School, will include drills, giveaways, music and more.
"All-Star Weekend is an eventful and exciting weekend, and this year, we wanted to focus our time and energy on giving back to local community members in need," states Tremayne Lipscomb, Sr., Community Outreach Director for DTLR. "Community is a part of our corporate DNA and we hope to establish local partnerships that have a lasting impact on those in need in Cleveland."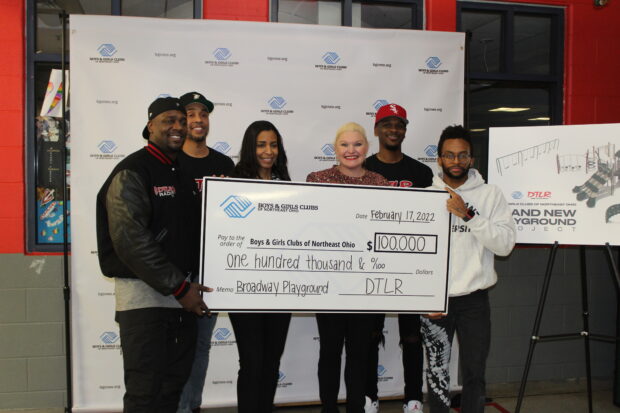 Play time! Team DTLR steps up with a big playground donation for Boys & Girls Clubs of Northeast Ohio.