The first of many firsts…
Designer Brands Inc. unveiled the inaugural shoe from the JEMS by Pensole brand, marking the first style to roll off the assembly line at one of the first Black-owned footwear factories in the U.S. Based in Somersworth, NH, the factory opened earlier this year as part of a partnership between Designer Brands and JEMS by Pensole focused on creating opportunity for underrepresented Black designers in the footwear industry.
Dubbed the "First JEM," the style is inspired by American history through the lens of a Black man who changed an entire industry over 140 years ago: Jan Ernst Matzeliger, inventor of the Lasting machine in 1883, which revolutionized the way shoes are made and is still in use today. "The first JEM celebrates Matzeliger's little-known legacy," states legendary footwear designer Dr. D'Wayne Edwards, founder of JEMS by Pensole and Detroit-based Pensole Lewis College of Business & Design, the only design-focused Historically Black College and University in the country. "We're celebrating his legacy and embodying that same revolutionary spirit, seeking to bring opportunity to new design talent and influence the face of the footwear industry."
To memorialize Matzeliger's impact, the First JEM launched on his birthday, Sept. 15. With a hand-crafted leather finish, the one-of-a-kind casual sneaker is a celebration of the past and a look at the future. The Lasting machine is pictured on the sockliner, while the JEMS (stands for Jan Ernst Matzeliger Studio) diamond badge logo symbolizes the gem that Matzeliger was, and the future gems that JEMS by Pensole will foster.
"Diversity drives innovation and brings new thinking, designs, and products to consumers, yet Black representation sits at less than five percent across all design industries," says Designer Brands President Bill Jordan. "We're excited to partner with Dr. Edwards on the JEMS by Pensole line. First JEM is just the beginning step in our goal to forge entrepreneurial opportunities for underrepresented footwear designers and make their vision and designs accessible to our customers at DSW stores."
Designer Brands and JEMS by Pensole plan to utilize the new Somersworth factory to roll out future lines of athletic footwear by new brands and underrepresented designers in the coming years. JEMS by Pensole will be sold exclusively at DSW.com and future drops will be available at select DSW stores.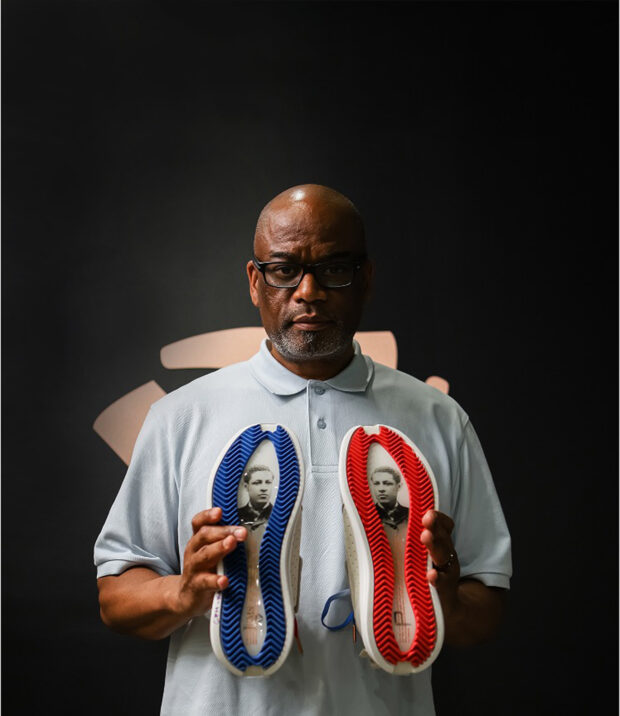 Dr. D'Wayne Edwards, designer of the First Jem.