For the fourth consecutive year, Darn Tough Vermont teamed with the Vermont Foodbank to donate 100 percent of its proceeds from Giving Tuesday online sales. This year's sales spiked 165 percent over last year, resulting in 137,100 meals being donated from the single day.
"Hunger relief is directly tied to giving people strength and energy, helping them tackle any challenges in their lives," states Ric Cabot, founder and CEO of Darn Tough Vermont. "We are committed to ensuring we do our part to feed our fellow Vermonters now and look forward to building this partnership even further in the future."
Giving Tuesday is the second major initiative by Darn Tough in 2020 benefitting the Vermont Foodbank. Earlier this year, as it became evident that Vermont was hitting a food crisis brought on by the pandemic, the brand designed and launched a custom sock which provided a 100 percent benefit to the organization. The Foodbank Farmer's Market sock has provided a total of 269,841 meals which equates to feeding 2,998 Vermonters for one month.
"We are honored to partner with Darn Tough to ensure all our neighbors are fed", says Vermont Foodbank CEO John Sayles. "Since the pandemic began, one in three Vermont residents have been food insecure, and Darn Tough has had their backs every step of the way. Their efforts on Giving Tuesday provide an impactful phase two to their already robust efforts throughout the year that have brought us nearly $275,000 to support people facing hunger since January. Amidst a hunger crisis that is unlike anything we've experienced in our lifetimes, this support is more important than ever."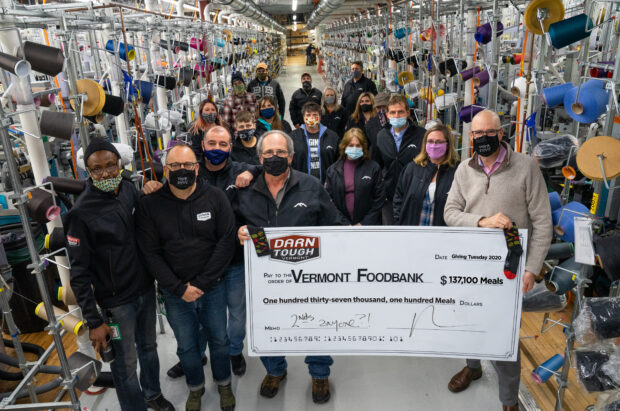 Darn good work: Darn Tough Vermont employees present a much-needed meal ticket.