Comfort One Shoes, the 17-store specialty chain based in the Mid Atlantic region, and Hartjes, an Austrian shoe manufacturer, presented a check for $25,300 to support the local non-profit, Breast Care for Washington (BCW). The organization offers enhanced level of care coordination for patients, including initiation into screening, assistance with identifying eligibility for public assistance programs and post-image navigating services (i.e. biopsies and surgical consult support). In addition, it is the only mammography facility in the Washington, D.C. area that screens women regardless of insurance status.
Comfort One Shoes and Hartjes produced two limited-edition styles—a casual shoe and gladiator sandal, both in dusty pink. For each pair sold, $100 was donated to BCW. Last year, Comfort One Shoes sold 72 pairs for a donation of $7,200. This year's total of 253 pairs sold marked a 350-percent increase.
Maurice Breton, president and founder of Comfort One Shoes, and his family are strong believers in finding ways to give back to the local community to ensure the success of the business by rallying its workforce and entrenching the loyalty of customers while collectively working for a common cause. The Bretons were introduced to BCW via Susan G. Komen foundation, and were struck by the bold work being undertaken by its founders. Most importantly, BCW's impact is local. The Bretons look forward to watching this partnership bloom and grow in the years to come.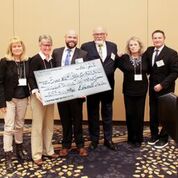 Garrett and Maurice Breton (center) present a check for $25,300 to Breast Care for Washington.