Clarks has gone Hollywood by enlisting actors Alexander Skarsgård and Freida Pinto as brand ambassadors for its new worldwide marketing campaign debuting this month. The 194-year-old British brand chose the two celebrities to convey its belief in the importance of comfort in every situation, asking them to share their comfort story in cities most meaningful to them. The star-powered campaign also marks a "reset" for Clarks, says Tara McRae, chief marketing officer. "This is the first time we've truly been aligned with a global campaign," she says. "It's a step change for us in the marketplace, and it's only the beginning of a very exciting time for the brand."
Skarsgård, styled by George Cortina, was shot in his hometown of Stockholm, Sweden by photographer Mikael Jansson. His shoot features the Desert Boot, Ronnie Walk, Clarkdale Gobi, Trace Quest and Batcombe Lord styles. Pinto was shot on location in London—a city she fell in love with and the urban environment where she feels most comfortable—by photographer Cory Tran and styled by Elizabeth Saltzman. She can be seen wearing the Desert Boot, Clarkdale Arlo, Pure Viola, Sense Lula, Tri Spark, and Trace Pine.
Beyond looking good in these styles, McRae says the actors are a genuine fit with Clarks as both have deep organic ties to the brand. Skarsgård, for example, tells the story in one of the campaign's videos about buying his first pair of Desert Boots as a teenager when the rock band Oasis ruled the charts. Wanting to dress just like the band's front men, Noel and Liam Gallagher, he relates how his father ran over his "too clean" first pair with his car a bunch of times for a desired worn-in look. Skarsgård's approach to personal style speaks to a core element of the brand's ethos, which encourages everyone to make Clarks their own. Meanwhile, Pinto came into contact with Clarks at a young age, which stems from the brand's comfort with style ethos. In another video, she tells the early career story about being told she had to sacrifice comfort for style to be a fashion icon, which she scoffed at.  
"Their stories are both authentic," McRae says, noting that a strict pay-to-promote spokesperson arrangement was never a consideration. "The connection has to truly be there. Both of these actors grew up wearing Clarks and they love the brand. The partnerships are organic, and they'll be the faces of the campaign as we head into Spring '20 as well."
McRae also views Skarsgård and Pinto as ideal because of their broad appeal and social activism. "They connect well across every generation," she says. "It's less about celebrity and more about ambassadors who can really help us in this space." Over the last four years, for example, Pinto has served as an ambassador of Girl Rising, a charity that empowers young women to share their stories to change the way the world views and values girls and to highlight the importance of education. Clarks will support the organization this fall across the brand's various channels worldwide in celebration of International Day of the Girl on Oct. 11. "When Freida asked us to partner with Girl Rising, we said absolutely—it's everything we're about as well," McRae says.
In fact, McRae says social activism has been imbedded in Clarks since its founding in the early 1800s. It's just that going forward, consumers are going to hear a lot more about the company's extensive goodwill efforts. "We have Quaker roots and we've just been way too humble about it," she says. "But consumers today want to know what type of companies they are buying from. They are turning away from ones that aren't doing good because there are other options." This effort, she adds, extends to informing its employees as well. "Employees want to work for a company that has a larger purpose that they buy into and feel are doing good in the world," she says. "It's something that we have almost 200 years-worth of doing, and we should be proud of it." Mcrae adds, "It's part of an overall, longer term strategy and marks a lot of amazing things people will see from Clarks going forward. It's an exciting time for us."
Alexander Skarsgård strikes a pose wearing Clarks' classic Desert Boots.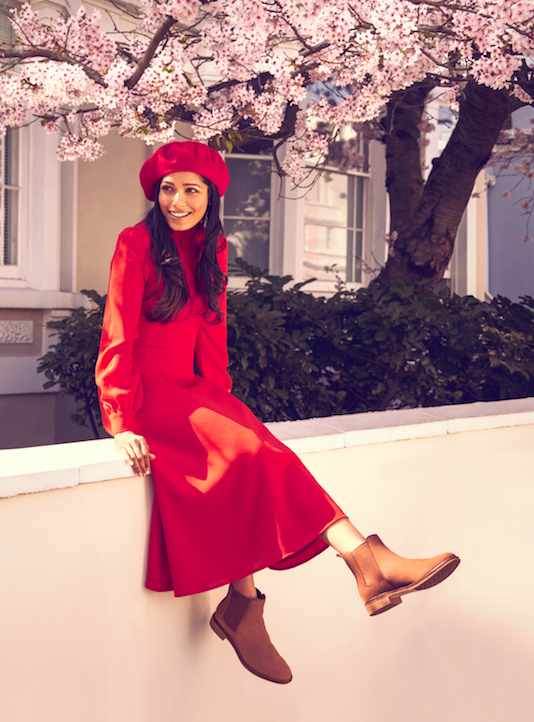 Sitting pretty: Frieda Pinto wearing the Clarkdale Arlo boots.