Caleres announced several transformational changes to its leadership structure—led by naming Jay Schmidt president—that will ensure greater alignment with its strategic direction, accelerate its growth initiatives, unlock the power of its portfolio of brands and drive sustainable, long-term value for its shareholders. This transition combines the organization's operating divisions under a unified structure for growth–strengthening consumer engagement, expanding consumer insights, advancing robust brand goals and awareness, harnessing creativity and furthering innovation.
"This transformation will drive a renewed, consumer-focused approach that will combine the knowhow of our internal resources with the fresh ideas of new industry talent and draw on the strengths of our entire portfolio in the most efficient and value-creating way possible," states Diane Sullivan, Chairman and CEO. "As we continue to execute on our strategy, it is essential that we position Caleres to capture the growth opportunities we see in this rapidly evolving market environment. This next step will strengthen our significant competencies in product creation, assortment development and brand power; and to leverage the substantial investments we've made, and the progress achieved in our digital capabilities and ecommerce platform." Sullivan adds, "At this point in Caleres' evolution, it's extremely important that we aggressively manage our business and that we position our strongest leaders to focus on our most important opportunities to advance growth initiatives across the portfolio."
Schmidt will assume responsibility for all of the consumer and brand strategy for Caleres' entire portfolio, which includes Famous Footwear, Allen Edmonds, Dr. Scholl's, Naturalizer, Sam Edelman and Vionic, among others. Schmidt most recently held the position of Division President, Caleres Brand Portfolio, where he has added to his already-strong portfolio knowledge. Prior to joining the company in 2009, Schmidt spent more than 25 years developing his extensive merchandising, portfolio management and brand marketing experience. He spent ten years with Nine West Group in several capacities and held positions of increasing responsibility with Lord & Taylor, May Merchandising Corporation and Macy's. He holds a bachelor's degree in commerce and marketing from the University of Virginia.
"Jay is a strategic and innovative leader, merchant at his core, cultural steward and the ideal person to step into the president's role," Sullivan says. "He is one of a few people who can combine his extensive expertise with his strong vision around product creation and brand development, all while keeping the customer at the very center of his focus."
Caleres' other changes to the portfolio's leadership structure tap both internal and external talent to support and implement its strategy. Lydia Park Luis joins the company as president, Brand Portfolio-New York Group, and will have responsibility for the company's international business. Luis was most recently CEO of Jack Rogers where she oversaw rebranding and reorganization of the 60-year-old footwear brand. Prior to Jack Rogers, she was Chief Commercial Officer of Rag & Bone and held leadership positions at Tory Burch, where she led the U.S. wholesale business and international operations and licensing. Her brand and international experience will be a valuable addition to the organization as it works to build and grow demand brands within its portfolio in the U.S. and abroad.
Keith Duplain has been promoted to president, Brand Portfolio-St. Louis Group. Duplain has been with Caleres for 15 years and has more than two decades of experience within the industry. Duplain's creative spirit and change-oriented mindset positions him well for this new role and greater level of responsibility. Duplain played an instrumental role in reconceptualizing and growing Caleres' Dr. Scholl's brand and, more recently, has been leading the organization's sustainability efforts.
As previously disclosed last month, Michael Edwards was named president, Famous Footwear leading Caleres' largest brand.
"Luis, Duplain and Edwards, in combination with the outstanding leadership of Sam Edelman and Chris Gallagher, will create an even more powerful team as we continue to drive our consumer and brand strategy moving forward," Sullivan states.
Furthermore, the company has formed a new, digital acceleration team in order to optimize resources, leverage its capabilities and take full advantage of the significant growth in its ecommerce business, which has become an increasingly important part of Caleres' business and a key focus area for the company. Willis Hill, Caleres' senior vice president and chief information officer, will assemble the core digital team, formulate a strategy, execute the plan and drive further ecommerce growth across the entire portfolio. Hill has been with Caleres for 12 years, holding positions of increasing responsibility within the organization and contributing meaningfully to the development of the company's digital and technology platform.
"We have a tremendously talented and highly creative team at Caleres, and I'm excited about driving still greater value for our consumers and shareholders going forward," Sullivan adds. "Caleres has a diversified and powerful portfolio upon which to build, and I am confident in the team's ability to realize the full potential of the portfolio, develop products that resonate and offer footwear that satisfies and delights the consumer—when, where and how they want to shop."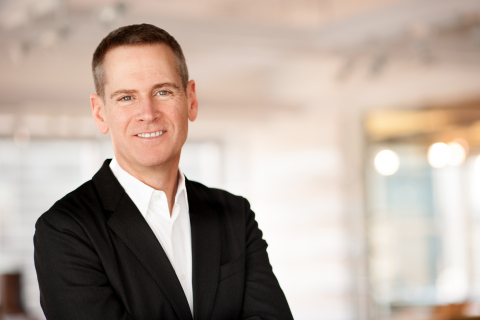 Jay Schmidt, president of Caleres. (Photo: Business Wire)