Driven to help. The first retail production 2023 Cadillac Escalade-V's sale at the Barrett-Jackson Las Vegas Auction raised $500,000 for the Pensole Lewis College of Business & Design, Michigan's only historically Black college and university and the nation's first HBCU to reopen. Reestablished in 2021 under the leadership of its founder and footwear industry designer, Dr. D'Wayne Edwards, Pensole Lewis College (PLC) is the pipeline HBCU for career education and professional development in the design industry. PLC offers programs in design, sustainability, business, STEM and more to serve young Black creatives across industries.
"Cadillac champions big dreams and bold ambitions, and we are thrilled with this auction result," states Global Cadillac Vice President Rory Harvey. "We are grateful to Barrett-Jackson for providing a platform that will help make a difference for the next generation of creatives in Cadillac's hometown of Detroit."
"We are both grateful to Cadillac for its contribution toward diversifying the design industry and for providing support to the next generation of creative talent," says Edwards. "In a city well known for both design and automotive manufacturing, we are proud to have Cadillac as a supporter in this incredibly important effort that will literally change the face of the entire design industry."
"Raising awareness for creative careers—from early education, to trades, to colleges and universities—is a key focus for General Motors' Design team," states Crystal Windham, GM executive director, Industrial Design. "In particular, initiatives like today's sale will strengthen our pipeline of diverse talent, whose unique perspectives will help drive the future of Cadillac and GM design. Personally, I know the importance of HBCUs and their powerful impact, making our work with institutions like PLC, and individuals like D'Wayne Edwards, especially meaningful as we build a more accessible path for more students to creative careers in the automotive industry.
The full hammer price for the 682-horsepower Escalade-V VIN 001,  the industry's most powerful full-size SUV, goes to PLC as Barrett-Jackson waived all fees and commissions as they historically have done with all charity cars at their auctions. An additional $25,000 was donated by a patron.
The winning bidder will have the opportunity to design a pair of custom sneakers with Edwards that will be manufactured as a one-of-one run, and will also receive an exclusive signed and framed 12 x 18 inch design-studio theme sketch of the 2023 Cadillac Escalade-V by Robert Hunwick, the lead exterior designer for the Escalade-V.
PLC offers students the opportunity to grow their knowledge and skills through intensive curriculums aimed at providing real-life experiences relevant to their disciplines. PLC's financial approach lowers the barrier to entry for all students interested in receiving an education, as corporate collaborators, like Cadillac, fund masterclasses, tuition and housing for students.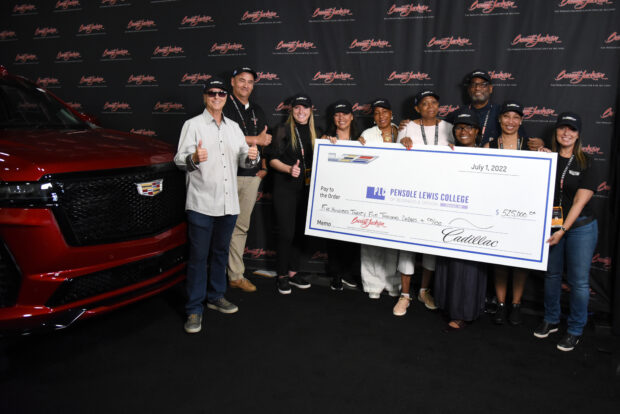 Check, please: That's $500,000 for the Pensole Lewis College of Business & Design.
Cadillac, Cadillac, long and dark, shiny and red. The 2023 Cadillac Escalade-V is snazzy enough that Springsteen just might want to change the lyrics in Cadillac Ranch.