The American Apparel & Footwear Association (AAFA) will honor four industry leaders at its annual AAFA American Image Awards on Apr. 16, 2018 New York. The "Person of the Year" award recipient will be Manny Chirico, chairman and CEO of PVH Corp. "Company of the Year" will go to Camuto Group, and Fred Segal will receive "Retailer of the Year." Joseph Altuzarra will be honored as "Designer of the Year."
"The AAFA American Image Awards celebrate those that epitomize leadership and innovation in the apparel and footwear industry," states Rick Helfenbein, AAFA president and CEO. "This is an opportunity to honor the finest individuals and organizations throughout the entire supply chain, including designers, manufacturers and trendsetters."
Chirico has been with PVH for more than 20 years, serving as CEO since 2006 and chairman since 2007. Under his leadership, the PVH has become one of the largest apparel companies in the world, including renowned brands like Calvin Klein and Tommy Hilfiger. Similarly, Camuto Group is a global entity with more than 5,400 distribution points in more than 70 countries. As a leader in the design, development and distribution of women's fashion footwear, the company offers both wholesale and licensed products. The award will be accepted by CEO Alex Del Cielo.
Eponymous retailer Fred Segal was founded more than 50 years ago in West Hollywood to provide form-fitting, fashion-forward clothing. Catering to Hollywood's A-list celebrities, Fred Segal is known for opening the first jeans-only store. Today, the retailer manages stores in Japan and Los Angeles. The award will be accepted by CEO Allison Samek and president John Frierson. And while not yet even 50 years of age, French designer Joseph Altuzarra's eponymous label (turns 10 in 2018) has developed a strong following based on its modern wardrobe aesthetic for women that makes them feel confident and sexy in their everyday lives.
For the second year, AAFA has partnered with the Council of Fashion Designers of America (CFDA) Foundation to serve as the gala's beneficiary. The CFDA Foundation is a not-for-profit organization that raises funds for charity and industry activities.
"We are honored to once again be the beneficiary of the American Image Awards," says Steven Kolb, president and CEO of the CFDA. "The money raised will help fund our business development and philanthropic programs. We are grateful to Paula Zusi, Rick Helfenbein and the entire team at the AAFA for the continued support."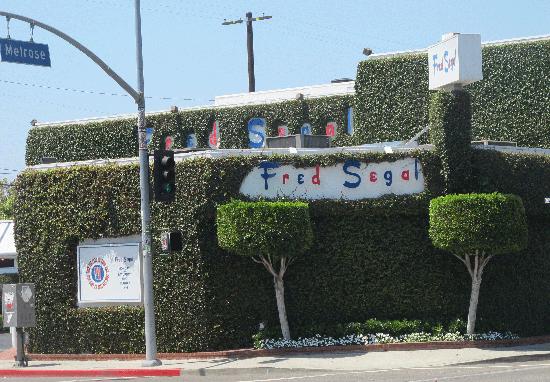 The iconic facade of the Fred Segal shop on Melrose Avenue in Los Angeles.