Williamsburg, the hipster enclave within the hippest New York borough of Brooklyn, now has a hip flagship from the hippy/hip Birkenstock. The brand's third company-owned U.S. store (located at 111 North 6th Street) follows in the footsteps of its first two U.S. company-owned stores in New York's SoHo neighborhood and in Venice Beach, CA. That is, the locations are known for their creative communities, thriving retail, culinary and music scenes that match Birkenstock's demographics to a T.
"Williamsburg, Brooklyn is the perfect neighborhood to celebrate and interact with our brand fans in the area," states David Kahan, CEO of Birkenstock Americas. "It is a vibrant place unlike any other and serves a new generation of families and urban creatives. We're proud to have found a new home for Birkenstock right in the heart of Brooklyn."
The Brooklyn location gives the German health-and-wellness brand a new home to serve its passionate and growing customer base in the New York area. In addition to the brand's iconic sandal styles , the store carries a growing range of products for women, men and kids, including shoes, boots, socks and its Natural Skin Care line. The store will also offer a curated selection of limited-edition designer collaboration styles.
The new store evokes a contemporary and sleek city space. The design embodies the rich history of the brand and features core materials of cork and leather coupled with white oak to create a bright, polished and comfortable space. Birkenstock has also partnered with long-time wearer and Brooklyn-based artist, Mike Perry (mikeperrystudio.com), for a large scale artwork celebrating the vitality of New York to the store environment. "Flowing Toes" reflects the lively spirit of the city in a bright, colorful 11' x 6' piece. Inspired by city life, from islands connected by bridges, to people, buildings and transportation, the work reflects the beautiful chaos yet togetherness that New York and Brooklyn evoke.
This weekend's grand opening will include special gifts and activities as a greeting to the neighborhood. Hours are daily 11:00 a.m. to 7:00 p.m.
A store sign that is just so Brooklyn.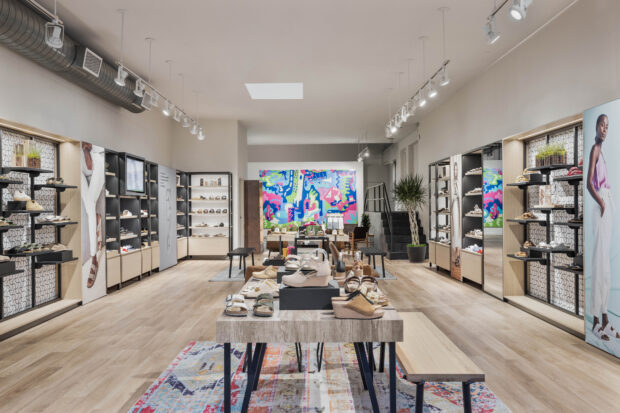 A sleek and contemporary ambiance awaits shoppers.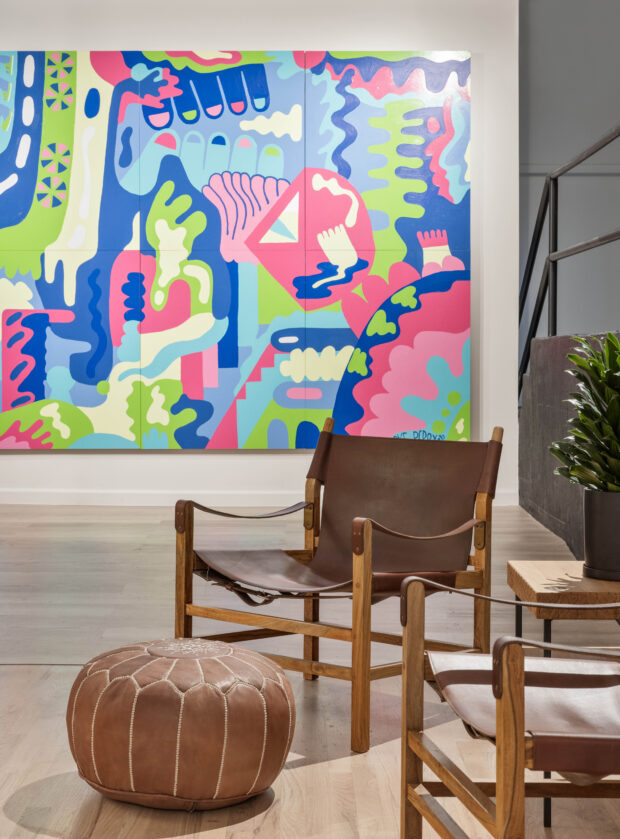 Brooklyn-based artist Mike Perry's commissioned "Flowing Toes" mural reflects the lively spirit of New York.