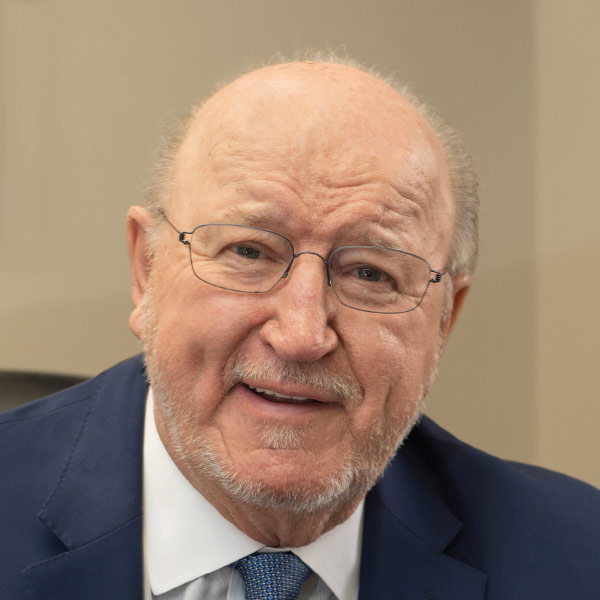 Bob Campbell is a throwback: a bit brash, blunt and bigger than life. He's the kind of old-school exec who—still going strong approaching seven decades into this business—always gets the job done. He doesn't look for excuses, doesn't wait or expect someone else to do it, doesn't want any pats on the back and doesn't believe any job is beneath him. He remains as hard-driving, energetic and excited about the shoe business as on day one when he launched BBC International back in the mid '70s—mainly because he decided he could design and manufacture kids' shoes better than anyone else was doing at the time. It didn't matter that he had zero experience in wholesale. The man who couldn't afford college but had quickly worked his way up the retail ranks from stock boy to a top exec at Kinney Shoes believed in himself and saw a niche that could be filled. More importantly, he wasn't going to let anyone or anything stop him—not having to trail blaze new sourcing regions in distant lands and behind the Iron Curtain. The man will not be denied. He moves mountains. He makes things happen—like the revival of Heelys that many considered dead and buried. He makes things first—like lighted footwear, which even garnered him a cameo in an episode of The Simpsons for an invention Homer called "genius." He will "never retire." He's now a doctor, having recently received an honorary degree from Florida Atlantic University, recognizing his significant business achievements and philanthropic contributions to the Boca Raton, FL, community. Campbell has chutzpah, charisma and a can-do spirit that should be bottled. Everyone could use a shot of Bob now and then.
"The Energizer Bunny has nothing on Bobby!" says Jim Issler, CEO of H.H. Brown, a longtime friend and colleague. "He keeps going and going and going!" Issler recalls meeting Campbell back in the early '70s walking the halls of Kinney Shoes in New York where Campbell was a well-known fixture. His success that followed at BBC—now the worldwide leader in kids' footwear for sourcing, licensing and manufacturing—is no surprise to Issler. "The success is the result of a partnership between Bob and Don (Wilborn) that's always complementary," he says. "They've worked hand in hand, sharing some of the same marvelous traits to build what has become a company that's provided consistent growth and one that's never been afraid to take on new challenges." Issler adds, "Bobby's greatest attributes are bountiful: passionate, compassionate, considerate, competitive, creative…the list goes on and on."
Just look at him as a footwear executive, says Joe Ouaknine, CEO of Titan Industries and fellow Two Ten Foundation board member. "He started out as a stock boy at Kinney and look where he is now. He didn't find this on a silver plate. He worked hard. He built his company from the ground up. He is one of the biggest successes in our industry." Beyond that, Ouaknine confirms the other side of Campbell: as successful as he has been over the course of his career, he's given back boatloads to charities inside and outside the industry along the way. "He's a prince," Ouaknine says. "He has a heart of gold. He gives more per pound than anyone in our industry."
Neal Newman, president of Two Ten, says it's not an overstatement to say that Campbell is perhaps the single greatest factor to the nearly 80-year-old foundation's success. "He's been involved his entire career and has witnessed Two Ten becoming more effective, impactful, bigger, stronger and better able to respond to the social and financial needs of footwear employees," Newman says. "He is a generous philanthropist who wants to see impact. He's intolerant of mediocre and has always been able to set a high standard for Two Ten to achieve."
Never was that commitment more on display than at Two Ten's annual fundraising gala and awards dinner last December in New York. That's when Campbell, rolled onto the stage in a wheelchair by Ouaknine, told the audience of his near-death experience a couple of months prior that resulted in a partial leg amputation due to an infection. But this wasn't a woe-is-me tale. This was vintage Campbell: He urged everyone in attendance to help others who, he said, are much more in need than he is. Two Ten's mission far outweighed any discomfort or mobility issues he might have had flying from his Florida headquarters. Nothing would stop Campbell from attending Two Ten's annual dinner—just like he has every year for decades.
Newman says Campbell was "100-percent motivated" to attend the dinner that he and his son, Seth, co-hosted. He wanted to be part of the vibe and encourage people to do more for the industry charity. "Footwear is his blood flow," Newman says. "He truly cares about the 330,000 people who make footwear their home. He wants their lives to be positive. He wants the best for our industry and the people who work in it." Newman believes that seeing Campbell on stage that night was the truest testimonial of who the man is. Hundreds of shoepeople sat rapt in attention as Campbell spoke. "It was a remarkable moment and everyone in the room felt it," Newman says.
Many, in fact, heeded Campbell's call to donate that night. Skechers President Michael Greenberg stepped up with a $92,000 donation on the spot to meet last year's fundraising goal. Steve Madden had earlier donated $250,000 in Campbell's honor. In total, $3.2 million was raised, a record for Two Ten. Campbell says the night was special, but with trademark humility, notes, "I'm lucky I'm still here, but people in places like Puerto Rico are not as lucky. They still have a lot of problems." Campbell believes the outpouring of donations had nothing to do with sympathy for him. "I believe people donated money because they believe the Two Ten Foundation is a great cause and one that's very important to me."
The Seeds to Success
Campbell says growing up poor in Pittsburgh fueled his relentless entrepreneurial drive and philanthropic streak. He shared a bedroom with three sisters while their single mother worked long hours at her parents' bakery to make ends meet. "She was a great baker and worked her butt off 16 hours a day," he says. "I'm very lucky because my mother taught us to be very respectful and work hard." Campbell says he never felt poor. "I always thought we were rich, because we always had food on the table," he says. "We ate great rye bread."
Campbell started working in the stockroom of a local Kinney Shoes at age 15. "I hated the stockroom," he says. "I wanted to be a salesman." Being told no didn't stop him from asking—repeatedly. The store finally caved in and stationed him in the back of the store. "I stood on a stool and urged the customers to come back to me," he says. He was soon pulling down $35 a week. "I thought, 'Wow, this is great!' But my goal in life then became to make $100 a week, and I was fortunate to do that eventually."
Because college was out of reach financially, Campbell stuck to doing what he did well: selling and later buying shoes. He moved from one Kinney store to another, rising to assistant manager and then manager. He was transferred to Topeka, KS, followed by stops in New York and Chicago, where he became a regional buyer. He eventually returned to New York, taking a senior executive position at Kinney's parent company, F.W. Woolworth. But after nearly a decade there, Campbell was searching for a new challenge. "I was bored," he says. "I had received a tremendous education. I traveled to Asia and Brazil and many other places, but I wasn't really going to go any higher in that company."
With the help of a friend and one hire, Campbell made the leap into the kids' shoes wholesale business in 1975. He traveled to Europe to put a line together and "just started knocking on doors and selling shoes." Campbell admits he had "no idea" whether his venture would be successful. "I never thought about it. I never think about losing or defeat," he says. He started by calling on Meldisco, Kinney, Brown Shoe and Payless ShoeSource, among others. "I called on all the people I didn't really know, and I got lucky on a couple of items," he says, admitting his first couple of shoes were "horrible." But Campbell learned fast and soon scored a couple of big successes. No one, for example, had ever made a kids' boot sourced in Asia. "I made the first one, and that year we sold a million pairs," Campbell says. "I'm lucky, but I also have vision. I don't claim to be a designer, but I have a lot of vision about what can be done."
That vision included Campbell's decision to focus on the kids' shoe business at first. He had been a women's shoe buyer but was smart enough to see the challenge that market presented. 'Everybody was in the women's business. Why would I want to compete with all those big brands?" he says. "I picked the kids' business, and today we're the best. We sell in 120 countries now." Campbell doesn't get into the minutia of corporate strategy. To borrow a phrase, he just does it. It's the same message he tells his younger employees today. "Give me a reason why, and I say let's do it," he says. "Now we're getting into areas that we've never been in before, and that's adding to our overall volume."
That's the abridged version of how BBC became the leading kids' supplier over the course of four decades. One would be remiss not to mention Campbell's lighted footwear epiphany, which occurred in the early '90s and cemented his place in shoe industry lore. Approached in 1991 by a Canadian inventor who was working on a patent for lighted shoes, they came to a licensing agreement. Campbell then took the idea to his good friend Robert Greenberg, who was CEO of L.A. Gear at the time. Campbell, who made the first L.A. Gear kids' shoes and helped put Greenberg in business, had made a shoe out of cardboard and stuck a light inside for his presentation. "Bobby didn't get it," Campbell says. He then jumped on a plane to South Korea to get some samples made and, when he returned, stopped by L.A. Gear's offices again, which happened to be under new management. (Greenberg had resigned and would soon launch Skechers.) The new management "loved" the idea, he says. The partnership went on to sell 10 million pairs of L.A. Lights and has been a major footwear category ever since. "We had a guaranteed patent that was protected for years," Campbell says, adding, "We're no longer protected, but we still sell millions of pairs of lighted footwear each year."
Built to Last
BBC is a kids' shoe fortress. The current portfolio includes Heelys, Polo, Marvel Comics and Warner Bros., among others, as well as a huge private label division. In fact, Campbell says there's not much more growth to be had within the kids' sector. That's why, under the leadership of his son Seth, senior vice president of new product, the company is pushing into the adult shoe market in a major way, led by the launch of the Champion license for Fall '18. "Seth is the one who convinced me that we have to get out of just one market," he says. "I said, 'Go do it; that's your job.' And he's done an incredible job. The line came out gorgeous. It's positioned for a great run." Ever the salesman, Campbell adds that Champion is going to be huge. "It's the hottest name in casual apparel right now worldwide," he says. "From Foot Locker to you name it, people are buying Champion sweatshirts and other items. It's like a Nike."
Campbell has a long track record of delivering on his sales hype and endless enthusiasm. BBC has a solid reputation for making well-designed, well-made, up-to-code (no easy task in the kids' business) shoes that are delivered on time. Then there's that added ingredient that the company has working in its favor, according to Cliff Sifford, CEO of Shoe Carnival. "Bob is genuinely a nice guy, so you want to do business with him," he says, noting the chain has been buying shoes from BBC for 35 years. "Anybody can find a factory and produce shoes, but not everybody is pleasant to do business with."
Dick Johnson, CEO of Foot Locker, agrees that BBC has the kids' manufacturing basics down pat. What seals the deal for its decades-long partnership with the company is Campbell's passion for the business. "He's absolutely committed to the kids' business," Johnson says. "He's got the whole deal covered—the design element, the distribution network, the sourcing, etc. He's the complete, one-stop shop in kids' shoes." Johnson adds that Campbell's knowledge stretches to the nitty-gritty details that few, if any, know as well as he does. "Bobby understands how much of the actual build you have to put into those shoes. They don't need the same cushioning properties, but they've got to have the same aesthetic, they've got to look good, etc., and he really gets that," he says.
According to Matt Priest, president of the Footwear Retailers and Distributors of America (FDRA), Campbell basically wrote the book on kids' footwear compliance. "Bob and his team have been instrumental in leading the charge towards fully implementing a comprehensive, industry-wide approach to footwear physical and chemical safety," Priest says. "As one of the largest importers of children's footwear, the entire BBC International team, under Bob's leadership, has provided key institutional support to ensure that the industry is committed to shoes that meet all legal and regulatory requirements." Campbell, a former FDRA chairman and current board member, is a relentless advocate for the entire industry, Priest says. "Bob has long been a supporter of our efforts in Washington on behalf of the industry," he notes. "There hasn't been an FDRA Washington fly-in where Bob has not been actively walking the halls of Congress to make sure lawmakers understand the negative impact of import duties on our consumers and companies."
No Surrender
Campbell may be older and missing half a leg, but he's not going to let that slow him down or prevent him from going to work each day. There's much to be done. There's much growth to be had. On the heels of its expansion into men's with Champion, BBC is currently negotiating deals to enter the women's market, he reports. "I still have a lot of ambition about growing this company," he says, noting that this year will be the best in BBC's history, and 2019 should top it. "We have a great group of young executives who will take over one day, but Don and I have no intention of going any time soon. It's too much fun," he adds.
"Bobby is not done doing things that he will be remembered for," says Issler. "The chapters of his book continue to be written." Priest agrees: "I always feel like he's just getting started, so I think we all need to stay tuned."
Many a (lesser) man would have cashed out long ago, or hung 'em up after a major medical scare at an advanced age. "Most people would have disappeared into the abyss after losing a leg," says Newman. "But Bobby is a strong-willed, optimistic, tough-as-nails type of person."
Campbell says rehab is just another obstacle to overcome. He vows to be up and moving on his own soon. "I'm doing lots of physical therapy and my goal, by this summer, is to be able to walk, ride a bicycle and play golf again," he says, adding that life is all about having the right attitude. "I could have woken up after that operation and given up." But that's not an option, especially since Ouaknine says Campbell challenged him to a race around the block once his rehab is finished. Challenge accepted.
Campbell's enthusiasm and passion for life is contagious. It goes back to that shot of Bob everyone could all use on occasion. In fact, an informal poll of what word best describes the man reads like ingredients if such a bottle existed: resilient, trustworthy, passionate, respected, loved, outspoken, generous, genuine, gracious, forthright, caring, energetic, smart, irrepressible, optimistic, unstoppable.
"He's just good people," says Foot Locker's Johnson. "He's a shirt-off-your-back kind of guy." Ron Fromm, CEO of FFANY, who first came into contact with Campbell in the early '80s during his days with Volume Shoe Corporation, says there's no restraining Campbell from pursuing joy in life, and that's what makes him so special. "Whether it's getting the next order, giving back his last dollar or sharing his love of family, he's all in, at all times."
Asked if he ever envisioned the company he founded in 1975 would become what it is today, Campbell says, "Hell no! I envisioned one day to the next." But he says he "never looked back," even though he was "scared to death" at times in those early days. At the same time, he never worried about failing. He just pressed ahead with his fearless determination and drive to succeed. Campbell is a force a nature—something several competitors mentioned to him at the very beginning of BBC. "One of the biggest kids' executives in the world at the time told me that I'd be super-successful one day," Campbell says. "I didn't know what he was talking about. I had no idea if that was going to be the case." Turns out, the guy was spot-on, and most anyone who's come across Campbell since would readily agree. •