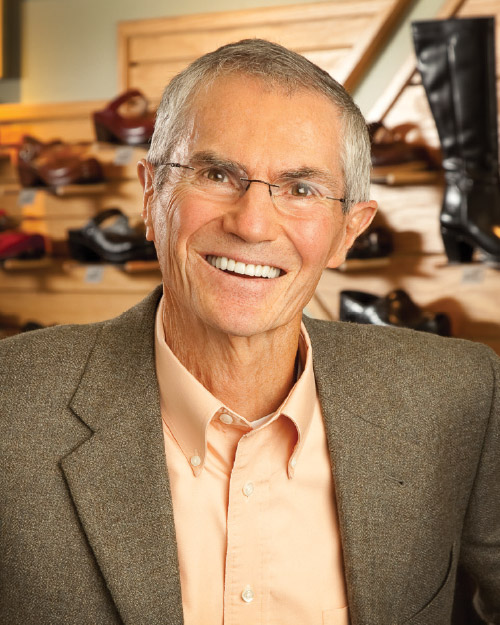 As a third-generation shoe retailer with family roots that date back to 1889, John Schuler is a natural. He grew up in a shoe store, sweeping floors, dusting shoes and working in the stockroom at Schuler Shoes as a kid. During high school, he worked on the floor as well as at a Montgomery Ward department store. He later managed Schuler stores and, in 1972, acquired the business from his father, Emmet. With knowhow honed over decades, you might say Schuler has veins of leather and shoe polish in his blood. The septuagenarian never tires of trying to improve his family's business through selection, service, locations, décor, inventory, marketing, employee morale—you name it. But he is down to earth and humble despite his accomplishments. Schuler credits his talented management team for "making him smarter" and his approximately 250 dedicated employees for making the business the most successful it's ever been.
Just how successful? When Schuler acquired the business from his father, it was a six-store operation generating a collective $900,000 annually. Today, Schuler Shoes' nine stores, plus ecommerce, do about $50 million a year. Exactly how did Schuler make the leap from his original goal to ramp up growth to $500,000 per store to approximately 10 times that amount? How did he go from operating 2,300-square-foot formats to an average 8,000-square-foot outlets with a couple of 12,000-square-foot super stores in (relatively) sparsely populated Minnesota? Even allowing for the adjustment of inflation, that growth shatters reasonable expectations, especially in an industry that has seen epic levels of contraction at the brick-and-mortar level. When Schuler acquired the business, his father told him, "Hey, if you can get these stores each doing a $500,000, you're gonna have it made." Never could his father have envisioned just where his son, a natural born shoe retailer, would lead the family business.
Back then, Schuler didn't dare think in such grandiose ways. It was about finding his footing and, ever since, devising and implementing ways to survive and put the business in positions to thrive. The growth has largely been organic. There's no magical bullet or secret formula that's led to Schuler Shoes' long-running success that only seems to get better as the business ages. Asked how he was able to grow into a $50-million enterprise and Schuler humbly replies, "Well, we just learned and adapted along the way."
Schuler learned a great deal working for Schuler Shoes' managers and, over the years, by pumping whoever he could for information and advice. He's an expert listener, first and foremost. "I learned a tremendous amount from accountants and attorneys—they were critical," he says. Schuler has also learned a great deal from reps and, after he started attending trade shows regularly, from fellow retailers. "You have to make partnerships—those have been a tremendous value to me," he says, citing the National Shoe Retailers Association (NSRA) as one of his best and most enduring sources of insight and information. "I've become friends with some very successful retailers who've offered an unbelievable amount of information," he says. "I recommend any fellow independent retailer to join NSRA."
Chuck Schuyler, president of the NSRA, says Schuler has long since graduated to head of the class, calling him one of America's leading independent footwear retailers and an inspiration to all. Schuyler ticks off a list of qualities that make Schuler a successful retailer. Passionate—he loves his work and it shows; Respectful—he treats everyone as he would like to be treated; Committed—to his family, employees, customers and business; Dedicated—he gives his all every day to ensure the company's success; Honest—he's a person of his word; Trustworthy—he has earned his reputation with the actions; Positive—he has a friendly and professional attitude towards everyone he meets; Knowledgeable—he stays up to date on industry news, product knowledge and social responsibility, and shares it with others; Impactful—he makes a difference to those who know him, personally and professionally.
By the Book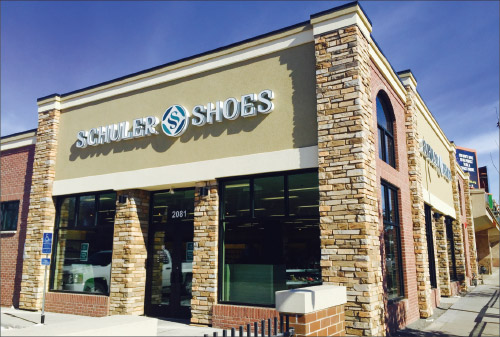 Schuler has built his sit-and-fit empire by adhering to retail and business basics—a fact that should be reassuring to mere retailer mortals. While many businesses have zigged and zagged over the years, Schuler Shoes has stayed the course on its comfort specialty format, starting with step one of its mission statement: The tradition of passing on the art of fitting footwear. The mission's others tenets read like a how-to guide for a local, sit-and-fit business: offering an extensive selection of styles, sizes and widths; serving our customer, each other and our communities; kindness through a welcoming and friendly experience; and trust by sustaining relationships built on reliability and integrity.
Schuler's mission statement may be pretty straightforward, but it's not easy to do well, especially day after day. There are many moving parts that can easily throw it out of whack—like poor inventory management or unhelpful customer service. It only takes one chink in the concept to trigger an outbreak. But such an epidemic is unlikely to take hold at Schuler Shoes, according to Kitty Bolinger, executive vice president of sales for Dansko. That's because the commitment to excellence starts at the top with Schuler and flows through every aspect of the business. "John is committed to insuring each customer that visits Schuler's will leave with their problem solved—whether it is finding the perfect shoe to go on vacation or solving for extreme foot issues—he makes sure he has the product and people to fit their need," she says, adding every employee is trained to put the customer first. "He has career employees that develop personal relationships with customers," she adds. "The employees are proud to work at Schuler's and their attitudes reflect that." Part of that effort also entails pioneering new brands, as he did with Dansko in 1995, and keeping a stable of tried-and-true brands. "He treats his vendor partners with the deepest respect, but pushes us to be better each year," Bolinger says.
Beth Bartholomew, senior director of sales for Earth Brands, concurs on Schuler's vendor partnering skills. "I hate using the word partner because it's over-used, but John is the true definition of one," she says. "In all the years I've worked with him (it stretches back decades to her Clarks days), he's never asked me for one thing and when I always ask, 'Can we do that for you?' that shy John smile appears and he says, 'Ok Beth, if it's not too much trouble.'" The partnership continues to pay strong dividends for both sides as Bartholomew reports Earth's sales of late at Schuler Shoes have been growing by at least 20 percent annually. "Even though they're a pretty conservative bunch and their customers are the same, their team is always willing to push the envelope," she says. "It comes from a mutual trust and respect between us."
"It's got to be a win-win," Schuler says in regard to all his vendor partnerships. "If it's not good for me, it's not good for them."
Edward Kanner, CEO of Kanner Corporation, distributors of Gabor, Haflinger, Ganter and Think!, commends Schuler's buying team as well. "I've rarely encountered a team as meticulous and detail-oriented as theirs," he says. "It's an all-around, first-class operation." Kanner adds that in this current brutal climate, where many retailers are struggling, Schuler Shoes serves as a beacon. "They're not only surviving, they continue to thrive," he says. "One has to tip one's hat in respect."
Schuler Shoes' success lies in the consistency of excellence across consumer-facing aspects like service, selection and presentation as well as a backroom engine that just hums. Peter Zappala, vice president of specialty sales for New Balance, first began working with Schuler in the early '90s and says the level of excellence never wavers, nor has the loyalty and support of New Balance, the chain's top-selling brand. "Schuler Shoes has supported New Balance through broad assortments, superior service, and proper inventory levels," he says. "Their management and associates have always made New Balance a priority and converted thousands of consumers to the brand."
Birkenstock is another staple of Schuler Shoes' merchandise mix, stretching back to the late '70s. In fact, Schuler recalls having to make a one-day trip to a show in Chicago because the rep didn't even bother to come to Minneapolis. "I flew there, worked with Birkenstock, wrote the order and flew home," he says. "It was all I wanted, and I've carried the brand ever since." David Kahan, CEO of Birkenstock Americas, credits the brand's long-running success at Schuler Shoes to the chain's commitment to customer service. "To find a local, service-oriented business who remains true to their values is rare today," he says. "A retailer who provides a true sit-and-fit experience is the bullseye of all we do, and Schuler Shoes is amongst the best."

Path to Greatness
Back in 1972, when Schuler was just 27 years old, he set out on a mission to transform his father's sleepy family shoe stores. The chain had been carrying a limited array of brands from International Shoe Company of which his father happened to be the Midwest rep. "He was his own best customer, and his managers ran the stores," Schuler says. "It was a great operation for him." But Schuler had a much different vision for the business and got started right away on a total makeover, inside and out. "There were brands in the market that I believed were much better, like Frye and Rockport, and a lot of others we didn't carry that people were buying," he says, noting size-and-widths specialists SAS and New Balance would soon became cornerstone brands. "I also got aggressive at remodeling the stores or moving to better locations."
In fact, Schuler closed three underperforming stores almost immediately and bought a larger store in the Minneapolis suburb of Bloomington in 1976. He knew the store was doing more business than any of his current outlets at the time because he used to work there during high school. It was bigger and located at a high traffic intersection. He then invested in a complete redesign outfitted with professional fixtures and made a heavy investment in inventory. It would serve as a lab for his sit-and-fit vision. "I now had the atmosphere and the inventory," he says. "It all came together." The store's sales took off, and Schuler adapted the model to his other stores as best he could or moved to bigger locations. By 1980, the then five-store chain was doing $3 million total a year, already topping his original $500,000 per store goal.
Over the ensuing two decades, Schuler practiced patience—a controlled growth strategy that involved moving locations or opening new stores, often to find better lease terms. "I was just waiting for the right opportunities," he says. Then, in 2000, Schuler pounced on the chance to supersize his concept, which would lead to the chain's next growth spurt. The stores had maxed out around 4,000 square feet, but this new one, located in open-air shopping center in the suburb of Maple Grove, would be 8,000 square feet. It was followed a short time later by another 8,000-square-foot store in nearby St. Cloud. "That was the start of our recent expansion in number of doors as well as the leap in sales," Schuler says. "My goal went from $500,000 per store to $5 million a store."
Helping fuel that growth spike was Schuler's decision to open pedorthic shops in every store. The free service for customers suffering from a variety of foot-related issues has been a major draw. It's also led to a strong doctors' referral business. Schuler says it's just another part of meeting the needs of customers—right down to its no questions asked return policy. "We always just take care of the customer," he says. "If you don't love your shoes, come back and we'll take care of that."
In addition to the weekly sales reports confirming that Schuler's approach is wildly successful, he gets regular feedback from the people who count the most: customers. The comments section on its web site receives a steady stream of rave reviews every week. "I read probably five or six of those every day, and it's pretty much the same message: that our people know what they're doing and always find the right shoe for customers," Schuler says, noting it's not easy as employees must keep up with the fit nuances of about 100 brands. "Every shoe fits differently, but it's our job to make sure customers buy the shoe that's exactly right for them," he adds. "Having that expertise as well as the inventory is a huge plus."
Not having it in stock, Schuler says, is no excuse—not in the days of Amazon and direct-to-consumer (DTC). "If a customer comes into one of our stores and wants to by a certain brand and style and I don't have it in their size, shame on me," he says. "They're making the effort to drive here, so I better have the inventory for them to walk out with a pair of shoes." For the record, Schuler says the purchase rate of in-store shoppers is close to 90 percent. The industry average is about 60 percent.
Let Go of the Lease!
The first rule of retail is location, location, location. The second rule, as Schuler now sees it, is owning those locations. It marks his latest tack in guiding the chain to calmer and more profitable waters. Over the past couple of years, he has shifted gears to buying the buildings where his stores are or, if unable, moving them to buildings he can purchase or buy the land and build from the ground up. "Every five years, your rent goes up 10 percent," he says. "That's just the way it is." Owning, on the other hand, is "no comparison" when managing fixed costs and building equity at the same time, he says.
Schuler bought his first piece of property four years ago and built a store in St. Paul's Highland Park neighborhood, across the street from a Target. It was a "quick and fun experience," and Schuler purchased a second location in Roseville shortly after. The store had been doing $7 million annually, and he moved it across the street to a new building that he owns, and it's now doing $8.5 million a year. Schuler is on a roll. The Maple Grove location's lease is up in April 2020 and he has already acquired a five-acre lot down the street near a Costco for what will be a 26,000-square-foot building—a 13,000-square-foot store and corporate offices above it. It's got great visibility and parking, and Schuler projects sales will jump from $5 million to $6.5 million in the new digs. "We're breaking ground this month," he says. Schuler is already working on owning a fourth location, noting he views this approach as the "smarter" move, rather than venturing into completely new areas to open stores. "Before I pass out of the picture, I'm trying to own as many of our stores as we can," Schuler says. "My goal is to own at least five in the next five years."
In the meantime, Schuler will remain steadfast on the sit-and-fit Golden Rules—what has brought Schuler Shoes to the dance. In the face of his current two biggest competitors—Amazon and direct-to-consumer—he believes it's his only recourse. "We've got to do exactly what we've been doing, only better," he says. "It's all about that experience. People want to have a relationship, and there's no relationship with Amazon or DTC."
It starts with a friendly greeting. "We have to form that relationship—sit them down, measure their feet and learn about their specific needs and concerns," Schuler says. "It's all learned at the fitting stool. You take that information back to the stockroom and return with a range of options that might work. Oftentimes, the person walks out with something totally different than what they came in for because you put a shoe on their foot that works best for them—and they're happy." As a natural retailer that essential customer exchange never gets old for Schuler. "Every customer is unique and every transaction is different," he says. "You have to become their friend and gain their trust, because people don't buy from people they don't like."
Loving This
Being CEO of Schuler Shoes is a labor of love, and Schuler adores every stitch of the job. "I love that every day's a challenge, and it's always something different," he says. "It's in my blood, and I just love all aspects of the business." Schuler is in contact with his management team nearly every day, and if vendors are coming by, he's happy to meet with them too. If there's an issue or a problem, he's all over it in search of a solution. He relishes the challenge. "There are just so many parts to every decision," he says. "I love solving problems."
Schuler shows no signs of slowing down. While he is in the process of transitioning the business to the fourth generation—to make it as seamless as possible—he continues to listen, learn and teach. Sure, he could retire. But why stop doing what you love? "Every day is a smile," he says. The glowing customer reviews that regularly flood the comments section fuels Schuler's passion. "Those wonderful comments make my heart sing," he says. The same goes for when doctors tell him Schuler's is the "only place I trust" to refer patients. "It almost makes me cry," Schuler says. "I have a great team of people and couldn't have done it without them, and having family involved….I'm just overwhelmed and thankful."
Without a Scratch
How fate and surviving a plane crash propelled John Schuler into a career in retail.
Despite being a natural retailer, Schuler never even intended to join the family business. As a kid growing up on the outskirts of Minneapolis, he dreamed of something far beyond the confines of working in a store or on land, for that matter. "As a young boy, my dream was to fly," he says. "I wanted to become a commercial airline pilot, and I did become a pilot. I got my license when I was about 17. I bought my own plane, a two-engine Cessna 206, but it never went any further than a hobby."
Life has a way of changing one's flight plan, so to speak. That's what happened to Schuler, who at the time was bouncing from one Minnesota college to the next, taking business classes, when he met his future wife and decided it was time to stop (sort of) studying and start earning a living. He joined the family business full-time in 1964, the same year he got married, starting out as a salesperson. A couple of years later, Schuler graduated to store manager and, a few years after that, moved on to manage a new store in the Minneapolis suburb of Robbinsdale. Two years later, his father, then 72, decided to retire and offered to sell the business to his son. Schuler, who felt he had a firm grip on how to run the business after eight years working in the trenches, thought the opportunity was too good to pass up. Per usual, though, he did his research, soliciting opinions from friends and colleagues to make sure it was a wise decision. They told him resoundingly to give it a shot. "My dad gave me the opportunity to really make something out of it, and it just seemed like the most obvious thing to do," Schuler says.
One could say the rest has been Schuler Shoes history in the making. Except none of that history ever would have transpired had Schuler not walked away from a plane crash two years into his acquisition. It was wintertime and Schuler was at the controls of his Cessna, flying with three friends, when his engine quit shortly after takeoff. Fortunately, Schuler's flight training kicked in and, rather than panicking, he piloted a best-case crash landing. "When your engine quits, you instinctively want to pull back to try and stay in the air, but you can't do that because then your air speed goes down sharply and you stall," Schuler says. "If you stall, then you just fall out of the sky and crash."
Instead, Schuler kept his airspeed around 80 mph while looking for a place to land, which was along a county road between telephone wires and a forest. He then pulled back on the throttle to 65 mph for landing. Even doing all that right, however, Schuler says a series of fortune happenstances enabled everyone to walk away without a scratch. "I hit the road at an angle, went into a ditch full of snow and the plane rolled on its side and hit a tree," he says. "Fortunately, it ripped the engine off right at the firewall, which was good because nothing caught fire and the tree didn't hit any of us. Then we just slid to a stop and everybody jumped out fine."
Suffice to say, it marked the end of Schuler's piloting days, but the continuance of Schuler Shoes history in the making.