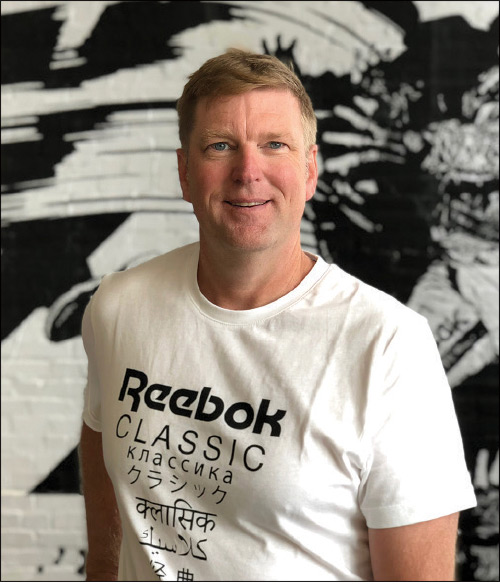 Kelly Hibler has been given the keys to the Reebok archives kingdom, and he's feasting on the potential. The former long-time Nike exec has been given carte blanche to forage deep and wide, cooking up a rich menu of classic Reebok styles released over the past four decades to be reissued and/or reimagined for second lives with original fans as well as new generations of consumers.
"There's about 10 to 12 styles that really matter in the industry and Reebok has a handful of those, and that's super rare," Hibler says. "To work on shoes that are so well-known and have stood the test of time, as well as so many other great styles in the archives is an amazing opportunity."
Hibler uprooted his West Coast lifestyle last August, moving to Boston and leaving Nike after 28 years, where he was most recently vice president of Global Basketball Footwear. During his tenure, he oversaw the top two signature basketball franchises as well as managed leading lifestyle businesses. As head of Reebok Classics he leads product creation, marketing, merchandising and distribution. He relishes the soup to nuts role. "A smaller brand allows me the chance to do things I wouldn't have gotten to do otherwise," he says, believing the sky's the limit for Reebok. Between the brand's extensive archives as well as a steady stream of performance models that only need to ruminate, Hibler sees no shortage of products to introduce now and down the road. "There's a lot of gems in the archives that haven't even been dusted off yet," he says.
Here, Hibler talks about how he plans to make those gems shine again as well as serves up some nuggets of sneaker wisdom to nosh on.
When you looked deep into the Reebok archives, what's the first thing that came to mind? How rich of a history it is. For example, a Pump Fury is as real and fast today, and I can only imagine what it must have been like when it first came out 25 years ago. I've done a lot of digging into that history. Reebok made some of the first trail shoes—blending the purples and pinks with the browns—and they were great. It was a point in time in the category, and it was everywhere.
The Freestyle was another point in time. Yes. There's a lot more, like the Classic Leather, Workout and Club C. A bunch of tennis pros used to wear the latter and, in today's world, it's just a great casual sneaker. Unlike back in the day, however, when consumers just wanted the OG—don't change the leather, the lace, not anything—today's consumer is also receptive to new takes on a classic. The sky's wide open for what you can do with heritage. Instead of it just being a reissue, adding a modern design element can capture the consumer's attention. That takes you from a finite archive to an aperture of, 'Oh my goodness, we have so much more!'
Vans, a classics-driven brand, is forecasted to be a $5-billion business within five years. What's your take on the potential growth for Reebok Classics? Vans shows that growth is doable, and they've done it the right way. I'm using a similar recipe with Reebok: Who's our consumer, what do they covet and what inspires them. It requires going to a city and/or neighborhood and diving deep to discover what drives them, and then telling rich, deep narratives. We can do that with this brand. Think of the arsenal, like Allen Iverson, Shaq and Reebok's NFL days—all this classic product. Kids today sniff when you're making stuff up, but the beauty of Reebok is it's a real history. It's up to us to translate it in a way that consumers say, 'Wow, that's great! I didn't know that they made that.' It's done through amazing stories—like Vans has told to women through material and color. It can be as simple as that, but you must do it right to connect. It just takes focus, energy and time.
When will retailers see product that you've worked on from scratch? That usually takes about nine months. In the meantime, there's been a great team in place and there's good products coming between now and mine. We're super-positioned on what's going to hit over the course of the next six months. Then we'll go deep on colors and materials, and we'll move fast because that's how consumers move today.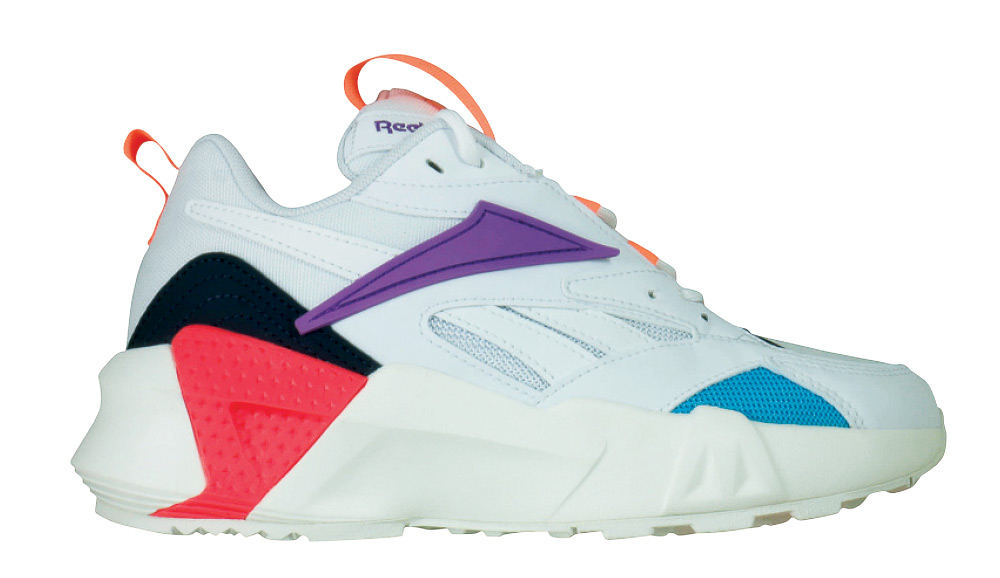 How important will collabs be to this recipe going forward? Collabs are an integral part of the way consumers translate any brand today. It's a great way to connect not just to our core consumers but also how we can pull new ones into the brand. We're spending extra time to pick the right partners to make sure they align with who we are and so consumers won't say, 'I don't get why these two brands go together.' Then we'll spend extra time to make sure the product is great. People I've worked with over the years have often asked me, 'Can we do that?' My response is, 'Of course!' That's one of the fun aspects about Reebok—they're unafraid to be unconventional.
Adidas as a parent company helps in your efforts, correct? Obviously, it's a luxury to have a parent company of that size. One of the things that we're always told is it's one company with two brands. Internally, everyone is trying to help each other, which is great. We're all focused on how to do better at what we do.
After all these years in the sneaker trenches, do you have a gut instinct on whether a shoe will be big? After 25 years, yes, especially if you count my retail days when I was picking products. Although, sometimes it's hard to tell, because crazy ideas can become amazing, and you'd never have guessed it. If you work with designers and product managers every day and repeatedly ask yourself who is this product for, what problems are you solving, what's new and different about it, where does this consumer live, what will they use it for…when you go through the whole list and it matches up with a product, then you know you've done your homework. Even with all the best intentions and laid out plans, however, it isn't a guarantee for success. If it were easy, then everyone would do it, right? (Laughs)
Any signs this golden age of sneaker culture is losing its luster? No! Sneakers are as healthy as they've ever been. Look on any street and see what people are wearing—it's no shock that sneaker business is really good, and I see little reason why it won't continue. Part of that is because the industry has evolved. Look at the broad range of styles that now come in sneaker forms, whereas had that performance box never evolved, then maybe I'd be a little worried. Shoes today must work as well as look great. It's more challenging for designers, because sometimes the tech aspect leads you into a new space and it looks cool, but sometimes it's not the right look. You have to make sure it works both ways.
What do you love most about your (new) job? It starts with the people. Moving to a new city and company, especially when I'd been in one place for so long, wasn't easy. But the people here have been amazing. Now I know why so many speak fondly of Boston—it's a young city, there's a lot going on, lots of great sneaker boutiques, it's manageable. I also believe great product comes from great teams, and great teams are made up of great people. Reebok is full of those people. I've been inspired by our people who offer fresh thinking and possess incredible talent. Combine that with the Reebok's archives and assets, and I couldn't be more excited for us to make some amazing shoes.