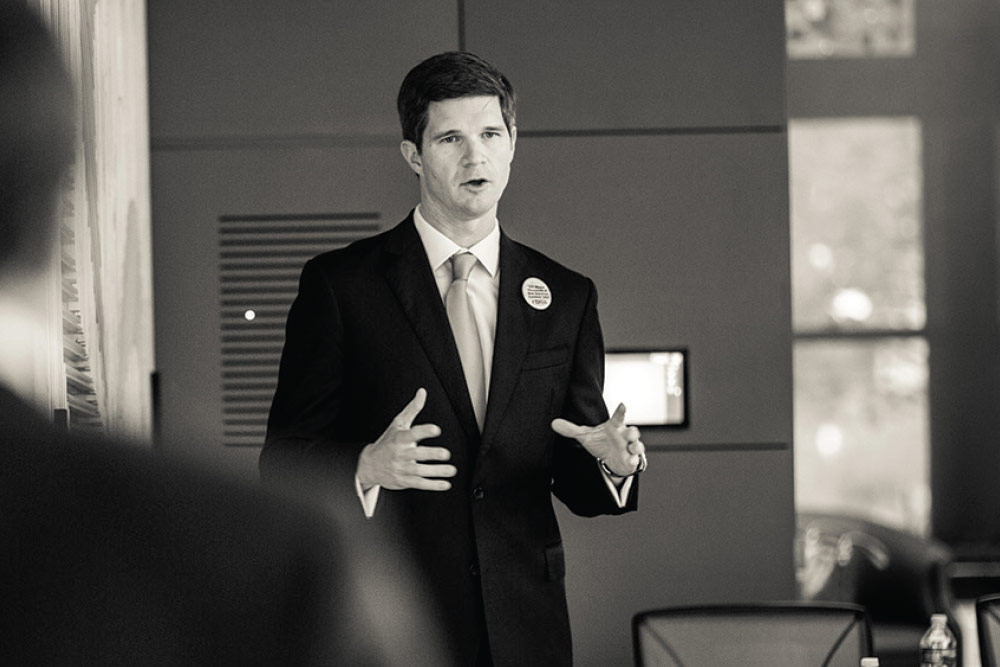 Matt Priest has had his work cut out for him from the day he was named president of the Footwear Distribution and Retailers of America (FDRA) in 2009. Initially tasked with growing membership, he was met head-on by the Financial Crisis. It was a steep learning curve, but the exec found his footing thanks, in part, to the tutelage of past FDRA chairmen like Matt Rubel, Jim Issler and Blake Krueger.
Then, in 2016, Priest was elevated to CEO amid the Retail Apocalypse and inauguration of President Trump that has shaken trade policies to their core. Amid this era of disruption and the industry seemingly reinventing itself on the fly, Priest sits at the high alter of the nearly 75-year-old organization dedicated to keeping its members informed across the supply chain and helping boost their bottom lines through innovative products, training and consulting on design and development, sourcing and compliance, trade and customs, advocacy, and consumer and sales trend analysis. Here, Priest reflects on how the industry is rapidly changing, how FDRA is helping smooth out the rough patches and why he believes it's a golden age of opportunity.
FDRA recently held its annual summit. What were the big takeaways? The word that comes to mind is agility. You have to be agile on the retail front to meet consumer demands as well as build agility into the supply chain. Those who figure out how to build agility into a corporate structure that's been around for more than 100 years will be successful. It requires thinking outside the box about how to drive traffic into stores. For example, Dick Johnson of Foot Locker suggested bringing in old sneakers to have them washed.
On a scale of industry revolutions, where does this one rank? We're in a golden era of innovation and responsiveness because we have these daunting challenges with consumers changing so quickly. But if we didn't, there'd be no opportunity for great change. Everything we're doing as an industry—from the production, design and retail sides—is a reaction to what consumers want. We're not just churning out the same two colorways for every man, woman and child. It's daunting but exciting. Consumers will have access to more products and more input into their creativity. Because of 3D rendering, brands will be able to feature designs online that have never been produced and place orders based on consumer response. It's crowdsourcing creativity into the development process.
What might the retail landscape look like in 10 years? As a kid, I lived in a small town in North Carolina. It took an hour just to get to the mall. Now, we're over-stored and a proper correction is taking place, but that doesn't mean stores will go away entirely. I have three daughters, and we love to go shoe shopping as a family. Our spring survey showed that the majority of consumers still want to buy shoes in stores—half have still never bought a pair online. In the meantime, the channels of distribution are shifting, sometimes seismically and other times less so. But I believe the future is bright because we are an innovative global industry that understands the need to be agile and is working through the correction as we speak.
It feels like we're crawling out of a slump? Is it a "slump?" In-store sales are down, but there's growth in ecommerce. Footwear is one of those industries where we're not too high with highs or low with lows. On average, we import seven pairs for every person each year. If we maintain that ratio, we'll be in a strong position. Everyone is fighting over their cut of the pie, and the quicker you can get it to the consumer, the bigger piece of pie you will have. 
How is it impacting manufacturing? We have more SKUs than ever, but less average pairs per SKU. The key is managing inventory. It's the largest liability companies have. That's why we'll see more DTC platforms. It doesn't mean you can't get product outside of a brand's website, but it might be customized with a week turnaround and have free shipping built in.
Amid all this industry disruption there's the Disruptor in Chief. What's the Trump Effect? We must engage with the highest levels of government on the importance of eliminating, not increasing, duties on footwear. We sent a letter from footwear companies to the president making sure he understood we already pay billions of dollars in annual duties. It's also given us an opportunity to educate the broader public on how duties are a hidden tax that we've been paying since 1930. Up to $3 billion a year is ridiculous for an industry that, out of its 350,000 employees, less than 12,000 make shoes in this country. I believe we'll be successful because of our engagement, but there has been disruption.
What are your near-term objectives? We'll keep the drum beat in Washington. On the offense side, we're working on how to negotiate new trade agreements to lower duties. Maybe it's a bilateral agreement with Vietnam? On the development side, we're about to launch a digital library of materials used with PLM systems. We teamed with Deckers, Calares, Wolverine and others to develop this program. It's going to change how people source materials. We need to constantly think about innovation so current and future industry members are as innovative and agile as possible.
Agility is actually an industry trademark. Yes. We're a small industry, relatively speaking. It's like everyone has worked at every company, and there are no secrets. That's a positive, because we keep drawing from a great talent pool. From the CEO of Foot Locker to someone in the basement, everyone wants to help and collaborate. The close relationships among competitors is a recipe for continued collective success. FDRA continues to play a key role. We're more vibrant than ever, which has more to do with our members than me. I'm blessed to be along for the ride. I can't imagine working in any other industry.