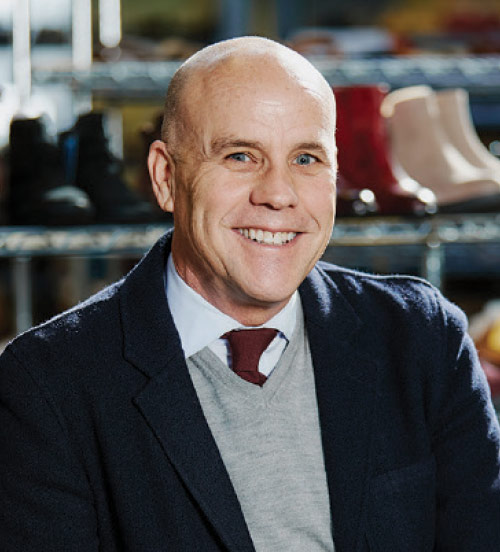 Earth Shoes is now on more solid ground, thanks to the recent majority investment into the Waltham, MA-based comfort and wellness company by Windsong Global, a private investment firm. The company's portfolio includes Earth, Earth Spirit, Earth Elements, Earth Origins and Kalso brands, along with the recently licensed Tamaris.
Mark Parsley, recently named CEO of Earth Shoes, says the investment will enable the company to do more of what it's been doing for 50-plus years, only on a much grander scale. "The partnership with Windsong allows us to grow not just into more markets, but the resources to build new products and impact more people than ever," he says. "We're excited to see where the next 50 years take us."
Becoming more of a lifestyle brand in part of that destination. "One of the most exciting areas of focus is being known for more than just footwear," Parsley says. "We've already begun our due diligence to expand our lifestyle brand to ultimately include apparel, accessories and other product categories that align to our mission and dedication to serve our loyal customers." The fact that sustainability is increasingly important to consumers makes this expansion more timely as Earth Shoes has long been committed to eco-friendly design, as well as social fairness in its partnerships. "In many ways the Earth brand was ahead of its time, and now more than ever the time is right to leverage our sustainability platform," Parsley says. "We'll reposition to a lifestyle brand with the help of Windsong to scale our business to new customers and product categories, but our biggest ethos will be focused on our tag line: 'Build a Better Earth.'"
Parsley, who joined Earth in 2020 as president (prior to that he was president of Creative Recreation for two years and executive vice president of Marc Fisher for a decade earlier) assures all parties are on the same page in terms of goals. "Both of us wanted to ensure a partnership would be beneficial for everyone," he says, adding that the company spoke with many potential investors before deciding on Windsong. "We've spent many years creating a trusted brand, and it's incredibly important that we don't fall short in this area, regardless of potential growth."
The feeling is mutual, according to William Sweedler, chairman and CEO of Windsong. "Earth has established itself as a leading and trusted brand in comfort footwear (since the brand's inception it has sold more than 150 million pairs of shoes), and I believe significant expansion opportunities exist within the sector as well as opportunities to leverage its strong intellectual property and brand equity into new categories," he says. "The brand is incredibly relevant to consumer sentiment today and we're excited to dedicate the resources, capital and relationships to propel the company into its next chapter of growth."
Earth Shoes marks the fifth investment made by Windsong in its current investment platform, which includes purchases of SWIMS and Robeez. Since its founding in 2006, the firm and its predecessor funds have completed 58 transactions in excess of $10 billion of value. Terms of the Earth Shoes deal were not disclosed.