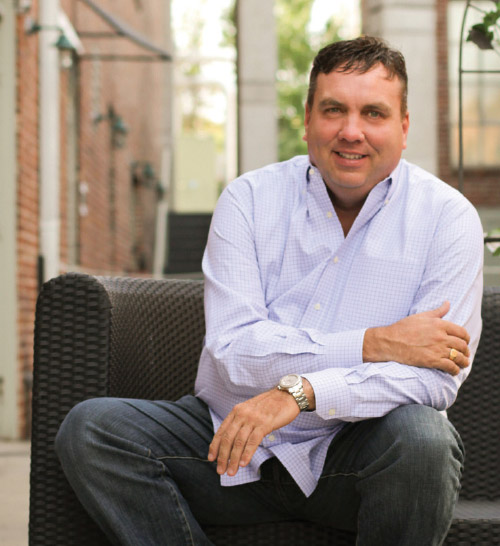 Wayne Elsey is an industry lifer, having started out as a teenager working the floor of his hometown GallenKamp Shoes in Fredericksburg, VA, and then becoming a regional vice president for Stride Rite by the tender age of 25. He then crossed over into wholesale, where he managed leading outdoor and work brands. But he's perhaps best known for launching the industry charity Soles4Souls, in 2005, on the heels of the Boxing Day tsunami that claimed approximately 230,000 lives.
The tragic event served as impetus for Elsey to "get off the couch" and do something to help the millions of survivors who lost everything. He did what he knew best: get survivors shoes by encouraging consumers to donate gently worn pairs as well as brands and retailers to give discontinued inventory and unwanted stock to the charity. Soles4Souls rapidly evolved into a worldwide effort, delivering donated shoes to victims of natural disasters as well as impoverished people to this day. Beyond that, Elsey's creation helped make corporate social responsibility (CSR) fashionable as well as all-inclusive.
Elsey moved on from Souls4Souls and day-to-day shoe industry involvement in 2012, establishing Elsey Enterprises, a branding and marketing firm, and, the following year, Funds2Orgs, a social enterprise for helping nonprofit organizations raise funds. (Donated shoes are a key component of that effort.) He also added public speaker and author to his resume. His latest book, Tied Together: A Pathway to Hope, is a timely message about how people can join together to make the world a better place.
"I set out to write a book about how I was able to find hope and create ways to bridge the gap between people in need around the world and others who want to make a social impact," Elsey says, noting that when the book was almost completed, he reached out for testimonials. "What happened next was humbling. I had hundreds of people who wanted to contribute a few words in support of the work of my team and me, and also for the hope of making the world a better place."
That's when Elsey enlisted the services of his daughter, Melissa Elsey-Pitts, to help put into context what others had to say. The book details Elsey's philanthropic/entrepreneurial journey and the many people who aided and inspired him along the way. It's a story of bold vision, adventure in distant lands, a dash of world traveler humor and, Elsey hopes, a legacy for others to create their own destinies in shaping the world for the better.
The book's themes of hope and unity are especially poignant amid the recent mass shootings, political division and racial discord. How can it inspire readers to unite for a greater good? We are one—one blood, one people, and that human connection is what it's all about. We all have issues but, at our core, we're all in this together to be one voice for all. How we approach each day and each situation is what defines us. While writing this book with my daughter, we had many discussions around her children about the future of making 'one' a priority.
What are a few of the book's tenets that industry members can apply to their day-to-day jobs? I've always said to treat others as you want to be treated. We forget this too often. We trash others, we point fingers, we make fun and we divide. Whether it's a consumer, a competitor or even a hater, take the high road and treat them as you want to be treated. As simple as it sounds, it's forgotten. One thing I've consistently told my teams since a young age is, 'you matter.' I learned this from my homeroom teacher in 1981, which helped me through a dark time in my life.
Of late, shoe companies are ramping up their sustainability and CSR efforts. Are you encouraged by these "green and good" initiatives? Can the industry lead by example—like it did with Soles4Souls? I'm super encouraged, and I believe it's just the beginning. There's much more green and good to come. And the more CSR projects that our industry can execute, the more unity we have. Oneness is front and center now, and getting your hands dirty helping someone is a great thing. We have been involved in hundreds of CSR events this past year, and they always feel like a win-win for all. It also gives us an opportunity to have more product available for our over 4,000 micro-enterprise locations worldwide.
As Birkenstock Americas CEO David Kahan's eloquent forward notes, you could have remained in the shoe industry and lived comfortably ever after. Why has it been worth the risk to leave that nest? I've been in the shoe industry since I was 15, and I've always had a philanthropic heart. For me, there was never a question of risk, I knew the need was there and moved forward with Funds2Orgs to help communities both locally and abroad. Today, Funds2Orgs is the world leader in shoe drive fundraising. We move millions of pairs of shoes to developing nations to support micro-enterprise operations. In addition, schools, churches and civic groups are getting paid for the collections versus selling cookie dough, wrapping paper or other traditional fundraising products. Last year, we also launched a wildly successful Reverse Logistics division within Funds2Orgs. Now retailers and brands can receive a donation of cash for their store returns, excess inventory, odd lots and order cancellations to give to their favorite charities. On the back end, we're also helping to keep shoes out of landfills while employing more than 30 people in our world headquarters in Orlando, FL. Actually, I'm in the shoe industry now more than ever—cleaning out Americans' closets to make room for them to buy more!
What do you miss most about the day-to-day Shoe Dog life? What I miss are some of the connections that I've made over the last 40 years. Thankfully, many of them are still working, having fun and are encouraged to hear from me when I call. In fact, many are now working with our Funds2Orgs Reverse Logistics operation. They're the people who've inspired me and, without their support, none of this would have been possible. I'm forever grateful. •