Far from a fad or a fleeting flash down designer runways, comfort footwear is cementing its place—front and center—in the fashion world. Nowadays it's cool to feel and look comfortable. No longer a style stigma, the sensible shoe movement is in step with a larger wearable technology trend that demands functional fashions. The category's rise to prominence, of course, wouldn't have been nearly as successful without the significant style upgrades many major brands have introduced over recent seasons. The recipe of style plus function is evidenced further with the latest collections from these leading comfort players for Spring '16.
Rocky 4EurSole: Style Versatility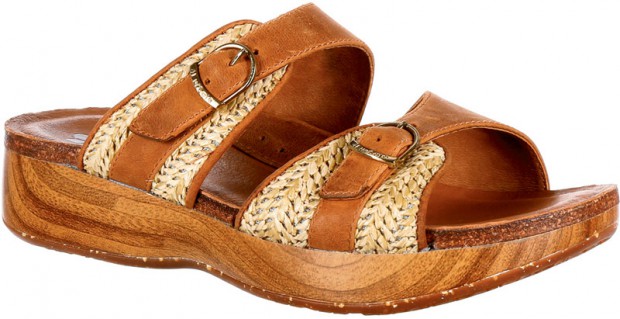 When it comes to selling shoes—to selling anything, really—there is perhaps no dictum more important than "know thy customer." Rocky Brands set out to do just that when it launched Rocky 4EurSole a few seasons ago, a unique hybrid line of versatile and adjustable women's comfort footwear. According to Liz Horn, senior vice president of lifestyle markets, the company engaged in extensive research, both psychographic and quantitative, to zero in on its target consumer. The former involves "getting into the person's life, getting into their closet and talking personally with them," Horn explains. "Then we followed that up with quantitative research and surveys to a broader group to validate it."
That research revealed a void in the market, as well as the key benefits that would fill that void, according to Horn. Specifically, Rocky 4EurSole's target customers—active women who spend many hours a day on their feet, like healthcare workers, teachers, hairdressers and retail workers—currently wear either athletic shoes or clogs. "We were finding that they were really looking for something that was a hybrid between the two, something that would give them great durability but a different kind of fit," Horn explains. The key benefits to meet that need start with the brand's lightweight support (from the dual density midsole), shock absorption (from the heel and forefoot pads) and superior fit (from a gore insert at the vamp apex). "The clear number-one need for our active market is comfort, and it's a different interpretation of comfort than she's getting through her current footwear choices," Horn states.
Beyond that, the Rocky 4EurSole customer also seeks versatility and style—hallmarks that the brand took into consideration when creating the Inspire Me collection of convertible comfort clogs. "Versatility is important, especially when you're making quite an investment in your footwear," Horn attests. (The clogs retail for $140 to $145.) With two interchangeable contoured EVA and Memory Foam footbeds—one open-backed and one closed—plus a strap that can be adjusted around the heel in a slingback style, the Inspire Me collection offers the wearer three different options in one pair, along with add-on accessory customization, like straps and footbeds in an array of colors and patterns. "She can make each pair uniquely her own," Horn says.
That focus on style versatility extends to the brand's expanded Spring '16 offerings. The Summer Solestice sandal line, for example, includes several open-toed styles on lightweight EVA midsoles in clean, sporty white and a variety of on-trend textures, including bamboo and wood grain. Wedges, slides, strappy sandals and more are affixed to stabilizing, comfortable bases. "It's a different comfort system than the clog and, quite frankly, it should be because it's not a clog," Horn says. "We took the things that are important to the brand as a whole from a comfort perspective and infused them into the [EurSole Sandal Comfort System]." That system also features a slip-resistant outsole made of recycled rubber; a lightweight, flexible, shock-absorbing midsole; a contoured hybrid rigid nylon shank for arch support; a cork/EVA footbed; a layer of luxurious Memory Foam and durable all-leather linings. The Summer Solestice collection retails between $100 and $140. 
Horn reports that the reception from retailers during the August shows was strong. "Those who haven't bought into the brand saw that this is something we're truly committed to and we're evolving so that [we're] a true brand and not just an item," she says. This is a unique opportunity to provide women with a truly innovative comfort footwear choice. "Women love finding and adopting the next new innovation," Horn says. "In footwear, Rocky 4EurSole is just that." —Kirby Stirland
Bionica: Light and Sporty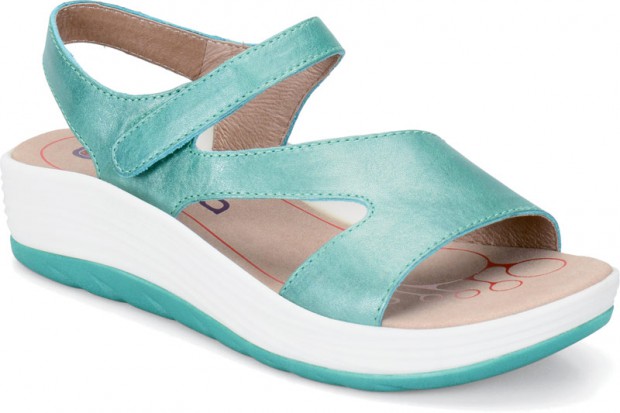 Sometimes a step back results in a leap forward. Bionica, a newly launched comfort brand from Söfft Shoe Company (a division of H.H. Brown), must have had that old adage in mind when creating its debut collection of casual shoes that notably have no shank, insole or conventional footbed, but still offer plenty of comfort, assures David Issler, president.
This deconstructed approach is all about providing optimum lightness that, Issler notes, represents a new category for the company: active fashion. "We wanted to build a brand that approached comfort in a new way that spoke to the modern woman," he says. "Bionica addresses the needs of the active, health-conscious modern woman who's always on the move—working, keeping fit and balancing family responsibilities—and needs shoes that are comfortable and fit her active lifestyle."
Uppers are composed of premium leather that's breathable (read: light) yet durable. Lightweight foam padding in the FreeFit footbed offers cushioning and support. And an anatomically correct molded outsole made of MaxumLite performance PU is slip-resistant, flexible, supportive and…you guessed it, light. Additional comfort features include hook-and-loop closures and gore inserts. "The Bionica brand DNA delivers leather shoes with unequivocal lightness, flexibility and a glove-like fit," Issler confirms. Fall styles like the Sirius, a lace-up wedge, and the Cosma, a simple slide, retail for $119 while an incredibly lightweight shearling boot goes for $259. The Spring '16 collection spans strappy wedges, sleek slides and lace-up sandals in a palette of neutrals, metallics and on-trend hues like aqua and coral.
Response has been strong to date, Issler reports. Retailers recognize the need to fill the athleisure niche with a full range of product offerings that are attractive to consumers and span lightweight constructions, glove-like fits, premium materials and sophisticated styling. The latter being a particular key ingredient for Bionica, he notes. "The Bionica customer appreciates the comfort that athletic apparel and shoes provide, but is looking for more sophisticated styling and premium materials," he says. "Women want apparel and shoes that multitask—items that are comfortable enough to wear to and from the yoga studio, but also chic enough for brunch with girlfriends."
Bionica's direct-to-consumer ecommerce sales launched in mid-September; key brick-and-mortar accounts carrying the brand this fall include Harry's in New York, The Tannery in Boston and Footprints in Newington, CT. "Our growth strategy is to get the brand in key retailers as well as stores that traditionally haven't carried shoes, but cater to the needs of our target customer," Issler says. —K.S.
Ecco: Retro-a-Go-Go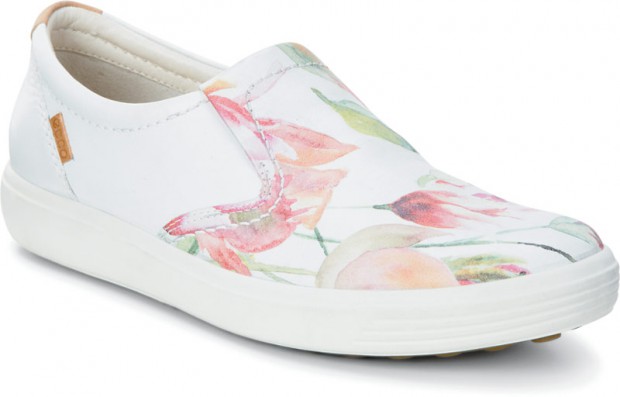 While pretty much everybody is offering a version of sporty lightweight sneakers to address the explosive athleisure trend (including Ecco), the Scandinavian footwear maker is also honing in on another athletic-inspired look it expects to be popular for Spring '16: retro sneakers in the form of its Soft 7 collection for men and women. Think classic Converse and Vans silhouettes, but with the comfort features and quality leathers Ecco is renowned for.
"It's more of a premium version of a Converse-type look," says Felix Zahn, product director for Ecco Americas. "But these shoes fit like a glove compared to a sweaty, stiff Converse."
The collection first debuted this fall in a tight black-and-white story and Zahn says it will be expanded next season with additional colors, patterns, materials and styles. "Women's will include more aggressive colors, such as neon leathers and flower prints, which we see coming up big time for next summer," Zahn reports. "Men's will feature more typical colors—plenty of shades of gray and brown."
The Soft 7 collection, in fact, is the seventh reincarnation of Ecco's original Soft shoe, first launched in the late '70s. "It's a more contemporary version than past incarnations, which were pretty basic," Zahn offers, noting the current cup sole trend is a bout of good fortune for Ecco. "Now that construction has become a fashion shoe for us," he says. "And the thicker outsole look, in general, plays well into our PU-injected outsole process, which tends to be a bit thicker in appearance." Zahn notes, however, that the Soft 7 collection is lightweight, flexible and comfortable—unlike many other cup sole styles.
The price is also right, according to Zahn. "Converse comes in lower range and designer labels offering their take on this retro sneaker look are in the $300 to $500 range," he says. "Ecco falls in the sweet spot around $150."
Zahn says another great aspect about the Soft 7 collection is its simplistic Scandinavian design, which allows the quality leathers to do the talking. "The leather is made in our own tanneries," he notes. "It's supple and comfortable on top and we've added a second skin lining, which is very thin and breathable." In addition, the leather-lined, anatomically shaped, removable footbed allows wearers an extra width option. That aspect marks a first for Ecco, which previously only offered removable footbeds in its men's dress styles.
     So far so good, Zahn reports, on the feedback to Soft 7 from retailers. "Our retail partners are responding well to the big steps we are making in the athleisure area, but they also believe the cup sole trend is getting bigger in both men's and women's," he says. "Soft 7 addresses this trend in a modern, premium way."  Zahn believes that Ecco's strong presence in men's makes this collection an easier add-on while the broader offering in women's should make inroads for the brand—like the Fara cup sole, part of an '80s-inspired tennis collection. "It features stretch textile uppers so they fit really well and will be available in a range of colors and prints," Zahn says. "These thicker outsoles might have looked and felt clumsy in the past, but with our new technologies, better leathers and feminine touches, they've become cool again. It's a combination of an old school look with today's technologies." —Greg Dutter
PropÈt: Travel Plans
With a new president and a new active line launching, Propét has plenty of exciting announcements in the mix. Rick Wang, a company veteran of nearly 15 years, and the former vice president of operations, is now at the helm. His first order of business has been to introduce fresh styles and technology updates. Enter Propét's new women's TravelActiv collection for Spring '16. Led by its new TravelTek outsole, a one-piece construction designed to increase durability while wearing better, each mesh style in the collection is lightweight, flexible and easily packable—perfect for ladies on-the-go.
The TravelActiv line is updated, but it doesn't stray far from the tried-and-true Propét philosophy of comfort and fit at a good value. "Our main focus continues to be adding shoes that offer comfort and style," confirms Chris Doolittle, lead designer. The TravelTek sole, for example, features a new EVA compound and a modernized tread pattern for increased traction. "We are getting lighter and more flexible with our TravelTek outsole," he notes. "It will be a great shoe for an active lifestyle."
The TravelActiv line is available in punchy colors like pacific blue and watermelon red along with classic hues like black, honey, white and silver. Whether customers want an understated or amped-up color, they can choose from three styles—slip-on, Mary Jane or lace-up. Finding the right fit shouldn't be an issue either: "We offer them in five widths so any ladies that need a wider-fitting shoe will have many options that are cute and stylish too," Doolittle says.
Cute, stylish and comfortable are key buying ingredients for retailers, and Doolittle reports the initial reaction to the collection has been huge. "Retailers have been excited to bring in this line," he says. "We have been able to work with our factory to move up production since our retailers have been so anxious to get these shoes out."
The success of TravelActiv already has the brand thinking of ways to apply its new outsole to other Spring '16 styles. "We are taking the success of the TravelTek outsole forward to offer more colors, fabrics and patterns to our line next season," Doolittle says. Along those lines, another goal for next year for Propét is streamlining its production process. "We want to respond quickly in the market to trends and utilize the strength of our factory to add new production and styles without long lead times," Doolittle confirms. —Laurie Cone
Wolky:
 

Comfort Couture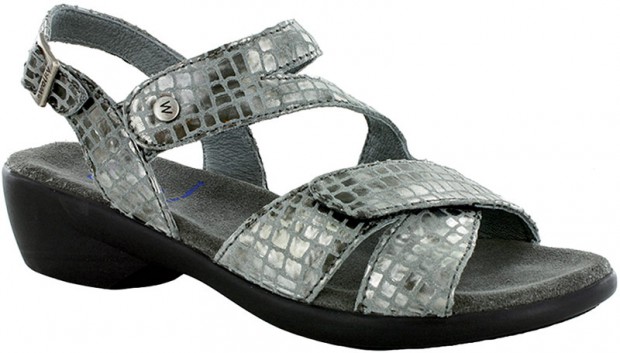 Everyone has heard of the Katrina and the Waves song, "Walking on Sunshine," but many people don't know that they can walk on clouds figuratively, too. Wolky, a Dutch, family-run shoe company that launched in 1982, prides itself on just that premise: shoes that feel as soft as walking on a pillow of clouds. After all, the brand's name translates to cloud in Dutch.
"For Wolky, the goal is comfort first then fashion," explains Anthony Diks, CEO. "Our mission statement is: 'It's what's inside that makes the difference.' So we start with comfort then we give it a bit of flair with fashion materials, designs and, of course, functionality."
The average Wolky shoe is made from 50 different components, including a leather-covered footbed engineered from memory foam and natural, contorted cork, that molds to the foot and is not only shock absorbent, but also anatomically shaped to help spread body weight evenly. Every Wolky shoe is made entirely of full-grain leather and tanned throughout for softness and sweat absorption. "The art of truly making a quality shoe is so intricate and complicated," explains Diks, who credits the brand's 30-year working relationship with renowned Dutch footwear designer, Charles Bergmans, with perfecting its process.
For Spring '16, Diks says the brand is making a big push for a more fashion-forward collection with an expanded range of silhouettes, materials and colors. He points toward the Rio, a double strap sandal on an oversized sole, and the Fria, a delicate, feminine cross-strap sandal, as highlights from the core collection. Each style is available in an array of patterns like cracked metallic and python prints, as well as a selection of on-trend colors.
Along those lines, Wolky is making a concerted effort next season to appeal to a younger customer base as well as grow its North American presence by expanding its Fancy Me line with the addition of the Couture collection. "This line is for ladies who are looking for a relatively comfortable shoe without it looking like a 'comfort' shoe," Diks says. The Couture collection includes four styles named after different U.S. cities, each with distinct fashion culture, including New York and Los Angeles. Silhouettes span a 3-inch block heel ankle-strap sandal (the New York) and a double-strap slide (the Miami). Zebra and leopard prints, snake-embossed leathers and glossy patent finishes lend the collection an elevated, sophisticated feel, while elegant neutrals replace bold neon shades.
"Our goal for the spring season is to communicate to our dealers that bringing in the new styles will help to incentivize consumers to come visit their shops," says Diks, noting that the new colors and styles have made up the majority of its spring bookings. "This creates a lot of excitement for the customer," he adds. —Tara Anne Dalbow