Mandy Cabot, CEO of Dansko, has raised the comfort company from birth, nurturing it over the past 26 years into a category mainstay and positioning it to be a thriving entity for decades to come.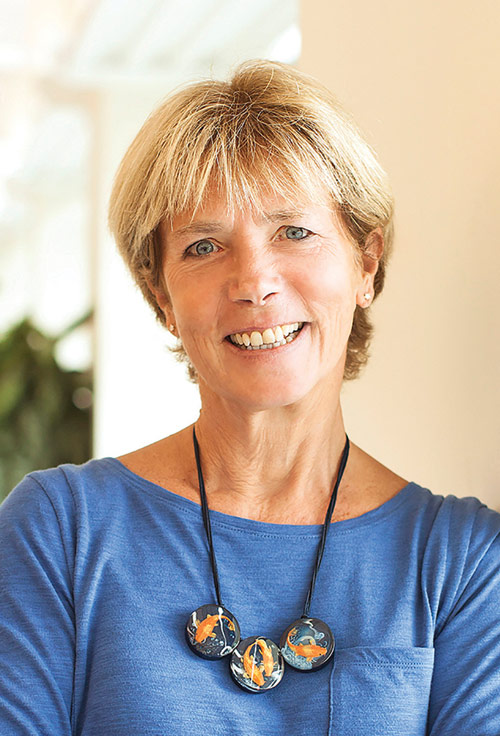 Few CEOs are as bonded with their company as Mandy Cabot. Dansko is truly her baby. She and husband Peter Kjellerup introduced the brand to the United States in 1990 and have nurtured it every step of the way since. The parenting began when the then-professional horse trainers started a side business of selling the Danish-made clogs out of the back of their station wagon to friends on the equestrian circuit. During early adolescence, the parenting shifted to growing the little clog company steadily into a bona fide "shoe company." And now as it flourishes in early adulthood as a full-on lifestyle brand spanning women's, kids' and, beginning this fall, men's collections, the parents are in the process of making sure it will live well beyond them. It's been the ultimate parenting job, where the duo has always tried to do what's best for the brand and, more importantly, do right by its employees, retail partners and consumers.
Take Dansko's recent decision to become 100-percent employee owned. Rather than sell to another entity and let new parents decide Dansko's future, Cabot, the industry-facing part of the team and the spiritual force behind the company, believed the best way to ensure that their child could continue to pursue a life of its own was to turn ownership over to the people who are most invested in its continued well-being and who would also be most directly affected by a sale. Kjellerup says that's just his wife's natural (motherly) instinct at work—she's totally unselfish and wants what's best for Dansko and its employees. "Mandy always puts aside her own needs and focuses on everybody else's," he says, adding, "I think one of her greatest qualities is that she always asks, 'What can I do to help others?'"
Cabot says that whenever she speaks about Dansko, she talks about it as her baby. "That's what it's always been for me, and probably always will be," she says. And like all good parents, she has looked out for her "child" and done everything in her power to make sure it grew up to be an upstanding citizen. "We want our kids to play well with others and to make the world a little bit brighter by their presence in it," she offers. "We give them our values, our dreams and our sense of responsibility. Like all parents, we want our kids to thrive, to achieve things that we as their parents can't even dream of."
That life-long commitment and vision is evident in Cabot's decision to not sell the company. While it would have been much easier (Kjellerup confirms that several companies have expressed interest over the years) and highly lucrative personally, concerns about what it would mean to others quickly arose. Would the company remain based in West Grove, PA, where it has developed deep roots within the local community? Would all the employees be able to keep their jobs? Unable to assure yeses to those questions, the decision to become employee owned was a no brainer. "We have at least secured everybody who has put their sweat equity into Dansko," Kjellerup says. "They will have a good chance to continue working here and also get their share of equity from helping build the company."
Cabot views the decision to become an employee-owned company as one of her proudest moments at Dansko—so far. Rather than worry about an exit strategy, she believes this is a solid succession plan, which is one of the most important acts a parent can hope to achieve. "We've done our job as the birth-parents of Dansko," she affirms. "We've built a company that can move through time, rooted in our values but at the same time, strong, smart and brave enough to create its own future."
Super Mom
Cabot has always been part doting parent, part tiger mom when it comes to running Dansko. The CEO (a title that has also stood for Chief of Everything at times over the course of her career) believes the company's products are unparalleled in their comfort benefits. (What parent doesn't think their child is special?) But she never has been one to let the company rest on its laurels. Cabot is always striving  to improve Dansko, be it in regards to product, sourcing, retail partnerships, business practices or legacy. It's the total package, and proof that what a company happens to make should be just part of the equation for overall success.
When asked what has she achieved in rearing Dansko, Cabot replies: "I think we've done a good job of balancing the interests of our various stakeholders. We've given hundreds of employees respect and purpose, and opportunities to grow both personally and professionally. We're a trustworthy, responsive resource for our retailers and a trustworthy, long-term partner to our supply chain. We give our consumers comfort and confidence to lead active, productive lives. We're a significant supporter of local nonprofits." Indeed, there are many different communities that Dansko belongs to and lots of different stakeholder groups whose interests it serves. To this regard, Cabot says, "It's never just been about selling shoes."
Take Dansko's LEED certified Gold headquarters, for example. No footwear company has (or has to) go to such lengths and expense to lessen their impact on the planet. But that's just how Cabot and Kjellerup (overseer of the building projects) roll. The 80,000-square-foot facility and adjacent 200,000-square-foot warehouse come complete with a living wall, vegetated roof (reduces heating and cooling costs), recycled rain water system for watering plants and plumbing, pervious paving allowing water to filter back into water table, and 1,100 solar panels that currently provide 25 percent of all energy needs. Those are just a few of the state-of-the-art eco-friendly aspects. It serves as a model of excellence and proof it can be done—profitably. Yet while plenty of companies talk a good green game, few actually back it up to the extent Dansko has.
Dansko's membership in B Corporation is another example of its willingness to go the extra mile in terms of being a good corporate citizen. Cabot describes it as the mother of all gauges of corporate social responsibility. In 2007, Dansko became the first shoe company and one of the organization's 80 founding members consisting of like-minded, for-profit businesses that benchmark their practices against the triple-bottom-line of people, planet and profits. "We're 100-percent employee owned, giving our people an unbelievable opportunity to share in our company's success," she explains. "Our buildings are all LEED-certified Gold, treading as lightly as we can on the planet. And as certified by B Lab's high standards of accountability, transparency and performance, we are profitable." Taking it a step further, Cabot says there are two more "P's" at Dansko worth noting: product and philanthropy. "In terms of product, everything we bring to market is SATRA- or ASTM-tested and APMA-certified," she says. "And regarding philanthropy, nearly 90 percent of our employees participate in community service work, and the Dansko Foundation, run by our employees, supports dozens of local organizations."
The Greater Good
For Cabot, it's always been about a greater-good approach to doing business and living life. It's the only way she knows how to go about it, regardless of whether it's a more difficult or expensive path to take. "We almost never take the easier path," she says, referring to herself and husband. "We don't use escalators when we can climb stairs. We don't use people movers when we can walk. We don't cut corners if we can help it, and we try not to do anything half-way." Cabot adds, "That's just how we're wired. But that's also where we get all our energy. The phrase, 'pursue what is meaningful, not what is expedient' sums it up pretty well for me."
That commitment to excellence begins with the shoes Dansko makes. For starters, none of the other good generated by the company would even be possible if its products didn't deliver. In this regard, Cabot has always been an involved, product-oriented CEO—part of her "chief of everything" traits. While she has learned to delegate more recently, she was notoriously involved in every little product detail, according to Kjellerup. "We'd go to the factory and she'd always be fine-tuning," he says. "Every single shoe she went down to the last detail." It's not easy to do, he adds. It requires good partners, spanning sourcing, design, product development and sales as well as being on top of every aspect to know if you actually have good partners or not. Kjellerup says his wife wouldn't have done it any other way. "If she isn't proud of the product in terms of quality and value, then she'll never put it out there," he says. "She's not just about trying to sell more shoes. She's never said, 'We could do 100,000 pairs more of this shoe if we just cut a little here and we then we can make more money…'" Anyone who has been in this business a while knows that Cabot's approach here is the exception, definitely not the rule.
That integrity and honesty, Kjellerup says, has been recognized throughout the industry. "She is very trusted, and they respect her for that," he says.
"Dansko has been a trusted and valued resource since we first began carrying the brand," confirms Ed Habre, president of The Shoe Mill stores in Oregon. The 10-store comfort specialty chain began selling the brand's signature Professional clog in the early '90s when wood-bottom clogs were hot. "They became the comfortable and quieter walking option in category that was important in independent retailer inventories," he notes, adding the partnership has flourished since. "Dansko has evolved into a foundational brand for us. We look to it first in the categories that it represents and fill in with other brands around it as needed," Habre says.
Joe Gradia, co-owner and vice president of the Connecticut chain, Hawley Lane Shoes, reports a similar strong partnership that now spans 20 years. "She has been an incredible partner of ours over the years, and we have built a very strong and successful business together," he says, adding, "Dansko is very important to us as a top brand in our stores for customers with foot problems as well as for nurses, chefs, teachers—people who are on their feet all day and night."
Cabot takes great pride in making quality products that deliver on their comfort attributes. She also takes great satisfaction in how Dansko has helped popularize the clog, in particular, overall. "I think we legitimized the silhouette beyond a service-only application as it is viewed in Europe, and beyond the hippies-only counter culture phenomenon of the '60s," she says, adding, "Dansko brought clogs from the fringes into the mainstream."
Habre says Dansko took clogs in a direction that the style had never been before, and credits Cabot with the ability to identify early on that success could be achieved with footwear that filled a purpose that is both stylish and trend right. "For years it was the perfect crossover choice for both work and play," he notes. "She communicated this vision clearly to us and helped us play to the strengths in her product line."
Danny Wasserman, owner of Tip Top Shoes in New York, cites Dansko's ability to continually improve upon its product line over the years—a partnership that began in the mid '90s. "They make consistent product and are always updating constructions and extending the product mix for customers, especially in the occupational sector, which is growing," he says, adding that Cabot has been there every step of the way. It is uncommon of many CEOs to be so hands-on, he notes. "Mandy is a unique person; she is transparent and has been very involved in the day-to-day operations," Wasserman says. "She was always checking on our business and loved to discuss the shoe business in general. She lived her product and saw its worth."
Such passion, Habre believes, is contagious. "Mandy began her company out of a passion for a unique product and has nurtured it into well-respected brand," he says. "She has also surrounded herself with people who share her passion. A visit to their state-of-the-art facilities is a reminder of how positive and upbeat this company is and shows it's a part of their culture."
Gradia looks at Dansko and Cabot, in particular, as role models for small businesses. "Mandy has taken a small business and grown it into an unbelievable one," he says. "Her strategy to build a unique business model is one that you don't see every day."
One of a Kind
Will the industry ever come across another CEO like Cabot? Her unique background, business philosophy and track record of success surely make her one of a kind. Do today's increasingly consolidated market conditions even allow for a business to organically grow and evolve the way Dansko has?
If you ask Cabot, that's exactly what she hopes for—more companies to operate like Dansko. Ego has nothing to with it. It strictly relates to her belief that there's a right way to go about trying to create and run a business. "In terms of business model, I'm thrilled to see more footwear companies becoming B Corp certified—Oliberté, OluKai and Eileen Fisher, for example," she says. "I'm sure Dansko had nothing to do with that directly, but it's a ripple effect that we love to see."
Dansko is like a beacon, a reminder that there's another way to go about this business or any business, for that matter. You don't have to copy the company's ethics to the letter, but its best practices are one instance where copying is encouraged in this industry.
Cabot remains committed to doing the right things and ingraining that philosophy into Dansko's corporate DNA. The goal is for that ethos to live on in future stewards of Dansko. That's her motherly instinct at work again. Cabot knows her employees are the company's greatest asset and the key to its future success. "Dansko's employees are my extended family," she says, noting her job now is more background conductor than helicopter parent. Her focus now mostly involves "surrounding myself with really smart people, orchestrating great talent and occasionally providing some backup vocals of my own." When it's all said and done, Cabot says, "I hope that we made shoes that changed people's lives. It certainly has done that for me, and I think it's done that for our employees and many of our customers as well."