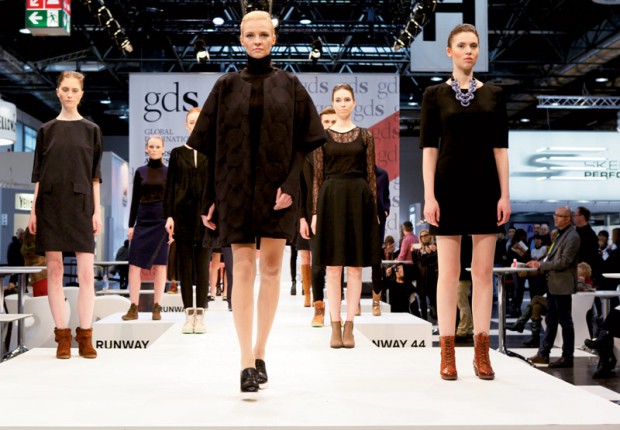 FFANY, GDS, TASM and FN Platform—take your pick—the industry debuted its cold-weather collections for the upcoming fall season amid extremely cold conditions. Even if it was sunny and warm (think: FN Platform/Las Vegas), for many industry members locked in a snowy icebox (think: the Northeast), getting anywhere was a challenge. But those that did saw plenty of styles on display and the overall vibe at the shows was guardedly optimistic (think: it could be a lot worse) as many retailers grappled with making buying decisions amid what has been a climate of unpredictable and extreme weather the past two years.
While cold and snowy weather has been good for boot sales, the recent cold springs have thrown sandal sales for a loop. Perhaps that's behind the recent popularity of short boot silhouettes—a more transitional season option. Overall, there were a plethora of Fall '15 trends to choose from (think: fur treatments, menswear fabrications, hikers, ballet flats, mixed media, buckles, chunky-soled loafers, grunge, derbys, burgundy, bottle green, crepe soles, festival fashion and Chelsea boots, to cite but a few). That said there wasn't one runaway look that buyers were banking on.
"We are seeing a lot of attention to contrast—
juxtaposing elements for an unexpected surprise, say a lug sole on a dress shoe," said Ray Serna, creative director of footwear for Tommy Bahama. "Footwear design now is all about mixing things up, whether that be with materials or ideas."
"Buyers are gravitating toward styles that are unique and show attention to details," agreed Laura Villasenin, designer for Miista. "Brands are becoming more fashion forward—they want to stand out."
"Footwear is unpredictable. Now everyone is picking up the mule," noted Martin J. Rose, agent and distributor of All Black, who reported a strong reaction at the shows. Rose cited the brand's unique offerings—like its paint drip story—showing particularly well. "You won't see it anywhere else," he said. "We've been busy all day (at FN Platform), seeing everyone from big buyers to little mom-and-pop shops."
Matt Dragos, president of Rialto, a division of White Mountain, summed up the overall mood of buyers he met with at FFANY, TASM and FN Platform astutely: "The most consistent thing about the shoe business of late is everyone says the business is inconsistent. Buyers are confused and are unsure each day of what business was like the day before." He adds, "There's little predictability, and when you combine this with the weather trends that have occurred in the U.S. over the last month, it has made everyone very confused on what direction business is going." For Dragos, however, hope springs eternal, as warm weather will eventually arrive. He reports that early reads on the company's Rialto, White Mountain, Cliffs and Summit brands were positive up to the recent cold snap. "Buyers are hoping consumers will have a little Spring Fever and come out buying strong when the weather turns back to normal," he says.
It won't be for a lack of options to choose from as more than 1,800 lines were on display at TASM show (in Atlanta), 900 brands exhibited at GDS show in Düsseldorf, Germany, and the 5th anniversary of FN Platform reported more than 60 percent growth in both square footage and number of exhibitors (to more than 1,600 from 20 countries) since its inception.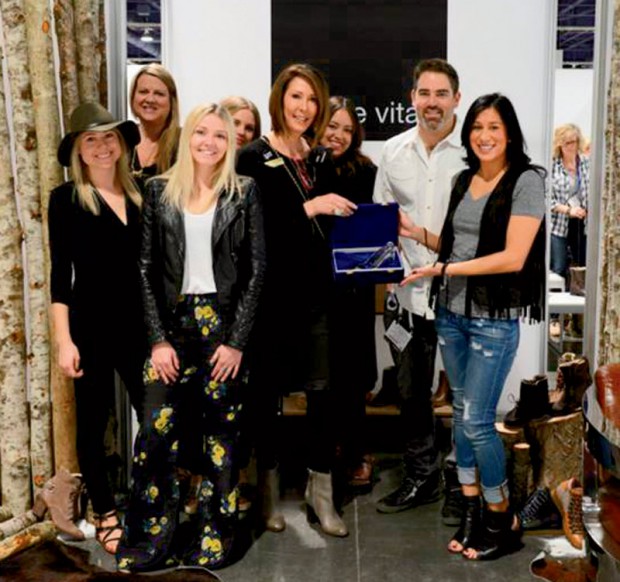 Leslie Gallin, president of footwear for UBM Advanstar, organizers of FN Platform, reported the show floor was busy all three days. She also took pride in the show's anniversary: "It's meaningful because we've been recognized as the most important event for the footwear industry in the U.S. in such a short amount of time," she stated, adding that everyone came together to create a vehicle for the betterment and future growth of the industry. As for the future, Gallin notes, "We will continue to build on that momentum by nurturing emerging brands, helping established brands adapt to the changing landscape and helping the industry overall by listening to both sides of the aisle."
Laura Conwell-O'Brien, director of the Southeastern Shoe Travelers Association's TASM, reported a 4 percent increase in attendance and exhibit space was once again sold out—and that included adding an additional 5,500 square feet in the adjacent mall used by Nine West. The weather cooperated and the show's Colour & Trend seminar and casino night cocktail party were sellouts. Conwell-O'Brien attributes the show's success to its location (think: mild weather and an easy airport) and affordable show rates. "We are a trade show association and not a for-profit trade show company," she noted. "The profit is put back into the show and we keep our booth prices to a minimum, which translates to a great ROI for our exhibitors." Additional cost-savings included a $5 hot lunch, special hotel rates, complimentary parking and being housed all under one roof. "This is the only show where buyers can see this number of vendors all under one roof," she said, adding that attendance came from all over the East Coast. "There really isn't another show on the East Coast that compares to us."
The atmosphere was also positive at the GDS show as buyers got acclimated to its earlier scheduling (the beginning of February instead of the usual mid March). "The new GDS brings together industry and retail at a point in time where information is most precious," stated Werner Matthias Dornscheidt, president & CEO of Messe Düsseldorf, organizers of GDS. "The good mood in the halls and the busy networking serve as a benchmark of success." Attendance was up compared to GDS' first kickoff timing held in late July of last year and 92 percent of those surveyed responded that they were "very pleased" with the new format and earlier dates. Adds Kirstin Deutelmoser, show director, "The feedback is definite: our timing is right—at the start of the season customers are open to all things new and manufacturers can present themselves on an international stage. This is exactly what makes GDS so valuable as an information platform."
The early February dates of FFANY were also a strong selling point for exhibitors, according to Ron Fromm, president and CEO. He noted how FFANY continues to be important as all the major retailers were in town shopping nearly 100 showrooms as well as exhibition booths at the New York Hilton Midtown. "The early dates play a substantial role for the major retailers to make sure that their flow of goods is consistent and early," he reported, adding that because FFANY is a membership-driven organization it focuses on making sure dates support production and sales cycles. "Our members need that time to get that cycle right. We're proud that we are the working show." In particular, Fromm noted a strong showing of new exhibitors. "It was about twice as many than it has been historically for a February show," he said. "FFANY has always been seen as the launching pad and we are seeing a continuing increase in international exhibitors."