Footwear Network Series: Presented by Decker Brands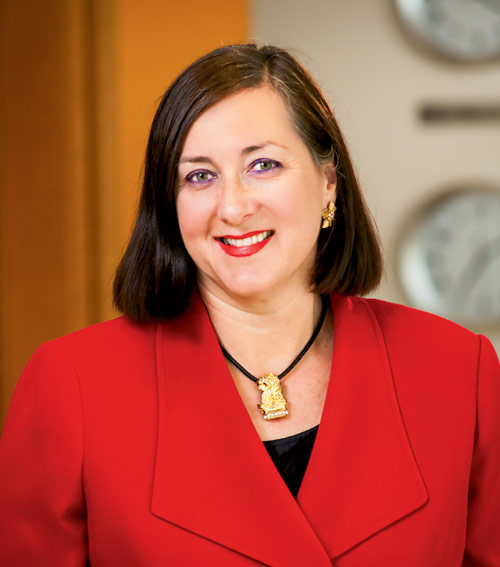 In the competitive world of luxury lodging, Ritz-Carlton has distinguished itself by setting the gold standard for service. The chain has become so renowned for exceptional service that seminars by the Ritz-Carlton Leadership Center, founded in 2000, draw attendees from a wide variety of industries, all eager to duplicate the five-star hotel chain's award-winning business practices when it comes to customer service, employee engagement and leadership. It's a formula that can translate into increased profitability and customer loyalty for retailers as effectively as it does for hotels, assures Diana Oreck, the center's vice president.
"Whether you're in the shoe industry or in hotels or a field like aviation, the same principles apply. We're all consumers. We all know that when we're receiving gorgeous service, it's like poetry in motion. When we don't, it's something right out of Stephen King—a nightmare," says Oreck, who traverses the globe teaching businesses how to provide dream service and avoid horror stories.
"But you can't just say, 'Okay, team, give legendary service,'" she explains. "You have to give them a roadmap." That's where the Leadership Center comes in, providing step-by-step directions on how to foster an excellent service culture that will boost sales and keep consumers coming back.
Step one: Get employees and managers together to create a vision, a mission and establish values that everybody in your organization can buy into and uphold. The process won't work if it comes down from leadership as a mandate, Oreck warns. You need to get people on all levels to participate, contribute ideas and shape the concepts. Ritz-Carlton did this when the brand crafted its credo, motto, employee promise, three service steps and much-heralded 12 service principles.  (See sidebar, p. 16.)
Step two: Once you've crafted your vision, mission and values—the "non-negotiables," as Oreck calls them—communicate them clearly and reinforce them regularly. Ritz-Carlton does this through a process called the daily line-up. At each of its 90 hotels and at corporate headquarters in Maryland, the entire staff meets for 10 to 15 minutes three times every day to underscore their values. "We choose one element from our non-negotiables every day and do a deep dive on it," Oreck explains. "Repetition is our friend. We're like Catholic nuns when it comes to repetition because that's what delivers consistency. And the most important aspect of service is consistency in execution. It's what sets us apart at Ritz-Carlton. You can't say you're going to get great service from me on Tuesdays, Thursdays and Saturdays or when I'm feeling well. It has to be great service always. Consistency leads to trust and that leads to customer loyalty."
What's more, reiterating the brand's core values helps employees to start living the vision and mission every day at work. Too often companies draft mission statements that amount to little more than impressive words on paper, Oreck says. Management only revisits the documents when the P&L goes south or when a customer complains. "You have to reinforce your values every single day," says Oreck, "not once a month or once a quarter."
To bring the daily lineups to life, Ritz-Carlton uses what Oreck terms storytelling—using real-life anecdotes and examples of great service that a particular team member has recently provided. Specifically, every Monday and Friday, the daily line-up includes a description of a recent random act of kindness by a staff member. For example, when a reservationist learned that a woman was booking a weekend at a Ritz-Carlton to celebrate having completed chemotherapy for breast cancer, she arranged for every person working in the hotel to wear a pink breast cancer awareness ribbon when the woman arrived and had a framed congratulations card, signed by every member of the staff, waiting in her room.
These "wow stories," as Oreck calls them, serve two purposes. They reward staff members who've gone the extra mile by recognizing them publicly, and they resonate with listeners because they appeal on an emotional level. "Storytelling is emotional transportation," she says. "Stories stick with people." They also help to spark creative ideas in those who hear them, which makes the listeners more inclined to create their own unique, memorable and personal experiences—or "UMPs" as Oreck calls them—for customers.
"We are no longer living in a transactional economy," Oreck says. "If people come to our hotels, they don't want to feel like another head in the bed. If they're at the bank, they don't want to feel like another deposit or withdrawal. And in retail, they don't want to feel like just another purchase."
Step three: Empower your staff to create UMPs. At Ritz-Carlton, every employee is allowed to spend up to $2,000 per guest to ensure that the guest gets exceptional service. The dollar amount is symbolic. "Nobody ever spends the money," says Oreck. "But it's a message to our staff that we select the best talent and we trust them. It's hugely engaging for our employees. They stay longer. They understand their purpose. And the impact on customers is huge. It's how you get customers for life. Say you give away a pair of shoes because that's what's called for in a certain situation. The value of winning that one customer for life is far greater than the value of the shoes."
Granted, location and product matter, "but the most powerful brands are not about a product or a logo," according to Oreck. "The key is the emotion they evoke in their customers. It's all about making emotional connections.
"Managers often miss the opportunity to get their employees to live this idea," she continues. "Sure, your employees' function is to sell shoes. But their purpose is to ensure a sense of well-being, where people feel glamorous or wonderful or happy. The best leaders know how to inspire their employees to get out of bed, bring their passion to work and volunteer their best every day."
Step four: Build the infrastructures to support a service excellence culture. "You need to have systems behind the smiles," says Oreck. "You have fantastic shoes, but does every customer get a warm greeting and a fond farewell in your store? Are your employees saying things like, 'huh, wazzup or no worries'? Are you making sure the phone is always answered in three rings? Is your website slow, cumbersome or difficult to use?" If any of these are true, your system is not supporting your desire to be excellent in service, Oreck warns. If you're not sure, audit your systems. For example, find out how many customers have looked at your website but decided not to buy. Figure out why—then fix the problem.
"Your processes, technology and staff all need to support service excellence at every touch point with your customer," says Oreck. "People tend to overcomplicate and overanalyze service. But at the end of the day, it's simple. You need to show common sense, common care and common courtesy. And your customer needs to be at the center of everything you do."
Ritz-Carlton Keys
Here's a look at the brand's building blocks.
The Credo
The Ritz-Carlton Hotel is a place where the genuine care and comfort of our guests is our highest mission.
We pledge to provide the finest personal service and facilities for our guests who will always enjoy a warm, relaxed, yet refined ambience.
The Ritz-Carlton experience enlivens the senses, instills well-being, and fulfills even the unexpressed wishes and needs of our guests.
Motto
"We are Ladies and Gentlemen serving Ladies and Gentlemen." This motto exemplifies the anticipatory service provided by all staff members.
Three Steps of Service
A warm and sincere greeting. Use the guest's name.
Anticipation and fulfillment of each guest's needs.
Fond farewell. Give a warm good-bye and use the guest's name.
12 Service Values: I am Proud to be Ritz-Carlton
I build strong relationships and create Ritz-Carlton guests for life.
I am always responsive to the expressed and unexpressed wishes and needs of our guests.
I am empowered to create unique, memorable and personal experiences for our guests.
I understand my role in achieving the Key Success Factors, embracing Community Footprints and creating The Ritz-Carlton Mystique.
I continuously seek opportunities to innovate and improve The Ritz-Carlton experience.
I own and immediately resolve guest problems.
I create a work environment of teamwork and lateral service so that the needs of our guests and each other are met.
I have the opportunity to continuously learn and grow.
I am involved in the planning of the work that affects me.
I am proud of my professional appearance, language and behavior.
I protect the privacy and security of our guests, my fellow employees and the company's confidential information and assets.
I am responsible for uncompromising levels of cleanliness and creating a safe and accident-free environment.

 
The Employee Promise
At The Ritz-Carlton, our Ladies and Gentlemen are the most important resource in our service commitment to our guests. By applying the principles of trust, honesty, respect, integrity and commitment, we nurture and maximize talent to the benefit of each individual and the company. The Ritz-Carlton fosters a work environment where diversity is valued, quality of life is enhanced, individual aspirations are fulfilled and The Ritz-Carlton mystique is strengthened.