Kicks with Cachet
LVL XIII redefines luxe sneakers.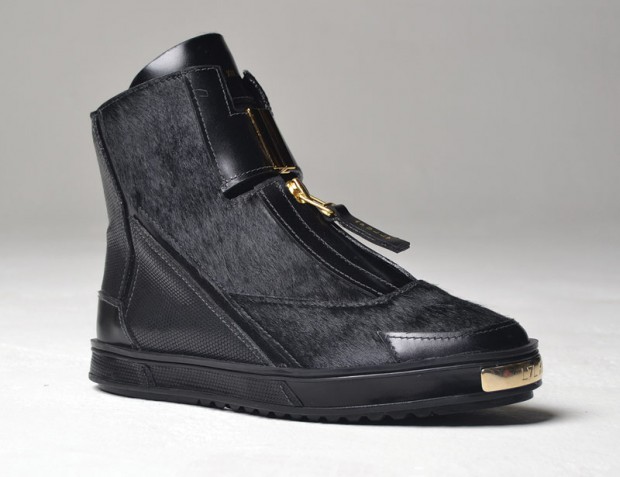 While athleisure reigns, luxury brands are tasked with making sneakers an upscale experience. That has been LVL XIII (pronounced Level 13) founder Antontio Brown's goal since the brand's inception in 2013. Brown has strived to push the boundaries of luxury streetwear to create shoes that stand out from the pack.
"Sneakers have evolved, and LVL XIII has positioned itself as the future of luxury, from our distinguished metal plates on the front of every sneaker to our one-of-a-kind outsoles," Brown says. "We utilize creative materials and hardware to set us apart from the over-saturation occurring in the marketplace."
Brown cites the Cassius hi-top sneaker/dress boot, the futuristic front-zip hi-top Rowan and the side-zip, pointed toe Aelius (reminiscent of a wingtip) as core styles to debut at Men's New York Fashion Week in July. Crafted in unique materials, including brushed and pebbled leather, hair, diamond mesh and metallic leather, Brown says the styles appeal to the guy who isn't afraid to stand out. He's an affluent male aged 18 to 35 with an appreciation for independent brands, luxury and comfort. "Our consumer is the first to have something innovative and different without worrying about seeing others in the same product," Brown says.
To drive home the LVL XIII's cool factor, Brown enlisted the help of pop artist Jason Derulo, who has come on as an investing partner and brand ambassador. "He's been a big fan of the brand since the beginning and is  recognized for his innovative and creative style," offers Brown. A collaborative collection with the singer is also in the works.
In the wake of a lawsuit against Louis Vuitton for copyright infringement over the brand's signature metal plates, Brown feels he has a point to prove. "Despite the odds, we will rise above and inspire a new generation of designers to never stop fighting," he says. "We're redefining the industry standards, breaking the rules and setting ourselves apart from the generational brands in the marketplace."
The unique designs aren't the only thing breaking industry standards at LVL XIII. For the launch, Brown will release just 750 pairs in July and another 750 in October. "We don't want to oversaturate an already oversaturated market," he says. He calls the plan "direct-to-consumer and direct-to-retail." Like many luxury brands re-examining the traditional retail calendar, LVL XIII is shedding the usual 60- to 90-day lag time on orders. The plan is to deliver styles within 14 business days. It's a practice Brown touts as "unheard of." —Ann Loynd
Wrath of the Titans
A former license, Titan Industries has big plans for recentlyacquired Badgley Mischka.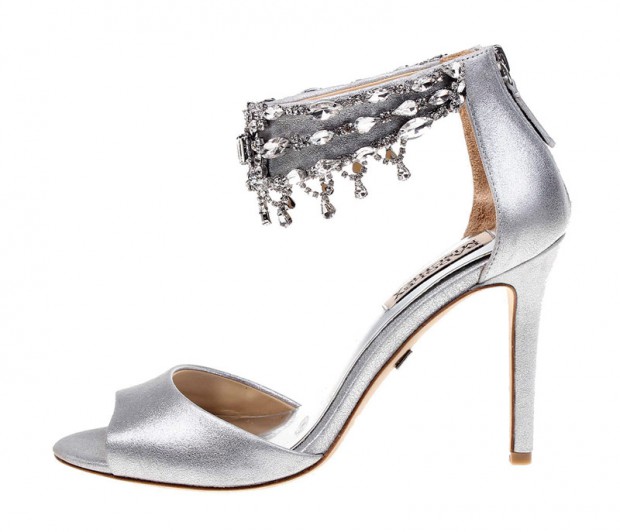 Earlier this year, when Titan Industries acquired the luxury lifestyle brand Badgley Mischka from Iconix Brand Group, it marked a first for the footwear company—as in its first acquisition. Since Titan CEO Joe Ouaknine established the company in 1998, it has grown into a woman's fashion footwear powerhouse, primarily through license deals and startups. (The current portfolio includes licenses for Charles Jourdan, LAMB by Gwen Stefani and Daya by Zendaya.) That said, Ouaknine insists the move doesn't signify a shift in focus away from licensing brands.
"I never wanted to buy the brand," Ouaknine admits. "When it came up for sale, all I wanted was to make sure the new owners would honor the contract we had with Iconix. I couldn't get that assurance, so I took the law into my own hands and got something very special to me."
Ouaknine says he's always had a personal affinity for the label and its eponymous designers, and he is happy to help put ownership back into Badgley and Mischka's hands. "Mark and James are under contract and are my partners in this venture," he says, adding, "They have never been so happy and so involved since this acquisition took place."
The trio has already made big strides and will introduce several new lines (Jewel Badgley Mischka, Belle by Badgley Mischka and a Mark & James label) at this month's FFANY show. Ouaknine is particularly excited about the introduction of Jewel, a full collection of day and evening shoes retailing around $100.
The aggressive growth and expansion plans for the label doesn't stop there. Ouaknine reveals that new Badgley Mischka categories—including children's shoes, cashmere sweaters, home accessories, evening bags, jewelry, men's shoes and men's formal wear—are already in the works. Until then, he says the core distribution strategy will remain the same but hopes to broaden it thanks to Jewel's accessible price point. "In addition, we will be opening shoes and accessories stores across the country," he states.
Ouaknine says Titan's goal is to maintain Badgley Mischka's core business and preserve the brand's timeless luxe appeal, which has led to a loyal following since the designers first teamed up in 1988. And he reinterates that the acquisition isn't indicative of a new trend for Titan: "We are in no way planning to make any other acquisition," he says, adding, "for the near future, anyway.".