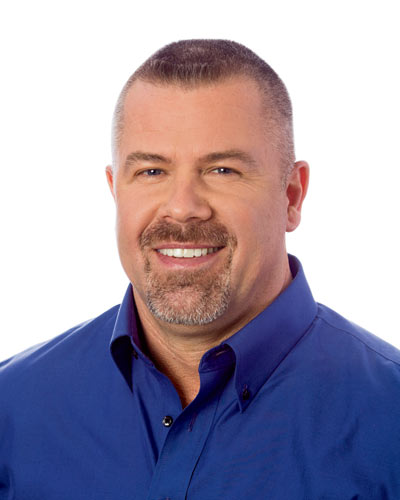 Magic mirrors. Walls that obey your every command. They might sound like something out of a fairy-tale or a sci-fi film, but they're the future of footwear shopping. And they're just the beginning when it comes to the ways technology promises to reshape retail, according to Steve Yankovich, eBay Inc.'s vice president of innovation and new ventures. A global leader in mobile commerce and one of Fast Company's "Most Productive People" for 2014, Yankovich specializes in bringing cutting-edge technology to retail to help brands better engage with consumers.
"When it comes to shoe retailers, technology is still nascent, but it's going to start showing up," Yankovich predicts. He says the delay for retailers in general is due to a combination of reasons. "First, retailers aren't tech companies. Technology isn't in their wheelhouse, so it's harder for them to make choices and, no matter what they do, it's got to be outsourced, so it's expensive," he says. "Second, a lot of retailers' systems have grown over time, so they're not cohesive. Instead of bolting together nicely, they're kind of a Frankenstein." Yankovich says the in-store digital experience of the future requires all those systems to talk to each other, hence the natural resistance. Retailers know making that happen will be a painful hurdle. But they'll get over it, Yankovich believes. "It's going to happen," he says. "It has to happen."
Why? Even in a best-case scenario, the typical retail experience is cumbersome for the average shopper compared to many other aspects of daily life because technology—and the smartphone, in particular—has raised our expectations, he says. "Smartphones have changed our idea of what's friction, of what we feel is too hard and a waste of our time," according to Yankovich. "They've created different expectations for how things should happen in people's lives, including commerce. And they've proven that consumers will adopt technology left and right for all kinds of things."
Keys to the Future
How is in-store tech likely to reshape the retail landscape? Yankovich points to three innovations that offer telling clues:
1. Uber
"Until Uber came along, when you walked out of a restaurant in an unfamiliar city, you weren't sure how to get a cab or a car service," says Yankovich. "Maybe you asked the restaurant if they could call you a car. But then if the car showed up, there was no guarantee you'd get it. Somebody else might take it. Uber changed that and made the process super simple. You didn't have to talk to a human being. The car was automatically yours. Your name was on the screen in it. The payment was set up, too, so you didn't have to fumble around with a credit card or cash. It removed all the friction. Now the old way seems clunky."
Retail Connection: Uber raised the standard when it comes to ease of purchase. "That changes your expectations for everything else you do as a consumer, including what happens when you walk into a store," he says.
2. Wearable Fitness Trackers
"Three years ago, if you'd asked 100 people on the street if they wanted a wearable digital pedometer that talked to their smartphone and let them compete with their friends over how many steps they'd taken, most would have said, 'What's a pedometer?'" says Yankovich. "If you'd explained, they probably would have said, 'No thanks.' Yet the technology came out and step counters like FitBit are big because they're super efficient and they provide useful data."
Retail Connection: Wearable fitness trackers showed that people like technology that gives personalized information quickly and simply. "Consumers have proven again and again that they'll adopt tech like crazy if it's super efficient and provides useful data," Yankovich says. "There's a natural extension to putting technology in a store that helps consumers to be efficient."
3. Touchscreen Technology
"Smartphones are ubiquitous, and all of us have touchscreens that work well enough that if you use them, the software will recognize your touch the first time," says Yankovich. "We're used to that level of performance."
Retail Connection: Smartphones changed the way we interact with computers, making keyboards with buttons obsolete in favor of finger swipes. At the same time, smartphone features like mobile gaming and Internet connectivity—which let users check social media sites whenever, wherever—blurred the lines between work and play. We associate touchscreen technology not just with business, but with fun and leisure—and we embrace the idea of using it 24-7 in nearly all aspects of our lives, Yankovich says.
The Road Ahead
What form will innovations take in the footwear store of tomorrow? They'll center on providing ultra-quick, ultra-friendly, data-driven shopping. "The new consumer expectation is, 'You need to help me be super efficient. Make it like magic. Help me do whatever I need to do,'" Yankovich explains. "It's a natural extension to put technology in stores that meets that expectation."
Mirror, Mirror
Rebecca Minkoff Makes Shopping "Magic"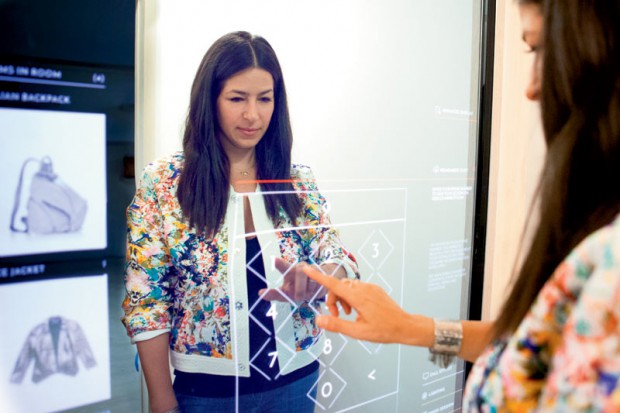 Customers stepping into the new Rebecca Minkoff Connected Store in New York City's SoHo will discover a tech-savvy twist on brick-and-mortar shopping that proves online retailers aren't the only ones who know how to make a touchscreen work to their advantage.
Powered by and designed in partnership with eBay Inc., the designer's store boasts such futuristic features as a new consumer mobile iOS app, a connected "touch" wall and connected "magic" fitting rooms.
Upon entering the boutique, shoppers can view a video of Minkoff's latest runway show on the Connected Wall and touch the styles they like best to see a close-up of each item onscreen—or rather, "on wall"—with suggested pieces to complete the look. Questions? Need assistance? The shopper presses a finger to the question mark on the wall for help. If not, she selects the sizes and colors she wants, then touches "Send to my room". An associate springs into action, retrieving the garments, putting them in a fitting room and—if the shopper requests this on the Connected Wall—slipping a few additional suggestions into the room. As she waits, the shopper can browse or order a complimentary beverage on the wall. When her room is ready, she'll get a text message.
Inside the fitting room, a Magic Mirror lets her adjust the lighting (Brooklyn morning, SoHo after dark, Hudson River sunset, etc.) and view cross-sell suggestions ("This goes great with…") or find out what other colors are available in the store. If she'd like to try one on or request a different size, she simply touches the prompt on the mirror.
Once she's made her selections, the shopper can send them to a virtual shopping basket for expedited mobile checkout using the Magic Mirror. An associate will confirm her purchase and bag the items. She'll receive a receipt via e-mail as she leaves the store.
Right now, the average retailer's modus operandi clashes with the average shopper's, Yankovich contends. "Retailers might want you to walk through the entire store and see everything, but very few people want to do that. Most of us are on a shopping mission—we want to get a new pair of shoes and we know the kind we need—but the retailer doesn't help us."
If technology can find a way to help consumers better understand inventory without forcing them to stop and look at items they don't want, retailers will have happier customers and, ultimately, higher profits. And that's exactly the technology Yankovich and his team at eBay are developing.
The problem? Yankovich describes this typical shoe-shopping scenario: "You walk into a shoe store. You wander around. You really don't understand the inventory at all," he says. "At some point, you decide to try on some shoes. You make a few choices, say you want a size 12, and the sales guy comes back with an 11.5 in one style, a 12.5 in another and a third that's not the shoe you asked for. He just thinks somehow he magically knows what you want. In my case, it's always wrong."
Is there an app to fix this? Yankovich says not for the majority of shoppers. "Your store is just one of many places they'll visit." "Is someone who shops at six department stores and 30 specialty boutique stores near their home going to have 36 apps on their phone just for clothes and shoe shopping? Probably not." Even if they do, he adds, they have to pull their phone out, unlock it and launch the app. "It's not easy to engage. That's friction," he says.
The answer: Yankovich's solution is mirror technology. "You walk up to a mirror, touch it, select your size, your department and the styles you're interested in—slip-on loafers, boat shoes, etc.," he explains. "Then the mirror shows you only shoes the store actually has in stock in the styles you've chosen in your size. You choose from those, and the technology alerts a salesperson to get them out of inventory for you." Yankovich believes customers are going to be happier because they're only getting shoes in their size. "You might even decide to try on a few extra shoes," he adds. "As a retailer, you've given the customer a better experience and yourself a high likelihood of success in terms of sales."
Until now, the hardware didn't exist to offer this experience. There were no larger screens of, say, three feet across diagonally that could hang in a retail environment, hold up to heavy use all day and meet customers' expectations for touchscreen performance, he says. "But that's changing. Manufacturers are crossing that hurdle," according to Yankovich.
Yankovich recently filed a patent for a system he predicts will make the approach even better. "You'll have a system that lets devotees and frequent customers use mirror technology to self-identify," he explains. "That way you can collect information on your customers that will help you know whether a shoe is going to fit them." For example, every manufacturer has a different shape and size that they call a 12. Retailers can measure the customer's foot and then do the same to their shoe inventory, but it's not easy, Yankovich points out. "Imagine you, the retailer, can collect data on the history of the last six shoes I purchased and feedback telling you I thought five of them were awesome. They fit perfectly," he offers. "Now imagine another customer comes in who wears the same size and appears to have the same taste as I do. If you can go into your database, you can recommend the shoes I bought. There's a good chance they'll fit the new customer, who shares my size and tastes, too. Now, without knowing any special information about each manufacturer's exact sizing, you can make recommendations that will genuinely help your customers." As this starts to evolve, retailers will be able to use the data they collect to benefit the consumer even more, Yankovich predicts. "Ultimately the people walking into your store will be far happier, they'll let go of their money much faster and their basket size will be far bigger," he says.