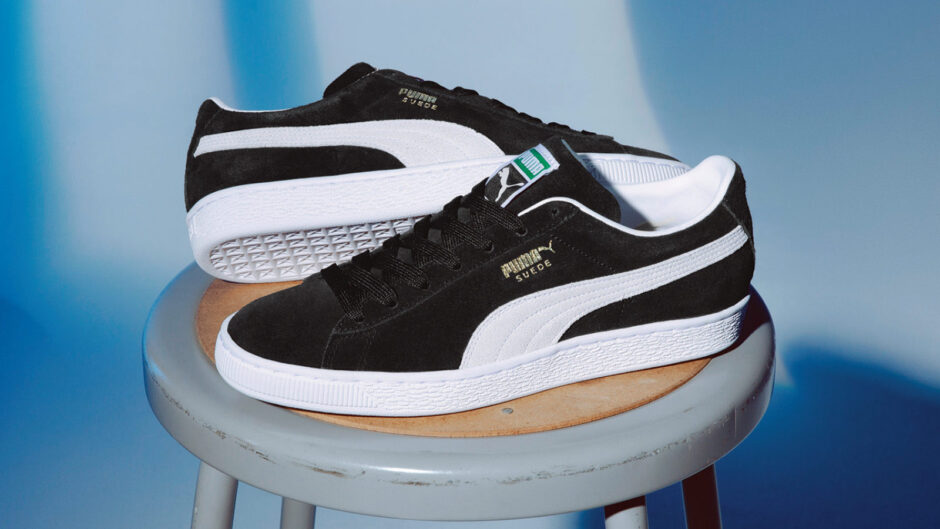 During my elementary school years, growing up on the mean streets of Maplewood, NJ (think Mayberry), all I had ever known and worn were canvas kicks. The neighborhood kids, a.k.a. Park Road Panthers, sported lo- and hi-top versions of Pro-Keds or Converse Chuck Taylors in black or white with a sprinkling of navy blue mixed into the crowd. (For historical accuracy, a few kids wore dreaded "Pathmark Specials," which were brand-less Chucks knockoffs sold at our local supermarket of the same name—a parent-induced sneaker shame that surely has left emotional scars to this day!)
This was my BS (Before Suede) sneaker phase. Because, around 5th grade, my world forever changed. That's when I first caught sight of a new sneaker being worn by some of the older (cooler) kids in town. They were rebels and early adopters. They were skateboarders—scruffy, wiry guys who hung around our railroad station, surfing its supremely smooth asphalt hill and doing board tricks on the steps and curbs day after day. The fact that the Alphas of this heavily tagged "Dogtown" hangout were sporting these new kicks—one wore a lush red pair while the other rocked Celtic green—fueled my belief that these were shoes I had to have. The vivid colors were mouthwatering—the red style looked like the inside of a red velvet cake—and the almost terrycloth-like suede upper was a tactile revelation begging to be held. I did a little research. I asked my two older brothers about these cool, new shoes I'd seen. Being older brothers, they knew right away what I was referring to. They approved. Case closed.
Little did I, in my narrow world, realize just how hip this particular sneaker already was. It already had a rich history that dated back a decade or so. The shoe, in its original incarnation, had enjoyed a memorable debut at the 1968 Mexico City Summer Olympics when African-American athletes Tommie Smith and John Carlos each raised a black-gloved fist during the 200-meter medal ceremony as the U.S. national anthem played. They made their iconic Black Power salute while wearing what were then called Puma "Crack" sneakers in black and white suede, featuring a recently introduced shell outsole that—as fate would soon have it—was suitable for basketball.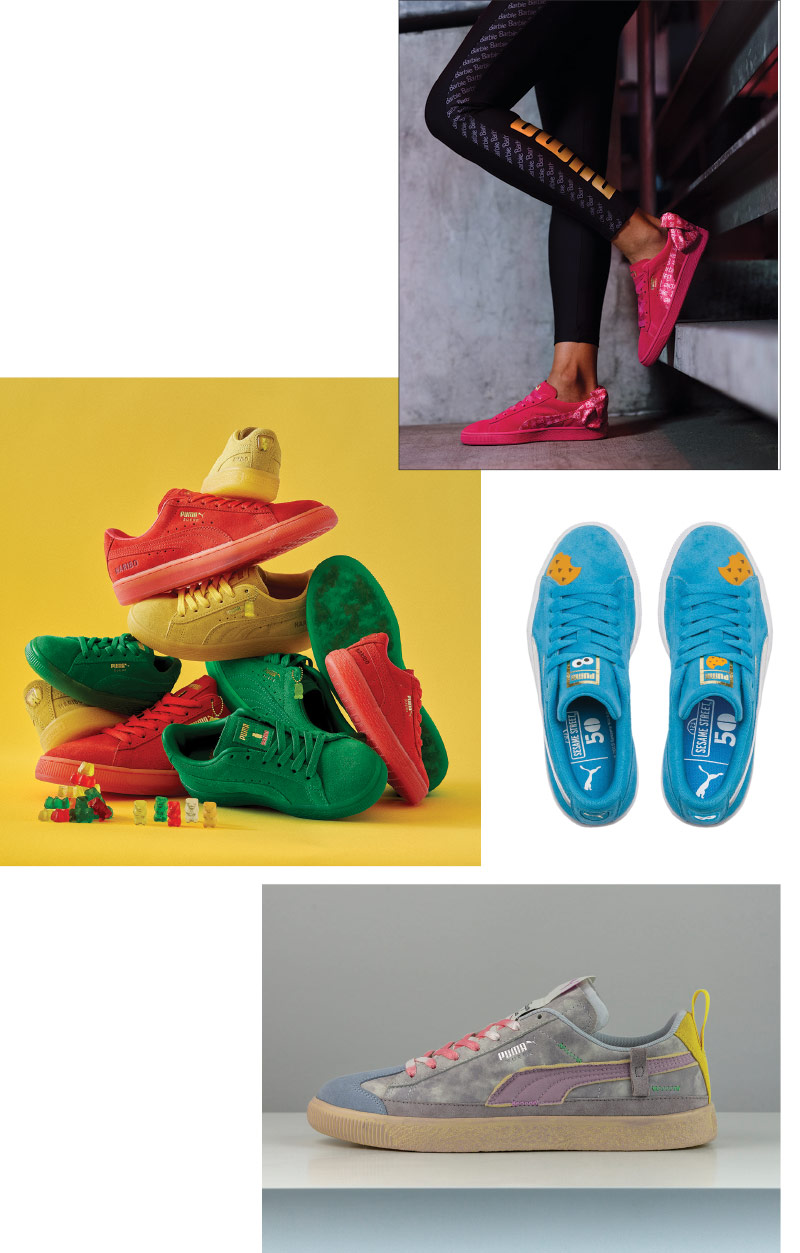 Fast forward to 1972, when a variation of the Crack became the Puma Clyde. Named after New York Knicks star Walt "Clyde" Frazier, it was the first-ever NBA player-endorsed shoe. (Eat your heart out, Michael Jordan/Nike.) Puma and the smooth-talking, -playing and -dressing legend were the trailblazers in what is now the multi-billion industry we all know and love. What's more, Frazier is the godfather of streetwear. His off-the-court looks are legendary. And while the Clyde was technically a different shoe (it featured more padding), there is no Clyde without the Suede. Because as sneaker lore goes, Frazier wanted a lo-cut shoe in a wide range of colors—a different color for every game, in fact. (Rumor has it more than 390 colors were made.) Well, it just so happens suede is easier to dye. And  that rich signature material has become the shoe's most enduring feature. The subsequent crowning of the Suede style fits perfectly—and has ever since.
Suede Sensation
The Suede was off to an auspicious start, but no one could foresee, as the '80s dawned, just how big a role it would play. It was around this time that B-boys and Flygirls adopted the shoe. Soon it was de rigueur. Most notably, hip-hop legends the New York City Breakers and Rock Steady Crew sported the Suede as their breakdancing style of choice, reportedly swearing by its malleable outsole and accommodating suede upper. More importantly, it solidified the Suede's status as a certified "street" shoe.
Michael Greene, a.k.a. Operator Emz and confessed sneaker obsessive, recalls the Suede's newfound status. It was circa 1983 when, at age 12, he scored his first pair—admittedly a little late to the game. "My first pair were navy on natural," he says. "I'd match them with my gray Levi's shrink-to-fit jeans—I felt like a million bucks. To this day, I wear versions of them." Greene ranks the Suede as No. 3 on his all-time best sneakers list, behind the Nike Air Force 1 and Adidas Pro Model. He cites two keys to the Suede's long-running success. "The simplicity and the cost keep the masses rocking them, and the colorways keep the streets rocking them," he says, noting a recent favorite take was the Alife x Puma States "Scarlet Snake" collab.
Sean Williams, a.k.a. the SneakerVangelisT and a SOLEcial studies instructor, says the Suede's style versatility made it click with the hip-hop nation. "The Suede is just such an easy sneaker to make personal to your taste," he says. "It was embraced early by the pioneers of hip-hop for that reason. Nike sneakers were adopted into hip-hop. Puma Suedes: We there!"
When hip-hop culture burst from its Bronx epicenter and rocketed around the world, the Suede went along for the ride. One of the first stops was England, where the Suede was in high demand but not easy to find. A Highsnobiety article noted that fans sought hook-ups in the U.S. to ship pairs, which led to them initially being re-named Puma States when they were officially released in England not long afterward.
Call it Crack, Clyde, States or Suede, Williams says the silhouette owed its rapidly broadening fan base to the hip-hop movement. "As usual, hip-hop becomes the torchbearer for a lot of trends that cross over into other movements," he says. "Hip-hop pioneers were wearing that shoe heavy, and others followed suit after seeing the proof of concept on how dope they can be with almost any outfit when they were rocked correctly."
Skaters' Choice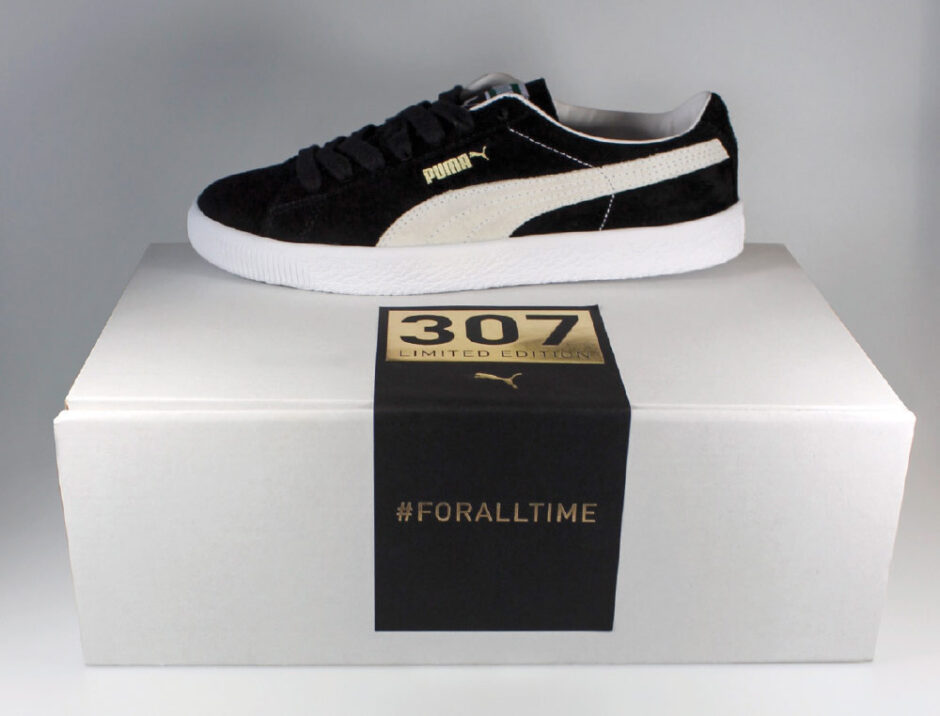 The subcultures of hip-hop and skateboarding blended like a great music mashup. In fact, by the late '80s the two subcultures were mushrooming into the now macro culture of streetwear. Again, the Puma Suede became part of the uniform. And as Grunge music rocked the world and alternative sports went mainstream, skateboarders, snowboarders and BMXers sent the Suede spinning from the inner cities into suburbia and beyond. It is one of those rare styles that crosses demographics, ages and genders with equal ease—one that's perhaps only rivaled by Chuck Taylors.
Isack Fadlon, owner of Sportie LA, confirms the Suede's long-running and diverse appeal among its customers. "Since we opened our doors in 1985, the Puma Suede has been a staple for us—a prolific sneaker that transcended any one particular audience," he says. In the early '90s, one of the Suede's peak periods, the store carried 25 or so color variations, which led to a billboard campaign collaboration that read: "More Pumas than Puma. Sportie LA." The extensive range of colors has been key to the shoe's success, Fadlon says. "I often marvel at how well the Suede takes to different color variations," he observes, recalling the search for one elusive mustard/black colorway that, at the time, was available in Canada. "We figured out a way to get those into our store and, as expected, it was a resounding hit." Another memorable Suede/Sportie LA moment: Frazier, the streetwear legend himself, did a meet-and-greet with customers in 2005. "He rolled up in his vintage Rolls-Royce looking dapper," Fadlon says. "Needless to say, the event was a huge hit."
Norm Dawson, creator of All These Shoes: A Love Letter to Sneakers (a one-man play about the role sneakers had on one man's journey to adulthood and self-discovery), notes that another element of the Suede's success is that it transcends genres and has broken down barriers over the years by being on the feet of trendsetters worldwide. In fact, he remembers the exact moment he first saw the Suede—in the 1984 movie Beat Street. "I couldn't believe how dope they looked," says Dawson, an avid collector of Pumas since 1992 who now has around 100 pairs in his collection. The year he started collecting is significant because that's when the Beastie Boys released Check Your Head. "That's when the damn broke for me," Dawson says. "It's all I skated in, all I wore. I needed every color." He adds, "I still have those pairs from the '90s, and they're still wearable—no crumbled soles or separation! Just classic style that has stood the test of time. As long as they keep releasing dope colorways, that number (in my collection) will keep growing."
While the Suede is renowned for its variety of colorways, Dejan Pralica, CEO and founder of SoleSavy—a community for all things sneakers that offers everything from news to members-only drops—cites a different factor behind the Suede's long-running success. "Like other classics, its longevity is in its simple but beautiful design," he says. "You can switch the colors and materials up all you want, but it's still going to be a clean silhouette that can be worn for almost any occasion." The Suede is both unique and accessible, Pralica adds. "You can always find a clean colorway if you need it, or you can hunt down unique pairs that are geo-specific," he says. "And accessibility-wise, we've seen so many shoes become out of reach price-wise, but the Suede has remained true, allowing consumers to dictate its popularity, not hype or perceived monetary value."
The Suede Parade
Since its second coming in the '80s and '90s, the Suede has remained relatively unchanged, aside from the many collaborations with fashion, music and culture icons. That's not to say, as Puma's website notes, that its classic formstrip and spacious panels haven't been finetuned. The Suede has dipped its roomy toe-box into a multitude of materials, including leather, canvas, hemp, snakeskin, wool and denim—all of which have complimented one of the most voluminous colorway libraries in footwear history.
In 2018, for the Suede's 50th anniversary, Puma issued more than 37 exclusive styles to celebrate the iconic shoe. Williams singles out the MCM 50th Anniversary version as one of his all-time favorites, giving a shout-out to fashion icon Misa Hylton for the design. "My second all-time favorite are the Puma Suede Mid x Bobbito Garcia 'Where'd You Get Those' that were created to coincide with the 10th anniversary of Garcia's iconic [sneaker culture] book by the same name," Williams says.
Dawson cites the MIJ x The Collectors Suede in magnolia for the 50th Anniversary as a standout. Also "amazing" are the MTV Forever Fresh models, as well as the MC Shan, the Doug E. Fresh and the Big Daddy Kane Suedes, all of the Yo! MTV Raps collaboration. Pralica singles out the Puma x Fenty Creeper with Rihanna, first released in 2015, as a memorable moment in Suede and footwear history. "It was a trend that stuck around for a while and felt authentic and accessible to her fans," he says.
Another contributing factor to the Suede's longevity that mustn't be overlooked is what's it not, says Matt Powell, NPD Group's senior industry sports advisor. "One of the keys is it's not a Nike shoe," he says, noting that the silhouette ranks in the top all-time sneaker styles. "Like most retro icons, shoes go in and out of style but never go completely away."
Fadlon wholeheartedly agrees, noting the Suede is to Puma what the Chuck Taylor is to Converse and the Superstar is to Adidas. "There are certain sneakers that are timeless, and the Suede is one just of those," he says. "It's one that is as fashionable and relevant today as it was years ago, and that is a testament to its classic style." The veteran retailer adds, "The Suede is one of a handful of styles that will always have a place in our collection—and our hearts."
Indeed, the world's love affair with the Suede lives on—and plenty more collabs are planned in the years ahead. For example, 2020's debut of the Puma Suede #307, a limited-edition style that celebrated the legacy of both Tommie Smith and the Suede. Only 307 numbered pairs were created—an homage to Smith's Olympic number. Crafted with premium Italian leather, Puma stated at the release: "The timeless pair is made to last a lifetime—because true classics are for all time."