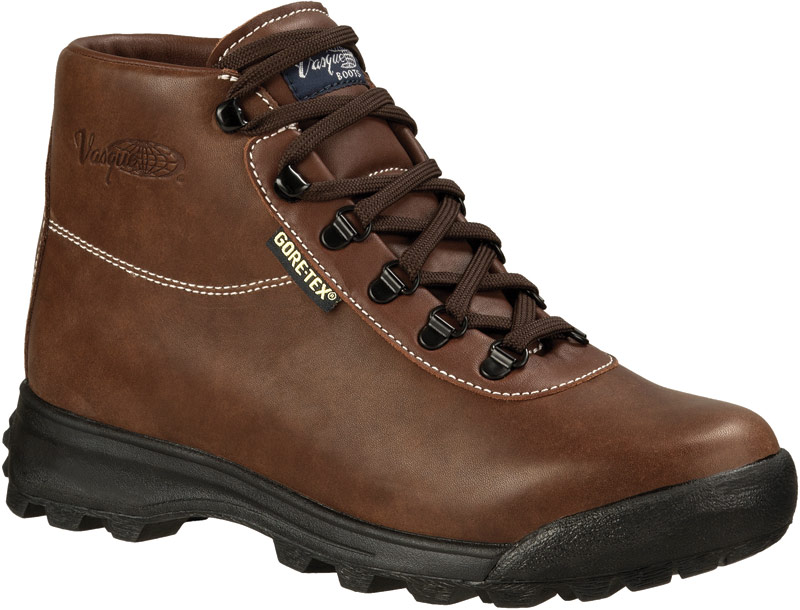 Hiking enthusiasts are a loyal bunch. Whenever they discover a boot, a backpack or an energy bar that performs up to snuff, they stick with it season after season. Design elements involving reliability, comfort, protection and durability usually trump aesthetics because style means squat if you happen to be miles into a hike and your feet are blistering. But it's those rare occasions when such performance boots also deliver the goods on style. The Sundowner by Vasque is one such boot. Millions of wearers have hiked all over the national parks and back in their trusted Sundowners since the lightweight, all-leather, Italian-designed boots first appeared on store shelves more than 30 years ago. The Sundowner went on to become an outdoor specialty store staple as well as a benchmark for what a hiking boot should look and feel like.
Specifically, when it launched in 1984, outdoor enthusiasts embraced the boot's lightweight qualities (weighing in around two pounds compared to the six-pound beasts of the era) and waterproof technology. "The Sundowner was considered very lightweight and was one of the first products to incorporate Gore-Tex linings into footwear," says Brian Hall, director of product development for Vasque. "It also had a molded insole/outsole that was glued, not stitched, onto the boot." Hall says it was met with instant success despite being radically different in design and feel. "People may have had some trepidation, but [soon realized] it was a greatly built product," he says. So great, that many consumers have resoled their Sundowners two to three times over the boots' lifespans until the uppers finally wore out.
Kevin Montayne, longtime buyer for Paramus, NJ, specialty store Campmor, can attest to the style's popularity right out of the gate. "In 1984, when the Sundowner was launched, boots were either heavier or much lighter, almost sneaker-like," he explains. "The Sundowner was a great compromise of support in a lighter package. Originally made in Italy, where building excellent footwear is a tradition, the fit was very well-received by many folks." Montayne says that along with the waterproof benefits of Gore-Tex which, he notes, allowed consumers to slack off on maintenance, a sweet price point just below what others were selling made it a hit at retail.
College Rock
The Sundowner struck a vein on college campuses in the 1990s, exploding in popularity. The green revolution was in full swing, and Grunge fashion's love of logger boots played a role. "It was a culture that was all about getting outside, kind of what we're seeing now, with a revitalization of hiking and camping," Hall recalls. "It became part of the uniform on college campuses in the early '90s, and we had really strong sales through the decade."
With over three million pairs sold to date, the Sundowner has been pivotal in Vasque's overall success and led to the development of more lightweight boots such as the Skywalk hiker (also still in production today). Despite the development of new technologies and styles, however, many customers keep coming back to the Sundowner. Why? "It's the simplicity," Hall says. "The boot has a one-piece leather upper. It's a really clean silhouette that fits well. It breaks into your foot like a nice leather glove."
Sam Hardy, head editor/tester in chief for Alloutdoorsguide.com, who has worn his fair share of hiking boots, is a big fan of the Sundowner. "For me, it comes down to a timeless style matched with reliable functionality," he says. "You know what you are going to get with Vasque, and the Sundowner is a classic in the hiking world."
Following the Sundowner's run in the '90s, the boot's sales remained consistent with several peaks, especially among urban/hip-hop culture last decade. Sales dipped amid the sneaker boom, and some consumers were disappointed when production shifted to Asia in 2000. While Hardy says he didn't notice a change in quality, he acknowledges that many longtime wearers weren't happy with the "made in China" tag. Hall heard the outcry, however, and has been instrumental in returning the Sundowner's production to Italy with its original last and all-leather construction, beginning in fall 2015. "It's been really well received by our customers who have had the boot before," he says of Italian-made revival, noting a particular popularity among Millennial-aged hikers and their strong preference for authentic design. "They see it as the epitome of the hiking boot," he says.
The nostalgia factor definitely plays a role, along with the classic alpine hiking boot look that has been trending strongly in fashion over the past year or so. Plus, the Sundowner has proven features to back up its retro aesthetic. "Quality of materials counts—they're particularly susceptible to durability concerns by consumers," Hardy explains. "Not only do customers want their boots to perform; they also want something stylish. I think the Sundowner bridges that gap of form and function nicely." He adds that while the boot might not be best suited for multi-day back-country treks, the Sundowner is ideal for weekend hikes as well as tooling around town.
Hall believes such versatility in performance and looks is what resonates with consumers. "The beautiful thing about the Sundowner is that while stylistically they have nostalgia, it's a great functional product," he says. "You're not buying a boot just for the look. You'll have it for years. You can resole them multiple times." He adds that long-term quality is particularly appreciated among Millennials who prefer premium materials and want the added bang for their buck. "That's an idea that's come back into favor," he notes. "People want something they can invest in. It's still that kind of product that will always have a place in our line."
A Top Seller
That combination of form and function is backed by the Sundowner's 32-year-record at retail. Stores have rarely moved on. Campmor, for example, has been selling Sundowners since 1986. "I've sold or bought this boot, in one iteration or another, for 22 of Campmor's 30 years," Montanye says. "For years it was the most popular boot, the one everything else was compared against." He adds, "It became a classic and the standard for which that year's more popular models would be measured against." Montanye estimates the store has "easily" sold tens of thousands of Sundowners over the decades and ranks the style in the top-five all-time footwear styles. "Certainly it would receive an all-star award for longevity," he says.
Travis Gneiting, who likens his website Gearchase.com to the Kayak.com of the outdoor industry, reports the Sundowner has been great for business. While the website doesn't actually sell product, Gneiting says it gets a lot of traffic from consumers searching, "Vasque Sundowner on sale." "We are typically in the top three Google search rankings for the term, so we drive sales to our affiliates for the boots all year long," he says, adding, "The Vasque Sundowner is such an iconic boot."
Hall says that the Sundowner remains a core style for Vasque amid today's resurgence in long hikes and weekend camping. "People are picking up our boot and using it as a daily piece," he says, just like when it first hit the market. "When you look at that consumer then and now, I don't think it's all that different." The consistency, Hardy believes, is due to the Sundowner's simple design matched with modern enhancements. "The Sundowner under promises and over delivers," he says.
Campmor's Montayne agrees, noting that the style will always have a place in the store. "Many footwear trends have come and gone over the years," he says. "What keeps the Sundowner an essential part of the conversation is that it continues to satisfy the timeless desire of folks for good support in a lightweight boot while providing a great fit to a lot of people."