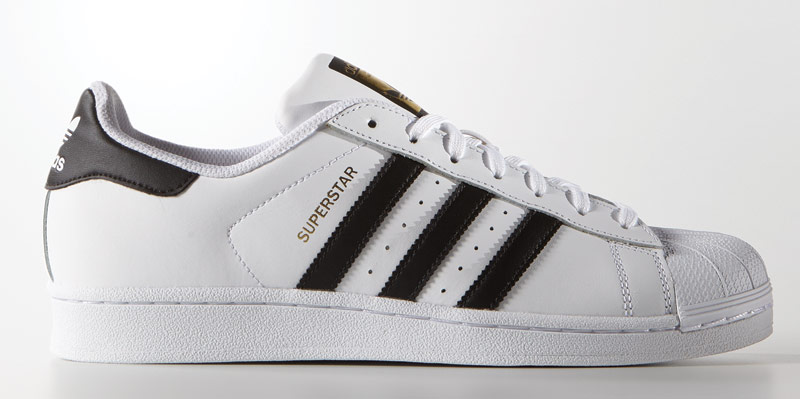 Thirty years before the term "athleisure" had ever been uttered, rap group Run-DMC released the single "My Adidas" as an ode to their shoe of choice: the shell-toed Adidas Superstar, which the trio rocked sans laces and tongues puffed out in ultimate hip-hop flash and attitude. It marked the Superstar's second turn in the spotlight, having been the choice of more than 75 percent of NBA players during the previous decade following its launch in 1969. Back then, Kareem Abdul-Jabbar heralded the Superstar for its more durable leather construction (compared to flimsy canvas alternatives of the era) as well as its comfort aspects. The shoe—the brainchild of Adidas founder Adi Dassler—featured a host of design breakthroughs at the time, including Achilles padding, non-marking white herringbone rubber outsoles and a rubber "shell toe" to protect players' feet.
Like most iconic sneakers, the Superstar's original design was for performance and, as often is the case, became a lifestyle staple in its off-court life. The Superstar has been adopted by skaters, thrashers and sneakerheads since its Run-DMC star turn. And now it's starring again as A-list fashionistas sport its clean and classic aesthetic in a world gone athleisure crazy.
Supermodel Gigi Hadid, in particular, got the ball rolling when she began sporting the original white with black stripes Superstars last year. Soon after, reality star Kendell Jenner was trotting around town in her latest athleisure ensembles anchored by classic Superstars, and legions of Millennial-aged women have been doing the same ever since. And unlike the shoe's previous popular runs that were decidedly male-dominated cultures, the Superstar's current front row turn is part of a much bigger fashion scene. Women, as everyone in the shoe business knows, buy more shoes than men—a lot more.
"A lot of women who don't know too much about sneakers in the first place are wearing them," confirms Vince Sirico, a contributor to the sneaker blog, Modern Notoriety. "It's become a part of fast fashion," he adds. Sirico says in addition to the style's clean aesthetics, its price point is pretty attractive, retailing for only $80.
Torben Schumacher, vice president product for Adidas Originals, concurs that the Superstar has "reached new prominence in the fashion industry and is especially popular among a new generation of women." Schumacher believes that the shoe's sporting heritage gives it a credible voice in street style. "The Superstar sneaker is an icon of the street because of its constant influence on culture," he says. "Its aesthetic makes a bold statement, and it is continuously reinventing itself."
Walk This Way
That's exactly what Run-DMC did when it adopted Superstars as part of the group uniform along with bucket hats, gold chains and track suits. What had been a gym shoe instantly represented a whole new lifestyle born on the streets of Queens, NY. The band's music and fashion influence quickly took the world by storm and, by the mid-'80s, the Superstar—with and without laces—became a staple of b-boy culture. At a 1986 sold-out concert in Madison Square Garden, Run-DMC asked fans to hold up their Superstars as they performed the hit, "My Adidas," off their bestselling album, Raising Hell. Many sneaker experts consider that very moment to be the birth of sneaker culture.
"Run-DMC elevated the already-original model into the hall-of-fame status it earned early on in sneaker history," says Oliver Mak, co-owner of Boston sneaker boutique, Bodega, quoting that famous song: "My Adidas do the illest things; we like to stomp out pimps with diamond rings." The song was in response to an anti-sneaker rap song, "Felon Sneakers." Run-DMC's ode to its Adidas Superstars was an an attempt to flip the bad-boy stereotype of b-boys.
Adidas embraced the Superstar's pedestal in hip-hop culture. The company went on to collaborate with the group to create the Ultrastar, complete with an oversized Trefoil logo and elastic straps that celebrated the group's lace-free preference. For the style's 35th anniversary, Adidas introduced a special Run-DMC style complete with the group's logo and the year "1986" emblazoned on the heel. "Run-DMC helped people realize sneakers are not just for sport but also for style," says Yu-Ming Wu, founder of the blogs Freshness Mag and Sneaker News. "That's what Run-DMC did for the Superstar."
Run-DMC collaborations spawned additional Superstar design partnerships over the years. Many became must-haves of sneakerheads and collectors the world over. Wu, for example, recalls traveling to San Francisco in 2003 with a business partner when they got wind that the much-anticipated Superstar collaboration with A Bathing Ape would go on sale at a store nearby. They snagged pairs after waiting only 15 minutes—a nanosecond by most sneaker drop standards. "People waited outside for 72 hours at the Adidas Originals store in SoHo for that shoe," Wu recalls. "We lucked out." The Superstar, Wu adds, has been a driving force behind sneaker culture for years. "I love its historical aspect, and obviously it's a great looking shoe," he says. As for that A Bathing Ape collab he bought, it's a memory that Wu holds onto—literally—to this day. "Every once in a while I wear those Superstars," he says. "It brings back some really good memories."
The same can be said for millions of Gen-Xers who grew up listening to grunge music, playing alternative sports and wearing Superstars. Back in the '90s, the shoe had once again been reinvented, having been adopted by skateboarders who discovered that its outsoles were ideal for helping perform flip tricks. Adidas dubbed it the "flip trick evolution." Superstars quickly became a staple in skateboarding videos, and the company was again quick to get on board, signing pro skater Mark Gonzales to its Adidas skate team.
Around this time, Superstars were also being worn by heavy metal fans, becoming part of the ensemble that included oversized pants, wallet chains and Mohawks. Mak attests to the shoe's popularity in the '90s hardcore scene, remembering, "You saw a lot of Superstars in the pit."
As the new century dawned, the rise of classic athletic styling enabled the Superstar to retain its relevance. Retro athletic has become as important a category as performance. Generations of consumers who grew up wearing Superstars re-up on their fave regularly while younger consumers discover the shoe for the first time thanks, in part, to a steady stream of collabs with leading sneaker boutiques as well as musicians like Pharrell Williams (Supercolor and Supershell collections) and Rita Ora's pop art–inspired collection.
Money in the Bank
Such brand extensions and reinventions have made the Superstar a retail gold mine, particularly of late. Adidas has yet to release figures for 2016, but the company reports sales of the Superstar along with its Stan Smith classic trainers shot up 45 percent to 15 million pairs sold in 2015.
"If you walk into Finish Line, it's going to be on the front display with a pair of Adidas track pants," Sirico says. "It's instant profit for retailers right now."
Jeff Perlstein, owner of Oakland, CA, sneaker boutique Solespace nabbed an Adidas Originals account in the past year, and can attest to that fact. "We've absolutely seen a boost. Adidas has quickly become one of our strongest brands," he reports. Similarly, John McPheters, founder of the New York–based Stadium Goods, has been selling Superstars since he opened the consignment shop last year, jumping onto the style's latest iterations. "We carry more-recent Superstar collaborations between Adidas and the Japanese brands like Neighborhood and Mastermind," he says. "And, of course, we've sold both of Pharrell's first Adidas collaborations, the Supercolor and his artwork collection designed by artists like Todd James and Zaha Hadid."
Lester Wasserman, co-owner of Tip Top Shoes and the sneaker boutique West NYC in Manhattan, has been selling the Superstar—thousands of them—for nearly three decades. "What makes it legendary is its cross-over appeal," he says. "From high school students to guys and girls on their way out to the Hamptons, to doctors and lawyers to those trying to relive childhood memories…I've sold Superstars to all and everyone in between."
Mak confirms that the silhouette is a must-have on any credible sneaker boutique's shelves. "The Superstar is a key part of a balanced collection," he says, adding, "Without it, the Adidas legacy would be less glorious than it is today." As for how many pairs Bodega has sold since opening in 2006, Mak responds, "Enough to go to the moon and back."
Similarly, DJ James, manager at Sneaker Politics, the three-store chain based in Louisiana, ranks the Superstar in its top 10 bestsellers. "Every time we have a Superstar 80, it sells out within a day or two," he reports. "It attracts a lot of kids who are scrambling to post it [on social media]. If you have their size, they don't care about the cost." James notes that the Superstar is particularly a must-have among older high school and college students, but has been a steady seller since the first store opened a decade ago. "The shoe sells so well because it's so classic—nothing too flashy," James says. "You can pair anything with it."
Sirico agrees that the Superstar's versatility is what has given it legs for so many years. "When Run-DMC was wearing them with sweatpants and fat laces, it was a bulky look," he explains. "Now, people are wearing them with skinny jeans."
Iconic shoe designs possess the style flexibility to cross barriers and generations. The Superstar is no exception. It's been adopted and reinterpreted for decades and shows little signs of becoming played out. "The Superstar blends authenticity with creativity and self-expression like no other sneaker," Schumacher says. "Our customers are creators, and the Superstar offers itself as a blank canvas for all of those who have adopted it since it first debuted."