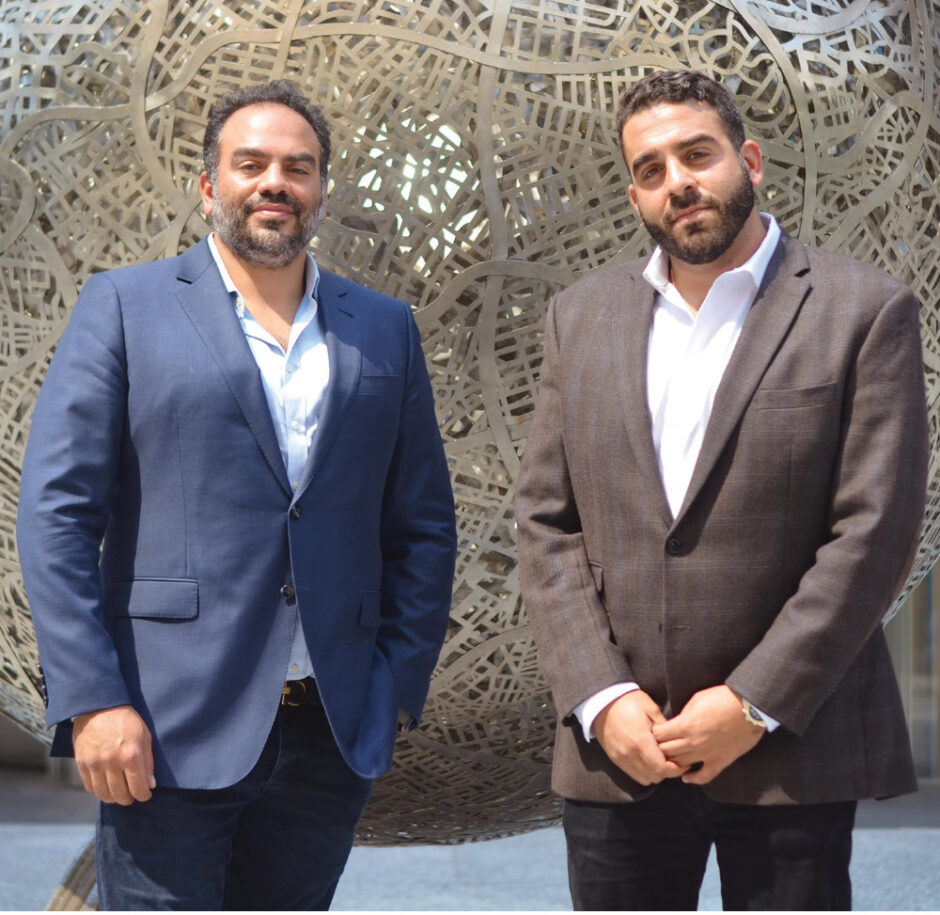 The Safdeye brothers, fourth generation shoe industry lifers, had been waiting all their lives for this moment. Not a pandemic, mind you, but a window of disruption that could enable a small, nimble company like SCL Footwear (makers of Harborsides and licensors of Goodyear, NASA, Daisy Fuentes, Outdoor Life, Mario Lopez, Bisou-Bisou and Nanette Lepore) to strike. And that's exactly what the brother have done, beginning in mid 2020, by adding new licenses (Mario Lopez, Outdoor Life and Nanette Lepore), creating a Goodyear Racing offshoot brand and expanding the brands within the existing portfolio. When a lot of larger companies pulled back or pulled the plug entirely amid the shock and awe of the pandemic, SCL Footwear has stepped into the breach—and has doubled in size in the process.
It started by simply picking up the phone. "Some companies were taking days, if at all, to return calls," says Joe Safdeye, executive vice president. "Whereas we'd pick up on the second ring. As such, we were able to secure some good business during that time. It was exciting for us."
The Safdeye brothers, who encamped to Joe's house along the Jersey Shore in the early months of the pandemic, have stayed busy ever since plotting moves. The duo has also acted like ports in the storm. Plenty of people have been in panic mode, especially early on, as a lot of companies stopped operating at full capacity while others went under due to cash flow and inventory issues. A few SCL Footwear employees freaked out, too. Joe recalls the day his father, Sam and CEO of SCL Footwear, called and was depressed about how the world seemed to have shifted into the Upside Down a la Stranger Things. "He then asked why I seemed excited, and I told him I'd been waiting my whole life for opportunities like this to get market share," Joe says. "When has there ever been an opportunity like this where we could be aggressive and score because other companies were cutting back or shutting down. These are the moments in time that can make companies."
The Safdeyes were bullish because of their ability to act quick. Joe uses the analogy of 18-wheeler-sized companies like Nike and Skechers getting flats in all their tires, all at once, whereas SCL Footwear, cruising in an economy car, needed only to replace four flats. "Who the hell do you think would get back on the road quicker?" Joe says. "We're small, but we can move quick. We saw the opportunities, acted aggressively and grabbed market share."
The Safdeye brothers relied on their years of experience and deep family ties in the industry to adapt quickly amid the new normal. SCL Footwear has strong factory connections in Asia, for starters. The company has continued to make and deliver goods without any major hiccups. The brothers also doubled down on their overall shoemaking philosophy, which starts and ends with delivering above and beyond the expected. That approach has become even more noticeable as many companies have cut back on quality as a way to control costs. "A lot of people in this business like to cut corners," says Daniel Safdeye, vice president. "That can involve using unexpected (think lesser) materials and, worse, delivering shoes that look a little deformed or don't fit correctly. We make sure every single shoe we ship, no matter if it's a $14.99 or a $39.99 shoe, meets all specifications and fits properly."
Offering comfort and proper fit at an opening price point is no easy feat. But it's something the Safdeye brothers take great pride in delivering. "Fit and comfort are the most important aspects across all our brands," Daniel affirms. "Every style goes through multiple wear tests, whether it's a hiking, dress, work or athletic style. If the shoe doesn't fit, it won't be shipped." Daniel credits his father for teaching much of that knowhow, as well as instilling that commitment to every single detail. "He always says it's the last five percent that turns a good shoe into a great one," Daniel says. Joe adds that SCL Footwear's approach is about offering the best value. "We want to put more into a shoe than what might be expected," he explains, noting that every shoe is looked at with a fine-tooth comb. "The best compliment we can ever receive as shoe manufacturers is when a retailer or a consumer says they'd pay double for a shoe like this."
On that note, the Safdeye brothers are adhering to a golden rule of manufacturing: if it ain't broke, don't fix it. They are sticking with SCL Footwear's current battle plan to keep building its portfolio of eight brands zeroed in on the entry-price, comfort lifestyle market. There's plenty of more territory to be seized, they believe. That might also include the addition of another brand or two, via a proprietary launch or another license, so long as the name is right and the need is there. "We're working on a few concepts right now," Joe says, adding that the thrill of the build is what drives them. "I call it the build and backfill approach. It's about getting those first shoes delivered, seeing how they perform and then following that up with more shoes and programs. It's building a brand, shoe by shoe, into a success. Then it's onto building the next brand."
So far, so good. Daniel reports SCL Footwear's business this year has remained strong, and that's despite the stiff headwinds of record inflation, war in Ukraine and an ongoing pandemic. One of the keys to the company success, he notes, is that focus on comfort at an affordable price. One might even say it's a recession-proof business model. "A lot of times consumers don't really care as much about fashion when times get tough," he says. "But they always a care about comfort. People still have to go to work, and they want something that fits properly, looks good and enables them to be on their feet all day. That's where SCL Footwear comes into play."
How business?
Daniel: Business of late has been very good for us overall. Obviously, there's been some slowdowns caused, most notably, by the record inflation. But we really haven't experienced that. We're in a very good position as an opening price point, comfort business. We believe everybody needs a comfort shoe at that price, no matter what the economy might be doing. For example, sales in Harborsides are up significantly this year. We see a lot of upside in that business going forward as opposed to, say, the mid-tier dress or junior markets. Trends today go in and out very quickly, and often you can get stuck with a lot of inventory. The comfort business is far more reliable. We've seen no slowdown in that division. And our new Goodyear Racing brand is doing extremely well since we launched a couple of months ago. It's mostly DTC online, and we're already hitting milestone marks. Plus, our men's work and hiking styles in Goodyear and Outdoor Life are performing well, and we're just getting Mario Lopez and Nanette Lepore delivered. Those startup logistics took longer than we had planned, but that's to be expected with so much disruption in the world of late.
Disruption is putting it mildly. The state of the world seems overwhelming right now.
Joe: It's been a real pounding. Even before all this, we were trying to figure out how to land shoes with the additional tariffs. Then the pandemic and now record inflation. Like I tell our retailers, nothing surprises me in today's world. Now consumers are battling inflation and exorbitant gas prices. It's really tough. There was also a lot of free money issued by the government that's no longer available, and that obviously hurts the retail market as well. But if I had to pick one that could correct itself immediately, it'd be gas prices. That impacts the end consumer directly. People are going to store only when they really need to. And having to spend nearly double makes consumers extremely cautious about what they spend elsewhere.
You're really bumming me out, man.
Joe: Hey, it's tough out there. But I believe what doesn't kill you only makes you stronger. And coming from when we started SCL Footwear 15 years ago when the business was so status quo, I'll take it. Back then, retailers mostly bought from the same brands and the slots were all basically filled. To get on to the shelves was nearly impossible. From a percentage perspective, if they even offered you something, it was hardly worth it. Now it's almost the opposite. It's like someone shook a snow globe and everything changed. Finally, opportunities have become available. So, this disruption is an exciting opportunity for us. This is like a once-in-a-lifetime opportunity. We just had to move quickly and seize the day. When the pandemic hit, we pounced. We deliver on time and in-full, and retailers can rely on us to deliver strong margins.
A lot of companies trade in the opening price, comfort space, so what might SCL Footwear being doing in particular to have doubled its business since 2020?
Daniel: I learned this from my father and Joe, which is attention to every little detail on every shoe we deliver. It's about understanding how consumers shop and react the minute they pick a shoe off a shelf. We have to make sure we meet all those expectations. When they press the memory foam sockliner, feel the upper materials and flex the sole—that it all passes the test. Then there's additional details, like our bilingual hangtags, that specifically target our demographic. We concentrate on all the little things. Whereas lots of people in this business don't know or bother with all those finer details. And if it wasn't for our father, we wouldn't know to focus on them, either. We come from a family with deep ties in this industry. Our cousin, Solomon Dabah, is CEO of Vida Intl. Our uncle, Alan Safdeye, is owner of United Footwear Group and our cousin, Joe Safdeye, runs E.S. Originals, which has been one of the most dynamic companies in this industry for decades.
What's the best industry lesson you've learned from your dad?
Joe: Always, always help your customers and be meaningful to them. He always taught us to value our customers, value what we ship to retail and value our family name. Daniel: He's still very involved in the company. He looks at every shoe and speaks often with our factories and buyers. As the company has grown, Joe and I have taken on more of the heavy lifting, but my father will never, ever retire. It's just not his style. He'll always be opening boxes and looking at shoes.
How do you know if a shoe is right down to the last stitch?
Joe: There are just certain aspects you can't teach, which is knowledge that we've learned over the years. It's about making sure each shoe comes in correctly down to the last detail, be it sockliner and logo placement, upper materials, how they shoes look on the rack, are they being shipped properly, are the hangtags right, etc. We take price in every aspect because it's our name on the company and our logos on those shoes. We want to represent who we are in the best way possible so that we're proud of our shoes. We want to deliver great quality to our customers. That's what makes product sell today. Name brands are great, but if you put name brands on bad-looking product and/or isn't manufactured correctly, it will fail. Consumers will see those flaws in seconds, and then you won't get the repeat customer. The brand—and possibly the retailer—will be held accountable. Product is king.
Who is the Harborsides woman?
Joe: She's anywhere from 40 to 60 years old and wants a comfortable flat that doesn't break the bank. Our shoes are comfortable, fit correctly and look great. It's why many of our customers buy second, third, fourth and fifth pairs. My mother in-law recently bought a pair and loves them. She said they are more comfortable than many other name brands she's bought. She had been buying flats priced $59.99 to $69.99, and ours are priced $29.99 and $39.99. That was a great compliment.
How do you deliver on comfort at that price?
Joe: Oh, that's the secret sauce that we can't reveal. But it boils down to a lot of testing to get the optimum fit. This is a components-based business, and you have got to look at it from that perspective to make sure the fit is proper, the elasticity is right, the outsole works, etc. It all goes hand in hand, and if one component is off, it can result in a bad shoe. If, for example, the last is great but the upper material is wrong, then you've missed. Shoemaking is a harmonious process. Every component of a shoe has to all work in sync.
You both come across like you're designers.
Joe: We aren't. We wouldn't consider ourselves line builders, either. I'm an avid shopper. I take inspiration from what I see in the marketplace and fill in the white space, be that a certain look or retail niche. Above all, we're trying to deliver great product at a great vale under recognizable brands across our portfolio. It's that value-quality equation that we're always trying to put together. And one of the beauties of our company is we don't focus on just one segment of the business. We have both a men's and women's design teams, and our brands address a broad range of categories. Our aim is to establish core programs within our brands. It's about how finding dependable items that yield the most amount of units. In contrast, a lot of companies are more seasonal and trend-driven, whereas we keep our eye on core basics and deliver on those. Daniel, myself and our design team do a great job on identifying what those are and then getting them into retail.
Is that pretty much how Goodyear Racing came into being?
Daniel: When we first started showing the line to retailers, most passed. So we launched a DTC site (Goodyearfootwearusa.com) because we believed there is a customer base out there. My father, who's a little old school, advised against doing that. But we decided to let the consumers decide if they want this product. It's been great so far. The shoes are blowing out. People keep coming back for the same styles, and a lot of them are buying multiple pairs. They wear them while attending NASCAR races, during their amateur races and while doing sim racing. We even designed a gaming race shoe. Over the next five years, we plan to expand into the flame-resistant, performance racing segment. Eventually we want Goodyear Racing to be the Nike of NASCAR, where every driver wears Goodyear Racing footwear. So, while retailers early on kept telling us no, we kept saying yes. We believed the audience is there and have gone about seizing the opportunity.
How big is this audience?
Daniel: Overall, the gaming business is booming. And since the pandemic, sim racing participation has grown 950 percent. Millions of people participate in sim and amateur racing. Every NASCAR driver is in the iRacing league. And there are millions of people who might wear our shoes casually to a NASCAR or Formula 1 race, which is growing in popularity. And with Goodyear being the No. 1 tire in NASCAR and the original sponsor of Formula 1 Racing, the name is iconic. We see enormous potential going forward. Joe: We're also going to continue to develop the work side of the Goodyear brand. The family footwear channel is a good fit. Actually, a lot of those retailers reached out to us about an opportunity with Goodyear, noting it's their demographic, which is primarily every day, do-it-yourself type guys. We're developing better-grade Goodyear basic hikers and work boots for key customers. We're targeting the $90 to $120 price point with a few more specialized products up to $140. The air gets pretty thin over $120 for work boots. Orders become scare above that price.
Few brands possess the recognition of Goodyear, not to mention the tremendous visibility provided by the Goodyear blimp and its iconic logo.
Joe: We saw that potential when we first signed the license in 2012. It's also why we've renewed the license three times. However, I'm not going to lie to you, it took us a while to convince retailers of what this brand could be. Fortunately, once we got shoes to retail, they've done a lot of the talking. Buyers are happy. It's good product. And while brand recognition is key, it still all comes down to product and value. Like I mentioned earlier, product is king. As long as we deliver on that equation, we should continue to be successful.
Does NASA have similar brand attributes as Goodyear?
Joe: Actually, the beauty of a brand like NASA is that there are no specific core basics we have to adhere to. It gives us a lot of leeway to build the brand across a range of styles, be they cupsole sneakers, sandals and slippers. It's basically playing Potato Head: what uppers do we want to put on those core constructions. What materials make sense for the brand. For example, we have a cupsole sneaker that features all-over 3M reflective material. That's a fit with the NASA brand. It's also got great shelf appeal.
Ten employees managing eight brands is a lot of responsibility. How do you guys pull it off?
Joe: We all wear multiple hats. But we are looking to expand our team where we can as we've grown fast over the last few years. That aside, there are some days when I get home from work and need to take a breather and get my equilibrium back. Going from brand to brand, category to category, shoe to shoe and retailer to retailer can be a real challenge. It can get confusing and stressful at times. But it's also part of the thrill. I love building shoe brands. It's a craft that we're passionate about it. Passion ignites fire. We get fired up about this business. There's nothing better than launching a brand and seeing it mature at retail.
What do you love most about your job?
Daniel: Meeting great, genuine, honest people. I've made amazing friends in this business along the way. Some of them aren't even in the business anymore yet they are still among my best friends. There's nothing more valuable than a genuine friendship. I also love this business because you can make a footprint, pun intended. Relatively, there's not a lot of people in this industry overall and, if you come up with something really unique, you can be in the history books. Joe: I love the build. I love building shoes and brands, as well as then building them at retail. I love getting that call after we've delivered our shipments and the buyer says our shoes are doing great. That's my ultimate thrill.
Is there a fifth generation in the wings?
Joe: I have two sons so, God willing, at least one of them will follow in my footsteps. And Danny will soon have a few in the pipeline, God willing. For us, it's all about building SCL Footwear into something for our family's future. Daniel and I are the pioneers of this company. We're doing the heavy lifting. We want the 10th generation of our family to run this company one day. In the meantime, it's fun to build SCL Footwear from the ground up. We wouldn't want it any other way. •