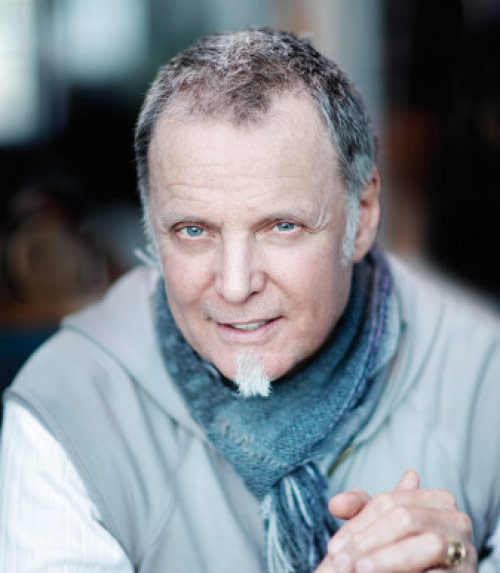 John Fluevog is a retailer, a designer, an artist, a father, a businessman, a Canadian, a survivor, a dreamer, a storyteller, a soon-to-be septuagenarian and an individualist. For more than four decades, the legendary designer has built his reputation on bold shapes, bucking current norms and building a brand that's never wavered on its driving premise: be bold. Fluevog is the epitome of Robert Frost poem, The Road Not Taken. Linear is just not how he rolls. Rather, Fluevog sees his company as a long-running "art project," letting his inspiration and creativity lead him down unexpected paths and discovering new horizons.
A John Fluevog shoe stands out, as do his 25 eponymous stores located across Canada, the U.S. and its recent foray into Europe (Amsterdam). Over the years he's gathered a loyal following from hippies to punks to yuppies. Young-at-heart creatives who he says "appreciate the artistic sensibility of his designs at moderate luxury prices." And while his shoes have found their way onto the feet of musicians like Madonna, Jack White and Alice Cooper, Fluevog is a designer for the people—the masses who appreciate a little quirkiness as they walk through life.
Here, Fluevog reveals his approach to design, reflects on a long and winding career, and why 100 namesake stores just may be in the company's future.
How's business? Good. We've opened four new stores in the last year, and the business is healthier than it's ever been. It's never been easy, but it's not harder than it's ever been.
Do you consider yourself a retailer or a designer first? Most of my career, I've been more of a retailer. Now that I'm more at the end of my career—getting close to 70 this year—I'm focusing on design and creative direction. I'm not as interested in running the company. My middle son, Adrian, does that, dealing with HR, complications of systems and all the things that go along with running a large company. He's COO.
You've never been much of a sneaker label. Why? I'm a boutique company. In order to get good at sneakers, you need a sneaker factory. I don't do enough volume for them. In a sense, I'm relegated to the production I do because of our size. But I'm glad I'm not in that segment; it's really competitive and everyone's doing it. I've never liked doing what everyone else is doing. It's not who I am. I've kept on a path of doing my own thing, curating my stores the way I want.
Where do you look for design inspiration? The stories just come to me. It's seeing things and having the boldness to design, pay for production and put into stores. It's an act of faith. If you don't have that, you end up going a safer route and being more middle of the road. I think people appreciate my boldness.
What's new? I'm working on Fall '19 now, and I've been digging into the archives. I've built up a collection and can reinterpret styles. Specifics in style don't matter so much as it's the essence of a feeling I'm after. For this fall, we aimed for a world of make believe in bold colors. I think make believe is a big part of what consumers want to do now. When the world gets confusing and stressful, we can make believe we're someone different. It's a stress relief when you can play a little dress-up.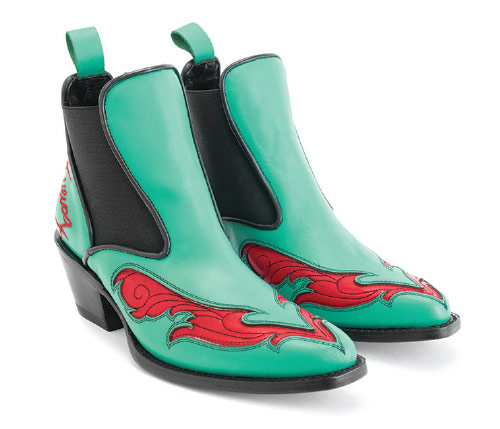 What is your favorite John Fluevog shoe? They're all like my children; I don't have a favorite! (laughs) But I'm proud of the collection I did when Sex and the City was big and high heels and pointed toes were all the rage. They were something completely opposite, with a round toe, chunky bottom and broad heel. They look like Minnie Mouse shoes. They sold really well, became iconic to the brand and are still part of my collection. I'm proud of the bold approach at a time that was so out of sync with what the general population was wearing.
What is the smartest business decision you've ever made? To focus on only my name. Simple as that. Back in the mid '80s, it was Fox and Fluevog. Ending the partnership with Peter did two things: it focused the company more and turned me into a designer. I started putting my picture in the ads. I was no longer afraid to be and market myself.
Where do you see the company in five years? My son was just asked that question recently and said, "I could see us having 100 stores." I said, "Are you kidding me?" He told me it just came out, but we are expanding. We opened a store in Amsterdam in March, and I'm coming at it with more energy. I've always had a sense the brand could be more global. Will it get there? I don't know, but we're poking the fire a bit.
What do you love most about this business? The fact that it changes every season but it's the same old heels, laces, lasts, bits and pieces—the fundamentals don't change much. Yet every season requires new energy, and that keeps me thinking. I'm thankful that I've been able to be in the same career since I was 21. I've grown up in it and learned more about who I am. I don't know if I would have found out any other way.
What do you think you'll be remembered for most? Will I be remembered? People forget very quickly these days. Perhaps I'll be remembered for simply having an unusual name and unusual shoes—a combo of that.