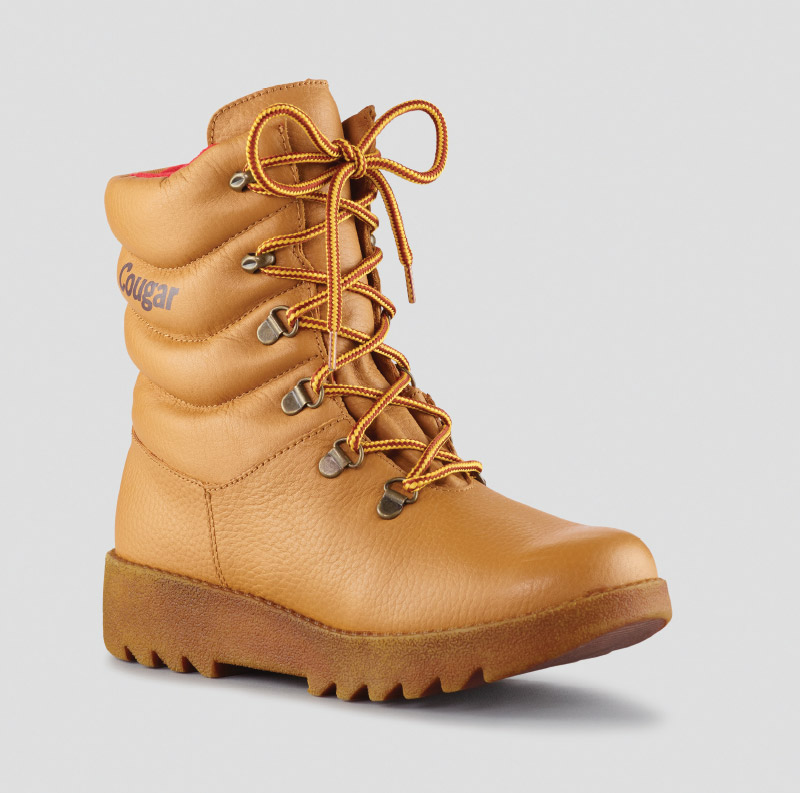 Not only is the Pillow boot the best-selling style in Cougar Shoes' 45-year history by a lot, it's the boot that gave birth to the brand. Since first rolling off the assembly line in 1974, sales are north of 8 million pairs and it's ranked as the second-most iconic Canadian fashion item in the country's 150-year history, behind Hudson Bay's Point striped blanket, according to Canadian Living. But little did anyone dream back then that this brand-less, puffy-looking boot–like a down parka for your feet—would become all that and so much more. Like many iconic shoes that have stood the test of time while thousands of styles come and go each year, the Pillow boot's long-running success was neither planned nor predicted.
Steve Sedlbauer, president of Cougar Shoes, was a teenager, helping out in his family's shoe factory in Hamilton, Ontario, when he first came across this funky new boot sample that the product development team was "jacked up about." But when Sedlbauer's uncle, in charge of manufacturing, first laid eyes on the boot he was not impressed—at all. "He looked at it and snapped, 'Are you crazy? You're going to shut our factory down with the amount of stitching in that boot!'" Sedlbauer recalls
Fortunately, fate intervened. It just so happened that the factory was making a casual sneaker, the "Cougar," that featured a wild cat logo akin to the decal found on the Ford muscle car. It also just so happened that a two marketing guys from Toronto pitched the owners on a branding concept built around the Cougar name and that new boot as the launch style. Even more fortuitous, Sedlbauer says the marketers somehow convinced his father and uncle to "put their hand in their pockets and spend a fair chunk of money for at the time" to create a commercial featuring an animated "Coug" character as the brand spokesperson and air it exclusively, twice a week, during Hockey Night in Canada. "The Coug and his girlfriend were carousing on a couch and she thought he was complimenting her looks, but he was really referring to his Cougar Pillow boots," Sedlbauer says, adding, "In those days, all the shoe buyers were men and they all watched Hockey Night in Canada."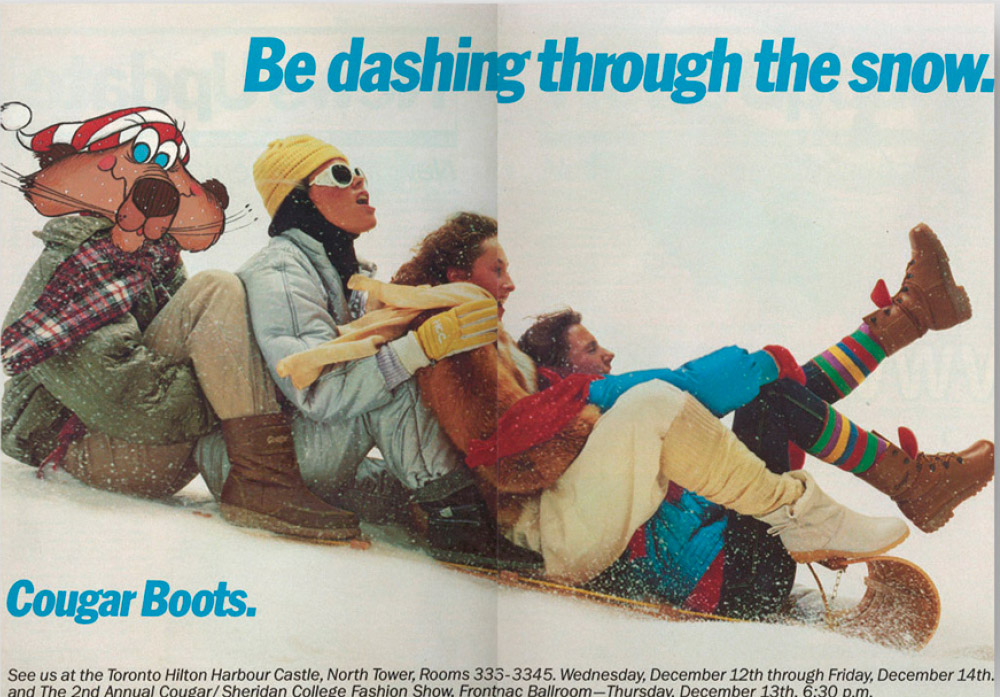 Cougar and its Pillow boot roared out of the gate. In short order, the factory was pumping out more than 1 million pair a year. "Literally, for the next 10 years, it was a case of how do we keep up," Sedlbauer says, noting that 90 percent of production was in the tan color in the early years. That's because the boot replaced two popular tan boot styles at the time—the women's Frye "Campus" and men's Kodiak "Magog"—to become the new accessory to the infamous Canadian tuxedo: denim jacket, plaid flannel lumberjack shirt, jeans and tan boots. "I was in high school and the Pillow boot became part of the uniform," he says. "Every kid wore them with their jeans tucked in with the red tongue lining flapping out. I'm sure Justin Trudeau had a pair and Jim Carey, who grew up in Hamilton, certainly did because everyone one who lived there did." Sedlbauer adds, "It wasn't like today where you have all these tribes and cliques. Back then, everyone wore the same uniform."
Also unlike today's 500 channels and streaming services, Sedlbaur credits the targeted TV campaign as instrumental in getting the Pillow boot launched. "In those days, you only had three networks and hockey dominated every Wednesday and Saturday night. It gave the brand instant awareness and credibility," he says. "Every retailer wanted to try the boots."

The Pillow boot was definitely a fresh take in terms of its appearance. The puffy insulated upper and red lining served as the calling cards coupled with a unique Crosscut outsole featuring reverse tread patterns. The front treads pointed toward the heel and rear treads pointed to the front of the boot so snow wouldn't get stuck. Sedlbauer believes other keys to the Pillow boot's early success was the comfort aspects plus the fact that it was better suited for winter weather, especially compared to the previous popular styles. "Those boots weren't great in the snow," he says. "They weren't insulated." The Pillow boot's multiple layers of foam lining featured pockets of air not only in the foam but in between it as well, Sedlbauer explains. "Foam is a great insulator, so the boots were warm, practical and comfortable," he says.
Then there's the Pillow boot's aprés ski aesthetic yet is just as wearable away from the resort. "You don't see too many (Tecnica) Moon boots walking down 5th Avenue," Sedlbauer offers. "Whereas, you may have bought Pillow boots at a ski resort because you were in 10 inches of snow, but you can still wear them when you get back home. A lot of aprés ski fashion is not as practical."
Lofty Sales
The Pillow boot's peak years ran from 1974 to 1984. Sedlbauer recalls his then part-time job of just trying to keep pace with the purchase orders his father would bring home nightly. "I would write them onto our factory order forms, and I could have done that every night of my life it seemed," he says. "It was like every night the pile got bigger."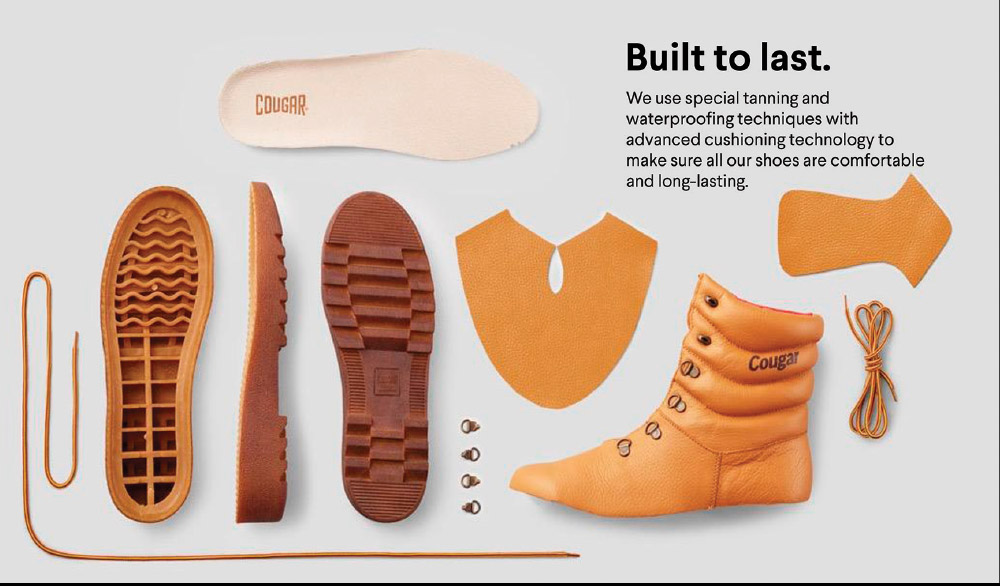 At its peak, production was 10,000 pair a day. It involved satellite factories (up to four locations) featuring one or two conveyors where they didn't make anything else—and really couldn't if they had to. "They weren't shoe factories, they were Pillow boot factories," Sedlbauer explains. "If you were making about 2,000 pairs of Pillow boots a day and tried to change production to an oxford, the output would drop by half because the workers weren't trained to make any shoes except those boots."
Of course, the usual knockoff attempts were made and Cougar's lawyers chased a few here and there with cease and desist letters. But Sedlbauer says those copycats failed to make inroads into Cougar's territory. "They never got the traction we had and I think it was due to the attributes of our boot, the branding, the marketing and a really fired up sales team that made it all happen," he says. Plus, he adds, that all-important ingredient behind many iconic shoe styles: kismet. "There's the old expression, "I'd rather be lucky than smart,'" Sedlbauer offers. "It's like the stars aligned, a lot of things were done right and at the right time, and it just became this item across women's, men's and kids'."
The Pillow boot's success actually stunted Sedlbauer's early industry learning curve. After he officially joined the family business in 1980, Cougar was dialed in on meeting demand for just that boot. "I joke now that during my first five years in this industry I didn't learn a whole hell of a lot about 'business.' I learned how to spread Pillow boots around to retailers who were clamoring for them to try and keep everybody happy," he says. At one point, that boot amounted to 90 percent of the company's total sales. "There was a time we thought it would never end," Sedlbauer adds. "We couldn't make enough them; orders would literally run a month late and we would just keep taking orders."
The luxury of having to fulfill orders on one silhouette in nearly one colorway, year after year, resulted in some bad habits with eventual consequences. Namely, when sales cooled off in the late '80s thanks, in part, to sportier nylon boots becoming all the rage and Cougar shifting production overseas, there was no plan B in place, really. "It's marketing 101: When you're making money is when you can most afford to invest in the future," Sedlbauer says. "When you're not making as much money, it's harder to find funds to invest in the future." The company's lean stretch that followed the Pillow boot boom era is when Sedlbauer earned his MBA in shoes. "That's when I learned how the footwear business and business in general really works," he says.
Today, for example, the Pillow boot accounts for just 10 percent of Cougar's total sales. The line is much more diversified, spanning winter boots to summer sandals. Sedlbauer believes the company learned its lesson, although he doesn't blame his father and uncle for chasing the Pillow boot at full throttle back then. "My father, who was in his 60s at the time, never made money like when he was making 1 million pair of one style year-round," he says. What's more, Sedlbauer believes he and the company are better prepared if any such run were to come again. "If I'm fortunate to be around to see another great run, I don't think we'll make the same mistake twice, but you never know," he laughs.
Born Again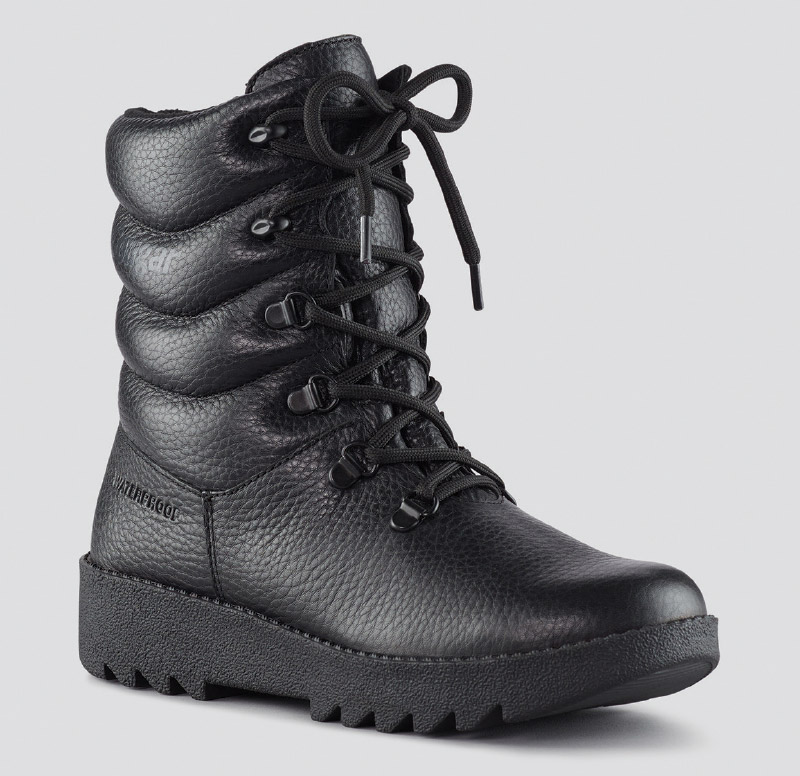 The Pillow boot went on hiatus for about 10 years beginning in the early aughts. Its rebirth came in 2013 when Cougar partnered with an Italian designer to create a modern, upscale, limited-edition model. Think the Mini Cooper makeover of the Austin Cooper. It featured better leathers and waterproof linings. Each boot was also individually numbered and came with a certificate of authenticity. Made in Italy, the price came in at $299. (The original model was around $60.).
Sedlbauer says it was part of an overall effort to clean up Cougar's distribution and elevate the brand. The company gathered a list of 50 influential retailers across North America and placed the boot in about 40 doors, as well as a handful of retailers who saw it in those stores and wanted to carry it too. The effort was aimed particularly at growing Cougar's U.S. business. "If we were going to make serious inroads into that market, it wasn't going to be done by making me-too shoes, and we needed to place the brand in the right stores," he says. The only catch to the plan was the high price point. It failed to generate enough traction. Many meetings ensued and then, in 2015, management decided to re-introduce the Pillow boot as a near replica of the original. "We used the same lasts, outsoles and materials—everything," Sedlbauer says. "We used the old logo and even the old size label on the inside. The only difference was it was waterproof." More importantly, the boot came in at a more affordable $200.
It was a slow build, at first, including lots of online sales in the U.S. But then, about two years ago, part in parcel with increased marketing for the brand overall, international interest in the Pillow boot spiked. Sales in Scandinavia, for example, have taken off. In meeting with existing distributors and potential new ones, Sedlbauer discovered they all wanted the Pillow boot to be the iconic style that represents the brand because of its great history. They also wanted Cougar to communicate more strongly its Canadian heritage. "Everyone apparently thinks people in Canada all live in igloos and as Canadian bootmakers for 70 years, they told us we must know what we're doing and we need to let people know that," Sedlbauer says.
The success in Europe is helping the Pillow boot penetrate the U.S. market (including Bloomingdale's this season), not to mention bring it full circle in Canada. "Everyone is getting jacked up about getting behind it again," Sedlbauer says. "The Pillow boot will be a key focus in our
Fall '20 marketing efforts." Expect to see an expanded range of materials and colors yet true to the original design as possible. "We think we can broaden the assortment by a few styles and introduce more colors in leathers with great character," he says.
Collabs are also part of the rebirth recipe. This season Cougar partnered with Sporting Life, an upscale lifestyle chain in Canada celebrating its 40th anniversary. The chain's signature plaid is the boot's lining. Get Outside, a boutique on Toronto's fashionable Queen Street, is another recent collab partner. The traditional gum-color sole was swapped out as part of the "Blackout," which featured black uppers, laces, hardware and soles. The boot was an instant sellout and has since become one of the top two selling colorways in the line.
Going forward, Sedlbauer says the Pillow boot and Cougar's Canadian heritage will serve as lead talking points, albeit in a modern way. Meaning, no (tired) red maple leaf or moose logos. Think the Toronto Raptors' "We are the North" campaign. Sedlbauer considers that campaign to be a terrific example of Canadian branding in a modern and unexpected way. The Jurassic Park viewing parties held during the team's run to the NBA championship last season saw people gather across the country to watch the games and rally around the country's heritage. "We need to find an original way to achieve the same goal," he says.
Granted, the world is a much different place today and there are many more uniforms being worn in addition to the Canadian tuxedo. But Sedlbauer believes the Pillow boot has potential to be something special again. In fact, he's betting his authentic Canadian heritage on it. "We're bootmakers and our cornerstone is the iconic Pillow boot," he says. "It's been Canada's best kept secret and now Europe and the U.S. are discovering it in a, 'Where have you been all along?' sort of way, and Canada is rediscovering it. It's exciting." •