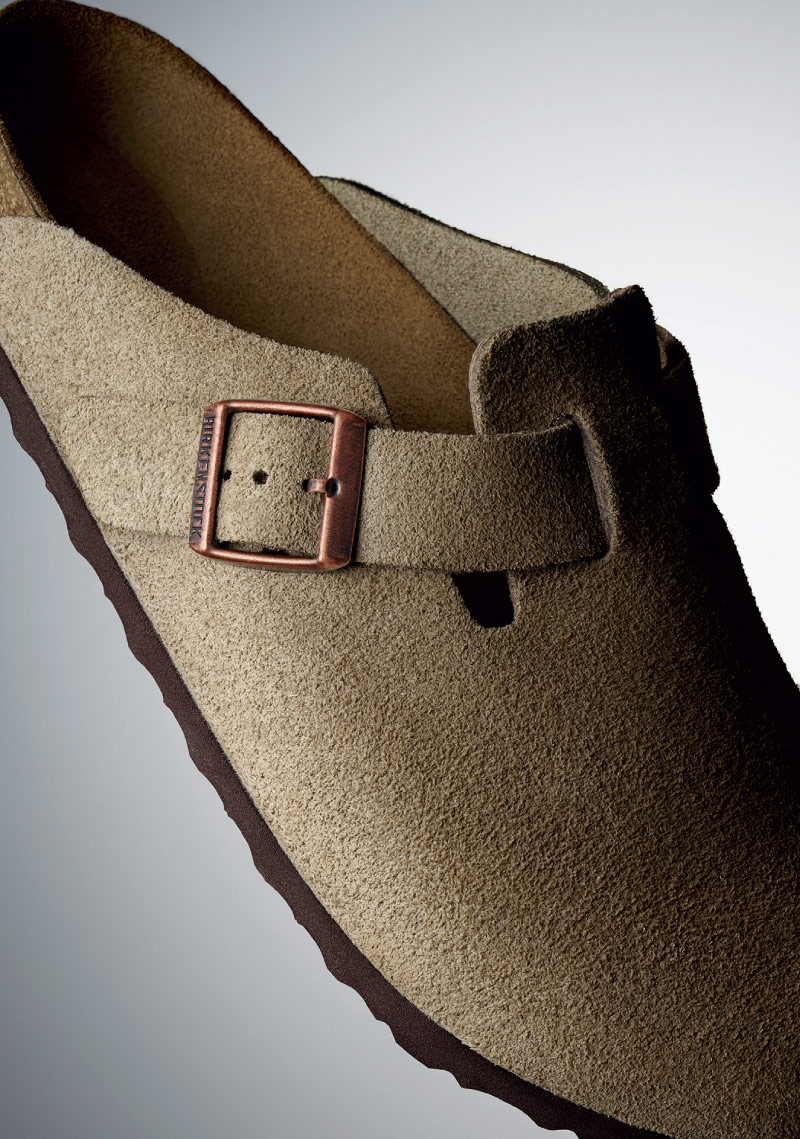 Birkenstock has gone mainstream. The legendary 243-year-old German company, which first entered the U.S. market in the late '60s, quickly became adopted as de rigueur by hippies and went on to become the standard bearer of the "sensible shoes" movement (think function over fashion). It's blossomed amid the comfort-casual revolution, but Birkenstock is far from anti-fashion. Birkenstock is fashion.
But flash back to 1979 when Birkenstock's Boston clog first dipped its covered toe into the marketplace. Back then, the brand was merely responding to growing customer demand. Specifically, the desire to stay comfortable year round. David Kahan, CEO of Birkenstock Americas, says the Boston clog was just a natural evolution of the brand's popular sandals, like the Arizona and Madrid. "In the fall and winter, people still wanted the ultimate foot comfort, and Bostons offered much-need toe protection for when the weather turned cooler," he says, adding, "All Birkenstock styles, first and foremost, are developed with a true orthopedic benefit in mind, so it's less about the consumer profile and more about just making a really comfortable shoe."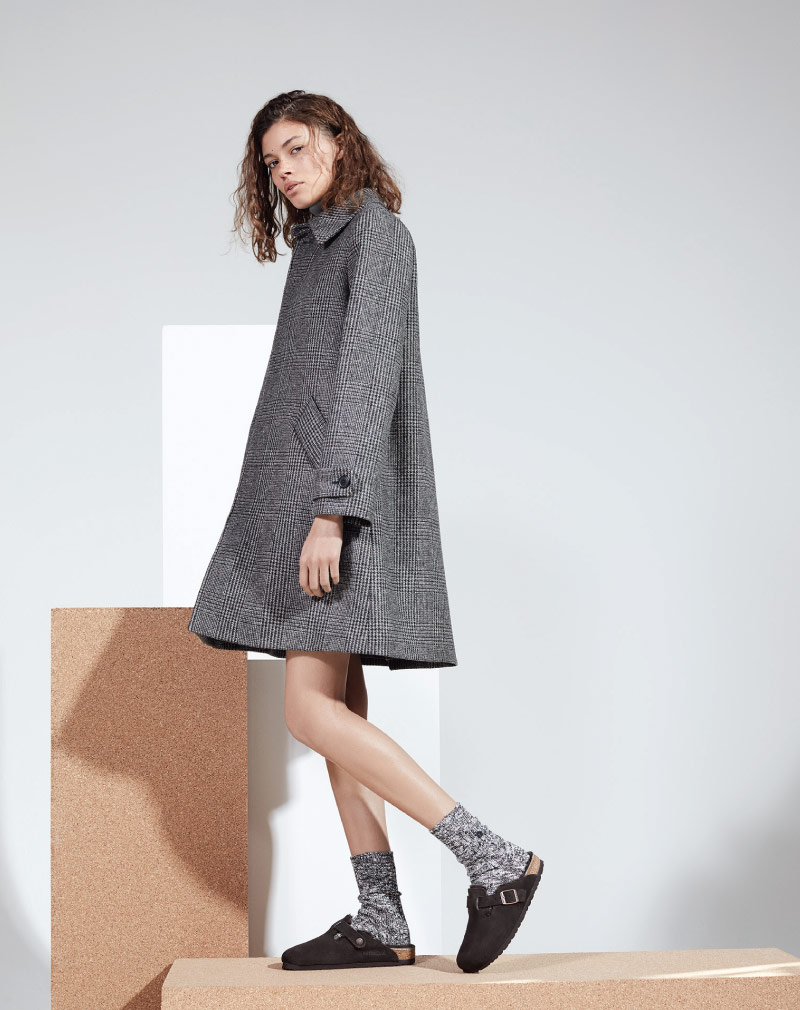 Like with every Birkenstock style, the Boston clog's anatomical cork footbed molds to the foot as well as provides natural insulation. The shoe features plenty of toe room, and the arch support (including metatarsal, medial, lateral and transverse) acts like a healthy fitness routine for the feet. "You're working your muscles and plantar flexing," says Michael Schwartz, vice president of Eneslow in New York. "A Boston clog is like preventative medicine; it's reworking the foot and allowing it to flex and strengthen. That technology dates back to the 1700s, but it still works." 
Jim Murray, owner of Murray's Shoes in Littleton, CO, agrees that the footbed is the driving force behind the Boston's long-running success in his store. "You can buy clogs anywhere with that design and upper and it won't be the same, because of the footbed," he says. It's why so many of the store's customers switch from the Arizona to the Boston when the weather cools. "It's just natural when the weather turns for people to jump into the Boston," he says, noting the store first started carrying the style in 1991. "It's still a key part of our business."
Beyond the proven comfort attributes, Kahan believes what also makes the Boston a perennial seller (millions of pairs have been sold worldwide to date) is its gender-neutral appeal. "Like a Converse Chuck Taylor, it's one of the very few true dual-gender iconic styles in the history of the footwear business," he says. Another selling point, he adds, is the shoe's authenticity. "People want the original, the real thing; and the Birkenstock Boston is as real as it gets," Kahan says. "Every shoe is largely made by hand in our own factories—this is true shoemaking—way different than being mass produced. People like knowing that this style represents genuine quality and craftsmanship."
Young and the Restless
College students were one of the first consumer demographics to really latch onto the Boston clog. "In the late 1980s, the style became a true hit in the Midwest and anywhere near a college campus," Kahan says. "It was a bit of a counterculture statement."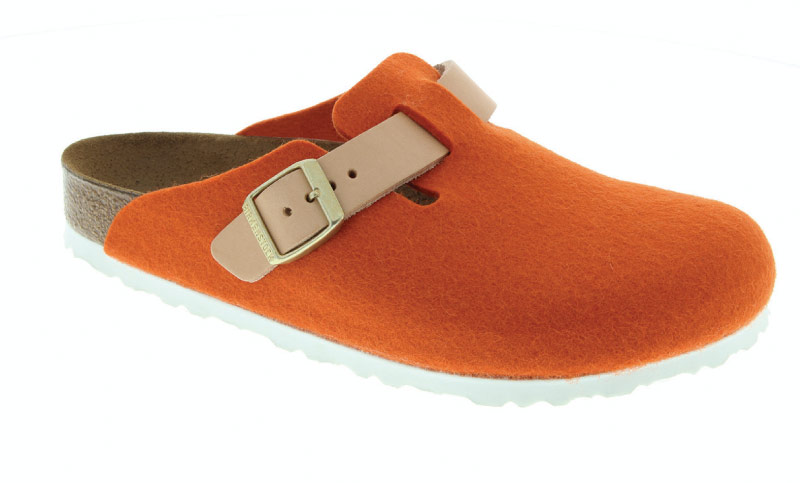 Danny Wasserman, owner of Tip Top Shoes in New York, who was one of the first East Coast retailers to carry Birkenstock, agrees that the Boston was a "big deal" with school kids back in the day. But it wasn't because they were cool-looking. They bought into the comfort aspects, he says. "Most Birkenstocks are viewed as 'ugly,'" Kahan says, agreeing the comfort factor is what has always created the love affair with the brand. "The beauty is in the eye of the beholder, and once someone wears a pair they become hooked; they are fans for life," he adds.
From counterculture to mainstream, Boston clog sales continue to be strong, particularly of late. Kahan reports sales are up 50 percent this year over last. First off, clogs in general are trending, and comfort as a fashion statement shows no signs of cooling. Even Gucci recently did its take on the Boston silhouette. Retailing for up to $1,200, the style is reportedly selling well. It's also the sort of knockoff that is more flattering than infuriating, according to Kahan. "It helps seed the broader demand, since we are the real thing," he says.
Another cool seal of approval have been the recent Boston collaborations with Concepts, the sneaker boutique with outlets in Cambridge, MA, and New York. The first one, introduced in 2014, paired a bright orange felt upper and brass buckle with an eye-catching, stark white sole. The follow-up featured a super-clean leather upper that became more broken-in looking with wear. "These collaborations sold out immediately," Kahan says, adding the two are the most successful limited-edition styles the brand has introduced to date. Another notable Boston collaboration was the quirky Sheherazade Birkenstock Boston x Opening Ceremony, for which paintings from artist René Magritte sat perched on the tops of baby blue uppers as a tribute to Belgium. Those sold like high-art hot cakes too, Kahan reports.
Further proof the Boston is trending young and hip is this season's ad by Journeys that depicts young Millennial women strumming guitars on a sun-drenched hillside, at a dance studio just before practice and taking silly selfies together—all wearing the iconic clogs. These gals are not your typical hippies. Far from it, in fact. The tagline, "Find your carefree comfort," applies to everyday people as well as Hollywood A-listers. "Celebs like Mary Kate and Ashley Olsen and Julianne Moore are pictured often in Bostons," Kahan says, adding Eva Chen is another fan. The former editor-in-chief of Lucky magazine and now Instagram influencer inching toward the 1-million-followers mark recently posted a picture of herself wearing black leather Bostons. The caption: "Okay, I know these shoes will be divisive. But they are coming back, resistance is futile! Don't try to fight it."
Wasserman reports the most popular selling Boston style at Tip Top Shoes is the classic black leather version—because it goes with everything. It's the ultimate clean yet casual shoe for both men and women. Designer Marc Jacobs was the first fashionista to buy Birkenstocks from Wasserman, and now 70-year-olds and kids alike regularly buy the brand, he says.
Murray agrees the brand is hot again, particularly among younger consumers. "Kids are seeing all these models and celebrities wearing the brand and they're scrambling to buy them," he says. "It's a new age coming on with Birkenstock, which is a good thing as we older folks move on."
Shearling Smash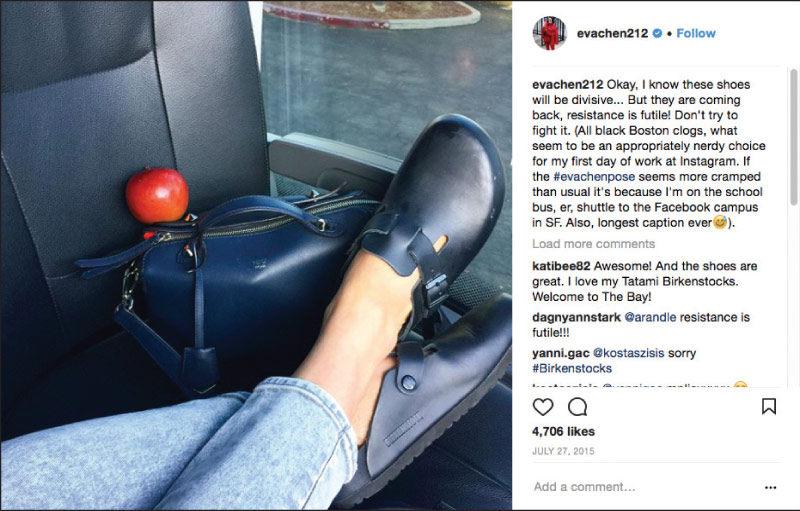 Blogger Gina Mama of ilovebirkenstocks.com agrees that the tremendous cross appeal of the Boston clog is what keeps it popular. "Anyone can rock the Boston; it's a classic clog that can be paired with jeans, slacks, leggings, shorts, skirts or even dresses," she says. If anything, Mama hopes for more daring takes on the style in the seasons ahead. "I want Birkenstock to step outside the box by making them in rich, vibrant colors," she says, noting its Papillio line offers a narrower version of the silhouette in fun materials and colors that leaves regular-width Birkenstock wearers drooling with envy. She cites this season's shearling-lined Boston in a "beautiful Burgundy suede that I love" as a great example. (Mama's wish will soon be answered, as Kahan says a dozen new Boston versions will be introduced for Fall '18.)
Wasserman, for one, has been thrilled since Birkenstock first introduced shearling into the Boston style a few seasons back. "It's really popular with women; and the lining means you don't need socks with them," he says. "Plus, shearling keeps feet warm while also wicking away sweat." What's more, he says that while anyone can line shoes with shearling, Birkenstock uses the material as an ingredient to a larger picture of comfort that's paired with the fan-favorite cork footbed.
Eneslow's Schwartz reports the Boston shearling version has been a hit with his customers as well. "Birkenstocks are on fire. Even my daughter, who is 14, is wearing them," he says, noting that the shearling trend overall creates a stickiness factor for Birkenstock. "The younger generation likes to be comfortable now and it doesn't hurt that celebrities are wearing the style," he adds.
Also helping fuel the popularity of Birkenstock and its Boston clog is the wellness movement. It's a macro lifestyle trend that speaks directly to the brand's ethos. "Years ago, people didn't go the gym, eat kale, hit juice bars and try to buy homegrown. Now that's all changed," Wasserman says. "Birkenstock is all about that, with its natural cork and leather and its ergonomic design." When Wasserman spots someone wearing Birkenstocks it immediately makes him think two things: the person cares about their health and they are confidant in their appearance. "People who wear Birkenstocks are very secure within themselves," he says. "Birkenstocks are like a great mattress where everything falls into place. Once you feel that, it's very hard to switch. They can keep tweaking the uppers as trends change, but the core will stay the same."