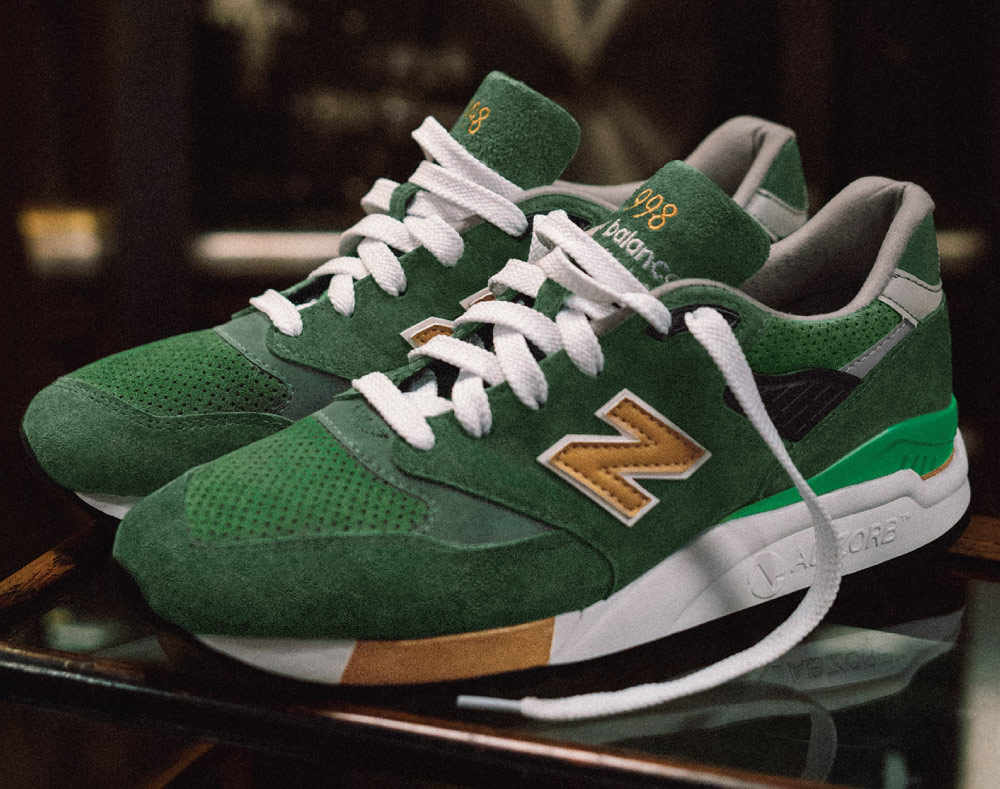 The last major athletic brand to make shoes in the United States, New Balance has established itself as a true American icon. While 98.4 percent of footwear is imported according to the American Apparel and Footwear Association, the Boston-based brand continues to employ approximately 1,300 people and produce more than 4 million pairs of sneakers annually in its five stateside factories—including its iconic New Balance 998.
A uniquely American shoe, the 998 embodies the diverse spirit of the company's U.S. roots with an appeal that spans from laid back dads to cutting edge kids, from committed runners to cultural creatives. Unabashedly itself, with its chunky sole, humble silhouette and limitless colorways, the 998 evokes an effortless and egalitarian style that is a hallmark of American cool.
"I would put the 998 up there with Levis 501s, Champion sweatshirts and Timex watches. When I think of American style it embodies it perfectly," says menswear designer Todd Snyder, whose own limited 998 collaborations have sold out within days of launch. He adds, "When you see a guy wearing them you think, 'Ah, he's in the know.' The 998 has always stood the test of time. It's always a classic."
While the 111-year-old company, which boasts 2016 sales of $3.8 billion, declined to disclose how many 998s have sold to date, Steve Gardner, general manager of Lifestyle at New Balance, says that the 998 is "one of the favorites in the organization and in the industry. It is definitely known for its comfort and consistency."
The gray-on-gray 998 debuted in 1993 with an aim "to be the ultimate product in the New Balance running line," according to Gardner. Building on the success of the 99x series and updating the famed 997 designed by "dad shoe" originator Steven Smith, the 998 introduced New Balance's proprietary foam-based polymer Abzorb cushioning in the sole unit and integrated a stereo equalizer inspired support strap and a variable speed lace top eyelit for fit customization. "Air might have had the flashiness, but Abzorb in the 998 made it an iconic and beloved runner," says Matt Kyte, a New Balance connoisseur who has illustrated every NB 1500 colorway through his 1500 Archive project and runs Contra, a contemporary fashion boutique in Brisbane, Australia. "Well before its newfound status as a lifestyle shoe, the 998 was a cult classic amongst diehard runners, who often have a penchant for stubborn dedication to certain sneaker models," he says.
When the 998's big brother, the 990, hit shelves in 1982, it was the first athletic shoe to reach the $100 mark—a price tag that accompanied New Balance Chairman Jim Davis' challenge to designers to make the most innovative running shoe in the industry. While critics doubted a sneaker could sell for that much, no matter the technical innovations, New Balance doubled its first-year projected sales of 5,000 pairs within half a year and has since sold over 10 million pairs, earning the 99x series its cult status.   
Classic Rock
With the emergence of new performance innovations, the 998 has since transitioned from a shoe for die-hard runners (although is still attracts plenty of running enthusiasts) to a lifestyle sneaker for people desiring comfort, quality and American tradition, according to Gardner. "As time evolved and performance technology in running shoes moved forward, the consumer embraced the 998 for its classic NB styling as well as the great comfort and fit it provided," he says. "The 998 represents New Balance quality and consistency at the highest levels.  The consumer values the Made in USA aspect of this shoe as they know it brings something special to the product."
As a lifestyle shoe, the 998 now captures American individualism and DIY spirit through its limited-edition collaborations, which in addition to Todd Snyder's recent "Dirty Martini" and "Black and Tan" renditions, have included multiple programs with J. Crew; the 2015 Ronnie Fieg x New Balance 998 "City Never Sleeps" shoe inspired by the energy of New York; and five collaborations with Boston-based Concepts International, notably the 2013 hundred-dollar bill inspired "C-note" and the 2016 "City Rivalry" 998, an homage to Fenway Park.
Concepts Creative Director Deon Point notes that the 998's detailed side paneling makes the shoe ripe for collaboration. "The paneling is pretty much limitless. We've dialed it down but we've also taken it up a notch. It's like a playground for us. Rules are limitless and we always try to do new and different things," he says. Concepts has sold upwards of 16,000 customized pairs of the 998 and has offered versions of the shoe upon availability since opening in 1996. "New Balance has been imperative to the growth of Concepts as a brand and retailer," Point says. "They have consistently put out quality product and we have grown with them and tried to get the world to understand how creative a brand it is."
In thoroughly democratic style, anyone can design an exclusive pair of 998s, no established brand name required. New Balance's customization platform, known as NB1 Customize, allows consumers to choose from an array of colors and materials for their own 998s online, and then have their personalized shoes delivered within as little as two days. Richie Roxas, New Balance collector and assistant manager of the New Balance store in Philadelphia, believes that even sans customization the 998 lends itself to unique interpretation. "The 998 is a versatile shoe. It all depends upon the wearer," he says. "Some people like to tie it really tight with their tight jogging pants; some people like to unlace it with the tongues popping out for a street look. It's not just about color, but the way you wear them is diverse." As for Roxas, who has upwards of 600 pairs of New Balance in his collection: "I like mine in the middle, sort of loose, sort of tight."
Power to the People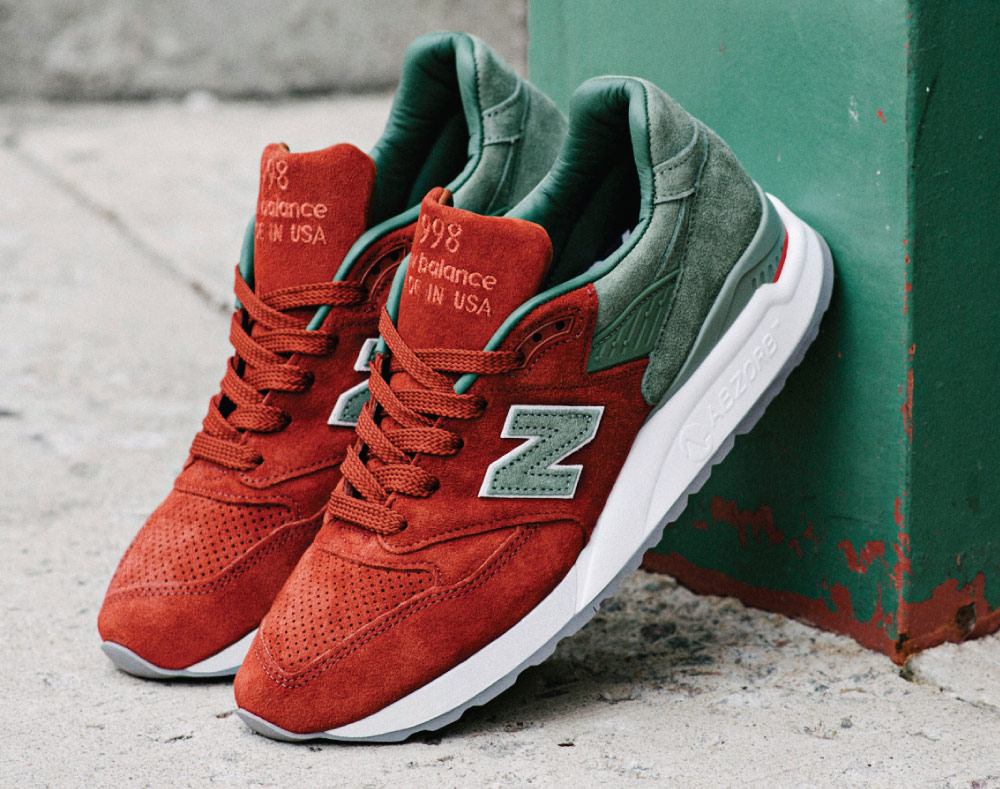 In addition to its seriously committed collectors, the 99x series has been adored by celebrities over the years, including Action Bronson (who even sports a NB tattoo), Kanye West, Ben Affleck and Hilary Duff. Yet New Balance has generally eschewed celebrity endorsements, instead positioning itself as a brand for the people. It wasn't until 2009 that New Balance began regularly endorsing athletes following years of using the tagline "Endorsed by No One". This ethos is reinforced by the brand's use of a numbering system rather than flashy shoe names, and its reputation for catering to all types of people, especially those with hard to fit feet.
The 998 has reached iconic status precisely because it lies beyond the buzz machine. Adrian Daniel, New Balance NZ brand ambassador and a collector who chronicles his love of the brand via his blog, "My Wife & Kicks", says that rather than striving to create the hip shoe of the moment, "New Balance is a thinking man's brand. It's a brand for the self-assured, like Steve Jobs, who don't need to be flashy to make themselves feel better." He adds, "New Balance has always been a shoe for those who value quality over hype."   
As a "thinking man's shoe", it's no surprise then that one of America's most celebrated geniuses became the unofficial mascot of the 99x series. While the late Steve Jobs' signature style of black turtleneck, denim and New Balance certainly aligns with the "dad look" that the 998 is often equated with, Snyder points out that Jobs is, in fact, the epitome of cool. "He was always one of the coolest guys out there. He didn't fit anyone's mold. He was a trailblazer who created his own uniform," the designer says.
In recent years, the 998 has tossed aside its "dad shoe" image, and according to Snyder is now seen as a fashion-forward shoe. "It was the first sneaker I saw worn with a suit. They really pioneered that look," he says. "The 998 is for a guy who is a little more cutting edge. He is somewhat dapper, but with touch of street style." Snyder adds, "The 998 has transcended from the dad shoe to the it shoe."
It is precisely this nonchalant, "I'm gonna do it my way attitude" that makes the 998 so very American, and such a shoe for the ages. According to Gardner, "There will always be trends that occur in the market that will ebb and flow but the 998 will always be embraced by the group of consumers that treasure its authenticity and craftsmanship."
Unlike other iconic shoes that have come into vogue, slipped from style and then made a comeback, the 998 has been a steady player, and New Balance has never ceased its production in the U.S. "There are certain models that are tried and true, that withstand trends," says Point. "There are those shoes that stay on the radar no matter what, and the 998 is one of them. The 998 was chosen by the people."