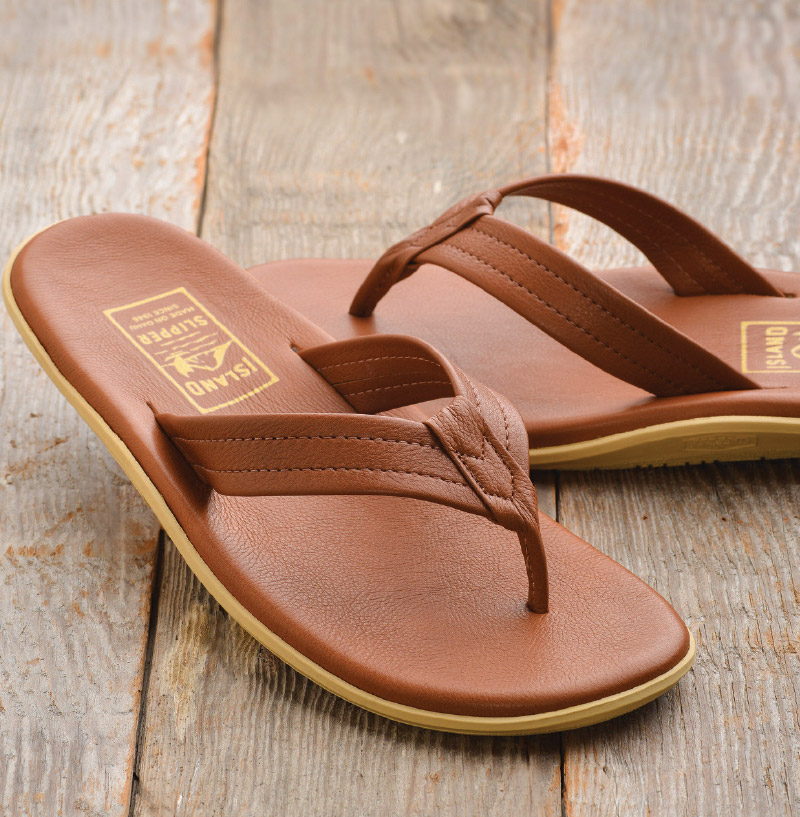 When John Carpenter debuted Island Slipper's Classic leather sandal in 1989, he wasn't expecting for it to take the market by storm, and he definitely didn't think it would still be the company's top seller 30 years later. He just wanted to offer "yachties" who embraced leather boat shoes, a la Sperry Top-Siders, a stylish, open-toe leather alternative, not to mention an upscale, more durable option over flimsy rubber flip-flops. What Carpenter didn't realize at the time was he struck shoe gold, having created what would become an everyday staple that would sell year-in and year-out and now totals into the millions of pairs sold.  The Classic revolutionized the thong silhouette in terms of quality, construction and price.
Today, the Classic owns a cult-like following, despite price points upwards of $100, and comprises 40 percent of Island Slipper's annual sales. The shoe (slipper by Hawaiian definition) is quintessentially Aloha State, and not just because it's proudly manufactured there. Envision the requisite Hawaiian "dress code" and it'll be the colorful Hawaiian aloha shirt, shorts and Island Slipper Classics on foot. As the company's website states: "Our slippers are made for life—island life."
Surprisingly, Carpenter hadn't been formerly trained in shoe design, but it's like he had been building up to that Classic design ever since he first landed a job as a Nordstrom shoe stock clerk shortly after moving from California to Hawaii at age 19. He advanced quickly to department manager, learning the ins and out of retail as well as the wants and needs of consumers. For example, Carpenter noticed how the store's buyers seemingly ignored Hawaii's local shoe manufacturers. He then crossed into wholesale where he went on to earn a degree, of sorts, in shoe materials and sourcing working at Scott Hawaii for eight years. He then connected with Island Slipper, falling in love with the company's rich 40-year history and dedicated local workers. After acquiring the company, Carpenter became determined to put a Hawaiian-made shoe on the mainland map—and the Classic (originally available in black or brown leather) would be the one.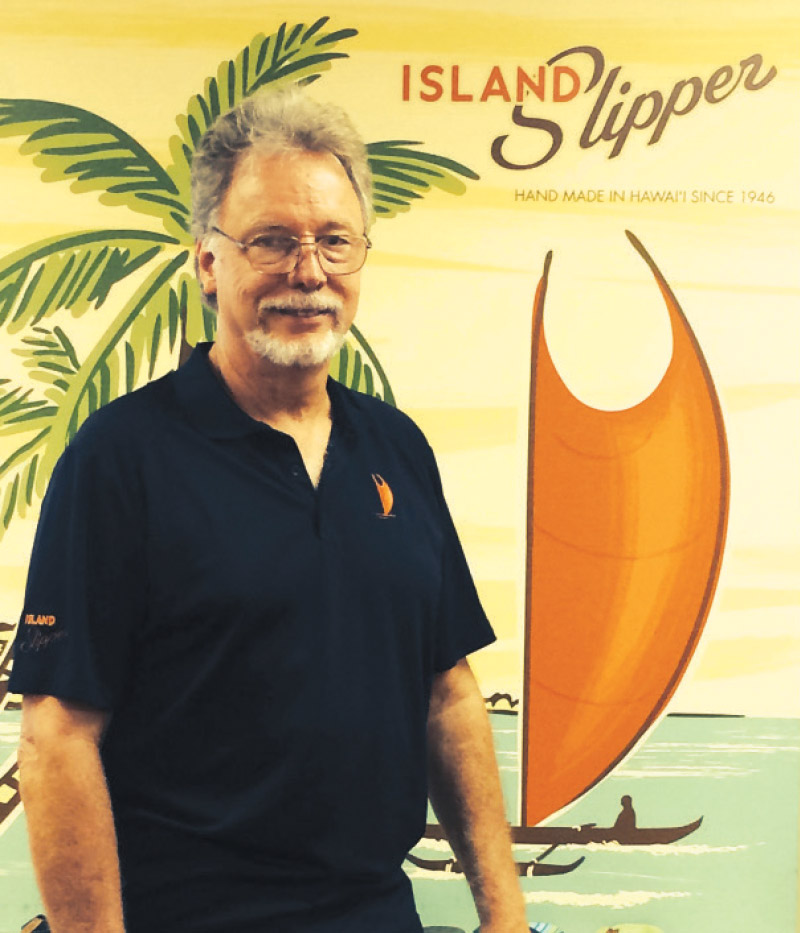 "We took a hard look at what made our rubber IS100 men's slipper so popular—namely its arch support and heel cup, both of which were unique at the time," Carpenter recalls. The key was figuring out how to transition that customer over to a leather version, and that meant designing a new outsole. The Classic features no rise in the heel, or a zero drop, full arch support, a contoured cup to keep the heel centered and a raised outside contour to keep the foot properly aligned—all packaged in a non-bulky profile. In addition, the molded rubber outsole creates a durable foundation, while detailed stitching on the leather strap adds a stylish touch. Overall, the Classic was so much more than the standard flip-flops of the era.
Carpenter, who had embraced local culture to the fullest extent and picked up its colloquialisms, believed his creation set a new standard for what Hawaiians refered to as slippahs. "Flip-flops are definitely a mainland term," he says. "Slippers are part of our culture." (The word 'slipper' translates from the Japanese word zori, introduced when Japanese immigrants worked in the Hawaiian sugarcane industry and left their shoes at the front door when they came home.)
Compared to the brand's original rubber style, the second-generation leather version was more finished and appealing, albeit more expensive. Twice as much, in fact. The Classic's price was $60 in 1989, which smashed the glass ceiling for that silhouette. "When we created the Classic, it required a retail price that the market just hadn't reached yet," Carpenter affirms. But thanks to his retail connections, the local Nordstrom picked up the style right away. And with a market awash in cheap rubber flip-flops, the Classic turned the heads of other buyers early on, as well. But it took some time to gain serious traction among consumers. "It was a big hit with retailers because it was unique, but it was a slow build in sales," he says. One reason was Island Slipper couldn't afford a national marketing campaign. "We figured we'd just put it out there and let the public decide," Carpenter says.
Back then, there was no ecommerce channel to help get a shoe off the launch pad; there were just trade shows and reps to get it into stores. (Placement early on in the Sharper Image catalog helped with national exposure and, later on, two flagships in Hawaii helped build brand awareness among locals and tourists.) "Sales were steady domestically, but we weren't setting anything on fire," Carpenter remembers, noting the company still sold more of its rubber styles. "There wasn't a lot of conversion." Until, that is, a quarter-ton sumo wrestler stomped into the picture.
A Huge Endorsement
His name was Konishiki, and he was one of the dominant sumo wrestlers during the '90s. He hailed from Hawaii's west end, making him a local hero. "We didn't know it at the time, but he was a huge fan of the Island Slipper Classic," says Carpenter.
From left: Island Slipper's Waikiki flagship, working the last at the Hawaiian factory, sumo wrestler Konishiki sporting the Classic.
After Konishiki was photographed numerous times wearing the sandals, the style quickly became "big in Japan," where the sport and its giants are revered. Many of the country's leading retailers reached out to Island Slipper following the Japanese-Samoan Hawaiian's non-paid endorsement. "We had half a dozen Japanese distributors approach us about carrying the line," Carpenter says. And unlike American stores with their broad selections, he notes that Japanese retailers are tight curators, which enhanced the Classic's exposure. "These retailers will have 100 outlets in Japan, and if they carry a leather slipper, it's the Classic," he says, noting that a Birkenstock comfort sandal and Teva sport sandal would often round out the mix, but with very different styles. Fewer brands overall in those stores meant increased visibility and cachet for Island Slipper, he notes.
The Japan connection would soon drive hipper, twentysomethings to the sandal and Island Slipper, expanding far beyond that original older "yachtie" target customer. American retailers on trendspotting tours in Japan noticed the Classic. J.Crew, for example, approached Island Slipper for a collaboration, and it was also picked up by Steven Alan. Along the way, one of the Japanese distributors connected Carpenter with Takashimaya department store and Chiso (the oldest kimono manufacturer in Kyoto, creating designs for the Royal Family since 1555) for a collaboration. Chiso possesses archives of exclusive textile patterns. "The Takashimaya x Tatsumura x Chiso became one of our biggest collaborations, featuring an insole made from kimono material," Carpenter says. "We have yearly rollouts to this day."
Overall, collaborations have been an important strategy for the Classic to keep it fresh. To date, Island Slipper has done about 50 collaborations. Many have been home runs. The Chiso style, for example, blew out of Takashimaya, and it was priced at about $300. J.Crew's collabs have also been creative and coveted, featuring everything from U.S. Army vintage tent materials to salvaged denim. Meanwhile, a recent Opening Ceremony collab is driving the Classic's criss-cross slide style's popularity in Island Slipper stores. (Slides now comprise 30 percent of Classic sales and are growing steadily.)
Overall, the Classic's sales have remained strong year after year. "We've probably been at peak production for well over 10 to 15 years, maybe longer," Carpenter says. Japan accounts for 30 percent of sales. Another 30 percent come from Hawaii and the rest on the mainland plus a growing international segment. Island Slipper is opening accounts around the globe in such places as United Arab Emirates, New Zealand, South America and more. It helps that a steady stream of tourists visiting Hawaii year-round often seek out the Classic, looking to appropriate a piece of  local culture and shop locally. Upon returning home, word spreads far and wide about the cool new sandals they're sporting. Plus, a little free marketing has never hurts the Classic's sales. "After a popular band mentioned Island Slipper at a pre-concert event at the Royal Hawaiian shopping center, customers mobbed our 2,000-square-foot store. You literally couldn't get in the door!" Carpenter says. "We don't pay for any publicity like that, but we welcome it."
The Price is Right
With so many less expensive, forgive us, flip-flops on the market, what makes a consumer shell out $100 for the Classic? For starters, it's the real deal. "Most people who find our brand have researched it, follow us on Instagram and seen the trends," says Carpenter. "They want to be a part of the brand and its very authentic story."
The price/value relationship also becomes evident when people realize how long the Classic lasts compared to much of its flimsy-made competition.
Carpenter once had a local fisherman call to report how his sandals lasted so much longer than rubber, Made in China ones. "He had to walk across hardened Hawaiian lava, which can be like walking on shards of glass if you don't have the right shoes," Carpenter recalls, adding, "Island Slippers are the work boot of Hawaii."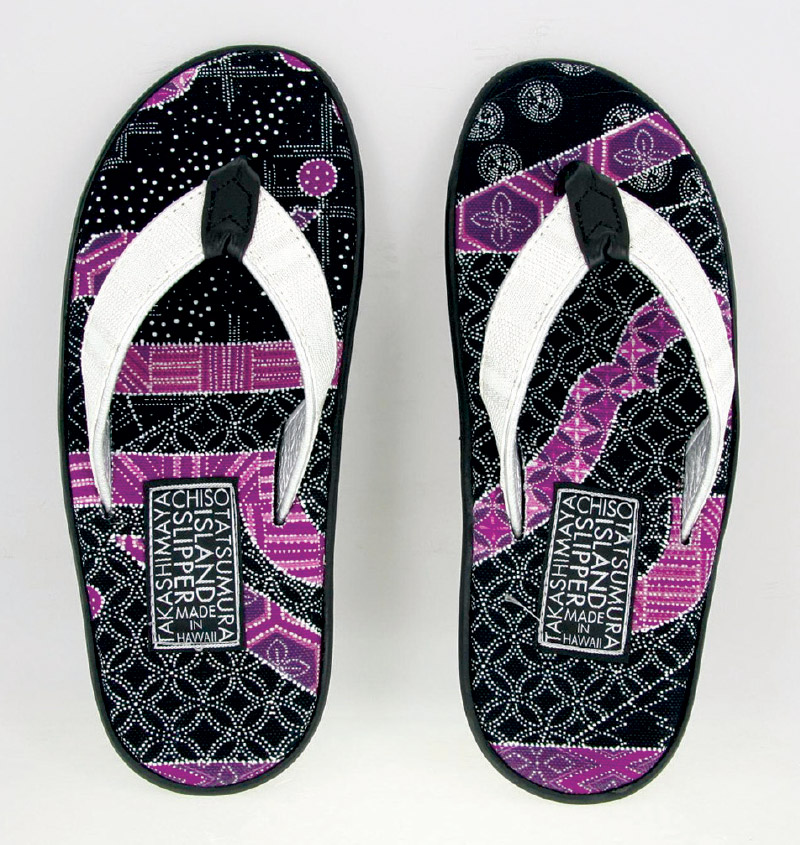 It's safe to say that most customers are not traipsing across sharp lava fields, but they still want their sandals to last longer than, say, a two-week vacation. For many, this style is their go-to shoe—poolside, changing at the gym, around the house, all summer long, etc. They demand comfort, quality and style. What's more, they've already burned through countless inferior versions. It's one reason why Carpenter says retailers enjoy watching customers try the Classics on for the first time and often become instant converts.
"We don't push it, but once people try it on, we don't receive any price resistance," says Patrick Nguyen, business partner of The 4th Basement, which has locations in California's Redondo Beach and Rancho Palos Verde. The 4th Basement's clientele is 80 percent men, which he feels adds to the Classic's appeal. Nguyen observes that men tend to be more about the investment, while women are more price sensitive. "Men don't like shopping, so they'll pay more for quality if it will last a long time," he says.
Classics also look like a deliberate fashion choice, whereas rubber flip-flops can look like you left the house disheveled. Then there's the Classic's made in U.S.A./Hawaii, factors that serve as two more strong talking points for retailers. "The made in the U.S.A. angle has skyrocketed of late," says Nguyen, noting how made in China has increasingly negative connotations. "It's cool to be patriotic now, and we actively promote the brand's Hawaiian heritage with customers." Knowing about local manufacturing also helps justify the higher price, which is increasingly an acceptable tradeoff as shop local gains momentum. 
Steve Lee, owner of Cosmotog in Orange County, CA, has carried the Classic for about five years, selling a few hundred pair each season from late spring through summer. He too has witnessed its customer evolve over the years to one who is now seeking higher quality and more longevity in their sandal purchases. "The college kids love the Classic," says Lee, whose store is near Cal State Fullerton University. "And if they can't afford them, they grab their parents to buy them. This is Orange County!"
Sales of the Classic today are about 60/40 in favor of men's. Early on, women helped drive demand by purchasing men's styles in smaller sizes. Since then, Island Slipper has developed women's-specific molds and footbeds as well an array of feminine colors and prints. Today, the women's collection spans leather and suede, leather with ripstop camouflage, brightly colored footbeds and suede straps embossed with pyramid studs.   
Today, the Classic is mainly found in independent stores, having moved away from department stores and all their costs and logistical demands, according to Carpenter. "It's been nice to get away from all that. We've evolved to more of a trendy store kind of thing," he says, giving credit to his son, Matt, and daughter-in-law, Tersha, who joined the company in 2011. They have brought their marketing and social media expertise to the family business. Not long after their arrival, Island Slipper was recognized as one of Hawaii's 50 Fastest Growing Businesses as well as Best High-end Slipper by Honolulu magazine's Best of Honolulu survey. Indeed, fans of the Classic are robust, with hundreds leaving five-star reviews on the company's website while waxing on about having worn them during memorable vacations and endless summers.
Having been with the Classic every step of the way since its inception, is Carpenter at all surprised by its cult status and love letter-like reviews from its legions of fans? "Not at all. I always knew it had potential based on the feedback, and I always had the vision," he says. "It just took a long time!"