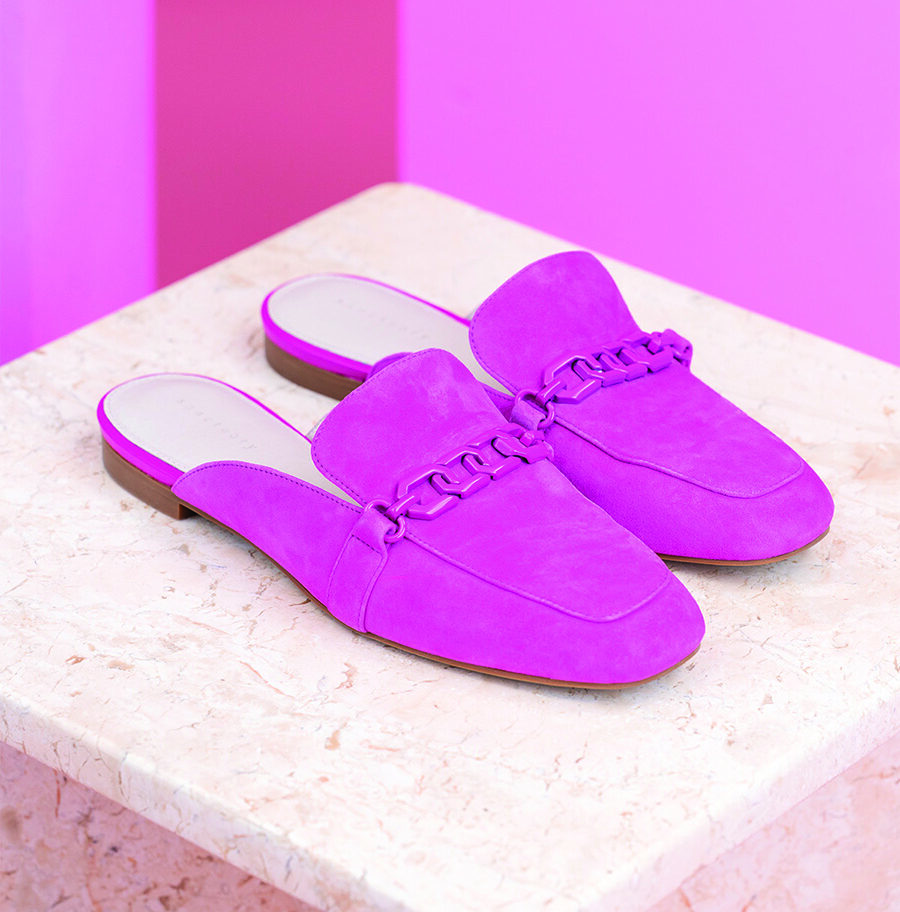 Sanctuary, a license of Highline United, entered the footwear market in early 2020 on the heels of its strong lifestyle reputation built in women's apparel. Creators Ken and Deb Polanco launched as a pants brand 23 years prior and have steadily expanded into other categories fueled by a unique combination of laid-back California cool and effortless New York attitude. The result: modern, timeless fashion. The brand has also built a strong following based on its commitment to lessening its carbon footprint whenever possible, which strongly resonates with its target audience.
Similarly, Sanctuary footwear is aimed at a fashion-savvy, but not a trend chaser-type of customer, says Christine Fuchs, president of sales/design for Highline United. "That includes the eco-conscious shopper who appreciates the sustainable story behind every one of our shoes as well as our recycled packaging."
Sanctuary's eco-friendly footwear efforts, dubbed Smart Creation, include the use of low-impact fibers such as linen and Tencel that use 20 times less water than cotton, are non-toxic, and leave behind minimal waste and emissions. Additional eco-friendly materials include stretch fabrics made from recycled post-consumer plastic bottles, chrome-free leathers and suedes that are gold rated by the Leather Working Group, bio-oil Memory Foam insoles made from forestry waste, toe box and counter pockets made from fishing nets recovered from the oceans, and recycled fabrics. "We also recently developed a sneaker outsole comprised of a coffee grind and corn starch polymer," Fuchs says, noting the SRP is $89-$139 for sandals and shoes, and $149-plus for boots.
Sanctuary walks the green walk, which Fuchs believes is rare in the footwear industry. "Several well-known brands tend to use just one sustainable component—like a recycled fabric upper—and then over-advertise the eco-friendly aspects of that shoe," she says. "Sanctuary, on the other hand, dives deep in to making as many, if not all, parts of a shoe as green as possible, and we include traceability and certification." The exec adds, "What good is one recycled component if the rest of the shoe is made of plastics and harsh chemicals? Our slogan is, 'We value nature,' which we truly live by, inside and out."
Still, to quote a certain well-known Muppet, it's not easy being green. So why go through all the trouble? Fuchs believes it's simply the right thing to do. Being green, she adds, becomes habit-forming—in a good way. "The idea of being more sustainable has become ingrained in our team's way of acting. We've transformed our daily practices within the office—like doing away with plastic water bottles and other single-use plastics, recycling paper goods, etc.—and our factories are also following similar practices, along with reducing the amount of electricity and water use whenever possible." Fuchs adds, "Small, daily changes add up, so if the idea of helping our planet is something you truly believe in, it's not so hard 'being green.' After all, it's the only planet we have!"
While debuting at the onset of the pandemic brought challenges, Fuchs believes there's been a silver lining. Namely, learning the art of scaling back. "Long gone are the days of massive overdevelopment," she says. "A tighter focus within design and a smarter approach to managing deliveries and inventory have been building blocks for us." Fuchs reports the past year has been successful. "We've brought in new key accounts, have seen an increase in sales overall, and have had more significant reorders, which helps establish our core, year-round styles."
On that note, Fuchs says Sanctuary's game plan going forward is more of the same: stay focused on emerging trends, incorporate new eco-friendly practices and materials, grow U.S. sales, and expand internationally. "Sanctuary is a bicoastal brand that caters to a woman's work and weekend needs," she says. "Thus, inclusivity as well as sustainability will remain at the forefront of our designs."