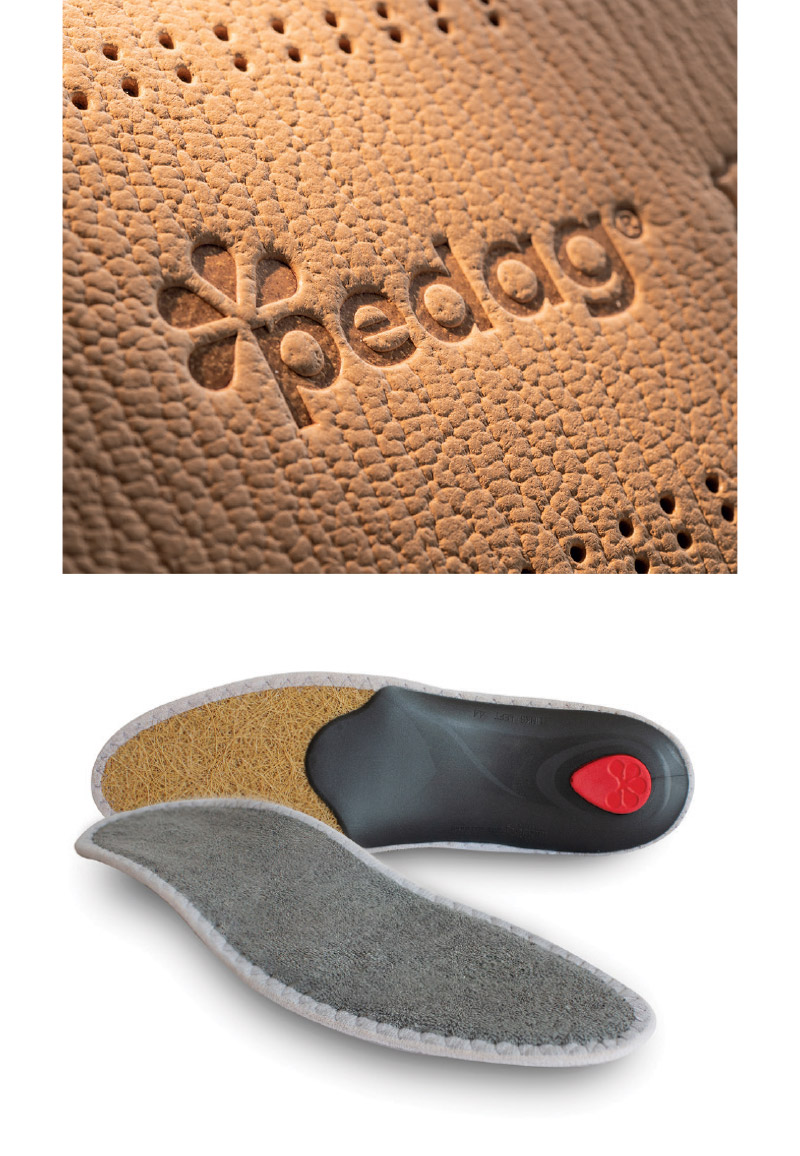 The German components company Pedag is upping its sustainability efforts, which span product, packaging, solar panels (recently installed at the company's headquarters), and electric company cars. Even the logo imprinted on the millions of insoles the brand sells annually has gotten an eco-friendly makeover.
Pedag's logo had long featured a gold foil imprint design on its leather and cork insoles, a process that involved printing the pigment on plastic sheets and created lots of manufacturing waste with every stamp. "Now we do a hot-stamping logo without any gold foil," says Thomas Timm, CEO of Pedag. "We underline the natural characters of the leather and cork, and we're also reducing waste in our manufacturing process."
The more sustainable logo is just one of many ways the 68-year-old company is seeking to lessen its global footprint—without sacrificing quality, comfort, or performance. Another involves environmentally friendly packaging. Pedag had switched to renewable carbon paper several years ago, but the team saw a way to get even greener. "We still had quite a lot of plastic packaging in our line," Timm explains. "So now our insoles packaging is made of completely renewable carbon boxes, and the plastic hooks are 100 percent recycled materials."
It's another win-win scenario, as the new packaging is consistent across all categories and showcases the product better. "Before, we had different packaging based on fashion, outdoor, comfort, and athletic sectors," Timm says. "We now have one design, which adapts to the different channels of distribution via category-specific point-of-sale lifestyle photography. The product is the hero, consumers recognize the brand more easily, and it's easier for the retailers to merchandise. We now have a homogenous customer journey."
In truth, Pedag has been driven by sustainable design principles since its inception in 1955—long before consumers cared about such things. "We've always sought to make a good product that's good for people, because natural materials feel much better against the skin," says Ivan Komashinskiy, president of Pedag USA, noting that these materials are part of the company's DNA. "They're moisture-absorbing and good for the body's microclimate, and step by step we realized these materials are better for the environment as well."
Even so, both Timm and Komashinskiy believe consumers buy Pedag insoles and shoe care products over competitors' because of the quality-price ratio first and foremost. Eco-friendly attributes tip the scales further in the brand's favor. "The beauty is our products are priced below the leading brands that are made in Asia and from synthetic materials," Komashinskiy says. "For example, our flagship insole products, made from vegetable-tanned cowhide, retail for $40, while synthetic competitors start at $50—and we offer 60 percent margins." Not surprisingly, he reports strong sales of late in the U.S. "The last few years we've seen double-digit growth and have doubled revenue," he says. "Our brand story resonates very well, especially among independent retailers."
Looking ahead, Pedag will continue to build on its sustainable foundation. Timm is proud to report that solar panels will soon enable the company's factory to produce its own electricity. "It marks a big step for us in reducing our carbon dioxide output in manufacturing," he says. "In fact, we'll produce more electricity than we need, so we'll sell it to the surrounding area."
Pedag is also in the process of transitioning its cotton surface insoles to bamboo—an abundant, renewable material that is far less labor intensive than cotton and doesn't involve using suppliers in China's Xinjiang province. The bamboo terry material will be made in Spain. Moreover, the company is addressing the industry's dirty little secret: harmful adhesives. "They're harmful to the environment, workers, and consumers," Komashinskiy says. "That's why we only use solvent-free, water-based adhesives, and while it takes a longer time to set and thus adds cost, we don't compromise on that aspect."
The same goes for the materials used in Pedag's shoe care collection of waterproofing agents, cleaners, and conditioners. Renewable raw materials include lanolin, carnauba, and beeswaxes. The eco-friendly collection is biodegradable, free of solvents and fluorocarbons (PFCs), and safe to use indoors. Even Pedag's shoe trees and brushes are manufactured in a carbon-neutral way. The wood is regionally sourced in Germany, while items made with plastic consist of recycled materials.
Being green isn't easy, but Pedag is committed to adhering to the three guiding principles of its founder, Hartmut Schelchen: Produce in a resource-saving way, use natural materials as much as possible to create healthy products, and always remember the human being is the center of attention. While that resource-saving production philosophy stemmed from a post-war economy of scarcity, it has taken on new relevance in the age of climate change. Thus, Pedag's sustainability mission continues. "It's impossible to be 100 percent sustainable, and there isn't a final destination on this journey, but we're always learning and trying to improve our efforts," Timm says.