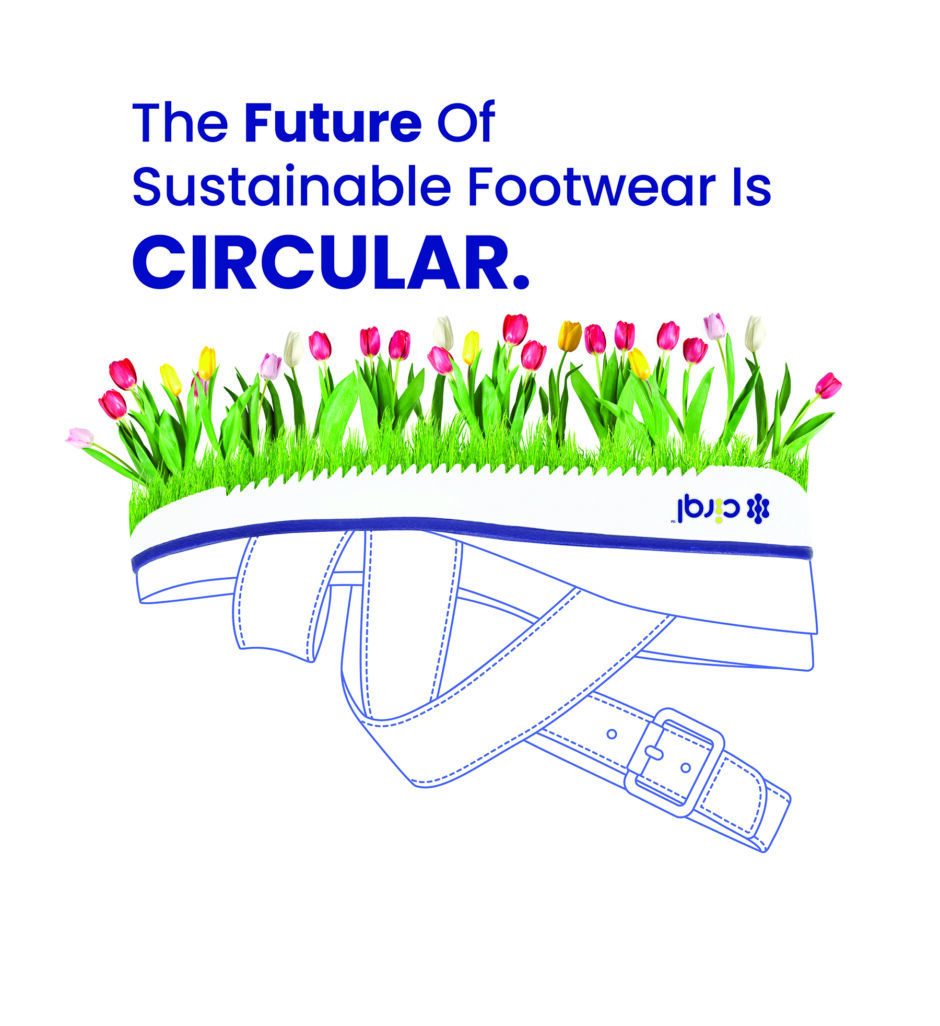 Shoe manufacturing has inherently been a dirty business, especially when it comes to the use of man-made EVA materials commonly found in athletic footwear. That foam-like material pollutes landfills for millennia. And every year, in the U.S. alone, consumers throw away more than 300 million pairs of shoes, 95 percent of which end up in landfills. There must be a cleaner alternative.
Enter: OrthoLite Cirql, the world's first circular foam material solution. OrthoLite spent the past several years in deep dive mode to develop this sustainable, 100-percent biodegradable foam cushioning alternative. Now the Amherst, MA-based company is teaming with Novamont—a leading developer, producer, and designer of biodegradable and compostable bioplastics and biochemicals—to bring Cirql to the masses through OrthoLite's 500-plus footwear brand partners and factory stakeholders beginning the second half of this year.
Essentially, two leaders in their respective fields are joining forces to revolutionize manufacturing and create a global solution for environmental improvement across a footwear industry currently valued at around $400 billion. It's a big deal.
"It comes down to one word: trust," says Glenn Barrett, CEO and founder of OrthoLite. "We chose to partner because both companies are trusted organizations with trusted teams that have successfully grown and created expansion by delivering trusted solutions for decades. Now, we're combining that power to drive the most important innovation for both companies to date: OrthoLite Cirql."
Based in Novara, Italy, Novamont is a 33-year-old entrepreneurial technology company with a track record of pioneering change and soil health through its circular biomaterials, says Barrett. The company has developed low-impact, certified biodegradable, and compostable solutions with multiple end-of-life options for agriculture, food service, packaging, and organic waste collection. Barrett believes the partnership will result in a cornerstone solution that will drive design and production of more sustainable/circular footwear going forward, starting with midsoles. "Footwear is a very large consumer product segment with incredible reach and influence," he says. "We're excited by the potential of this partnership because it combines Novamont's proven biopolymer with our clean foaming process to yield a game-changing sustainable materials solution to the footwear industry. Our global teams are so fired up to deliver—at scale—the world's first sustainable and circular footwear materials that will enable our 500-plus brand partners to meet their climate-friendly manufacturing and product goals."
OrthoLite Cirql is free from forever chemicals and responsibly sourced from non-GMO raw materials derived from plants and synthetic biodegradable materials. It can be returned to the production cycle using low-energy, advanced chemical recycling to help keep materials in use or returned to nature through selected industrial composting methods and processors. Using existing and new closed-loop, take-back, recycling streams for footwear, scalable end-of-life management will involve collaboration with footwear brands and the waste management sector. OrthoLite Cirql will also help prevent the accumulation of persistent microplastics because the particles in it biodegrade just like cellulose and other natural polymers do. What's more, extensive testing reveals Cirql to be as good or better than EVA in terms of performance and durability.
"Brands are extremely excited about what OrthoLite Cirql offers to the marketplace, and how it effectively addresses the need to eliminate the use of toxic or hazardous chemicals and materials currently used in the manufacturing process," Barrett says. "OrthoLite Cirql will help drive the industry towards true circularity."
To that end, Novamont developed a material for OrthoLite Cirql's chemical-free foaming process, in which the biopolymer pellets are melted and mixed with liquid nitrogen under extreme pressure. The unique injection-molding process results in incredibly efficient cycle times that reduce energy consumption and create a finished part with no downtime, polymerization, or waste.
"Novamont has always based its model on the development of products conceived as true catalysts for change, which are capable of activating much greater systemic effects than the product itself, and not as mere substitutes for traditional ones," says Catia Bastioli, CEO and founder of Novamont. "Our philosophy has always been to avoid the problems of pollutant accumulation in the environment, and the fruitful collaboration with OrthoLite, a company that is also committed in finding solutions and not just products, allows us to bring our approach to the footwear industry for the first time."
Of course getting to scale takes time. Cirql was officially introduced last March and, over the past year, OrthoLite has invested heavily in educating and creating awareness in the industry before the official launch. Change is never easy, and at this scale it's exponentially more challenging. How would Barrett grade the company's efforts so far? "I'd give us an A+ on building awareness and generating interest," he says.
The commercialization path for any innovation can also take unexpected turns that impact the go-to-market strategy, and Cirql is no exception. "We experienced many of the same supply chain–related challenges that everyone experienced over the past couple of years, and scaling from a lab to repeatable production trials presented challenges," Barrett says. "What we're most proud of is how our team has persevered through all this. The demand for Cirql is overwhelming, and we anticipate that all of our brands will adopt it once we officially launch."
The initial goal is to roll out Cirql in collaboration with OrthoLite's key partners. Cirql will be exclusively available to brands that support its core business. "The key is to deliver on our promises and to provide world-class service to both the brands and their T1 partners," Barrett says. "So, as we activate production together with our brand partners, delivery, service, and support will be critical to our mutual success."
Looking five years out, Barrett says the growth plan is aggressive but within reach. "We remain confident that these goals will be achievable based on the initial demand from our OrthoLite brand partners," he says. "And with brands looking for a more sustainable solution compared to the traditional plastics utilized across all parts of the shoe, Cirql checks those boxes."
In many ways, Cirql is a logical next step for OrthoLite, founded 26 years ago with insoles containing rubber from recycled tires. The company's goal is to achieve zero waste by 2025—a significant move toward pollution reduction and the regeneration of natural systems, which are central tenets of circular, sustainable solutions.
"From day one, OrthoLite has delivered sustainability stories unlike any other component supplier, and today we have the largest portfolio of eco-technologies to support all categories, applications, and price points in footwear," Barrett says. "From product to our processes, we've been synonymous with comfort, performance, and sustainability."