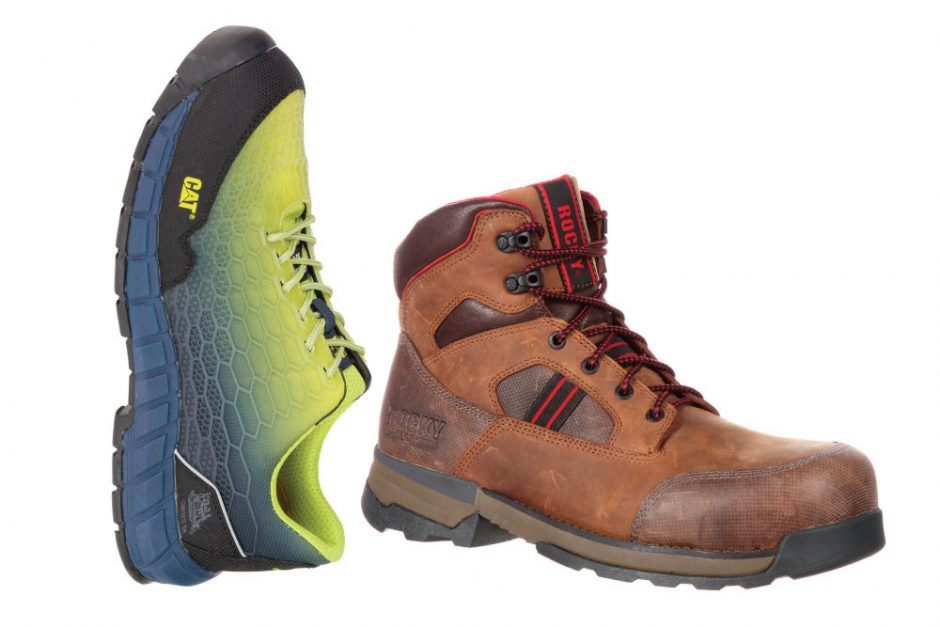 It's no secret that when the economy is soft, sales of occupational footwear take a hit. Fewer jobs, especially those in heavy industries and commodities, have an adverse impact on the work boot market, in particular. Boots are sitting in the closets of the unemployed, and many of those workers still lucky enough to be collecting a paycheck are looking to get another season out of their current pair.
Jordan Gottke, marketing director at Georgia Boot, a division of Rocky Brands, cites the steep drop-off in production in the oil industry (thanks to a worldwide glut in supply and low prices) as having a negative impact on work boot sales of late. Roger Huard, vice president of product development at Wolverine, adds that the slowdown in the natural gas sector (again thanks to low oil prices) has also negatively impacted the market over the past several months. In particular, fracking states like North Dakota, Oklahoma, Louisiana and Texas that had booming localized economies only a few seasons ago have since grown cold—and work boot sellers have been feeling the big chill.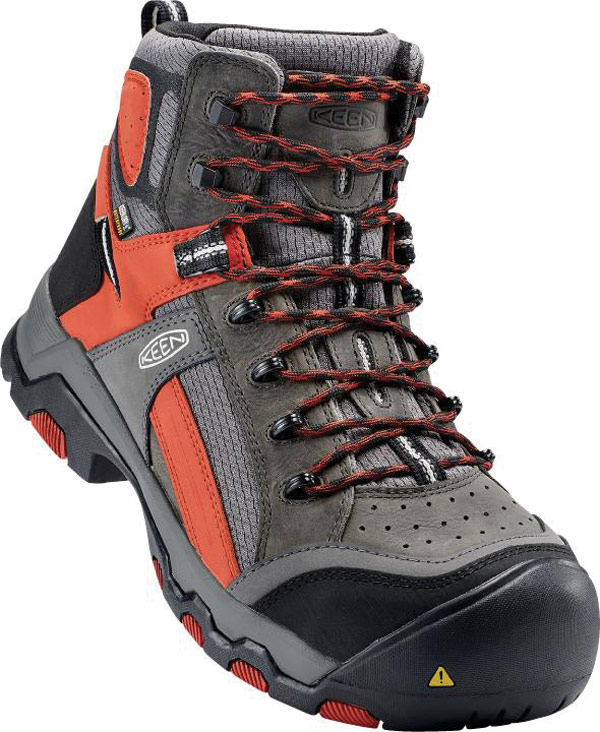 Of course, these sort of industry slumps are cyclical. They are boom-and-bust industries regulated by the laws of supply and demand. They will rebound eventually, and, in the meantime, industry execs say it's not all doom and gloom. There are bright spots within the market, led by a Millennial-aged workforce in want of athletic-infused styling and in need of lightweight and versatile silhouettes. "There are several positive things happening within the safety-toe arena," offers Huard. "All indicators point to the fact that construction, as a whole, continues to thrive."
In addition to construction statistics being up (often a bellwether of economic recovery), Courtney Frank, marketing manager at Cat Footwear, a division of Wolverine Worldwide, is optimistic that once the presidential election is (finally) decided, sales should get a shot in the arm. Elections, many pundits say, make consumers nervous about spending in general. And with the daily mudslinging by both candidates about all that is wrong with America, can you blame consumers for sitting on the shopping sidelines? Many are waiting to see how a Trump or Clinton win might affect policies like trade, minimum wage, immigration, healthcare, taxes, infrastructure, etc. Like Frank, many work boot execs, express hope that once a new president is sworn into office, consumers will return to more predictable spending patterns.
Thinking Positive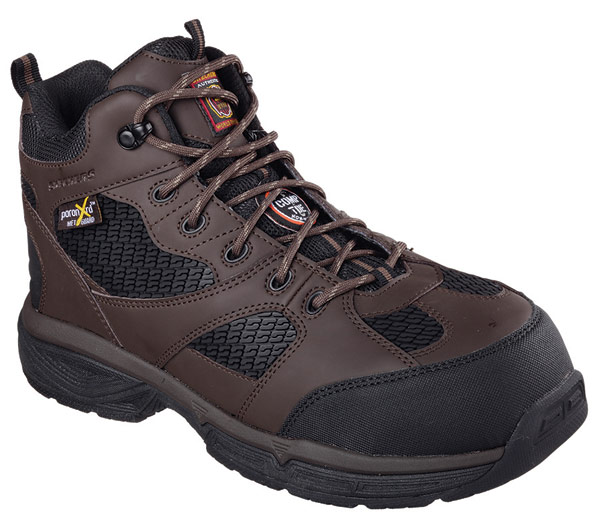 While external headwinds like a weak economy are out of the hands of work boot makers, what is in their control is the products they make that answer the needs and concerns of today's workers. For Cat, Frank sees a bright future in focused product offerings that address the shifting attitudes of today's customer. That translates to "consumer centricity" and innovation as keys to connecting with this demographic, she says. "We are taking major steps in understanding our younger consumers and their journey, taking into account new technologies and the evolution in how they shop and live," Frank offers. Given the athleisure craze, athletic-inspired styling features strongly in the brand's Spring '17 collection. The trend holds true for many brands, and many of them cite aiming to appeal to Millennials, specifically. This group's influence and purchasing power simply can't be ignored. "This is the largest generation in U.S. history, and as they reach their prime working and spending years, their impact on the economy is going to be huge," Huard says, noting, "How Millennials interact with brands and what's important to them is considerably different than other generations."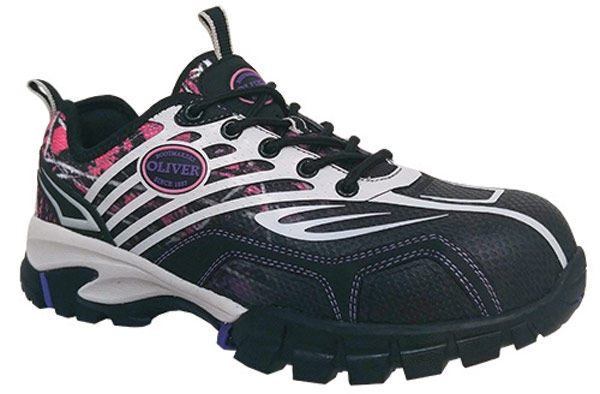 Keeping in mind the shifting tastes of a workforce that is "getting younger," Rocky aims to offer an assortment of work styles that speaks to the aesthetic preferences of this generation as well as changing job conditions. Ryan Maisenbacher, marketing manager, says the focus is on the increasing demands for warehouse and distribution center settings. He notes that the economy is increasingly shifting to a service-based model, requiring lighter, less feature-driven work footwear. Responding to these needs, Rocky will introduce its Mobilwelt collection for next spring. The boots feature a form-fitting elastic arch band that aids holding the foot in place during "even the longest" of work days, Maisenbacher states. Also new from Rocky is the Flexagrip line, which showcases high abrasion-resistant woven uppers in a sleek and comfortable hiker silhoutte. In addition to an overall focus on lightweight comfort, he estimates that about half of Rocky's Spring '17 collection features an athletic and youthful aesthetic suitable for on or off-duty—an important selling point for Millennials seeking versatility.
Wolverine is also targeting a younger-age workforce in light industrial, warehousing and logistics jobs. Huard says the brand's new athletic shoe styled collection features a CarbonMAX safety-toe that provides the ultimate in lightweight protection. Key styles include the Rush and the Jetstream. "The growing significance of the younger consumer and influence of athletic design are driving forces in today's work market, which helps explain our new athletic introductions," Huard affirms. To appeal to the "core work consumer" in construction and heavy industrial settings, Wolverine is introducing the Blade LX and the Blade FX with EPX technology to increase comfort and help fight fatigue. Also in the mix is the Legend LX, a work boot extension of the brand's DuraShocks technology, which incorporates the stabilizing Wolverine H-Plate suspension while forming four independently responsive quadrants to "harness step energy", in addition to shock-absorbing sidewalls. Last but not least is the Glacier Ice boot, which features EPX technology and a Vibram Arctic Grip outsole for an "unparalleled grip" on slippery surfaces, according to Huard. The rubber lug sole is made from two compounds for supreme traction and the four millimeter lug depth and a wide lug design provides optimal surface contact for performance on varied terrain. Meanwhile, a 90-degree braking heel helps with steep descents.
Sport Style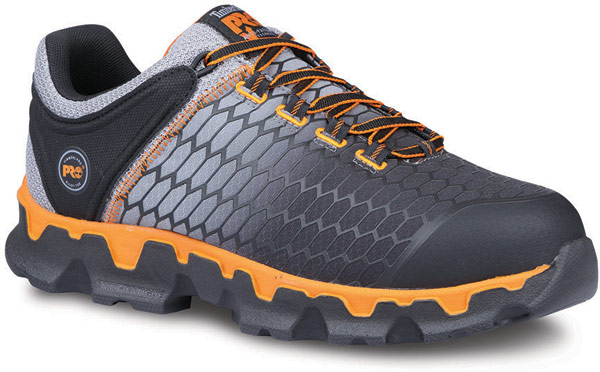 Acknowledging the overriding power of athleisure fashion on just about every category, Cat is introducing sportier designs to appeal to both men and women. "Athleisure is no longer a trend, it is a lifestyle," Frank says, adding that for spring the brand will release its newest and lightest industrial work shoe incorporating Nano Toe Technology in the Expedient style for men and the Array for women. "Our Nano Toe is 40-percent lighter than traditional steel and thinner, and it feels more like a sneaker than a traditional work boot," she says, adding, "This athletic work shoe is built for the jobsite." Bright colors, chunky outsoles and a mix of textures and textiles are a part of the package as well. "We are experiencing tremendous growth in our category of next-generation product, which offers the protection of safety footwear with the look of athletic outdoor-inspired footwear," Frank says.
Similarly, Skechers is leaning on its sporty aesthetic with its latest work assorment that reflects younger consumers entering the workforce. Michael Ferlauto, vice president of Skechers' work division, says the brand is using more athletic materials and constructions. "The consumer is voting for versatility," he says. That translates to Skechers' extensive range of work footwear that goes beyond the classic work boot silhouette, including a variety of high- and low-profile shoes and colors that go from classic to "retro pops of color." Ferlauto singles out the Synergy-Flex Gripper for men and Synergy-Sandlot for women as two prime examples.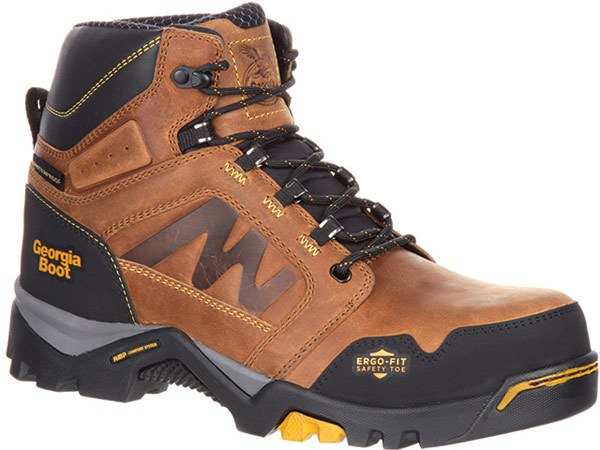 Yet another brand focusing on a younger consumer is Georgia Boot. Gottke says the design team incorporated more color into its line, as evidenced by the new Amplitude collection, while "staying true" to the Georgia Boot brand's DNA. "We wanted our product to have an armored, tough look," he notes, adding that there will be fewer SKUs in the Spring '17 collection than usual. "Retailers will notice our line is smaller (featuring about 10 SKUs), but it has allowed us to implement a laser focus from a product development and marketing standpoint," he says, noting that every boot in the line has a "rhyme and reason" for being there. "The collections include a new work hiker program, as well as an unlined work Western pull-on, two heavy industrial welted styles and two new slip-on oxfords in our successful Tybee Island program," Gottke adds.
Real Work
While Martin Meade, U.S. senior sales director for Dr. Martens, says the brand has embraced some athletic technologies, there's a limit on how much the company wants its work boots to look like sneakers. Brand authenticity, he says, is paramount. "We started as a work boot and will always be proud of our heritage," he explains, adding, "We are not trying to be something we are not." That aside, Meade enthuses that any addition to the work category this spring will be led by a Softwair comfort insole featuring Smart Foam for immediate comfort and a design that allows for maximum airflow and blood circulation. The brand also is launching the Hybrid collection, which is visually similar to its traditional PVC outsole but is unique in that it combines the PVC with rubber, enabling excellent slip-resistance.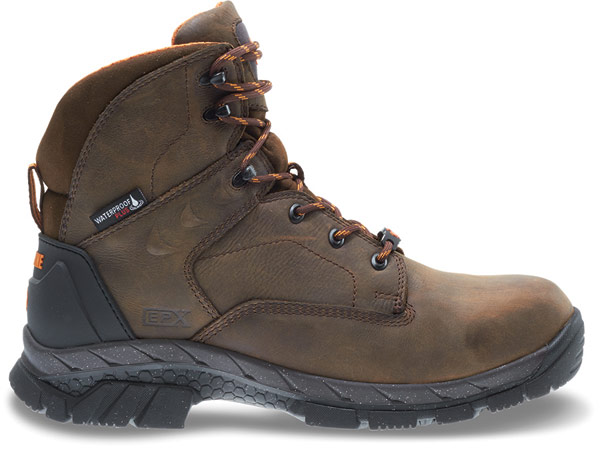 Timberland Pro will launch its Disruptor collection (featuring Chukka, oxford and slip-on styles), according to Ben Ashe, senior product manager. Features include a three-part Bio Suspension System, which consists of a contoured shock-diffusion plate insole, a super-lightweight foam midsole and a flexible outsole. The elements combine to offer cushioned stability that adapts to uneven surfaces for great support and traction. The line also features a Defender coating on the uppers. Powered by 3M Scotchgard, it's a triple-action formula that repels spills and stains without affecting breathability. Additional features, Ashe notes, include 100-percent recycled PET canvas, providing durability that is "equivalent to traditional air textured nylon ballistic woven work boot materials" and asymmetrical military grade aluminum alloy protective toe caps. Noting the need for work boots to move seamlessly from work to non-work settings, Ashe cites Timberland Pro's launch of its Powertrain Sport and relaunch of its Stockdale work collections for next spring. "[The Stockdale] features our patented Grip Max lug design that was inspired by everyday tools that clean surfaces," he says. The unique "wiper technology" helps clean paths, allowing the primary lug to make contact with less contaminated surfaces.   
Keen Utility's spring offerings focus on a lighter, faster and colorful aesthetic as well. The brand's top story is the men's Davenport Mid WP (available in several colorways), which is a lightweight, non-metallic hiking-inspired design. Also new for the season—in men's and women's—is the Asheville, a lightweight, low-cut shoe with athletic influences. It features a locking bungee and lace option—an element that Chris Heffernan, general manager, describes as giving a freedom not offered by its competition.
Similarly, Sean O'Brien, vice president and general manager of Honeywell Industrial Safety, makers of Oliver Safety Footwear, notes that instead of focusing on traditional work boots, the Spring '17 push will be its OL2500, a lightweight, low-cut athletic safety shoe, available in a range of colors and patterns. Amber Vanwy, director of marketing for Twisted X, says that doing basic casuals with work features like protective toes and waterproofing will be the focus as well. For next spring, she says Twisted X will add some of the color pops it's known for into these styles. "We think this will be especially popular for women," Vanwy says, adding that the brand will also introduce a new technology that provides cushioned comfort customized to the wearer's foot shape, weight proportion and activity. "We believe it will be a game-changer, providing a new level of comfort that is almost customized to their particular job," Vanwy says. •