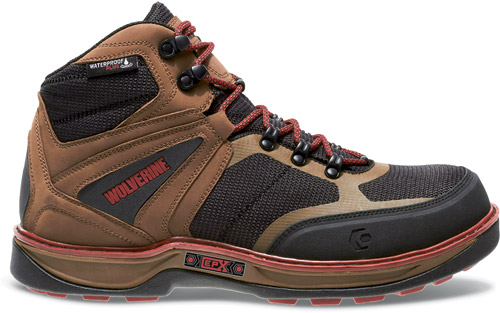 The United States economy is up, down, stagnant, doomed, recovering…it really depends on which economic expert you ask. However, it's (relatively) safe to say that the current economic situation in this country is not nearly as dire as it was in 2009 or 2010 or even 2011.The point is, in terms of recent history, the situation could be a lot worse. For example, late 2009's 10 percent unemployment rate is a far cry from last month's estimated 5.5 percent rate. And thanks to the booming oil and gas industries, many of these newly employed Americans are wearing work boots. More boots on the ground—literally, at job sites nationwide—means stronger sales now and, potentially, in the future.
The improved economy is one of the reasons leading work brands are forging ahead with pumped-up styles for Spring '16. The demand is growing across both genders, and particularly among Millennial-aged workers, the largest segment of the workforce population now and for the foreseeable future. The focus this season, however, is less on specific work categories and more on overall styling that transitions seamlessly from the job site to offsite. The ongoing push for lightweight, sneaker-like comfort and aesthetics is aimed primarily at Millennials, while heritage styling addresses the tastes of long-time consumers.
The focus on general styling rather than job-specific features and benefits reflects, in part, the nature of Millennial workers. An increasing number are foregoing college and they often jump from job to job. Thus the growing need for work shoes that are versatile. What's more, Millennials are a volatile bunch when it comes to marketing, as they are likely to reject traditional means of communication and are highly suspect of corporate pitches. "We target them, but it's tough because when they think you're targeting them, they don't like you," says Mike Roundhouse, director of product development for Rocky Brands. "You have to be authentic, and the way we do that is by striving to make the boot comfortable and durable for the user, no matter his age."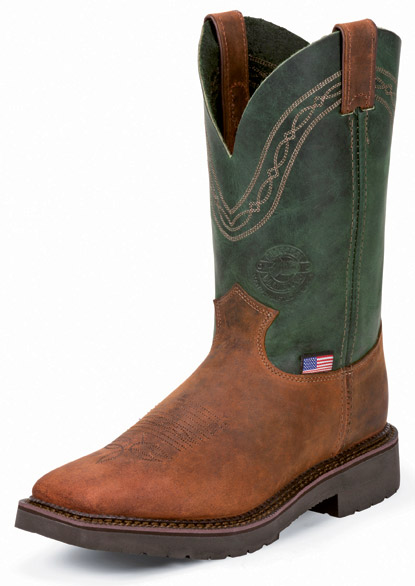 While Millennials can be elusive, Sean O'Brien, vice president and general manager of Honeywell Footwear Division, makers of Oliver, Muck Boot and Xtratuf, believes they share some commonalities with core consumers. "Millennials want to associate with a hard-working culture," he offers. "They have an 'if it's good enough for an Alaskan fisherman, it's good enough for me' mentality. They want to associate with an authentic lifestyle."
Enter Oliver Boots. "The fit and feel are tremendous, but the boots are built like tanks," O'Brien says, noting the new Square Toe Western wellie's flexible underfoot support absorbs shock to help diminish lower back, leg and foot fatigue. Also, O'Brien says Muck's new Chore Resistant collection features an innovative rubber compound resistant to oil and chemicals. The RDR compound, developed by Honeywell chemists, is best suited for oil, gas, mining, chemical, food processing and farming jobs. In addition, the collection features an improved tread that's "20 percent more slip-resistant than any other boot." Xtratuf boots, designed for commercial fishing and the marine lifestyle, will have the same RDR compound, and its Elite collection, resistant to contaminants, will boast neoprene booties for comfort and insulation.
In an effort to take the guesswork out of the Millennial worker equation, Yahn Lebo, global product line manager for Wolverine, says the brand has gone straight to the source to ensure its latest designs resonate with those consumers. Wolverine solicited feedback from younger workers, not only on product design, but also marketing and communication techniques. "We have worked to make sure we deliver the athletic comfort and a mash-up of traditional and athletic design elements that attract Millennial consumers," Lebo explains. Recognizing this generation's smartphone addiction, this fall Wolverine will turn to social media for web launches and plans to continue its online outreach into Spring '16, when it introduces its CarbonMAX safety toe boot, featuring nanotechnology for advanced protection and comfort. The boot is lighter and the toecap wall is thinner, leading to improved comfort, according to Lebo.
Addressing the demands of its customers, Carhartt will introduce its Force boot, which is all about lightweight comfort, according to Rob Mills, president of Carhartt licensee Black Diamond Group. He notes that many workers today grew up wearing athletic shoes and seek a "boot that works hard, but feels like a sneaker." In fact, the Force's tagline is: "Feels like a running shoe. Works like a boot." It combines sporty influences, like mesh, with safety features, like composite toes, and includes modern performance materials like breathable Ariaprene lining and fatigue and odor-fighting Ortholite insoles. The lining wicks away sweat, the midsole absorbs shock and the rubber traction tread is slip-resistant. Performance features aside, Mills describes Carhartt boots as "genre pieces." Rather than targeting a particular worker, he prefers the brand's boots be non-job-specific and appeal to a broad audience.
Rocky and Georgia Boot's new offerings for Spring '16 will also be lighter and lean toward a sportier design aesthetic. "We've focused on trying to build our boots more efficiently so that weighty performance features don't detract from flexibility," Roundhouse explains. "We learned that 30 percent of a boot's weight is glue. We're trying to find non-traditional ways of putting the boots together, by removing glue, in order to lighten the product." Rocky's Elements Shale collection, while lighter, features a direct-attached construction, and the oil and slip-resistant outsoles combat chemical breakdown. The new Flint Ridge by Georgia Boot is waterproof with a Vibram rubber outsole.
Keen Utility is also looking to lighter-weight styles and expanded safety toe offerings. "Most people like soft toes better because they're lighter," says Mark Reilly, brand director, adding that lighter and more flexible is "what everyone wants," especially sneaker-loving Millennials. In 2016, the brand will answer that demand by introducing 12 soft toe work boot designs—some a twist on previous styles and some totally new. Reilly says the aim is to appeal to a "general work community" with versatile work products and "hybrid, transition pieces" that go from work to play.
Speaking of comfort, Bob McAllister, national sales manager for Justin Original Workboots, is enthusiastic about its new 13-component comfort system, which consists of layered foam with shock absorption and resiliency features. "It's the most comfortable thing I've ever had on my feet," he claims. "When customers try it on, they'll be slammed by comfort." Part of the larger J-Max Caliber collection, the new boots are "subdued Western-style" wellingtons with slip-resistant heels. Justin is also introducing new women's work boots with additional safety features, like puncture-resistant soles and Met guards with Poron XRD foam technology.
Cat Footwear is addressing comfort via its new Navigator Mid boot. It features ERGO, which consists of a contoured last, mimicking the natural shape of the foot, a beveled heel to absorb impact and a slip-resistant S-curved outsole. Lindsey Lindemulder, marketing manager, describes the style as "a seamless extension of your body."  The brand is specifically targeting Millennials, dubbing them "Next Gen Consumers." "Our collection is more athletically-inspired because it lends itself to styling that younger workers prefer and gives us the opportunity to play with seasonally relevant colors," Lindemulder says.
Along those lines, Chrome is offering new colorways for Spring '16 on its 415 boot: indigo and gray in a dense, abrasion-resistant Cordura fabric and a new rich brown leather. Ben McCosh, product director, goes so far as to say the brand has branched out into a lifestyle direction. The decision to blur the line between casual and work is intended so Chrome boots can transition from day to night. The 415 boot, however, is job-ready with a waterproof internal membrane, a reflective heel pull loop for nighttime visibility and impact-resistant polyurethane footbeds. "Everything is done for utility," McCosh says.
Also taking a hybrid design approach, Chris Hayes, director of sales for Harley-Davidson, says the brand's new Claverton boot, part of its Safety Product collection, is a "Hydro-Guard waterproof hiker-style with a composite toe and a heavy, lugged-out sole." The rubber outsole is built with cement construction and the interior features a full-length cushion sock lining. This marks the brand's second composite toe style and Hayes notes that over the past two years it has introduced more than 15 styles to the collection. Hayes adds that the brand recognition associated with Harley-Davidson doesn't hurt. "The brand is more than 100 years old and one of the most iconic in the world," he says. "Our heritage is built-in; Harley-Davidson was cool in 1910 and it's cool in 2015."