Who Says You Can't Go Home?
Sam, Debby, Eads and Evie Poitevent in their element.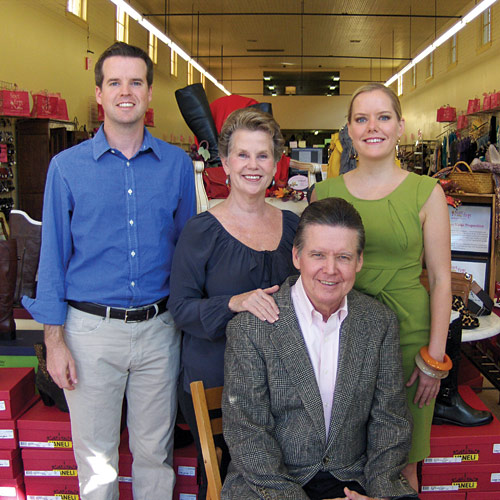 Who Says You Can't Go Home?
Feet First offers everything from rings, necklaces and bracelets, to handbags and, of course, plenty of shoes.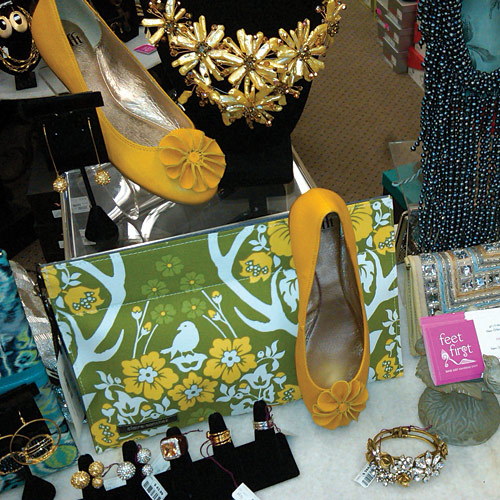 Who Says You Can't Go Home?
Feet First's post-Katrina French Quarter location on Royal Street.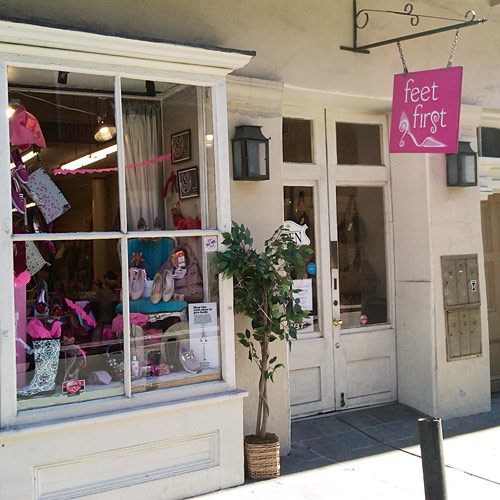 As hurricane Katrina pummeled New Orleans, government officials, rescue workers and longtime locals were forced to make many difficult decisions beginning in late August of 2005 and for many months after. For one NOLA expat, Evie Poitevent, the devastation the hurricane left on the city spawned her return to her hometown and the decision to move back couldn't have come easier. "I had spent six years [working in journalism] in New York City and I started to ask myself, 'What's going on with my life?'" she recalls. "I love New York, but I wanted to ease up on the intensity of everyday life. Then Katrina happened. From there, it was a no-brainer. There was nothing to discuss."
So Poitevent flew back to New Orleans on her 30th birthday, only six days after her family reopened their shoe shop, Feet First, on Magazine Street. "I went back gladly, fired up to help," Poitevent says. "I felt so strongly about helping our family's business. My mom and dad and the business paid to put me through private school, to be able to go on trips. I really had a strong sense of wanting to give back."
Poitevent's mother and father, Debby and Eads, opened Feet First in the summer of 1977, upon returning to New Orleans after living in St. Louis for a couple years. "My dad had been in banking," Poitevent explains. "Back then, when St. Louis was a shoe hub, all his clients were shoe people." So when the couple returned to NOLA (due to her mother's yearning for friends back in New Orleans), they had to figure out new career paths. "They decided they wanted to be their own bosses," Poitevent says. "They had the shoe contacts, so that's what they did: open a family-run shoe store." Though he was an infant at the time, Evie's brother, Sam, eventually got involved with the business following a career in archaeology and is now a co-owner, too.
Family Ties
Operating as a foursome, the family decided to temporarily downsize the two-location outfit due to Katrina. For 20 years prior, Feet First ran a location on Charter Street in the historic French Quarter. "Not knowing what we would come back to, we decided during the evacuation that we should close it down. We knew that tourism would be gone for a long time," Poitevent says. But with the city getting back on its feet and the tourists returning, Feet First opened a second, smaller shop on Royal Street (not far from the old Charter Street location) in the low-lying Quarter to complement its 3,000 square feet of sales floor space on Magazine Street. "The two locations play off of each other really well," she explains. "While Magazine Street is probably 75 percent locals, the Royal Street business attracts 75 percent tourists."
To capitalize off those visitors, Feet First instructs its associates to plug its convenient in-store shipping policy. "We tell our customers that if it's going out of state, there's no sales tax, because the tax here is high—9 percent," she says. "If they're buying multiple items, it's a better deal to pay the $10 shipping fee and avoid the sales tax." Being so close to the high traffic tourist hub, the Royal Street location also offers to deliver purchases to nearby hotels, easing the load for those tourists that want the shoes, but not the baggage.
Poitevent says the main store's longevity makes the typical customer tough to profile. "Because we've been around a long time, our target is pretty wide, from high school girls all the way up to age 70. It's a generational business—daughters grew up with their moms taking them here, and now they bring their own kids. We don't alienate anyone."
To that end, the product mix varies from trendy fashion labels to mainstay comfort brands, as the shops carry everything from Sam Edelman, Poetic License and Corso Como to Sanita, Naot and Keds. Even though Poitevent says N'awlins lags a year or two behind the New York fashion scene, her customers share the Big Apple's love of seasonal fashion—something that never ceases to amuse her. "New Orleans people want to believe they have four seasons," she says with a laugh. "They ask for boots in August when it's 100 degrees. We've tried to bring boots in that early, but they just sit there on the floor until October." There's also been an increased interest in comfort in recent seasons, and shoppers don't hesitate to spend extra on that category. "Baby boomers are getting older," Poitevent says of their increasing desire for comfort footwear. "But it's been surprising to see how many young women—high school and college aged—love their Naots."
Party Time
While Feet First customers are understandably shopping with more practicality due to the difficult economy, Poitevent advises not to discount a New Orleans girl's penchant for a party. "This town loves any excuse to have a party," she says. "The debutante scene is still really big. Mardi Gras is the grand culmination of the season. I'd say New Orleans probably dresses up more than some other towns." Whether customers are out for everyday shoes or special occasion, fit always tops the list of must-haves during shoe shopping, which Poitevent likens to some other dreaded shopping adventures: jeans and bathing suit shopping. "Sizing is so erratic and unpredictable. Shoes are made all over the world. Our M.O. is to find out the customer's typical size and bring out a half size up and down," she explains. "It's just like clothing: You need to get people in the shoes."
In a city with an intense sense of pride, local labels are always big sellers, which is why the shop carries a number of homegrown designer duds, like NOLA Couture fleur-des-lis accessories, Skip N' Whistle bags and Feel Goodz flip-flops. "Even if we don't have something people want in the store, we try to refer them to our neighbors and support the local community around us," Poitevent says. "We're proud of the local culture and live and breathe 'buy local, shop local.'" She adds, "After Katrina, it was taken to a whole new level. It was a feeling of, 'We can't count on anyone to help us; we're in this together.'" —Meagan Walker