Brave New World
Casual styles fit for the boardwalk.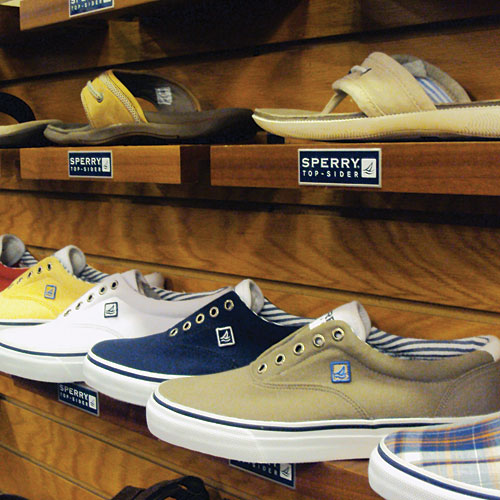 Brave New World
Casual styles fit for the boardwalk.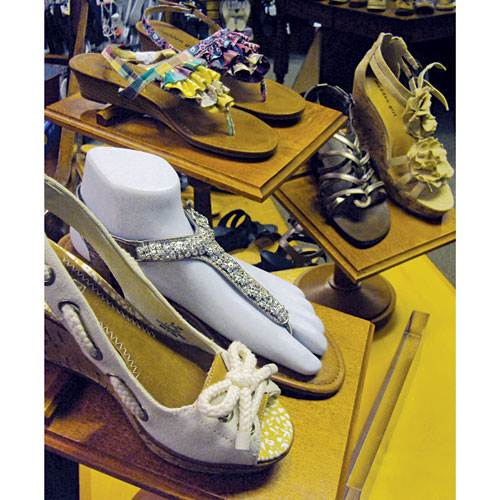 Katherine's Boutique
A selelction of sandals and beach totes at Katherine's Boutique.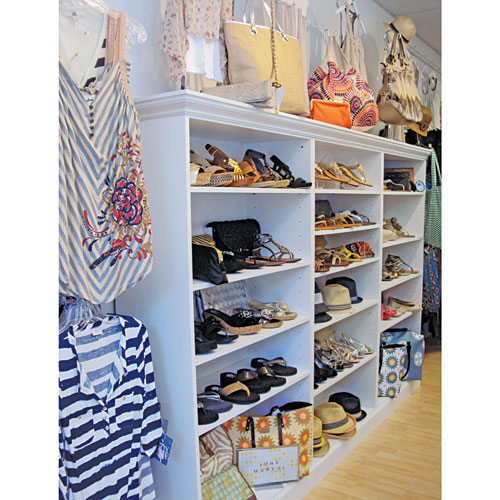 Katherine's Boutique
Co-owners Katherine Visceglia (left) and Jacylene Holloway (right.)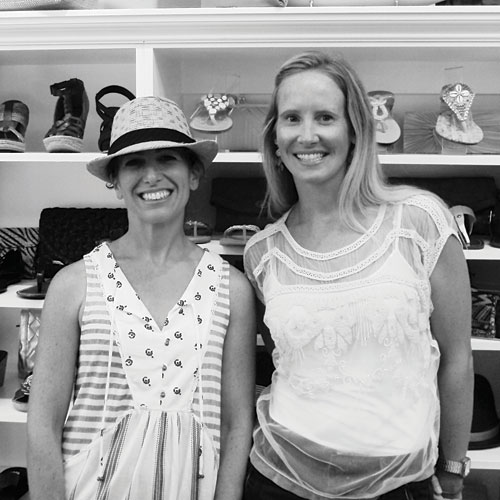 Miles Ahead Sports
A photo collage of the shop's loyal customers sporting their Miles Ahead gear.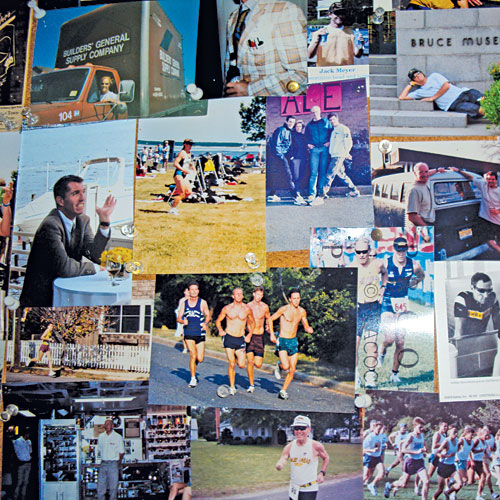 Miles Ahead Sports
One-on-one service is key at the shop.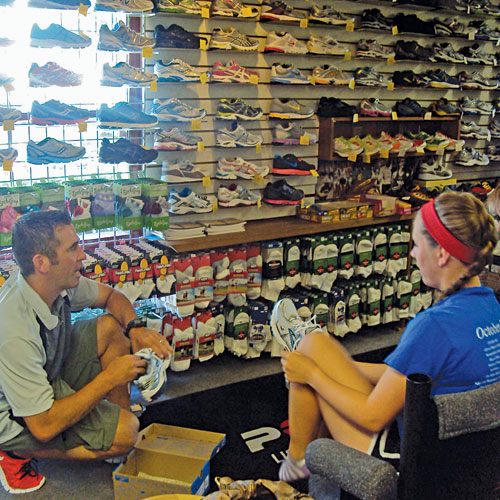 Miles Ahead Sports
Owners Bruce and Sharon Robinson along with their daughter, Courtney.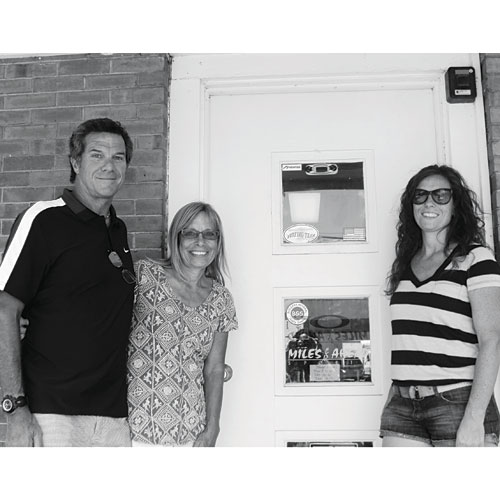 Everyone Loves a Jersey Girl
Pairs of pals sport beach-ready styles as the sun sets on Seaside Height's infamous boardwalk. Later, Pauly D. and Ronnie, from the cast of MTV's Jersey Shore, made an appearance.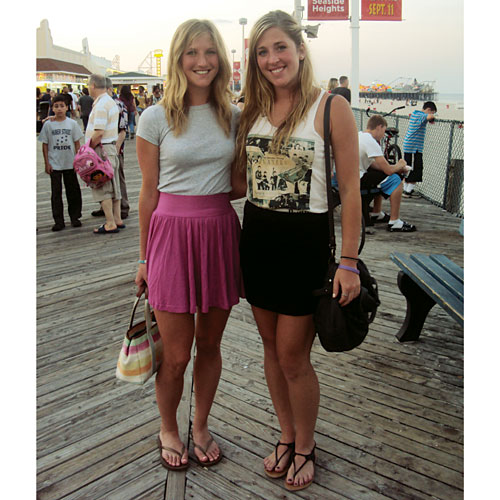 Everyone Loves a Jersey Girl
Pairs of pals sport beach-ready styles as the sun sets on Seaside Height's infamous boardwalk. Later, Pauly D. and Ronnie, from the cast of MTV's Jersey Shore, made an appearance.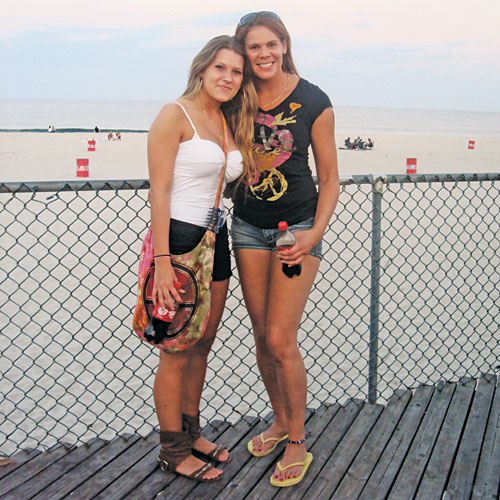 Everyone Loves a Jersey Girl
Pairs of pals sport beach-ready styles as the sun sets on Seaside Height's infamous boardwalk. Later, Pauly D. and Ronnie, from the cast of MTV's Jersey Shore, made an appearance.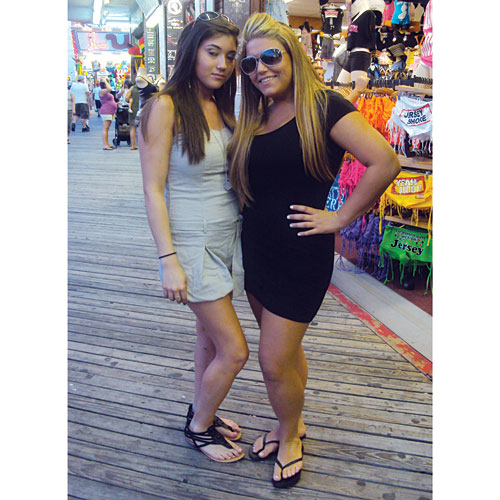 Everyone Loves a Jersey Girl
Pairs of pals sport beach-ready styles as the sun sets on Seaside Height's infamous boardwalk. Later, Pauly D. and Ronnie, from the cast of MTV's Jersey Shore, made an appearance.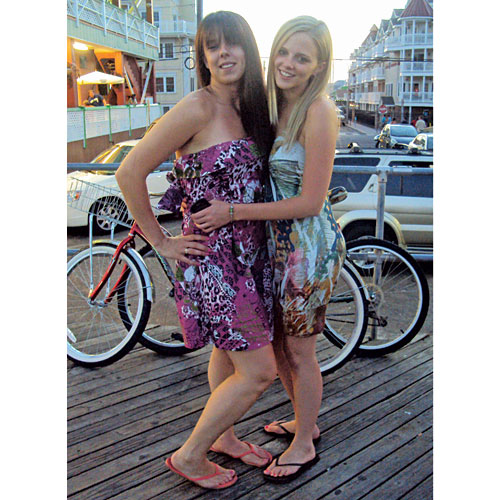 Brave New World
The entrance to Brave New World's Point Pleasant location.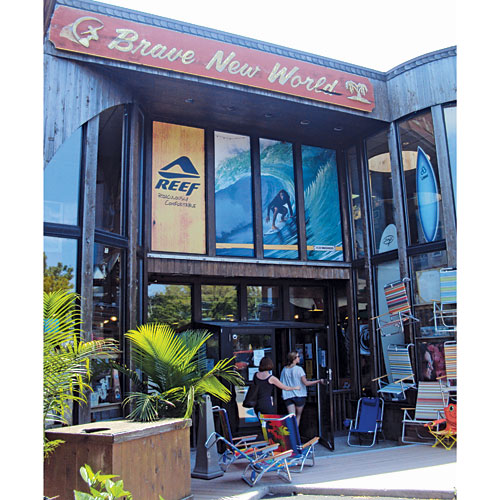 Brave New World
Cathyie Brand (right) and staffers Jack Cartright (center) and Mickey Kearns (left).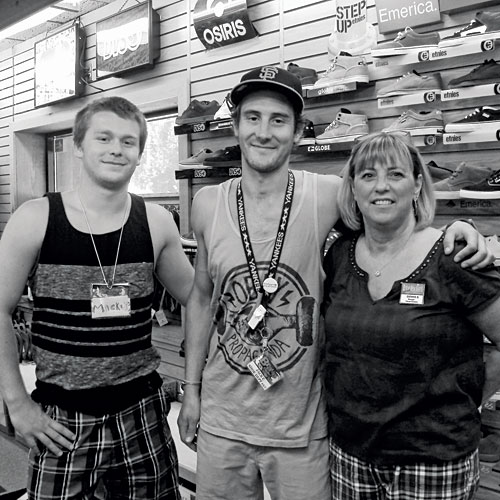 Brave New World
The one thing Brave New World offered in its fledgling years may be the one thing that no longer appears in the store's merchandise mix. Opened by Bill Lammer in 1974 as a bike shop, Brave New World Surf Shop in Point Pleasant Beach, NJ, has exploded to stock everything from apparel, footwear and sunglasses to surfboards, skateboards and décor—bikes sold separately.
Taking over an entire strip mall on Rt. 35 South, the gateway to now infamous Seaside Heights, it's no wonder the store requires a minimum of 15 employees on the floor at any given time. Men's, women's and kids' apparel is located on the ground floor, along with swim, footwear and accessories. Upstairs is what Cathyie Brand, the store's footwear manager, calls the "fun stuff": Rows upon rows of surf and skateboards, helmets, wetsuits and niche magazines. Brand notes, "It's a shore-style department store."
In Brand's shoe department, staffers are chosen for their outgoing personalities and work ethic, despite the fact that she affectionately calls one employee "Bum" due to his habit of sleeping right until it's time to clock in. Regardless, Brand says the kind of kids she hires are up to speed on what's hot with beach dwellers now. "They're in the know about what's going on. For the most part, they're local kids who know the beach," she says.
As of late, that's been Sanuk's Sidewalk Surfers, or as the brand refers to the naturally flexing footwear, Not-A-Shoes (get it?). Even with three grab-and-go racks of the comfy slip-ons, Brand says, "We sell out faster than we can keep it on our shelves." Generally, Brand says flip-flops from Reef sell well for men, women and kids during the summer months. And once the tourists vacate, skate brands like Vans and DC Shoes start to fly on the men's side. "I've always noticed that men tend to get what they know is comfortable and walk out the door," Brand explains, "but men are actually shopping now."
Brave New World's biannual blowout sale really draws a crowd, Brand says. A native, she brought her kids for years before becoming an employee. "We live around the corner and would come for the sale," she recalls. "You wait in line in the searing sun, and you're not the only one. There are people who sleep outside. The line wraps around the building." But even for regularly priced merchandise, sales are up this year. "I got called in last Sunday, on my day off, because we were slammed so hard because of the weather," Brand relays. And furthermore, online orders have been depleting back stock. "The Internet guy calls me constantly to pull more shoes," Brand jokingly gripes. —Meagan Walker
Katherine's Boutique
The charms of Katherine's Boutique and downtown Manasquan are interchangeable. Picturesque, inviting and on a summer evening, filled with the sound of street musicians filtering through the store's open doors, the setting seems idyllic. But don't mistake this retailer, nestled between a traditional cobbler and 102-year-old Raffeto Shoes, as old-time or quaint.
Since 2006, Katherine's Boutique—begun by co-owner Katherine Visceglia—has been a hub for locals and visitors seeking hard-to-find fashion footwear, and more recently, apparel and accessories. The expansion came about when Jacylene Holloway came on board as co-owner. "We both have backgrounds other than retail, but are drawn to the ever-changing world of fashion," Holloway says. "We're always combing through magazine after magazine to make sure we hit the latest trend," she says of the pair's perfect fit.
Their low key and pleasant work dynamic is reflected in the relaxed, yet fun lines the Jersey Shore locals carry in the boutique. "Kathy and I are both born and raised here, so we have a pretty good idea what will sell and what will not," Holloway says, noting the majority of clientele are locals, too. On their checklist: goodlooking, comfortable, durable shoes in the right color. Neutrals, like nude and pale metallic gold, are having a moment, which Visceglia and Holloway are pleased about since they are instinctively drawn to them. Wedges are proving successful, too. "We definitely offer a more casual, laid-back type of style," Holloway says. Leading footwear brands include Steve Madden, Sam Edelman, Restricted, Seychelles and Lucky Brand.
During the summer, when Manasquan's population triples, the store's assortment becomes more diverse. "In the summer, we outfit women for weddings, showers and graduations. Our
footwear collection goes from super casual, such as Havainanas flip-flops, to dressy evening shoes by Nina Footwear," Holloway explains. The typical Katherine's Boutique customer is 20– to 40– years old—a wide age range that Visceglia says is taken into consideration as the store expands and pushes the limits of its inventory each season. Still, she says, "A challenge for the store is the concept that we are only for younger people. We may have to turn the store upside down, but we can find something for everyone."
One thing that goes unchanged is the owners' mission to keep the store trendy yet affordable. "We do our best to keep everything under $100," says Holloway. Some higher-end styles priced over the sweet spot are peppered throughout the boutique, but Visceglia notes brands like Kensie Girl, Madden Girl and BC Footwear offer a price point and style that is unbeatable. "They keep our customers in style without breaking the bank," she adds.
Cash saved means more to splurge with during shopping events Holloway and Visceglia host each season. The boutique's plush interior, reminiscent of a luxurious seaside bungalow, with crystal chandeliers, crisp white shelving, ornate mirrors and a white couch visitors can sink into, sets the perfect tone for swank events like purse parties and girls' night out.
The girlish atmosphere often sparks fashion montages a la Pretty Women. Holloway notes a common need for customers is help pulling together an outfit. Her favorite customers are those willing to try on something they normally would have bypassed. She says, "I absolutely love when a person comes in for an outfit. We may struggle for a bit, trying on a bunch of items, but when an outfit really comes together, you know your customer is going to walk out of your store, get tons of compliments on her outfit and feel absolutely great about herself. That's the goal." —Angela Velasquez
Miles Ahead Sports
Running isn't just business for Miles Ahead Sports co-owner Bruce Robinson; it's a way of life. At least, it was until the sport started taking its toll on his knees (now he limits his workouts to a mere 200 miles of cycling per week). A former triathlete and marathoner—he qualified for the Olympic trials in 1976 and finished third in his age group at Ironman Hawaii, the big kahuna of triathlons—the success of the store is largely built upon his reputation, expertise and outsize personality.
Opened in Manasquan 27 years ago by Bruce and his wife Sharon, the 550-square-foot store became a mecca for endurance athletes looking to stock up on the best footwear and running apparel in town, and the couple helped build its faithful customer base by hosting local 5Ks. "That also was good exposure, not only for local people, but people that would come down from North Jersey and the Philadelphia area and New York," Bruce says. Although the shop's customer base is largely local, Miles Ahead sees "a huge influx" of summer beachgoers, Sharon reports, so capturing that out-of-state audience was key.
Nowadays, a 7-person staff, including the couple's daughter Courtney, helps fit a variety of customers, young and old, for an array of fitness activities, from walking to cross training. The boom in popularity of gyms—more than a dozen have sprung up around the shop since it opened—has been a double-edged sword for the store, since gymgoers need shoes, but not the outdoor apparel and Gore-Tex jackets the shop used to stock more heavily, Bruce says. And while the economy and competition from big box retailers in nearby towns have proved challenging in the last few years, Miles Ahead's faithful clientele have carried it through rough waters—the shop now fits the teenage children of its original crop of high-school customers.
What keeps its customers coming back generation after generation is its focus on fit, Bruce says. Even on its busiest days, when the staff sells upwards of 30 pairs in two hours, "You want to be able to service all of them without rushing them through the experience," he says. "How we've built our reputation has been with the people that don't even ask to try on 4, 5, 6 pairs of shoes on, but we bring them up to let them feel the difference." With a surprisingly diverse array of brands in its cozy space, including Asics, Saucony, Brooks, Nike, Mizuno, New Balance, Puma, Adidas and Newton, customers can be sure to leave with the best possible option.
It's a mix of service and selection that's attracted everyone from Court TV's Jack Ford to football legend Bill Parcells—but no Snooki or Pauly D as of yet (Sharon is quick to note the Jersey Shore is "nothing like the MTV show"). Also, "No Bruce Springstein," says Bruce. "We keep waiting for the day for him to come in. Maybe one day we'll get him in, and we'll put on 'Born to Run.'" —Audrey Goodson