The Fall/Winter '16 edition of GDS in Düsseldorf, Germany, was a study in contradictions: Traditional cold-weather hues sat alongside shimmery metallics, emerging niche brands were a stone's throw away from industry heavy-hitters, eco-friendly takes and high-tech digital technologies were presented next to comfortable standbys and classic styles were updated with contemporary twists. Overall, the season showcased seemed empowered, inspired and was a nod to the sometimes paradoxical spirit of today's man and woman—an homage to life in an evolving, modern world.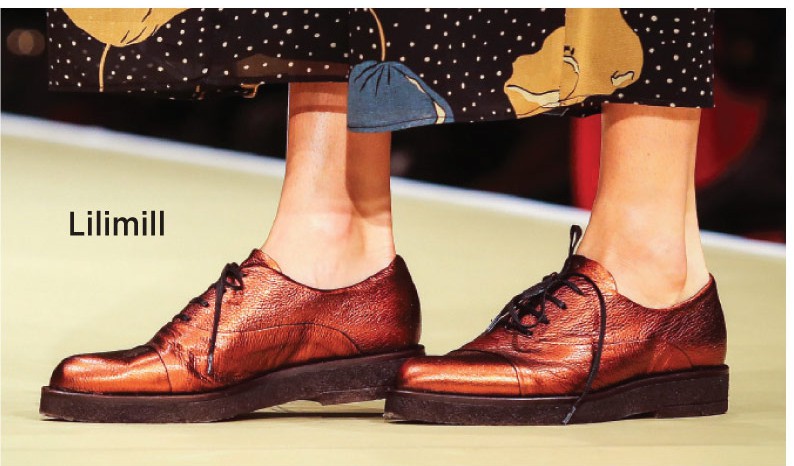 Lucky Penny
Penny loafers are a force for the season, but they aren't the only thing that has us thinking currency exchange—burnt penny-like copper hues brimmed all over GDS. The shade is particularly common in sneakers, paired with brown laces and white outsoles or with dark laces and deep brown outsoles, giving the trend an athletic, neutral and surprisingly adaptable appeal.

Wild West
Saddle up. The dusty roads of the West beckon once more. Western boots are in classic traditional styles, to appearances in bold blues, to iterations updated with fun takes on fringe. The result? A fashion mainstay, building on success from previous seasons and likely inspiration from the growing festival music scene and popular Western films like Jane Got A Gun, that feels more urban than cowgirl-chic.

Wine Time
Bordeaux is back—as are maroon, raspberry, cherry, wine and all of the other shades that conjure images of a vineyard. From runways to the GDS booths, the fall staple—a more vivid and cheery, alternative to cool-temp. blacks and grays—spans across sneakers, pumps and boots of all lengths in fabrications from suede to leather.

Got Milk?
Spotted across ankle boots, pumps and sneakers, cow-print has made its way into the season's repertoire. It's a fun nod to the Western trend, and a refreshing change from the usual leopard, zebra and snake takes. This is also a trend where the U.S. can take a bit of international inspiration. Marc Ammann, CEO of Ammann of Switzerland, a brand who uses the print as its signature, says that it is actually cow-print that sells best in countries that tend to be a little more conservative style-wise, citing its popularity in his native Switzerland and surrounding countries.

Pick of the Patch
All patched up to be a hit, patchwork is featured across boots and pumps. Leather and suede turn in various combinations of rich autumnal colors. Monochromatic styles also make an appearance, and one manufacturer projects these as best-sellers—think highly transitional with a little bit of funk. Paired with also-trending chunky heels, this pattern feels especially balanced and well-suited to the modern wardrobe.

Sparkle On
The season's forecast is far from somber—sprinkled all over the collections are sequins, glitter, beads and all types of sparkle in every color under the rainbow. It sets the stage for a more upbeat approach to the cold and dark months. Among the bedazzled are sparkly loafers, sneakers and boots. Expect to find embellished footwear presented as full-on styles or as accents everywhere. 

Siren Song
Sea-inspired themes don't have to stick to Spring/Summer—seasonal-appropriate mermaid-like iridescent teal metallics leak through many of the fall collections. A vibrant, unexpected change from more traditional gold or silver, this metallic is featured in tall boots, glitzy sneakers and futuristic gravity-defying styles fit for a fin. (Designers suggest that this color may become popular amongst the mermen, too.) The iterations in this hue (and others) had a—some might say, scaly—appearance. For options that are really fishy, check out different colors in Veja brand's Tilapia styles, which use Brazilian vegetable-tanned leather from the edible, tropical namesake fish.

On the Fringes
All-over fringe is a no-fail, but the stars of fringe this season were styles with a subtle approach. Framing side zippers on taupe ankle boots or lightly trailing the backs of black or blue pointy heels, fringe as an accent showcased a just-as-sassy but perhaps more versatile (even evening) potential.

Patent Warranted
It's great to sparkle, but just as important to shine. Patent leather is key to the season, and while the look has been said to be around since the 1800s, this season brings to mind images of the Jazz Age (think Downton Abbey's jazz-heavy final season). This finish, featured in everything from bright red pumps to combat boots, to chunky brogues and bright red accents on loafers, attracts by day and stuns by night.

Over the Top
It has been said that as pant lengths continue to get shorter, shoe heights rise. But the over-the-knee boot styles popular this season take this trend to extremes. Vampy black leather turns are taken, but suede (and its imitations) in both heeled and flat styles ranging from slightly over-the-knee to a provocative mid-thigh take center stage. In neutrals to maroons, these super-soft, svelte options seem like perfect armor for the modern woman—more comfy than stilettos, but with an equally sultry feel. As one manufacturer put it: "A second skin."
Man's World
Designers expand their Fall collections to meet the stylish demands of today's man.

Crock Rock
Usually it's the women who steal from the men's aisles, but there was a definite androgynous feeling in the collections, reflecting the less-tight gender roles of the day. Dandy-like brogues and softer materials reflect this, but the approach feels loudest in animal-inspired touches. Crocodile-prints are featured on sneakers and boots—ranging from neutral colors to maroon and metallic teals—and touches like thick slashed outsoles keep the look masculine and edgy.

Downtown Sole
The sneaker-crazed, athleisure-loving masses have spoken—dress shoes no longer need be so dressy. Uptown-meets-downtown seems never more well represented than by dress boots with casual, thick outsoles. Brogues and sumptuous leathers in classic colors like brown and black are paired with heavier outsoles and thicker, more athletic-looking laces. Exhibitors at GDS agree this is a huge trend for men and will continue to be so, as it reflects the needs of the modern man's lifestyle: grounded in an urbane, contemporary aesthetic with a dressed-up nod to tradition.

Soft Touch
The use of felt and wool in men's, particularly when combined, is rampant throughout fall collections. Manufacturers describe these materials as warmer and cozier, and when paired with leather, the combination looks striking on sneakers and boots. Konstantinos Chatziagapoglou, founder of The Felters (a felt and wool-based brand), adds that some consumers are turning to the material in search of vegan, no-kill alternatives. With veganism and other specialty diets on the rise worldwide, expect these softer fabrics to play an increasingly greater role in demand, he says.