happy-feet
Happy Feet - Butterfly Twists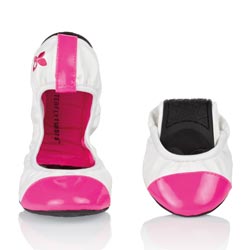 Happy Feet
Cocorose London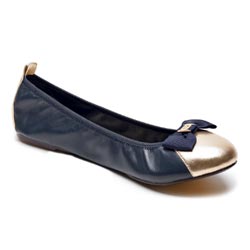 Happy Feet
Yosi Samra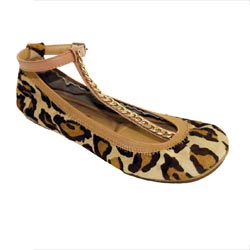 Happy Feet
Footzyfolds

Urban Explorer
L to R: Pluggz, Cushe, Chooka, Freewaters

Trek Lightly
L to R: Lems, Patagonia, Chaco, Dr. Scholls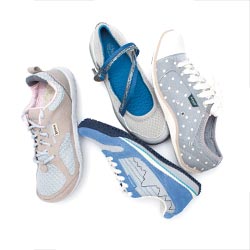 Perfect Storm
Däv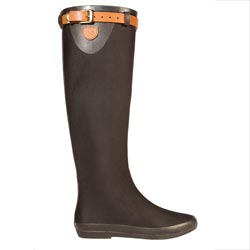 Perfect Storm
Bogs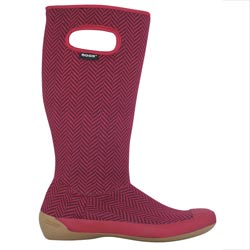 Travel-friendly footwear takes the weight off one's shoulders—literally—and presents an attractive add-on opportunity for retailers.
By Lyndsay McGregor
Smartphones and tablets may have eliminated the need to tote around a MP3 player, date planner and the latest blockbuster novel, but most women still carry chargers, sunglasses, makeup and any other just-in-case items they can fit in their purses. A quick survey of the New York offices of Footwear Plus found editors hauling everything from Tabasco sauce to pepper spray to Sour Patch Kids in their handbags. Toss a spare pair of shoes into the mix—be it sneakers for an after-work workout or trendy pumps for date night—and it's no wonder the average handbag weighs more than six pounds. While they can't help kick packhorse habits, the following travel-friendly footwear solutions want to lighten the load, whether navigating a daily commute or walking the Sedona trails.
HAPPY FEET
Foldable flats that can be tucked in a purse serve as ideal relief from sky-high heels.
If you've ever been guilty of kicking off your high heel shoes on the sidewalk when your feet are in such throbbing pain that going barefoot seems like a better alternative, there's an easier way: the foldable flat. Perfect for commuting, these flexy shoes disappear into tiny pouches for popping into small spaces. You can play it safe with brown or black but brands like Butterfly Twists, Cocorose London, Footzyfolds and Yosi Samra have upped the style ante with bold colors and luxe materials. Make no mistake; these are not your flimsy drug store add-ons.
"All of our shoes have double-cushioned leather insoles, non-slip outer soles and a petite heel to ensure the ultimate in comfort and support," says Janan Leo, founder of Cocorose London, noting that she works with everything from pony hair to fish leather. Since launching in 2007, the brand has grown into a 100-piece collection, including collaborations with the Royal Ballet and Liberty Art Fabrics, and for the past three years has been an official gift partner to the British Academy of Film and Television Arts awards. While the likes of Dr. Scholl's Fast Flats are only good for a handful of club-to-car runs, Leo's handcrafted foldable shoes are made to be worn all day, every day if need be.
Footzyfolds offers a similar longevity. "As we evolved we wanted the shoes to be a little more fashionable and comfortable, so we created a more substantial shoe with extra cushioning inside—the whole point of a flat is that you shouldn't have to break it in," says Sarah Caplan, who launched Footzyfolds four years ago with her sister, Jenifer. Today the line spans booties to boat shoes and is carried everywhere from QVC to Bloomingdale's. "The Northeast has really proven well with us but now that we've introduced sandals to the lineup our numbers in the South are increasing," she says. The brand's merchandising team works directly with buyers to come up with displays and packing options depending on each store's needs. "Hanging footwear has become very popular as space is a huge issue with some retailers," Caplan notes. "We have created a special hangtag option for those retailers that wish to have our marketing but do not have the room to have shoes out on the floor in a traditional way." In addition, Caplan says the company has developed sub-brands at different price points that allow it to sell in high-end boutiques to department stores to the middle market retailers.
Along those lines, second-generation shoemaker Yosi Samra follows in his family's footsteps with his eponymous range of bendable footwear that targets the "ultimate everyday girl." Product features include soft leather that cradles the heel and stays snug with an elastic band along the top line, while a lightly padded footbed offers all-day comfort. "Due to the ultra-flexible design of the two-piece rubber outsole, our flats really do fold up into the most portable and convenient package," Samra explains. The designer believes that the market is still in the early ages. "I'd like to think that the concept of a foldable flat is beginning to really take off. Customers love that our flats are real leather and that we offer both classic, timeless options and very trend-forward styles at a highly accessible price point," he says. "I also believe that the convenience of being able to take off your heels, throw on your Yosi Samras and still be wearing a great outfit is something that women will always want."
In the case of Butterfly Twists, it took a man walking in a woman's shoes—literally—to realize the need for women's foldable footwear. As company legend has it, one of Butterfly Twists' four founding male partners (who wishes to remain nameless) lost a bet and found himself wearing 6-inch stilettos to a party, and the long night of discomfort prompted him to come up with an idea to end ladies' high-heel suffering. Thus, Butterfly Twists was born. The team realized they were on to something pretty quick when, during its first trade show in 2009, it generated orders of more than 50,000 pairs in four days. The four founders subsequently quit their day jobs and set about developing more products and creating a lifestyle brand synonymous with practical fashion. "Our range already includes [foldable] boots, rain boots, flip-flops and [cushion] socks and is quickly growing so our customers can use our shoes in a variety of different ways and in a variety of different situations all year round," says Elizabeth Rodriguez, a representative for the London-based line.
Perfect Storm
Avoid getting drenched with packable rain boots.
While a lot of rain boots are ideal for when it's actually raining, once the weather clears, they quickly become nonfunctional. They're too sweaty to wear all day and too big to pack in one's purse. Several outdoor lifestyle brands are starting to acknowledge this utilitarian conundrum, and are beginning to move away from the clunky wellies of yesteryear to bow styles that transform from knee-high boots to flats that fit easily in handbags and suitcases.
Take Bogs, for example. When the design team began to develop a rain boot for babies, it realized that a mini-me version of its adult styles was not the way to go. Rather than use rubber, the brand made waterproof, machine-washable booties with 3-mm Neo-Tech insulation and a cozy, plush lining. Lightweight and easily packable, it was a light bulb moment as the Summit will hit stores this fall in women's styles as well. "We have a lot of women customers who live in the city or in places where the weather is inclement in the winter. They don't want to wear a big heavy boot, but they still want to be protected from the elements," explains Bill Combs, president of Bogs. "This boot is warm, washable and really light, and because it's made out of Neoprene you can fold it up and put it in your gym bag or wherever." And while Combs doesn't think packable rain boots will sound the death knell for traditional wellies, he says frequent flyers will appreciate the travel-friendly aspect of them. "Everyone who travels a lot is always looking for the right footwear that will work for all climates they might encounter," he says.
"All boots, whether it's a rain boot or a leather boot, are difficult to pack because they're heavy and large, and we thought how great it would be to have a boot that looks like a boot but is soft enough to roll up just like a sock," says Kerri Sengstaken, marketing director for Däv. Last year the brand introduced Festival, a rain boot with a waterproof rubber membrane between its fabric upper and lining that easily rolls up to disappear as soon as the rain clouds do. "To date, Festival is one of our top sellers," Sengstaken reveals, but is quick to point out that foldable rain boots won't be "the new wellie," rather a great new option. "I think this is more of a trend—a beautiful boot that can be worn in any weather, totally versatile and great value," she says.
Meanwhile CitySlips' co-founder Katie Shea notes that her rollable rain boots have sold as well in Albuquerque, NM, as in New York, and says the key is the makeup bag-size waterproof travel case that comes with each purchase. With regards to displaying the wellies, Shea advises retailers to keep two samples out on the floor, one rolled up in the travel bag, one standing upright as a normal pair of boots. "It's proved effective in getting the functionality of the product across without demanding the highly valuable time of salespeople," she says.
Swap It Out
Simplify everything without sacrificing fashion.
With increasing costs for checking bags and overhead bins filled to the brim, learning how to pack efficiently can be easier on both the wallet and the shoulder. And, thanks to the emerging interchangeable footwear category, female travelers no longer have to stress over how many pairs of shoes to take on trips.
Faced with exactly this problem every time she flew to Europe to visit her in-laws, Dina Ortner created Mups, a line of ballet flats and sandals with interchangeable accessories. "When I started the company I aimed it more at college girls but I noticed women liking the shoes because of the practical element behind them," Ortner says, explaining that each pair, which wholesales for $69, comes with two removable accessories that fit to a heart-shaped Velcro built in between the lining and leather. "The attachments fit the shoes in a way that you don't know they're removable," she adds, noting that there are more than 100 to choose from and she's designing more and more every day. "When you go out during the day you can take an accessory in your bag and just change it later and it's like a new pair of shoes." But how can retailers get this day-to-night aspect of the shoes across to consumers? "The best way to present the shoes is as a pair with one ornament on each shoe," Ortner says, adding, "It shows our concept without needing much explanation."
Lisa LeCroy, another frequent transatlantic flyer, agrees that sometimes the simplest ideas are the best ones. While cleaning out her closet one October day she had an epiphany: a boot collection with interchangeable shafts. "I realized there needed to be a company that offers people the freedom to choose and design their own look," says LeCroy, who debuted her eponymous label at FN Platform in February. For someone who admits she used to check a suitcase full of shoes every time she went overseas, her line now enables her to pack 22 boots in a small rolling carry-on. "When we started out I wanted style and quality first and concept third. It's convertible, but I worked very hard to make sure it looks like a single unit."
Harry's Shoes in New York, Barbara Jean in Little Rock, AR, and Rib & Rhein in Newport, RI, are among the high-end boutiques that have picked up LeCroy. "Each season we will produce a fun stop-motion video showcasing the concept. It's amazing how instant everyone gets it as soon as they see the video," LeCroy says. "We also have custom displays [retailers] use, which makes merchandising the line so easy." The fall collection, made with buttery soft leathers, canvas and calf hair, features 16 booties ($116 to $129) and 36 shafts ($64 to $295), and Spring '14 will see the offering expand to include convertible sandals and wedges. "I would say 99 percent of our line will always have an interchangeable aspect or have multiple ways to wear the shoe," she says. "My desire is to give more to my customer so I am working hard at coming up with innovative ways to do just that."