A Star Is Born
Chucks were essential to Kurt Cobain's grunge look.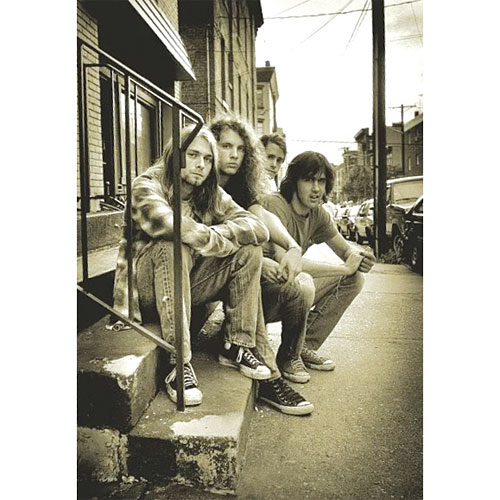 A Star Is Born
The shoe is part of Billie Joe Armsrong's stage uniform.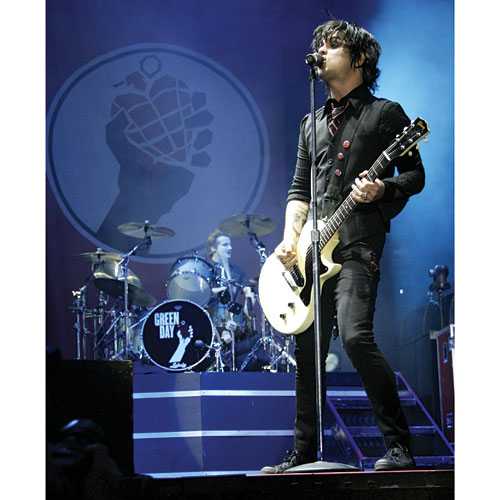 A Star Is Born
The sneaker sported by NBA legend 'Pistol' Pete Maravich.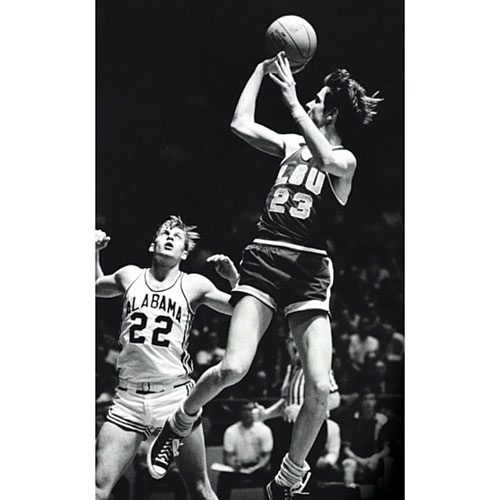 The All American Loafer
Hush Puppies Earl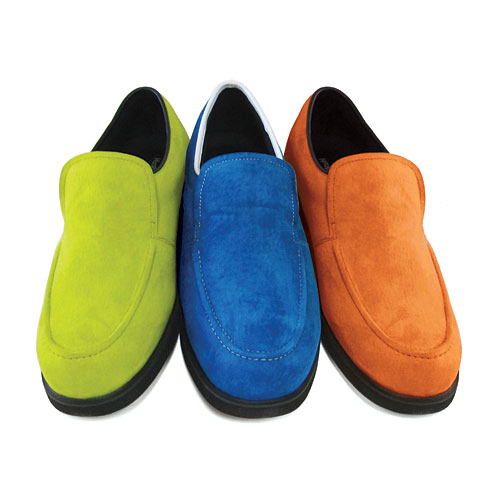 The All American Loafer
Bernard Lansky, famed Memphis clothier to Count Basie and Elvis Presley, shows off an early version of Hush Puppies' iconic loafer.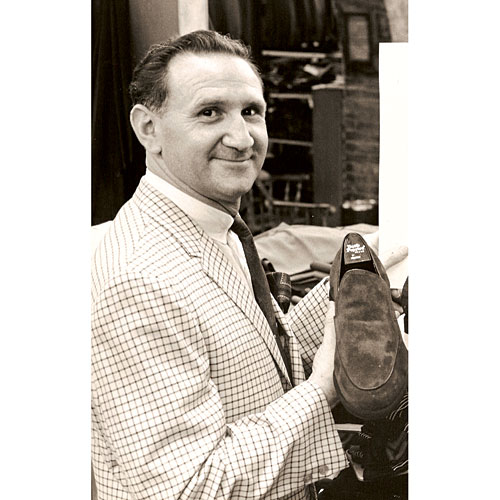 The All American Loafer
Hush Puppies' 1996 ad campaign captured the decade's casual-cool aesthetic.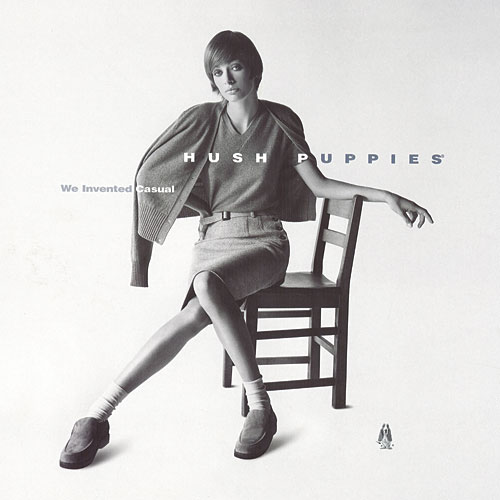 The All American Loafer
Hush Puppies' 1996 ad campaign captured the decade's casual-cool aesthetic.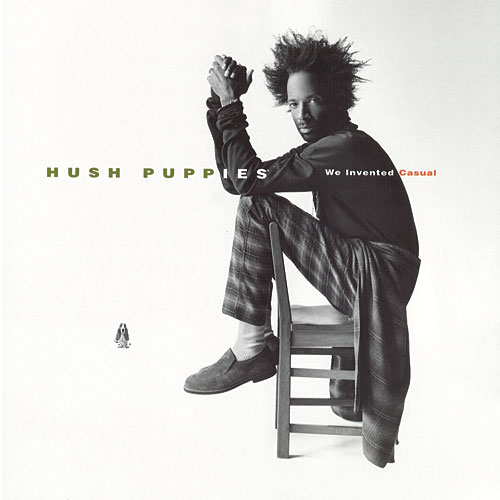 A Star Is Born
Converse Chuck Taylor All Star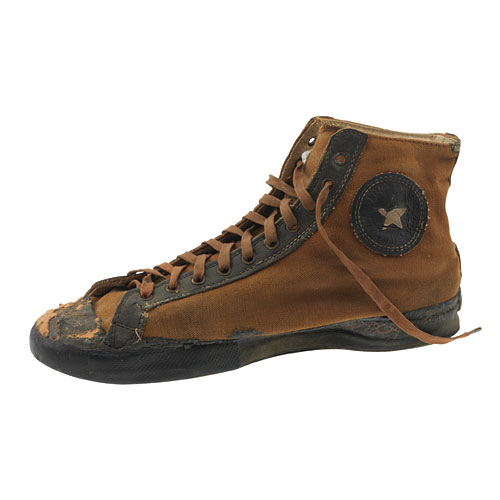 A Star Is Born
Converse Chuck Taylor All Star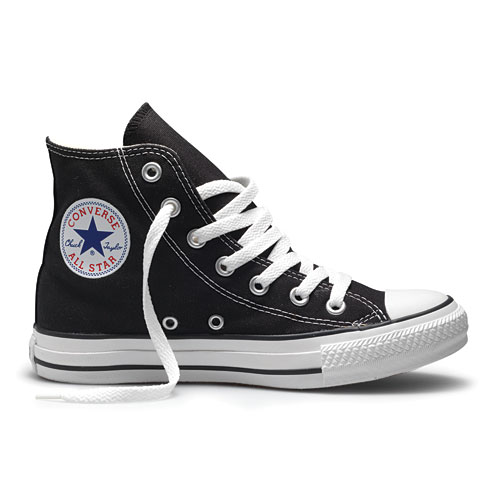 Inductee: Converse Chuck Taylor All Star
A Star Is Born
First produced in 1917 by the Converse Rubber Shoe Company as the All Star, the 2-ply white—or unbleached—cotton canvas vulcanized hi-top was the rubber manufacturer's first design to capture a piece of the emerging basketball market. Basketball player Charles H. Taylor made the shoe his court signature, ushering in sales as he introduced the sport to Americans. Ever the businessman—and a precursor of the multi-million dollar athlete endorsements to come—Taylor proposed improvements to the shoe: an ankle patch for support, a non-slip sole—and signed on as Converse's first player endorser and salesman. By 1923, the sneaker was re-christened the Converse Chuck Taylor All Star, complete with its iconic namesake patch.
"The Chuck Taylor was the basketball shoe for years," says Matt Halfhill, publisher of sneaker blog and e-commerce site NiceKicks.com. "It was the foundation that all basketball shoes were built from."
Up until the mid-1960s, only white and black styles were produced. Wearers personalized Chucks by swapping out white laces for colors. As the style reached beyond the basketball courts, Converse adapted the style with new fabrications and colors, says Brad Lacey, global creative director of Converse, in order to help the group of diverse people around the world wearing Chucks to express themselves. "That said, you're never going to out-design the original black Chuck Taylor All Star," he asserts.
"You have parents wearing them, their children, teens and young adults," says Brian Betschart founder of SneakerFiles.com. "As a fan myself, I know the loyal Chuck Taylor fan owns a few pairs—one to wear outdoors, another to events and a brand new pair still in the box ready to be worn," Beschart adds. Part of the shoe's everlasting charm, according to Halfhill, is its ability to be absorbed into any style. "The beauty of the shoe is the versatile message it projects. It can be as diverse as the crowd who wears it," he explains. Lacey calls the style a blank canvas. "Every generation has adopted the shoe in a slightly different way and made it their own," he says. "The Chuck Taylor is a shoe that allows people to both be themselves and to define their personality to others." —Angela Velasquez
Rock Star Status
Today, "Chucks are as synonymous with rock-n-roll fashion as the black leather jacket," says Dee Anderson, a fashion stylist whose client list includes The Beastie Boys, Green Day, Dashboard Confessionals and Linkin Park. She describes the shoe as an integral part of the rock uniform. From the burgeoning teen culture of the 1940s and '50s to the birth of rock and roll, Lacey says the sneaker is an iconic symbol of those moments. The same goes for the birth of punk and many other cultural and music moments that span beyond our borders, he says. According to Luke Storey, a wardrobe stylist who has dressed everyone from No Doubt and the Foo Fighters to Marylin Manson and Kanye West, it all started with The Ramones. "Their look was street-wise and punk," he explains. Chucks, along with the rockers' stable of super skinny jeans, worn-out tees and fitted leather jackets, delivered the band's tough rebellious stance against the majority.
The Converse by John Varvatos collection has cinched the style's tie to music even tighter, with new colors, fabrications and hardware that capture Varvatos' rock-and-roll craftsman approach to design. "The collaboration never feels forced and always results in beautiful shoes that have a handcrafted look and feel," Lacey says. "The partnership has forged new business and expanded the reach of Converse to new customers, who love the great designs and our associaton with John," he notes.
"I think the attraction with musicians is based on the simple design and old-school aesthetic," Storey explains. The sneaker has an attitude that can be felt from the stage. "When you feel 'cool' it gives you a certain sense of confidence," he continues. Anderson brings a mixed bag of shoe styles to each shoot she wardrobes, but when it comes to sneakers, her clients inherently gravitate to the Chucks. "I would say that 95 percent of the musicians I work with request Chucks," she notes. Anderson says there is no rhyme or reason to rockers' adoration for the kicks—few punks are known for their basketball skills. But Anderson likens the bond to musicians' other love, guitars. "Why do rockers still want to get their hands on a Les Pauls from 40 years ago?" she asks. "There is perfection in the original that cannot be improved upon."
Inductee: Hush Puppies Earl
The All American Loafer
In a world where it's now acceptable to wear denim to the office and flip-flops to the White House, it's hard to imagine a time when a little thing like a loafer was revolutionary. But when Hush Puppies launched at the National Shoe Fair in Chicago 1957, the company set the footwear industry on fire by offering the first truly casual line of shoes for men. By mid-1959, the company had produced its first million pairs. By the mid-60s, everybody from Warren Beatty to the Rat Pack to The Beatles were sporting the suede shoes.
But over the years, classic fashion went out of vogue, and the brand suffered from its Americana image, with its adorable Basset Hound logo harkening back to a bygone era. So it came as a surprise to Hush Puppies execs in the mid-90s when a Manhattan creative director at GQ magazine noted that hipsters in SoHo and the East Village had started scavenging vintage shops for the Columbia, a slip-on loafer with a golden buckle. "Back in 1995, nobody really had a clue that it was going to be as big as it was because we'd had those shoes in the line for such a long time," says Tom Rio, global director of men's product development for Hush Puppies, a division of Wolverine World Wide. "But then as we got more involved and did a runway show with John Bartlett, things just exploded beyond anybody's expectations, that's for sure." Bartlett, a prominent menswear designer in the 90's, approached Hush Puppies with an idea for a runway collaboration—removing the strap from the Columbia and producing it in an array of bold colorways—and thus, the "Earl" was born.
Soon, Hush Puppies was collaborating with designer Anna Sui to create a women's line, fielding phone calls from celebrities desperate to get their hands on a pair and selling millions of shoes. "We've carried Hush Puppies a long, long time, including back when some of them even had perforations. And when John Bartlett put them on the runway, we saw a huge explosion," confirms Danny Wasserman, owner of Tip Top Shoes in New York. When Eunice Kennedy Shriver stopped by to pick up her own pair, the mania amplified. "My phone wouldn't stop ringing. I literally had to take it off the hook," Wasserman says. "Hush Puppies was kind enough to send over 48 pairs right away and we went through them in a half a day."
At the beginning of the craze, Joel Fitzpatrick, who was a designer in Los Angeles at the time, plopped a giant inflatable basset hound on his roof and turned his art exhibition space into a Hush Puppies store. "I sold 10,000 pairs in my first three months," he says, reciting a long list of celebrity clients, including Anjelica Huston, Samuel L. Jackson and Susan Sarandon. Why does he think the brightly hued Earl was such a hit? "There is nothing more American than a blue suede Hush Puppies shoe," Fitzpatrick asserts. "It's like baseball and apple pie." —Audrey Goodson
Top Dog
Joel Fitzpatrick's Hush Puppies shop in Los Angeles, The Swell Store, sold the most shoes in the company's history. Here, he shares his wild ride with the brand:
"I had never sold a pair of shoes in my life, and I just decided to do it. I had my own clothing company, and I was always trying to get my hands on vintage shoes, and it seemed like every time we got on something, the company would end up reissuing it. And Hush Puppies was the most American, casual brand I could think of—it was the perfect combination of comfort and dress shoe. They were re-launching the brand, and they let me be part of the team. I was a designer, so I designed my own colorways. In a way, their comeback was really telling of where [fashion] would go—now every tennis shoe brand and their mother does a collaboration.
I sold 10,00 pairs in my first three months. We would unload semi trucks, by forming a human chain and passing the boxes into the store, staying up all night putting Post-It notes on the shoes, because they were all pre-sold. In fact, we sold more than the whole Nordstrom's chain combined. Pee-Wee Herman [Paul Reubens] came in and got a pair of lime green hush puppies a week before anyone else in the country. He was the first celebrity [to wear them]. Then, I literally would have celebrities begging for them. Ellen DeGeneres must have come shopping 50 times for them. And in 1995, I put four out of five best actresses Oscar nominees in the shoes, including the winner, Susan Sarandon. Hush Puppies would give me a ton of money to throw these huge, great parties, and we even threw a party for the launch of Patrón tequila, with GQ magazine and Hush Puppies. But people thought I was crazy for getting in the shoe business. Who thinks you're going to get rich selling lime green Hush Puppies, you know?"