Steely Determination
On average, Reyers carries 100,000 pairs in its inventory.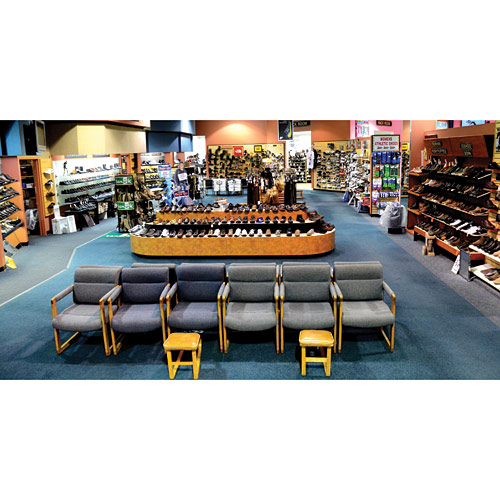 Steely Determination
Mark and Steven Jubelirer.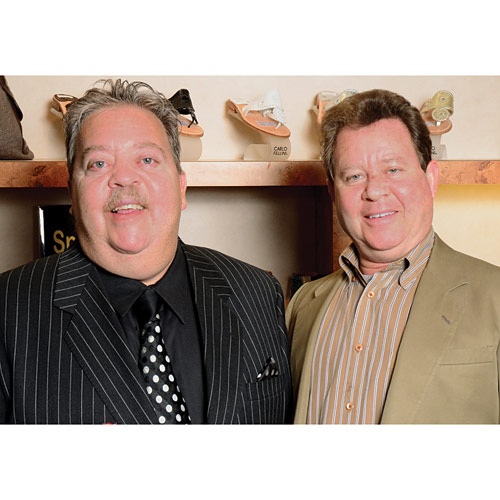 Steely Determination
Reyers storefront.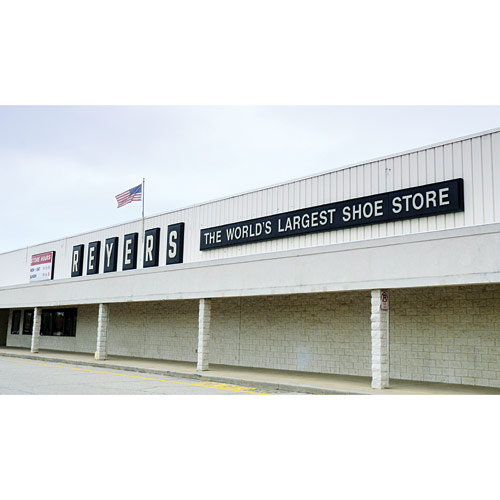 "We are like the Pittsburgh Steelers: We are fighters. We have a ground game that we are sticking to. We have not changed to the new defense and offensive schemes that other (retailers) use. And we have been rewarded with a great fan base who is very loyal." —Steven Jubelirer, vice president, Reyers Shoes
The Reyers retail playbook is no secret: A vast selection displayed in 36,000-square-feet featuring thousands of styles from popular brands to rare finds, kids to adults, women's size 4 to 14 from super slim to super wide and men's sizes 6 to 22 from narrow to 6E. Customers come in from as far away as 200 miles to the tiny town of Sharon, located in northwest Pennsylvania steel mill country, to shop the awe-inspiring selection they can touch and try on, and to be fitted properly by a dedicated and experienced staff. You might even say its like Internet shopping in virtual reality.
That bigger-than-reality aspect has been the key to Reyers survival through two World Wars, the Great Depression as well as numerous lesser recessions, the death of the steel industry, the rise of Internet retailing and big box category killers, the Great Financial Collapse, and pretty much every other tremendous obstacle and unexpected challenge you can possibly think of that occurred during the past 125 years. If what has already happened hasn't made Reyers obsolete, one wonders what could? The fact is very few businesses make it to the century mark and the air gets much thinner for those able to survive another 25 years. For a little perspective, back in 1886 when Reyers first opened its doors, Grover Cleveland was president, Dr. John Stith Pemberton invented Coca-Cola, Karl Benz invented the first gaspowered automobile, Apache leader Geronimo surrendered and Ty Cobb was born—it's another 19 years before he even dons a Major League uniform. We're talking way, way back.
"There are not many businesses, period, that are 125 years old, and there are far fewer family-owned businesses that reach this milestone," confirms Mark Jubelirer, president of Reyers. "And there are fewer yet family-owned shoe stores that last more than two generations." Mark and brother Steven are the third generation of Jubelirers to manage Reyers. Their father, Harry Jubelirer, a shoe retailer from Pittsburgh, brought the store in 1953 from then 80-year-old Carl Reyer, son of founder Harry Reyer. (Side note: Harry Jubelirer's father, Samuel, a former banker, became a shoe retailer after the Great Depression wiped out his business.) The Jubelirers collectively have withstood the challenges of time and not only survived but thrived. Each generation put a distinctive stamp on the family business model that enabled it to stand out from the competition and prosper.
The Salad Days
'When Harry Jubelirer purchased Reyers there were six other shoe stores located in downtown Sharon. Back then, Reyers specialized in women's narrows while the other stores offered similar unique assortments. Sensing an opportunity for growth, Jubelirer expanded the selection. "My father was not only a great shoe man but a very people-friendly salesman," Mark says, adding he was also a workaholic. "He put a lot of fear into his competitors and a lot of smiles onto his customers' faces."
It was only a matter of time before Jubelirer put the other retailers out of business, often hiring those former owners to work at his store, thus, laying the groundwork for a superstore. "My father was ambitious and aggressive," Mark says, recalling how former competitors lamented that if his father ran the store like a business instead of a hobby, they would have had a chance. "He lived and breathed the shoe business, and he knew exactly what to do," Mark says. "Banker's hours weren't going to cut it against him. Those other retailers weren't necessarily slackers, but not everybody is first-in-class."
By the '70s, Reyers became pretty much the only shoe game in Sharon. The store moved to another location in town, and became the largest shoe store between Pittsburgh and Cleveland. Later on that decade, sons Mark and Steven entered the family business upon graduating college. Both briefly entertained other careers but quickly realized Reyers was their first calling, having grown an affinity for the business while working summers and school vacations.
"On graduation day of college I knew I was only worth minimum wage to the rest of the world," Steven confesses. "I had to go where I might make a little bit better wage, so I came back to Reyers. But I wanted it to be the case." While Mark went so far as to take the entry exams for law school, he knew his destiny lied at Reyers. "There was no question about it. If you are a Jubelirer, you have leather in your veins," he says. "As my dad always said, "This is what we were put on the earth for.'" Other fatherly wisdom bestowed on his sons: Do well by employees and customers because this is a people business and life is a two-way street. Secondly: Always conduct business in an honest manner and be fair. Third: Work hard because success doesn't just happen. "He used to say, 'Don't wait for the Good Fairy. Do the work,'" Mark recalls.
The three Jubelirers would talk business every night at the dinner table. The discussion always centered on Harry's basic retail philosophy that Steven says boils down to offering sizes, selection and service that will bring the customer in as well as bring them back. It's a philosophy that Mark says has remained constant. "Take care of the customer and everything else will take care of itself," he says. That translates to providing the best service and selection of styles, colors and sizes that a consumer can find—all at reasonable prices and under one roof.
It's a concept that you just can't replicate online. "Shoe shopping is a tactile experience," Mark says. "You got to feel the leathers and try shoes on." It's especially so for hard-to-fit customers who
have unusual sizes and need the assistance of expert shoe fitters. It's what sets Reyers apart from the competition, most of which have abandoned the sizes-and-widths aspect of the business all together. "You don't think most every shoe store on the planet that carries only mediums in sizes 6 to 10 is the right thing to do?" Mark asks rhetorically. "Those retailers don't want to be concerned with anything that doesn't maximize profit potential, and sizes and widths is a more expensive way to do business. Offering service is also a more expensive way of doing business." Mark adds, "These are bean counters, not shoe men."
Their neglect is Reyers gain. Mark says 50 percent of its customer base wears something other than a medium width. And even though Reyers is difficult to get to, half of its customers are traveling an hour or two to do so because of the void left by those other retailers. "I live off of their walks," Mark attests.
That's why Reyers will never back off its vast selection premise. Anything less, Mark says, might mean coming all that way to Reyers was the wrong choice. "If you are driving an hour or two to get here, you want an experience that rewards your time and effort," he says. "Chances are you will find it at Reyers and your shopping experience will be enjoyable and reasonable. We have to make it that way if we are going to be a destination." Mark adds, "People work so hard for their money these days that they deserve a highquality shopping experience, and they should expect it."
Bigger is Better
This destination retail approach was taken to new levels beginning in 1986 when Reyers moved to its current location and became "The World's Largest Shoe Store." That decade is also when Mark partnered with three other local Sharon retailers—two of which also happen to bill themselves as "world's largest" in their respective categories: Daffin's for candy and The Winner for off-price women's fashion. The third partner was the Quaker Steak and Lube restaurant chain, which opened its first location in Sharon—the former site of a gas station—as a way to feed the crowds coming to shop these "world's largest" stores. "We called ourselves 'The Four Friends' and began marketing cooperatively as a draw for surrounding cities," Mark says. A key component was the organization of bus tours—from cities as far away as Buffalo, Cincinnati, Louisville and Toronto. The team enticed tour leaders to make downtown Sharon one of their regular excursions. Back then Sharon was pulling in 1,000 bus trips a year. And while the team is still drawing in busloads, traffic is now in the low hundreds annually due to the rise of Internet shopping and, to a bigger extent, gambling. "The world has changed. Those senior citizens who used to go on a bus trip to our stores are now going to casinos," Mark laments.
In fact, the past decade may go down as the most difficult in Reyers history, according to both brothers. It started off with the traumatic events of 9/11 and finished with the Great Recession. In between, there was the continued slow death of Sharon, just like so many other steel towns located along the rivers of northeast Ohio and northwest Pennsylvania. "Our location is certainly not the best," Steven offers. "If this store were in a major population, it would do gangbusters. That's always been our biggest obstacle." Adds Mark, "Sharon is a dead steel town that has terrible demographics. We are older, poorer and much smaller than Youngstown, which is 20 minutes away, and that gets written about all the time for how bad it is." Mark adds, "There is no industry here to speak of. Many of the young people have left and it's a very difficult place to do business, let alone stay in business."
Which begs the obvious questions: Why have the Jubelirers stayed in Sharon? Why not move Reyers to a more up-and-coming city or, at the very least, open another location to offset the decline in Sharon? The answers are not that easy or cut and dry. First off, this is where the Jubelirers were born and raised and, warts and all, Sharon is home. It harkens back to that Steeler loyalty. "This is where we have been for more than 100 years. You don't just throw something like that out," Mark says. It's also where the family has experienced tremendous success and growth for decades—Sharon has been very good to the Jubelirers. In addition, approximately 50 employees make their living working at Reyers and moving might jeopardize their families' financial situations. "We have had tremendous success year after year for decades and one doesn't give that up readily," Mark adds.
Then there's the firm belief that Reyers cannot be duplicated short of cloning the staff. Mark likens Reyers to a well-regarded Italian restaurant: "We've got to be here to stir the sauce." There's always something—little fires that needed putting out. "There's no way that Reyers would continue to enjoy success to the extent it has without my brother, myself and our management team in the store," he says. "This business would suffer without our daily, intricate hands-on attention."
Then there's just the enormous work involved with expanding or moving locations, according to Steven. It'd be a lifestyle change that perhaps fits the profile of a younger-aged risk-taker without as established ties to Sharon. "In all honesty, I would have to work hard moving to a new location and re-establishing Reyers," he says. "I have a great lifestyle. I am not ready to put in the hours that it would take." What's more, Steven believes his current job is no longer work. "This is fun. It used to be work, but now it's a hobby," he says. "I love the challenge." And despite the fact that pretty much every aspect of the business is more difficult these days, Steven says the fun factors outweigh the negative ones. "Everything about the business is still fun—choosing the right styles and waiting on our customers."
It's not really a job for Mark either: "There is never a day in me or my brother's life where we lament going to work. We love this. This is a passion." Mark loves the challenges as well. "The shoe business is certainly challenging, but it's also very creative," he says. "You can buy any shoe, heel height or color, you can advertise any which way you can think up." And while there are constant challenges, he views them not as obstacles but as opportunities. The next great frontier is to renew Reyers Web site and e-commerce platform. It's an untapped potential revenue source that Mark believes would pay dividends. Plans are in the works on a new design as well as social media marketing programs. "It's part of a long-range plan and we'll see where it gets us," he says. "We're not betting the farm on the Internet; it's more an exploration stage right now."
New revenue streams aside, Mark says the ultimate opportunity remains the ability to sell customers a pair of shoes that make them feel good. He presents these common scenarios: a woman and her daughter drive three hours because they wear a 9.5 quad and a 14 wide, respectively, and they can't find shoes anywhere that fit their unique sizes. "They come here out of desperation," he says. Or a customer has a brace on one leg and has big size difference between each foot. "They can get attention and service at Reyers unlike anyplace else," Mark says. "Most of the time our customers leave here with a smile because their needs were met. This is really what brings us to the dance: the interaction with our customers, their gratitude and our sense of being able to give the gift or service." Mark adds that it's a gift that gives much more to the giver than to the receiver. "The most gratifying part of selling shoes is performing a service that customers cannot find anywhere else," he says. "That is what has engendered that loyalty from our customers over the years." —Greg Dutter