Au Naturel
Lovely People
Au Naturel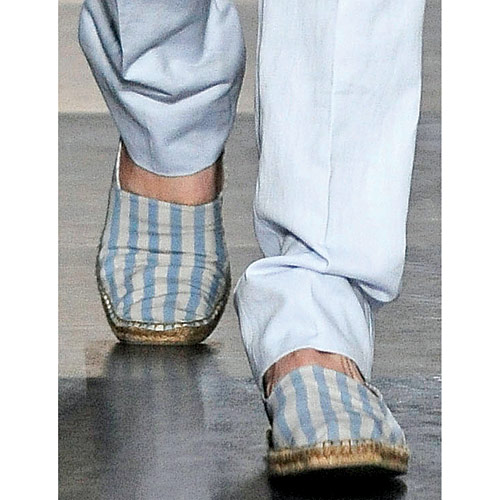 Party in the U.S.A.
Rockport
Party in the U.S.A.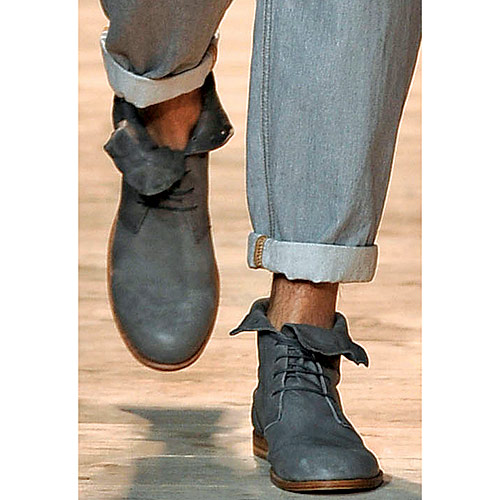 Party in the U.S.A.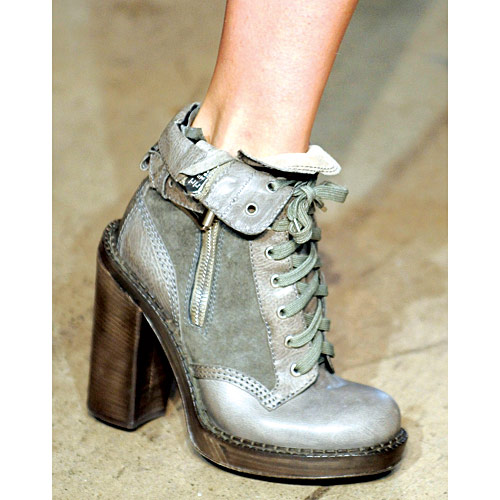 Party in the U.S.A.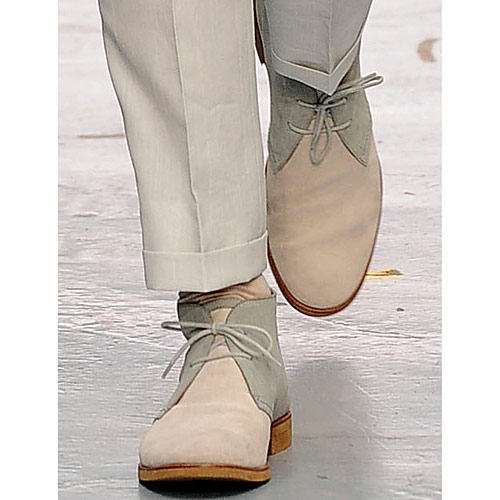 1970s Rewind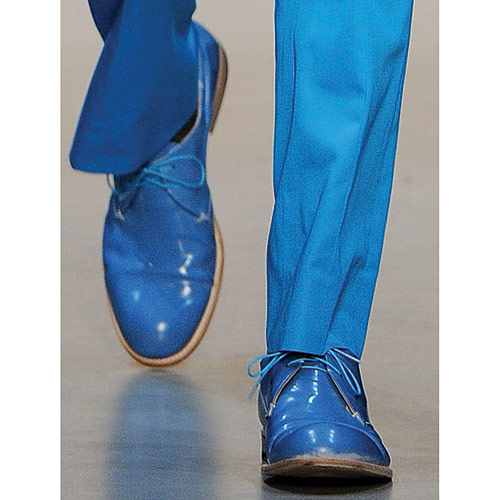 1970s Rewind
Messeca
1970s Rewind
1970s Rewind
Funky Femme
Funky Femme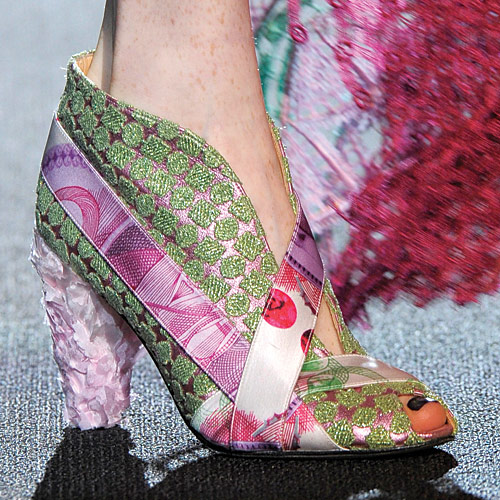 Funky Femme
Spring streetwear sketch from Promostyl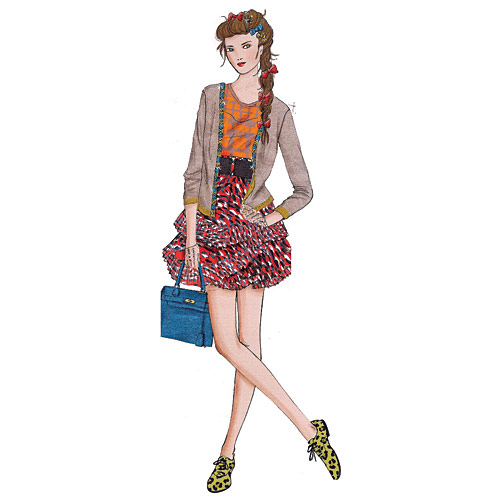 Au Naturel
Caressa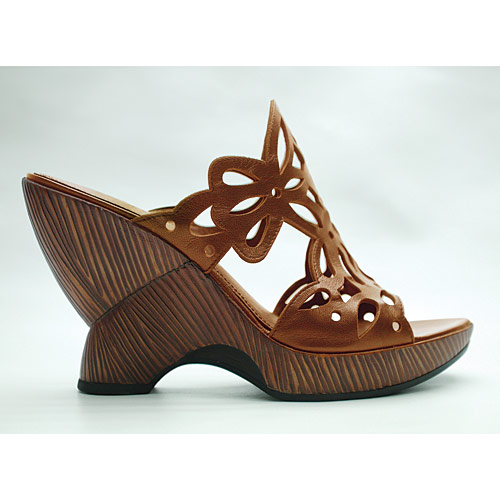 Au Naturel
Charles David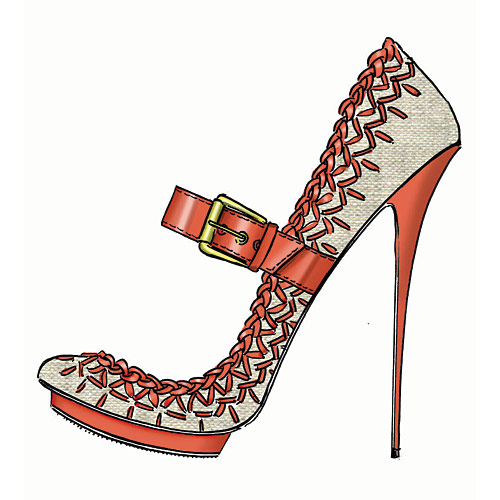 Au Naturel
"The biggest trend is non-color," Caressa CEO David Graves declares. Nudes—ranging from light beige
to espresso—will serve as the neutrals of the season. Apparel-wise, trend experts say Spring '11 will be less covered up (expect short shorts and miniskirts), and nude footwear that correlates with a person's skin tone works as a way to lengthen the legs. If not used alone, the nudes will be mixed with other top hues from spring, such as lilac.
Natural materials will also play big: Paola Venturi, creative director of Via Spiga, is planning to use raffia, while Graves notes jute, cork, bamboo and wood (or materials that look like it) will be important in Caressa's collection. Monique Umeh, footwear editor for fashion trend forecaster Stylesight, references beachgoers in Cornwall, England, noting that part of the look features espadrilles and alpargata slip-ons like TOMS.
Along those lines, styles that have a handmade, artisan feel will also be popular. Woven leathers, for example, are being used all over oxfords or as a trim on pumps. Beading and bright-colored stitching also provide a handmade touch, lending a tribal aesthetic to spring. (Umeh predicts that African, Egyptian and Far Eastern ethnic details will replace 2010's dominant Native American theme.)
Party in the U.S.A.
Americana isn't anything new to Rockport, but Haysun Hahn, vice president of the women's business unit, says the company is banking on its heritage for Spring '11. "We have an American nautical agenda—and we're one of the only [brands] that can claim to own it," she asserts. Navy and white will be Rockport's top colors, mixed with pops of bubblegum pink. Leatrice Eiseman, director of the Pantone Color Institute, says more saturated, deeper variations of blue will evolve from turquoise, which was 2010's color of the year. (Messeca, for one, is using bright blue as one of its pop colors against a primarily pale palette.) As for materials, the use of vintage-looking leathers, canvas and denim will strengthen the American vibe.
Designers say they'll continue to reinterpret classic American styles, as consumers took a liking to heritage brands over the past few seasons. Styles traditionally linked to men will cross genders: Lug-sole hikers, whether flat or with chunky heels, continue the Fall '10 grunge trend; ankle-height cowboy boots keep the Western look alive; and boat shoes continue to evolve with new materials, prints and embellishments. And desert boots, which may not be completely American but certainly coincide with the polished look, will finally hit the masses in Spring '11, Umeh reports.
Sneakers are also returning to their classic roots—a departure from recent seasons where tattooed, vulcanized styles and colorful, urban lo- and hi-tops ruled the streets. Instead, simple lace-ups like Keds' Champion style sum up the new direction.

1970s Rewind
Perhaps the most obvious influence of the decade is the reemergence of the clog. "It's proving stronger than ever for spring," Venturi of Via Spiga says. Designers will provide various takes on the style, from sexy, sky-high platforms to designs reminiscent of Dr. Scholl's orthopedic look. "We're putting [clogs] in every category," says Ellen Schiff, fashion coordinator for Chinese Laundry. "You can dress them up or down." Rita Nakouzi, director of fashion trend forecaster Promostyl North America, is also expecting hybrids, such as clogs combined with a Western boot upper.
Also channeling the disco era's vibe is the continuation of the platform. Lauri Carleton, president of wholesale for Charles David, says the company will feature "aggressive wedges," while Julie Messeca, co-owner of the eponymous brand, plans to let the architectural aspect of wedges and platforms speak for itself. "We see a lot going on with apparel, and we wanted the shoes to be more simple," she notes. Trend experts predict socks (whether ankle-length or knee-high) will be worn with open-toe silhouettes for spring, furthering the dance decade's influence.
It's also important to note that the artisan and ethnic details from other categories—such as woven leathers and beading—cross over into this category, obviously replicating the bohemian lifestyle of the '70s.

Funky Femme
While studs have been the chief detail of the past few seasons, Spring '11 will see a softening of embellishments. Metallic hardware won't completely dissolve, but going forward, floral accents provide a more chic feel. Designers are giving florals a modern twist by mixing and matching prints and putting the feminine fabrics on wooden platforms for a pretty, boho vibe. Stylesight's Umeh cites the "Reality Bites" era of the '90s—think military-inspired lace-ups softened with a floral print—which lightened up the decade's heavy grunge looks.
Women's oxfords will continue for Spring '11 but will feature more feminine twists such as pointier toes, animal prints, ribbon laces or cut-out details, plus pastel hues. Speaking of which, Eiseman says "true pastels"—
i.e. bolder shades, like those of a Baskin Robbins array, rather than Easter's wimpy palette—will be important; of those, she highlights Pantone colors Gossamer Pink, Bright Chartreuse and Royal Lilac. (Lovely People owner Patricia Kerrigan says the latter is her brand's top hue for
the season.)
Also, welcome back the kitten heel. According a recent article in The Wall Street Journal, "Now, amid considerable economic uncertainty, lower-heeled styles—particularly tapered 'kitten' heels—are back with a vengeance… That leads some to speculate whether there's a relationship between sinking heels and the stock market." Either way, designers, such as Franco Sarto, are adding them to their Spring '11 collections: "The 50- to 60-mm heel will be a major trend, which is good news for the woman who can't always walk around in stilettos."
—Melissa Knific
Photos courtesy of Stylesight unless indicated otherwise.